Paul Hollywood reviews the Lamborghini Aventador LP 750-4 SV (2015)
I've just tasted the icing on Lamborghini's cake
---
Published 01 September 2015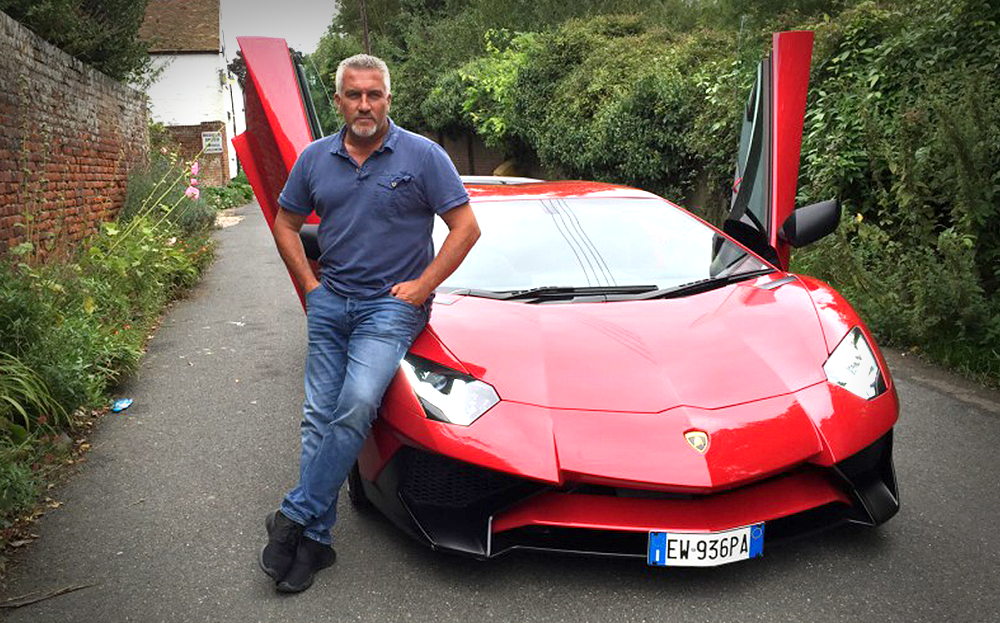 Lamborghini Aventador SV, £315,078
YOU MAY ask what I am doing on Jeremy Clarkson's pages. I'm a TV presenter and baker, you may say, more used to talking about sponge cakes than supercars. When I get excited and start reciting facts and figures, people tease me. Brake horsepower? Bake horsepower, more like, they say. Or, "What's your favourite film, Paul? Scone in 60 seconds?"
But before you stop reading about what I think of the 217mph Lamborghini Aventador Superveloce, allow me to present my petrolhead credentials. Yes, I'm a baker, but I am also a racing driver. I'm currently driving for Beechdean racing team in an Aston Martin Vantage GT4 alongside Jonny Adam — the Aston Martin factory driver and a British GT racer — and I'm aiming eventually to race in the Le Mans 24 Hours myself. I'm no Lewis Hamilton but I know my onions, so to speak.
---
READ: PAUL HOLLYWOOD, FROM STAR BAKER TO STAR RACER
---
So what do I think of the Aventador SV? Well, let me put it this way: it is better in many ways than Chris Evans's LaFerrari, which I drove last year, and if that isn't a testament to how good it is, I don't know what is.
I have been a fan of Lamborghini ever since I was a boy. The Countach was my wallpaper for many years. It was the perfect supercar. A couple of months ago I decided to drive its modern equivalent.
I called up a dealer near Sevenoaks in Kent and asked if I could try one of the Huracans in his showroom. The thing that appealed most was the paint job. The Huracan came in bright green — a proper supercar colour.
I was impressed and asked for a go in the "standard" Aventador too. That impressed, but it's nothing compared with what you see in the pictures on this page — the SV.
Superveloce means superfast, and they aren't kidding. The SV takes the basic Aventador and strips it down, pumps up the engine and makes it all around sportier. It is by far the quickest car that Lamborghini makes.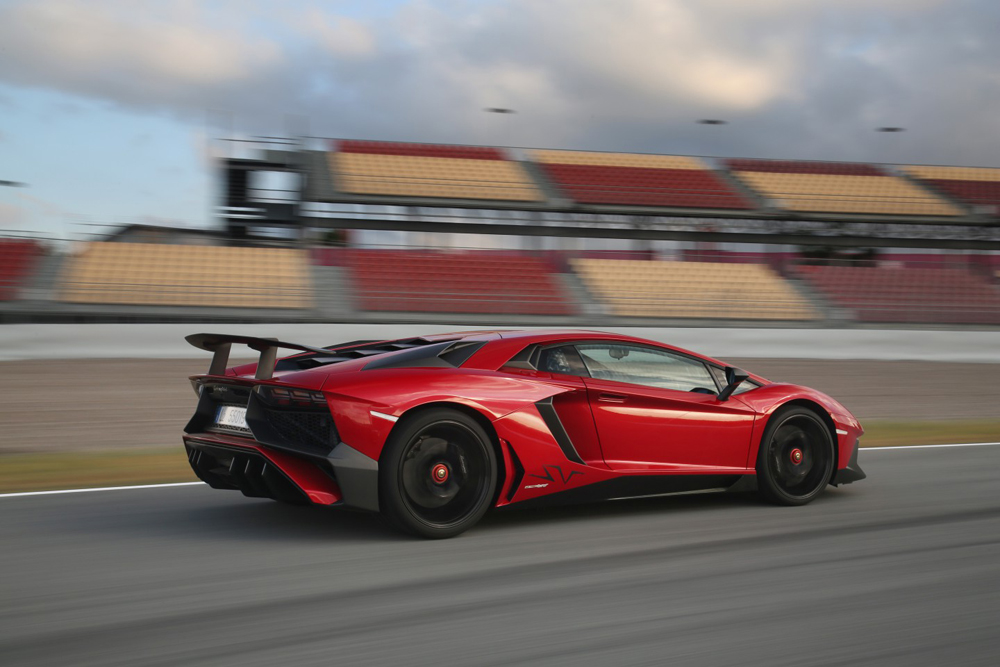 When it arrived at my house, I called my 13-year-old son to watch it being unloaded off the truck, like some exotic fighter jet. There was a lot of giggling as it was slowly lowered to the ground. Most of it from me.
The SV just looks so beautiful, and from every angle. Most striking is the large rear wing, which can be manually adjusted to three positions and, so I have read, increases aerodynamic efficiency and downforce without increasing drag.
At the front is what Lamborghini calls a more "open" style, with larger air intakes to improve cooling and a skirt and two front wings providing improved aero and greater downforce. The standard Aventador is a great-looking car, but this is how the car should really have looked in the first place. It is so right — from every angle. Ferraris are beautiful but in a smoother, more subtle way. Lambos are harder somehow, more racy. They look like what a teenage boy would draw if he was asked to draw a supercar.
---
View the used Lamborghinis for sale on driving.co.uk
---
Lamborghini is making only 600 of these SV versions, and it wouldn't surprise me if, based solely on the looks, they start appreciating in value almost immediately.
But what is it like to drive? I mentioned the Countach earlier, and I recall people saying it was as hard to drive as it was beautiful to look at. Because I had already driven the standard Aventador, I knew the SV wasn't going to be like that. You get in and the first thing you notice is the start button, under a flip catch — like the missile launch button in a jet fighter. You press and the engine roars for a couple of seconds and then settles to a thrum. You can't get tired of playing with it.
I can't say I wasn't a little nervous taking it out on the road. Although I frequently reach 150mph on the track, driving a car like this on normal roads is a different matter altogether. Plus, the roads were wet after the downpours last week, but the weather was warm. Warm, wet roads — probably the most dangerous conditions after black ice. Oh, and Lamborghini had told me that because the tyres were new they would need to be scrubbed in for 50 miles.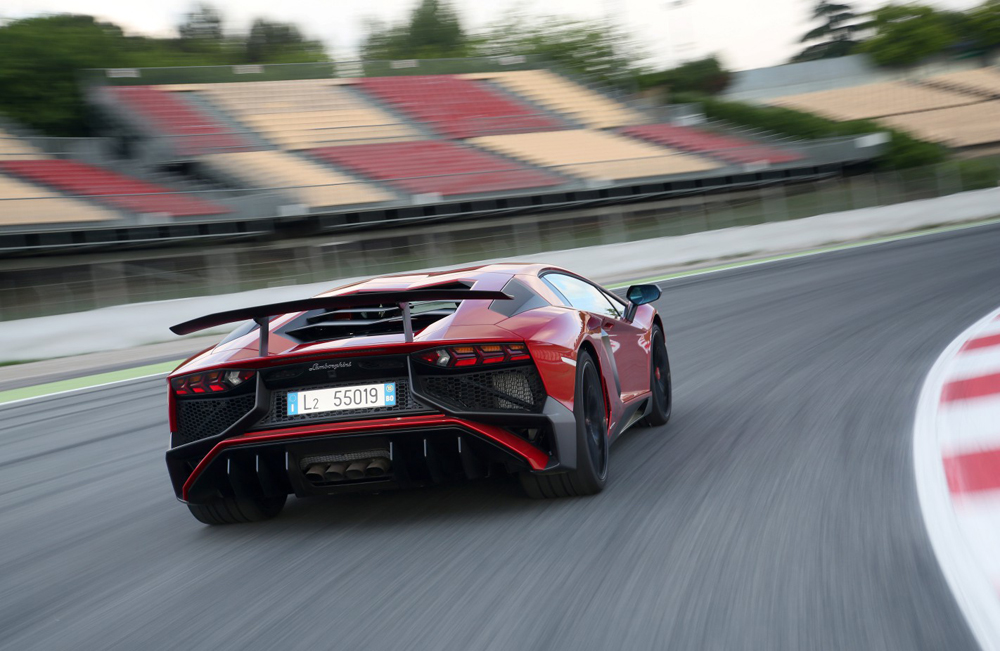 With all this in mind I kept the revs pretty low. I also had the car in Strada — or road — mode (the two others are Sport and Corsa, or track: each alters the engine, transmission and differential responses, and the handling and steering) and in auto.
But you know what it's like. It's hard to leave well alone. I switched to Sport mode, put the car in manual and pressed the throttle. The acceleration was instantaneous. This car is fast — 0-62 in 2.8 seconds. And the noise is like nothing you have heard. The big V12 behind your head sounds like the F1 engines from a few years ago, before they went all responsible and quiet. Change gear in manual, Corsa mode, and it thumps like my racing car. Really mechanical — bang, bang, bang — you are thrown forward in the seat every time you change up. It is savage. Every time you touch the throttle, it feels as if you are playing a computer game and have just hit the thrust button.
But the roadholding is brilliant, helped by the four-wheel drive and the rear tyres, which are the widest I have ever seen on a road car. It gives you confidence. Visibility is excellent, too: unlike in some supercars, you can see out of the back easily, and the windscreen is so huge you get a panoramic view of the road ahead. Everyone else can see you, too. I had more looks from other road users than I have had in any other car. I even heard one someone say "wowwwwweee" as I went past, something I haven't heard for 20 years.
Most drivers won't take this car past 55% of what it can actually do. Only Lamborghini testers and track-day drivers will get anywhere near its full potential. In fact, the only people who should really buy this car are those not only rich enough to buy it, but also rich enough to take it on a track day and risk crashing it. It feels as though it wants more than you can give it on the road.
This is the car that the Aventador should have been all along. The SV has 50bhp more than the standard car (740bhp at 8400rpm) and it weighs 50kg less, and while my brief drive at the dealership of the standard car was hardly a proper test, you can feel all that extra power and lower weight in the SV.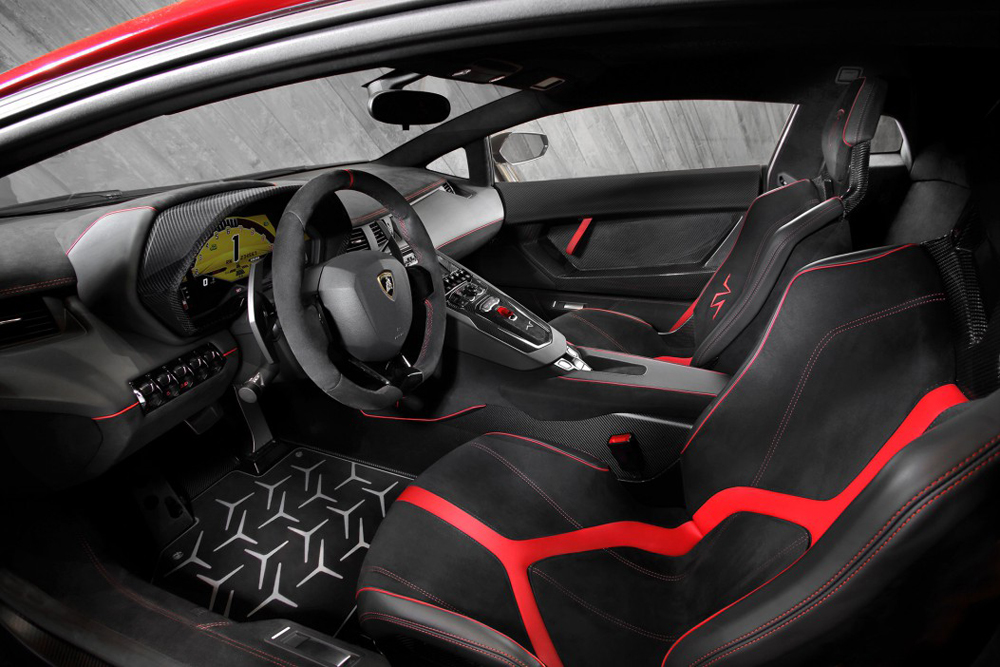 What are the downsides? Well, my wife found the seats (one piece of carbon fibre, non-adjustable for height) uncomfortable, and I have to admit that you wouldn't want to do a long journey in it; and I don't think the stripped-out interior is as nice a place to be as the Huracan's honeycomb design. Then again, this car is far superior to the Huracan in every other respect.
This is an old-school wild child Lamborghini, with every supercar ingredient present and correct. What's more, you could buy three of these for the same price as a LaFerrari. And if any £300,000 car can be called a bargain, this one can.
Lamborghini Aventador LP 750-4 SV specifications
Engine: 6498cc, V12
Power: 740bhp @ 8400rpm
Torque: 507 lb ft @ 5500rpm
Transmission: 7-speed automated manual
Performance: 0-62mph in 2.8sec
Top speed: 217mph
Fuel: 17.6mpg
CO2: 370g/km
Road tax band: M (£1,100 for first year; £505 thereafter)
Price: £315,078
Release date: On sale now
---
Click to read more car REVIEWS or search NEW or USED cars for sale on driving.co.uk
---