New car review: Peugeot 207 CC (2007-on)
This is Peugeot's old 207 supermini with its roof chopped off, essentially, which means it's based on an old car that has since been superceded by the 208
What is the Peugeot 207 CC?
This is Peugeot's old 207 supermini with its roof chopped off, essentially, which means it's based on an old car that has since been superceded by the 208 (launched in 2012). Instead of having a soft top the hard metal roof folds neatly into the boot. The idea of a CC, or coupé-cabriolet, is to provide the benefits of both types of car: sun-on-your-back motoring when the weather is fine and hard-top ruggedness and refinement when the heavens open. Largely the 207 CC succeeds, and at an affordable price, although there are build quality niggles and the roof arrangement does mean you have to sacrifice significant space, both in the rear seats and boot in order to stow the roof.
---
Search for and buy a used Peugeot 207 CC on driving.co.uk
---
Peugeot sells the car in three levels of trim, from the base 'Active' model through 'Allure' to the top specification 'Roland Garros' model. All versions have an electrically-operated roof, which folds away in 25 seconds, and even the car in Active trim has alloy wheels, air conditioning, Bluetooth connectivity and five airbags. Allure adds larger 17" alloys, stability control, parking sensors and electric mirrors, while Roland Garros gets leather seats and dual zone climate control. There isn't a huge choice of engines – buyers can opt for a petrol powerplant in 120bhp or 156bhp form, or a 112bhp diesel unit – but all are slightly thirsty and high on CO2 output when compared to the current competition.
The drive
There's an immediate feeling of verve when you get behind the wheel – the steering is light but loads up on cornering, and the ride is slightly stiffer than expected but free of too much body roll, so it feels pretty good fun most of the time. At high speeds, however, the car does seem to float over bumps and that results in confidence evaporating. But then, this isn't a car for racing around – it's for posing on a budget.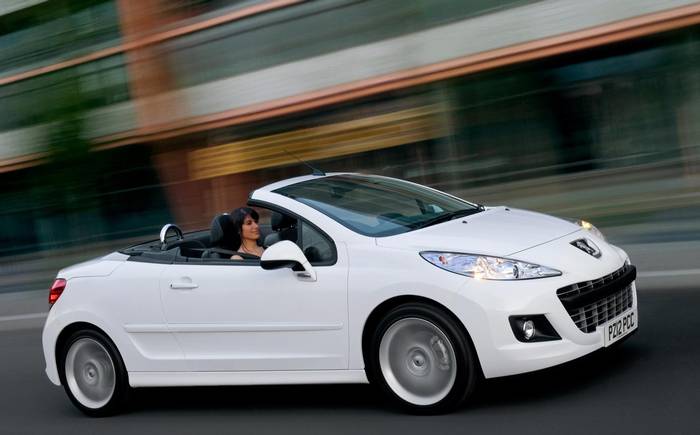 The 156bhp turbocharged petrol engine is the pick of the bunch; it offers decent pull at low revs but comes alive closer to the red line. Surprisingly entertaining.
The cabin
It's not the most sumptuous interior, although the Allure and Roland Garros versions add some much needed class. The stereo and infotainment systems are fiddly and outdated, but do the job and unless you're prepared to spend much more money on another vehicle, they do at least represent value.  
There are other niggles: while the roof folds quicker than a manually-operated mechanism of old, 25 seconds isn't lightning quick. Wind noise is suppressed fairly effectively but the roof did spring a small leak at a join on the driver's side during a particularly heavy downpour. Also, taller people will not struggle for headroom but will suffer from backache during extended driving without additional lumbar support.
The one to buy
Peugeot 207 CC Allure 1.6 THP (156bhp)
Factfile
Price:

£19,355

Engine:

1598cc, 4 cylinders

Power:

156bhp @ 5800rpm

Torque:

240lb ft @ 1400rpm

Transmission:

6-speed manual

Acceleration:

0-62mph in 8.6sec

Top speed:

130mph

Fuel:

38.2mpg (combined)

CO2:

170g/km

Road tax band:

H (£285 for first year, £200 thereafter)

Dimensions:

L 4037mm, W 1750mm, H 1397mm
Or buy used for similar money
See prices of Audi A5 Cabriolet
See prices of Mazda MX-5 Roadster
See prices of Mini Convertible