Fiat Panda 4x4 Mk 3 review (2012-on)
Small car, big grip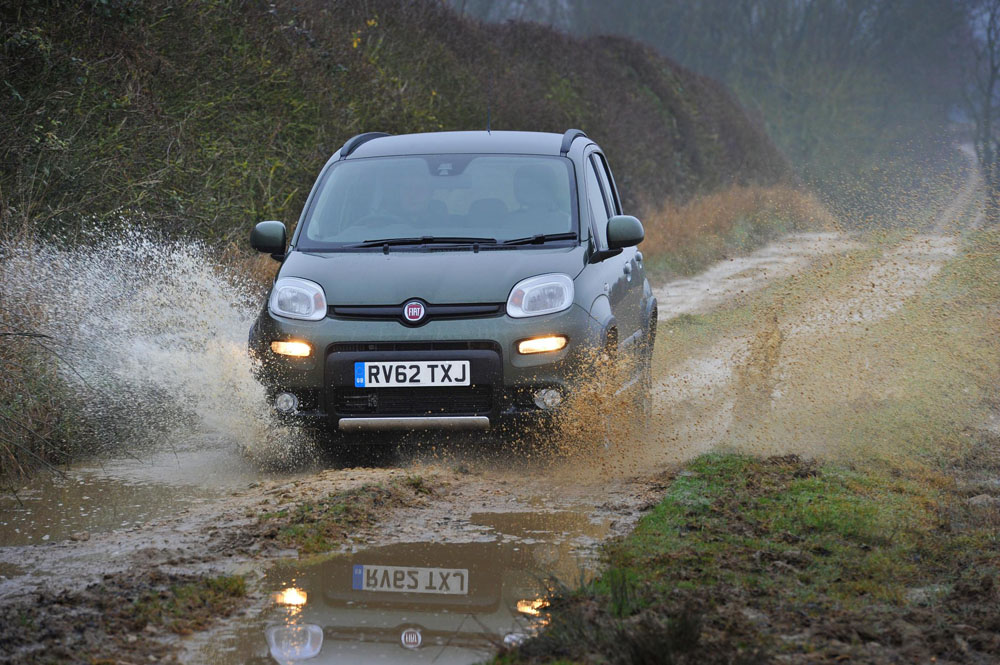 What is the Fiat Panda 4×4 Mk 3?
A four-wheel drive version of Fiat's popular supermini, the Panda 4×4 is not so much an off-roader in the Land Rover mould but a runaround which won't flinch from muddy fields, loose ground or wintry conditions.
It's little different from the standard Panda, which remains one of our favourite city cars. The changes include an additional 5cm of ride height, chunkier styling and a skid plate to protect the underneath of the car. The 4×4 system is automatic. Most of the time it sends almost all of the engine's power to the front wheels, like a standard Panda, which aids fuel economy. Only when the car detects a wheel slipping is significant power sent to all four wheels. An electronic differential can lock the axles in very low grip conditions.
Two engines are offered: Fiat's well-regarded TwinAir two-cylinder turbocharged petrol engine with 85bhp, which returns 57.6mpg on the official combined cycle, or a 75bhp diesel (60.1mpg) for £1,000 more. There's just one trim level, providing standard air conditioning, 15in alloy wheels, electric mirrors and steering-wheel stereo controls.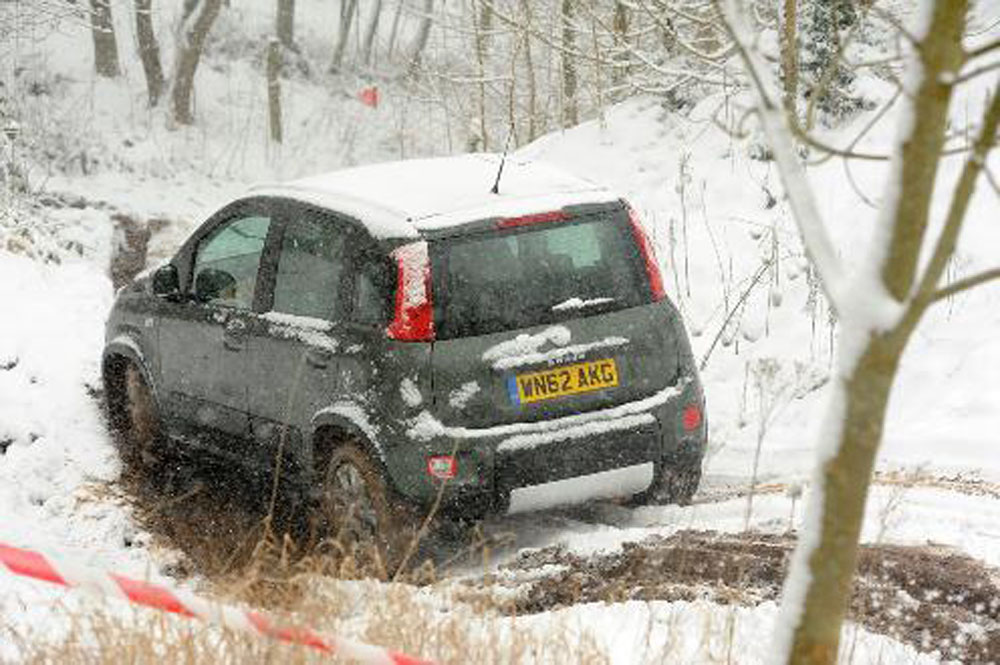 City brake control, which puts the brakes on automatically if the system senses a collision at speeds under 19mph, is available as an option. The Panda 4×4 has driver, passenger and side airbags as standard. The standard Fiat Panda has a four-star Euro NCAP safety rating.
If you're only looking at the car because of its higher ground clearance, which is useful if you regularly drive on gravel tracks or uneven ground, then it's worth considering the Panda Trekking, which has the taller suspension but no four-wheel drive, making it more than £1,000 cheaper.
The drive
A high-riding car with a choice of low-powered engines doesn't normally make for an inspiring drive, but the Panda is surprisingly good. For a supermini it rides very well, absorbing the worst of large dips and bumps, and damping them well enough that the car doesn't keep bouncing after it has driven over potholes.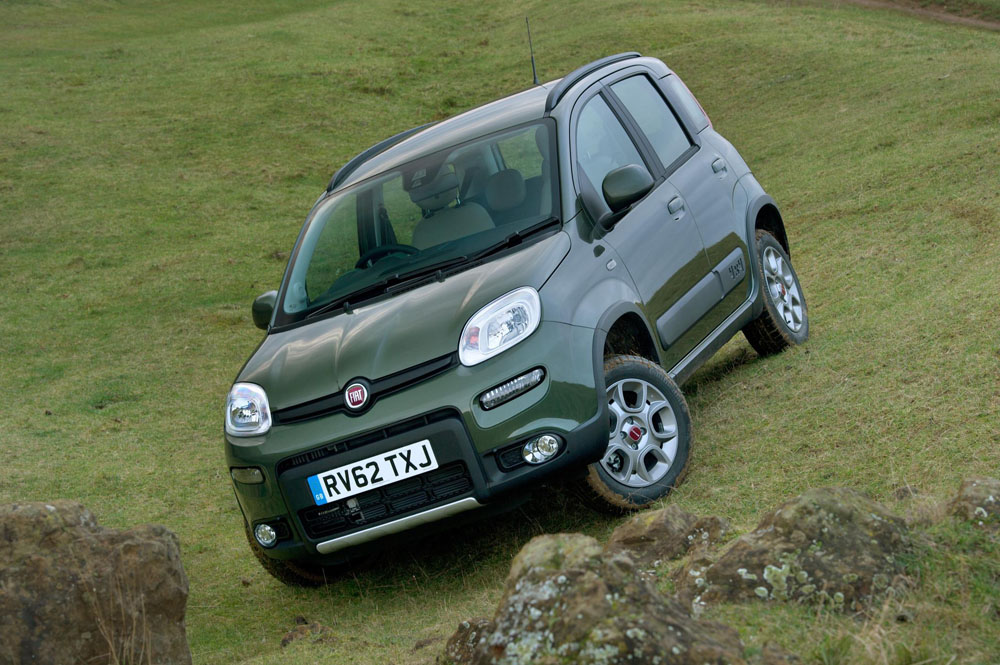 There is some body roll in corners, which is to be expected on a car with a tall profile, but it's not so extreme that it makes rear seat passengers uncomfortable on country roads. The driver might even be entertained: it's no sports car but remains nimble, even though the steering doesn't provide much feedback.
In its natural city habitat the Panda offers good visibility from the high driving position. It's compact enough to nip through small gaps, and its electric power steering is light ‒ comically so, if you engage city mode.
Even the engines are acceptable. The 1.3-litre diesel engined car, tested by Driving, always feels underpowered but not quite as slow as its snail-like 0-62mph time of 14.5sec would suggest. Reasonable progress can be made as long as you work the gearstick and avoid losing too much speed behind slow cars on motorways. In normal driving, the car regularly returned 50mpg. The 0.9-litre TwinAir petrol engine has better performance (a 0-62mph time of 12.1sec) and performs well in other Fiats tested by us. Don't expect particularly good fuel economy, though. The petrol engine tends to fall far short of the published figures.
---
Search for and buy a used Fiat Panda 4×4 on driving.co.uk
---
However, there's not much disguising the Panda's utilitarian nature. It's not a car that promises you luxury, and that's obvious from the moment you start the diesel engine. It fires up with a loud rattle and vibrates so much at low revs that it wobbles the rear view mirror, making the world look as if it's underwater, while higher speeds bring more engine noise and plenty of wind buffeting. The noise isn't deafening but far more than you would expect in, say, a Ford Fiesta.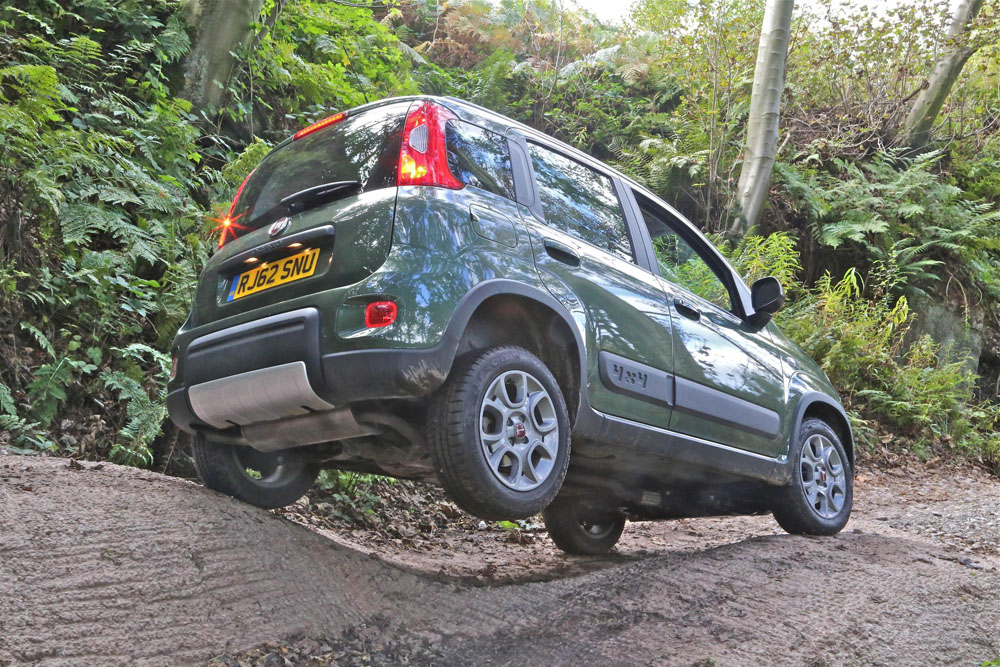 The gearbox is similarly gruff, clunking between cogs without a hint of the slickness you'd expect from a modern supermini – in our test car, there was a problem with the reverse gear, which was a struggle to engage and occasionally slipped back into neutral while manoeuvring. Apart from this, though, you are left with the impression that it may be unrefined but that it's built to last – think tractor levels of refinement.
Fiat has demonstrated that the Panda 4×4 has real off-road ability by releasing footage of the car negotiating some tough-looking terrain, including steep climbs, extreme angles and deep water. If you really do want to take it off-road, bear in mind that only the petrol version has a low-ratio first gear. It's unlikely to perform as well as a dedicated off-roader, and that plastic, chunky trim doesn't look as if it will survive too many encounters with the wilderness.
The interior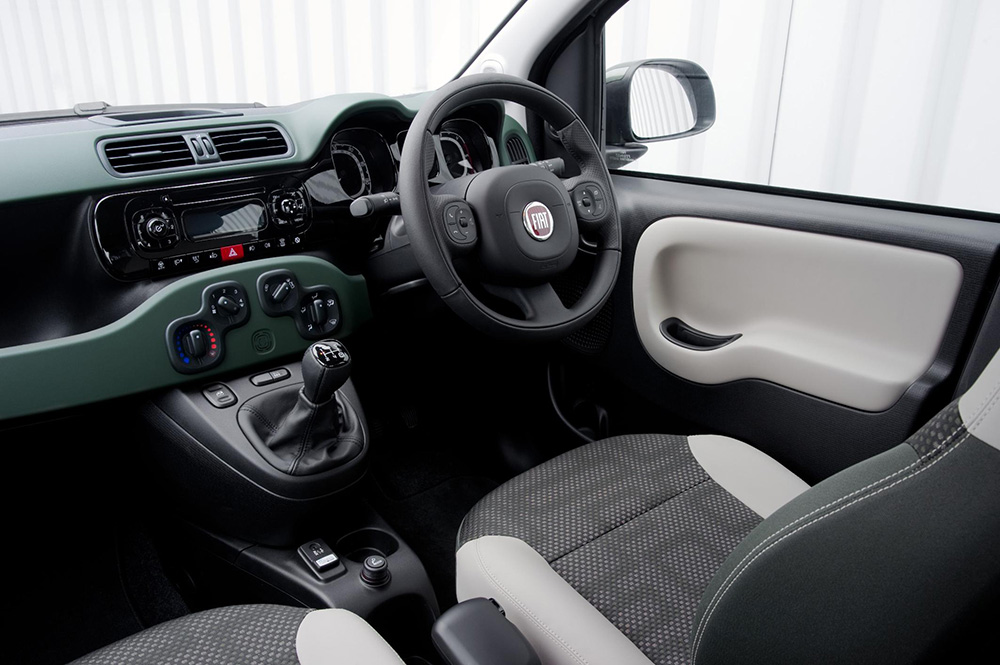 You'll either love or hate the thousands of tiny letters printed throughout the plastic interior, spelling out PANDA. However, they do help give the car a bit of a personality, along with the "square" dials, bright upholstery and cute looks.
It is practical but basic. Fiat claims that there are 15 storage spaces, while the boot will (just) accommodate weekend luggage for four. As long as no-one is too tall, the Panda will carry four adults in comfort and provide each one with an elevated view of the road. A split rear seat is an option but an Isofix child seat mounting comes as standard.
The Panda 4×4 comes with Fiat's Blue & Me USB sound system as standard, which is almost too effective: as soon as you plug a phone in, music starts blaring out of the stereo.
From the driver's seat, the controls are well set out, although the fuel range gauge is close to useless. It loses or gains huge chunks of mileage as you drive along and when the fuel light comes on, just when you need to know how many miles you have left in the tank, the display goes blank.
The one to buy
Fiat Panda 4×4 0.9 TwinAir
Specifications
Price: £13,995 (correct at time of first publication)
Engine: 875cc, 2-cylinder petrol
Power: 85bhp @ 5500rpm
Torque: 107 lb ft @ 1900rpm
Transmission: 5-speed manual
Acceleration: 0-62mph in 12.1sec
Top speed: 103mph
Fuel: 57.6mpg
CO2: 114g/km
Road tax band: C
Dimensions: L 3686mm, W 1672mm, H 1605mm
Fiat Panda 4×4 rivals
---
Search for and buy a used Fiat Panda on driving.co.uk
---