Maserati Quattroporte MkV review (2004-2012)
Gorgeous, and it's definitely not German

What is the Maserati Quattroporte?
Quattroporte. Four-door. Sounds much better in Italian, doesn't it? So it's a saloon, but one of the more exotic, and an attempt at bridging the luxury/supercar divide that pre-dated the Porsche Panamera and Aston Martin Rapide.
Launched in 2004, the modern-day Quattroporte marked a major advance for Maserati in build quality, reliability, comfort and general desirability, with its Pininfarina-sculpted curves and carefully crafted interior. It managed to be true to the brand's heritage yet also to bring it bang up to date, and the Quattroporte was, for the first time, a serious rival to the top-end Jaguar XJ, Mercedes-Benz S-Class and BMW 7-series models.
---
Search for and buy a used Maserati Quattroporte
---
Early examples – now increasingly affordable – came with a 4.2-litre, 400bhp V8 promising a top speed of 170mph; as reviewers pointed out, while more horsepower was available from certain German rivals, it wasn't electronically limited. This engine continued on sale in the "entry-level" (then £81,000-plus) 4.2 V8, while the S and Sport GTS from 2008 had the 4.7-litre V8 as in the Granturismo S coupé: 424bhp in the S, and 434bhp in the lower-riding Sport GT S which, like the earlier 400bhp Sport GT, is focused for sharper handling, with a modified version of the Skyhook adaptive-damping suspension and tweaked transmission responses. The Sport GTS has a "launch control" mode (traction control switch-off) and can accelerate 0-62 in 5.1 seconds, to a phenomenal soundtrack from its aurally enhanced exhaust; it has an uprated race-developed braking system too, as well as larger rear tyres and more aggressive styling.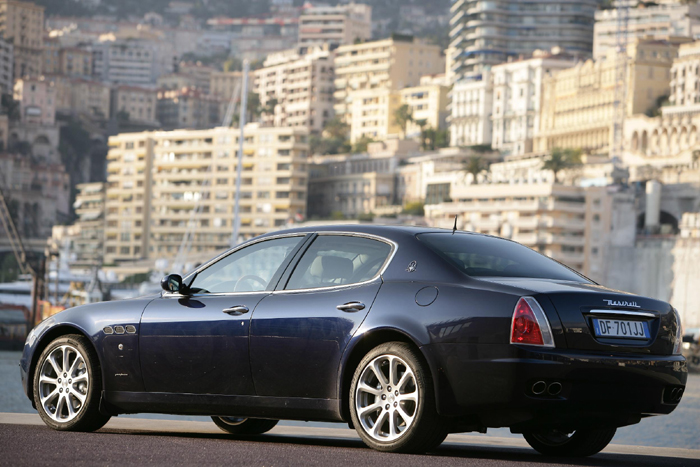 The early models' six-speed manual gearbox is quite hard going in traffic with its heavy clutch, and the DuoSelect clutchless manual is clunkier yet and slow to respond, though it was tweaked after initial poor feedback. Cars from early 2007 with the newer ZF six-speed auto 'box — plus quick-acting paddleshifts — are the easiest and most pleasurable to drive, especially if you'll be ambling around town as well as gliding down the autostrada. And glide you will, because the Quattroporte rides well at high speeds, though its lower-speed absorption of bumps isn't so good and it can feel unsettled.
Refinement is otherwise good, further shortfalls compensated for by the ambience of the opulently upholstered cabin, which lacks for nothing by way of equipment. It would be churlish to point out that this large car is only a four-seater, its rear seats do not fold down, and its boot (450 litres) is small — don't expect it to be much more practical than a GT coupé.

Though this Quattroporte has held its value better than Maseratis of old, its depreciation has been harsh nonetheless, so it's getting more accessible second-hand, if no less immensely indulgent. But whilst it may now look temptingly cheap to buy, remember that this is a  20mpg monster and you'll be lucky to see 10mpg around town — plus it incurs top-rate tax and insurance. It can be astonishingly expensive to maintain and run.
What to look out for when buying a used Maserati Quattroporte
The Quattroporte is a complex and potentially temperamental beast, which needs specialist attention and regular servicing — every 6,250 miles. Don't touch anything without a full history, do your research thoroughly (there are some very active and helpful owners' forums online) and go into Maserati ownership with your eyes open. Buy the best example you can afford, put aside a large budget for repair bills and maintenance, and learn to live with its idiosyncrasies. If you're not sure you can do that, you'd better go for something German instead.
The 2004-on Quattroporte has been recalled a few times: for electrical short-circuiting on its door handles, for incorrect instructions in its manual regarding the rear door safety locks, for incorrect disabling of the stability control, for potential failure of the front suspension arm, for inactive seatbelt warning buzzers and, more seriously, for potential failure of the rear tie-rods and loss of vehicle control. Check that all necessary rectifications have been made.
The gearboxes have been glitchy, especially the DuoSelect. One owner reported needing a new steering rack and prop shaft after just 2,500 miles plus flaking paint, and others have noted failures of the air conditioning, battery-draining, sticking sunroofs and other electrical issues even on relatively low-mileage Quattroportes. And it appears that you may just have to live with randomly flashing dashboard warning lights, trim rattles, and the knowledge that you will go through clutches, brakes and tyres very, very frequently. But given all that, there are also owners claiming to be using their cars daily and racking up large mileages without problems. And even those with less dependable cars still adore them.
The One to Buy