Lexus IS Mk2 review (2005-2012)
Reliable, safe, limited

What is the Lexus IS?
The Japanese take on the BMW 3-series theme: Lexus took the tried-and-tested and much-loved formula of rear-wheel drive and a straight six to create its IS-series compact-executive. It was a fairly shameless me-too move — which paid off, because although the IS has never sold in large numbers, it has consistently done well and even topped customer satisfaction and reliability surveys, doing a lot for Lexus's reputation. It has also brought younger buyers to the brand.
---
Search for and buy a used Lexus IS
---
Though an estate, the SportCross, was offered from 2001-05, since the second-generation range was launched the IS-series comprised 200d and 220d diesel saloons (discontinued late 2011) and the  petrol IS 250 and V8-engined IS-F, plus the IS 250 C convertible, continued for another year or so till the Mk3 model arrived. The six-speed manual gearbox — never the quickest-shifting, and with some oddly set gear ratios — was phased out in favour of a standard auto.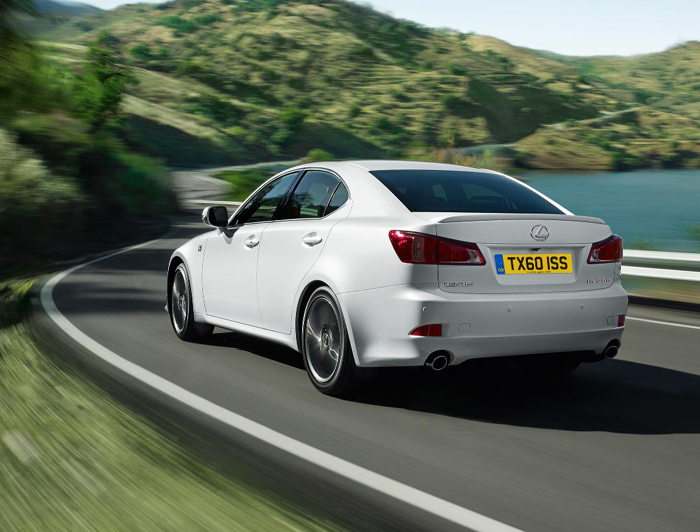 Neither the sometimes-coarse diesels nor the smoother 2.5-litre petrol engine are particularly strong performers, but the high-revving 5.0-litre IS-F is — if not quite as muscular as an M3 — a credible sports saloon. The heavier IS 250 C convertible feels underpowered, however, and its handling is less involving. Handling of all four-door tin-topped versions is well-balanced and agile, with accurate and well-weighted steering, and the ride is generally good, though avoid the larger wheels and skinnier tyres if comfort's a priority — versions with these are a little harsher, often unsettled over rougher surfaces, and give higher levels of road noise.
As you'd expect from a Lexus, refinement is otherwise excellent: good sound-proofing plus comfortable and well-shaped seats with a well-designed driving position and carefully thought-out ergonomics. However, the rear seats of the saloon are very cramped — there's little legroom, headroom is restricted, and the boot is rather small. Conversely, the convertible's rear seats are quite generous for a vehicle of this type and the boot's quite big when the roof's not folded back; the rag-top is also well-sealed to create a cosy and decently insulated cabin.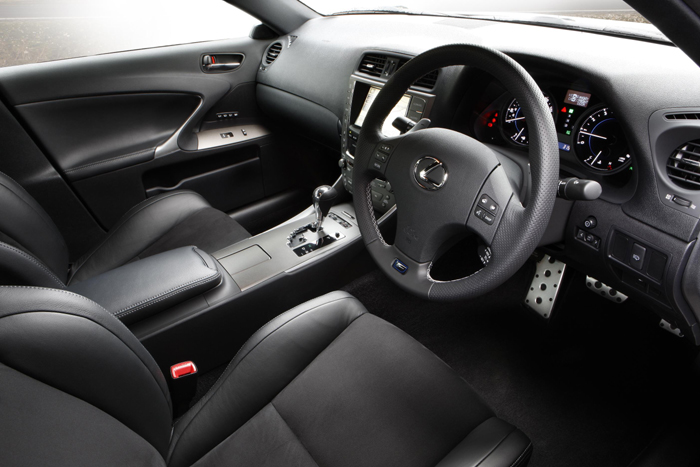 The IS saloon comes with eight airbags — including airbags to protect the knees of front-seat occupants. Top-spec SE-L versions (with the auto gearbox) also have radar-assisted crash-sensing that primes the brakes and tightens the seatbelts if an impact is imminent.
The IS is better value second-hand than it was new  — depreciation was quite high for the IS-F in particular — as the German compact execs are better-known. It's also very well-equipped: top-end versions will come with a high-quality Mark Levinson stereo, one of the best sat nav systems on the market, a 40GB hard-drive and digital radio, as well as fully adjustable, heated and ventilated leather seats, LED daytime running lamps, parking sensors and all the usual Lexus accessories.
What to look out for when buying a Lexus IS
Most complaints from owners concern the diesel engine and/or the manual gearbox, though their issues have been more about general clunkiness, poor refinement and disappointing performance or fuel economy than actual mechanical failures. However, a few diesel owners suffered problems including head gasket, turbo and catalytic converter failure, and other IS issues reported include power steering failure, the odd electrical problem and rattling interior trim. There have also been recalls to address seatbelt problems and leaking fuel pressure sensors on petrol models.
That said, Lexus has an almost unrivalled reputation for reliability and customer service: in 2011, it scored top place as a brand in the UK What Car?/JD Power survey, with the IS the top-placed model for the third time. In 2012, Lexus lost the top spot to Jaguar, but the IS continued to be the highest-rated compact executive car. The IS also fares well in the Warranty Direct reliability index, though it was only 70th in the 2012 Auto Express Driver Power survey.
The One to Buy
Lexus IS 250 SE-L Auto
Specifications
Engine:

2499cc, 6-cylinder

Power:

205bhp @ 6400rpm

Torque:

186 lb ft @ 4800rpm

Transmission:

6-speed auto

Acceleration:

0-62mph in 8.5sec

Top Speed:

140mph

Fuel

33.6mpg combined

CO2:

194g/km

Road Tax Band:

J

Dimensions:

L 4585mm, W 1800mm, H 1440mm
Lexus IS rivals
Audi A4 (click here for used prices on driving.co.uk)
BMW 3-series (click here for used prices on driving.co.uk)
Mercedes-Benz C-class (click here for used prices on driving.co.uk)