Kia Rio Mk3 review (2011-on)
Oh, Mr Soft, why don't you glide me home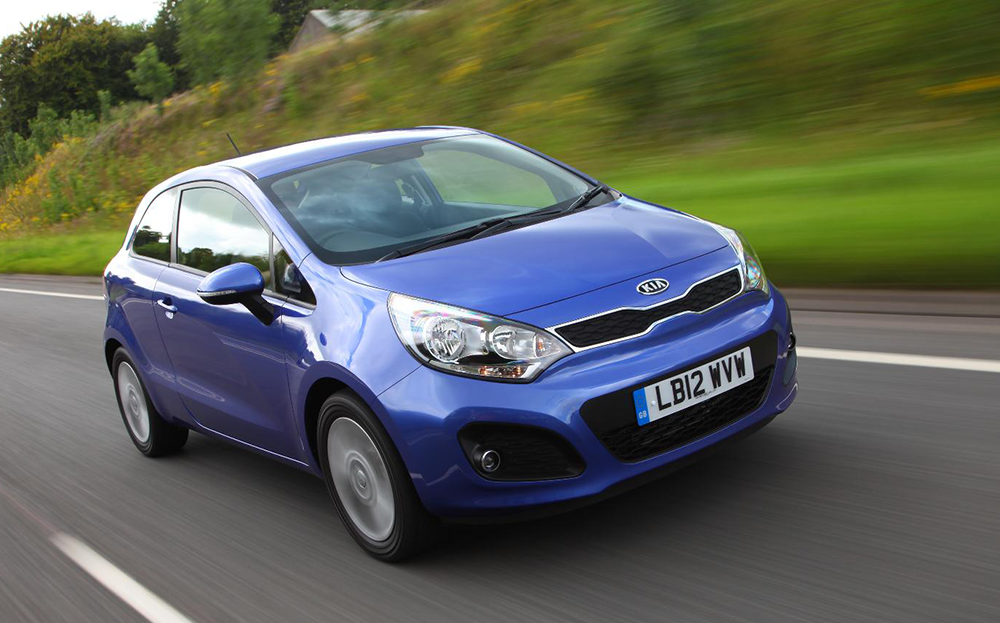 Kia Rio Mk3 at a glance
Handling: ★★★☆☆
Performance: ★★★☆☆
Design: ★★★★☆
Interior: ★★★☆☆
Practicality: ★★★☆☆
Costs: ★★★★☆
---
BRITAIN NEEDS the Kia Rio. Not because we're desperately short of decent superminis – in fact we have a surfeit – and not because the Rio is superior to its rivals (not while the current Ford Fiesta is around, it's not), but because it is the best car you can buy to tame our potholed highways.
---
View the used Kia Rios for sale on driving.co.uk
---
An independent report published at the start of 2014 concluded that the quality of Britain's roads is now equal with those of Namibia. Drive most cars on a particularly pock-marked stretch and it won't be long before you're wondering how much a trip to either a wheel repair centre or a chiropractor will set you back. The Rio laughs in the face of bump and troughs, though, soaking them up as if floating on a cushion of air. If Trebor's Mr Soft drove a car, this would be it.
That's not necessarily a criticism – if a comfortable ride is what you desire, look no further. If, however, you want a car that delivers a bit of sparkle through corners, look elsewhere (again: Fiesta).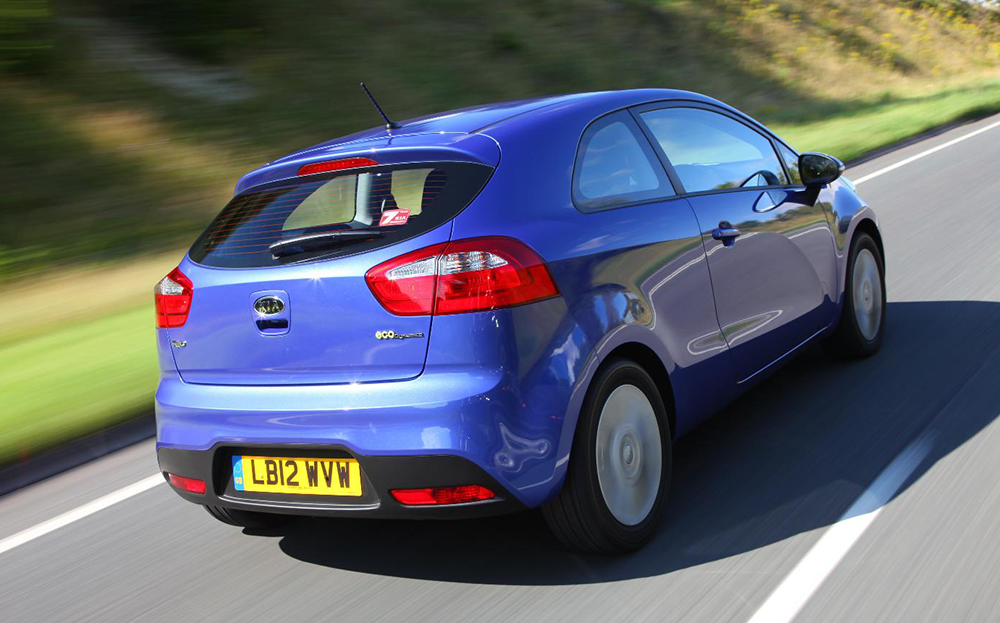 There's plenty to like, though. The Rio was first introduced to the world in 2000 and is now in its third — and by far best — generation. While earlier versions were bland and poor to drive, the current model was far superior. While its ride could be described as relaxed, and the steering is incredibly light, it's still an engaging drive. The Rio also stylish inside and out, comfortable, quiet at speed, well-built and, dare we say it, desirable.
What's more, the engines deliver exceptional economy: there are currently two petrol and two diesel units to choose from, with the thirstiest of the bunch — the 1.4-litre petrol with automatic transmission — delivering an officially-recognised 44.1mpg on a mix of urban, suburban and rural driving. It's the only engine and transmission that will require you to pay road tax in the first year, with CO2 emissions of 150g/km.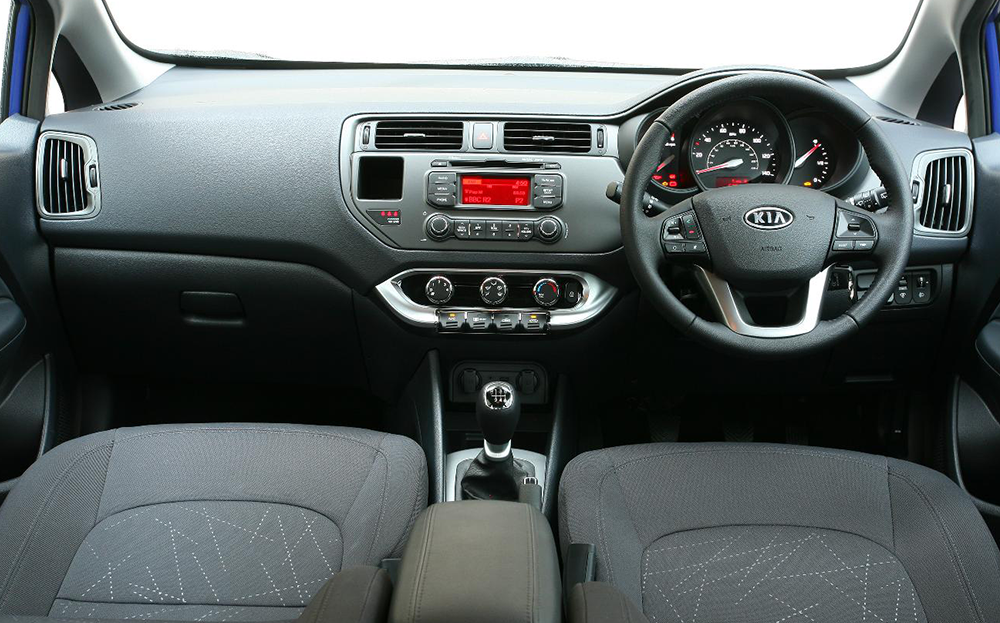 Plump for the manual transmission with ISG (Intelligent Stop and Go, or start-stop to laymen) and the same engine will reap 53.3mpg and emit 124g/km of CO2, which means there's no tax to pay in its first year and just £110 to pay its first birthday.
The star performer in the economy stakes is the 1.1-litre three-cylinder turbodiesel with ISG; it yields an official 88.3mpg and emits just 86g/km of CO2. This means zero road tax for its life under the government's existing rules (new rules come into effect for new cars from April 1, 2017).
What sort of power do you get from these super-efficient motors? Well, on paper the 1.25-litre four-cylinder petrol engine looks good when compared to the Ford Fiesta's comparable unit. The Kia will develop 84bhp at 6,000rpm, versus the Fiesta's 82bhp at 5800rpm, and 89 lb ft of torque against 84 lb ft for the Ford (read about torque here).
The Kia should be marginally quicker to 62mph, too, at 12.9sec, but in reality it doesn't seem as perky as the Ford. No surprise; it's carrying an extra 166kg, which makes a significant difference to the feel of the car (as if carrying two male passengers around with you). In addition, though, it sounds as wheezy as a chronic asthmatic.
That aside, there are additional advantages to owning a Rio: all Rios have DAB radio with Bluetooth, daytime running lights, speed-variable front wipers and a tyre pressure monitoring system, for example. Safety tech in general is impressive and helped the Rio to a five star rating in the Euro NCAP crash tests. And Kia offers its mega seven year or 100,000-mile warranty, of course.
All things considered, the Rio is a great value car that's economical to run and won't rattle your teeth out of your head over time. Just take a Fiesta for a test drive, too.
2015 Kia Rio 1.25 Petrol SR7 3dr specifications
PRICE: £11,845
ENGINE: 1248cc, four-cylinder
POWER: 83bhp @ 6000rpm
TORQUE: 90 lb ft @ 4000rpm
TRANSMISSION: 5-speed manual
ACCELERATION: 0-62mph in 12.9sec
TOP SPEED: 104.39mph
FUEL: 56.5mpg (combined)
CO2: 115g/km
ROAD TAX BAND: C (Free for first year, £30 thereafter)
RELEASE DATE: On sale now
Kia Rio rivals
Ford Fiesta (view cars for sale)
For Brilliant handling and smart looks
Against Getting on a bit now
Vauxhall Corsa (view cars for sale)
For Smooth engines, value for money
Against Smaller engines run out of breath
---
Click to read car REVIEWS or search NEW or USED cars for sale on driving.co.uk
---