Kia Pro_Cee'd review (2013-on)
If the Pro_Cee'd were as good to drive as it is to look at, Kia would be keeping Ford and VW engineers up at night.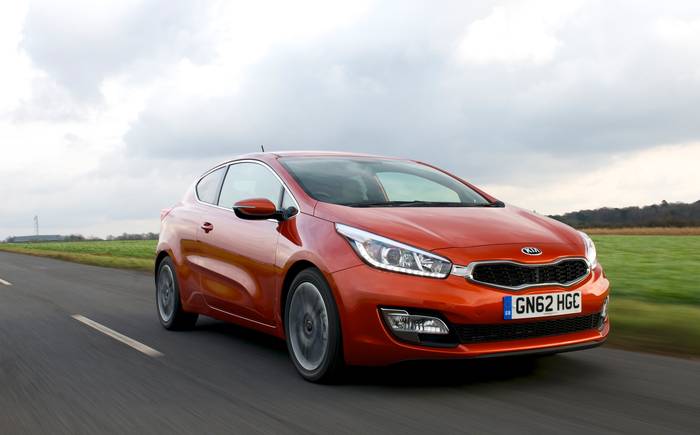 What is the Kia Pro_Cee'd?
Whisper it: this may be a desirable Kia. To date, the cars sold by the Korean company have been sensible but, like a pair of M&S pyjamas, were hardly likely to raise the pulse. The Pro_Cee'd changes all that. It's a good looking car, handsome enough to draw a number of positive comments from friends and family during its time on test with members of the Driving.co.uk team.
---
Search for and buy a used Kia Pro_cee'd  on driving.co.uk
---
But is attractive styling enough to make the three-door hatchback genuinely desirable? Only buyers can decide where their priorities lie, but setting aside any brand preference this is a better looking car than the three-door versions of the Hyundai i30 and Volkswagen Golf.
Pricing is competitive, starting from £16,495, and there are two engine variants to choose from: a 1.6-litre GDi petrol model with 133bhp, and a 1.6-litre CRDi diesel with 126bhp. It's the latter that will be the bigger selling version, and is test driven here. Trim levels are refreshingly straightforward – S or SE – and an automatic is available with the diesel model, otherwise all Pro_Cee'ds come with a six-speed manual gearbox.
For those who want more performance to complement the sporty styling, there is a GT version, which uses a turbocharged 1.6-litre engine, with 201bhp. Be warned, though, that Jeremy Clarkson was damning of it, awarding the flagship version just one star.
For private buyers, one of the Pro_Cee'd's most notable selling points is the inclusion of a seven-year warranty. For the first three years there are no restrictions placed on the vehicle's total mileage covered, whereupon it reverts to a limit of 100,000 miles for the remaining four years, but the car must be serviced every 20,000 miles or once a year.
The drive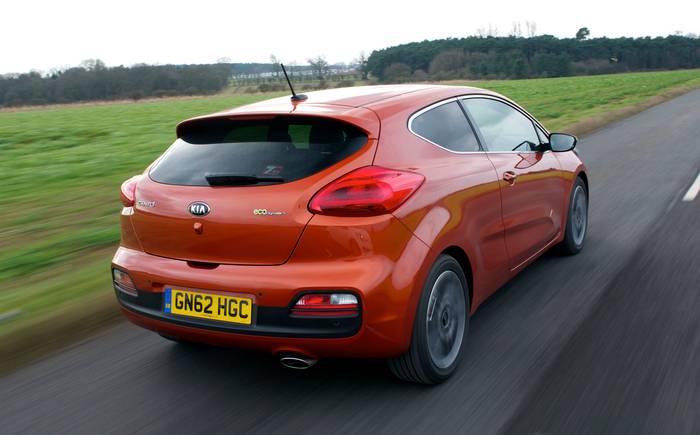 If the Pro_Cee'd were as good to drive as it is to look at, Kia would be keeping Ford and VW engineers up at night. As it is, the Pro_Cee'd is unremarkable and still some way behind the Focus and Golf when it comes to feeling like a precision-engineered machine.
It feels heavy and rather lead-footed, and there's a simple explanation for that – it is. An equivalent three-door Golf is almost 200kg lighter than the Pro_Cee'd, a difference as significant as carrying three adult passengers. That extra bulk is noticeable as you steer into bends, as the rear of the car feels reluctant to work in harmony with the front, a little like a delay on a phone line. And on undulating main roads, the car often heaves on its suspension and the brakes feel underpowered.
Tackling a winding road with the vigour of Mr Toad is not an especially pleasurable experience. However, the ride comfort is generally smooth and forgiving of poor road surfaces, and refinement is good, with low levels of tyre and engine noise. Commuters or company car drivers who cover high mileages will find it's a comfortable and stress-free car.
As for the 1.6-litre diesel engine, it pulls smoothly and willingly from low in the rev range and is quiet and sensibly geared at motorway speeds, turning over at 2,000rpm at 70mph. However, the car's portly weight blunts performance, with 0-62mph taking 10.5 seconds for the SE, and 11.5sec for the S version which has different gearing for the six-speed manual transmission. The slower speed does, however, mean it's capable of as much as 74.3mpg and emits 100g/km of CO2, making it exempt from road tax.
Drivers who don't want a diesel-powered model can choose the 1.6 GDi which, with 133bhp, is ultimately faster (0-62mph in 9.8sec or 9.5sec for the S and SE respectively) but the lack of torque (121 Ib ft versus 192 Ib ft for the diesel) will be noticeable.
The interior
The Pro_cee'd is a long car yet the cabin isn't especially spacious. This is most noticeable in the back seats, where knee room is restricted and – like many coupés and three-door cars – there's a distinct feeling of claustrophobia.
Climbing in and out of the car is made easier by front seats that tilt, slide and then return to their original position, but the long doors can make it a tight squeeze in car parks. However, it's a useful touch having three rear seatbelts, and the boot is a generous 380 litres, which can be extended to 1,225 litres when the 60/40 split/fold seat is folded down.
In the front, the cabin design looks stylish and the fixtures and fittings are of an impressive quality. Gone are the days were Kias were cheap for a reason – the Pro_Cee'd feels robust and expensive, with chrome trimmings and piano-black-style fascia cappings. It also boasts one of the best infotainment systems we've encountered, operated via a 7in touchscreen. The menus and graphics are clear, simple and intuitive – in sharp contrast to those used by some competitors.
The driving position and seats are comfortable and the ergonomics are good. This is a car that would cover hundreds of miles at a time without tiring the driver. But the button that adjusts the weighting of the steering is a useless gimmick – give us one setting that actually feels natural, please – and the lens of the rear-view camera (which switches on when reversing) quickly accumulates dirt, obscuring its view.


The one to buy
Kia Pro Cee'd 1.6 CRDi S
Factfile
Price:

£17,595 (correct at first publication)

Engine:

1582cc, 4-cylinder diesel

Power:

126bhp @ 4000rpm

Torque:

192lb ft @ 1900 – 2750rpm

Transmission:

6-speed manual

Acceleration:

0-62mph in 11.5sec

Top speed:

122mph

Fuel:

74.3mpg (combined)

CO2:

100g/km

Road tax band:

A 

Dimensions:

L 4310mm, W 1780mm, H 1430mm
Kia Pro_'Ceed used car rivals for similar money