Kia Optima review (2014-on)
As exciting as a Monday morning management meeting
---
Published 05 September 2014

What is the Kia Optima?
Kia is straight-talking about its largest family saloon: it's designed for company car drivers. So if you don't fall into that description, the likelihood is that this car is not for you.
There is just one engine ‒ a 1.7-litre diesel ‒ so drivers who share Boris Johnson's concerns about the nasty stuff that comes out of a diesel car's exhaust can't even opt for a petrol-powered model. Again, it's another reason that customers will discount the Optima from their shortlist of new cars to test drive.
Judged on its badge and price – which starts at £19,995 ‒ the competition would appear to be the likes of the Hyundai i40, Ford Mondeo, Peugeot 508 and Vauxhall Insignia. However, the reality is that drivers in this segment – be they provided with a company car or private customers paying their own way – are defecting to Audi, BMW and Mercedes.
---
Search for and buy used Kia Optima here
---
For 2014, the Korean car company has given the Optima a touch of Botox; the sort of subtle facelift that quietly removes the shadows from under the eyes. But there's a certain sense of desperation when one of the headline improvements is said to be a redesigned key fob that's "more premium in appearance".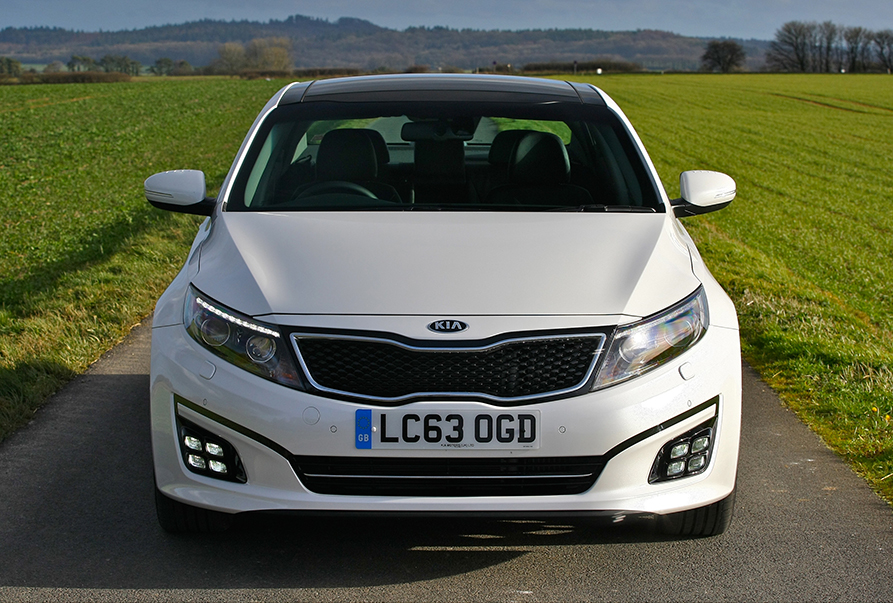 Kia has also made a number of subtle technical improvements aimed at improving the car's active safety systems, as well as the general driving experience. Gadgets designed to help the driver include Blind Spot Detection which, rather than seeking out blind spots, alerts drivers to traffic approaching from behind. Rear Cross Traffic Alert helps detect oncoming traffic when you're reversing out of a parking space, rather than warning of irate drivers you've just cut up.
Aside from its handsome looks (and this is one of the better looking cars of its type) one compelling reason for a private driver to buy an Optima is that it comes with Kia's seven-year, 100,000-mile warranty.
The drive
Prepare to fall asleep. The Optima appears to have been sent off to a laboratory and had all traces of personality removed. The car leaves no impression on the driver, or passengers, and falls some way behind the competition.
Admittedly, company car drivers value comfort, refinement and an easy-going driving experience, not to mention low running costs, and in certain respects, this Korean saloon hits the mark. Its smooth-sounding 1.7-litre diesel engine pulls the car along enthusiastically from low in the rev range. There's the potential to achieve over 57mpg in daily driving conditions, and it emits 128g/km of CO2 (but doesn't pass the Euro 6 emissions).
However, the steering is alarmingly light and remote. The driver turns the wheel and the nose of the car reacts, but it never feels as though there is any sort of mechanical chain reaction taking place.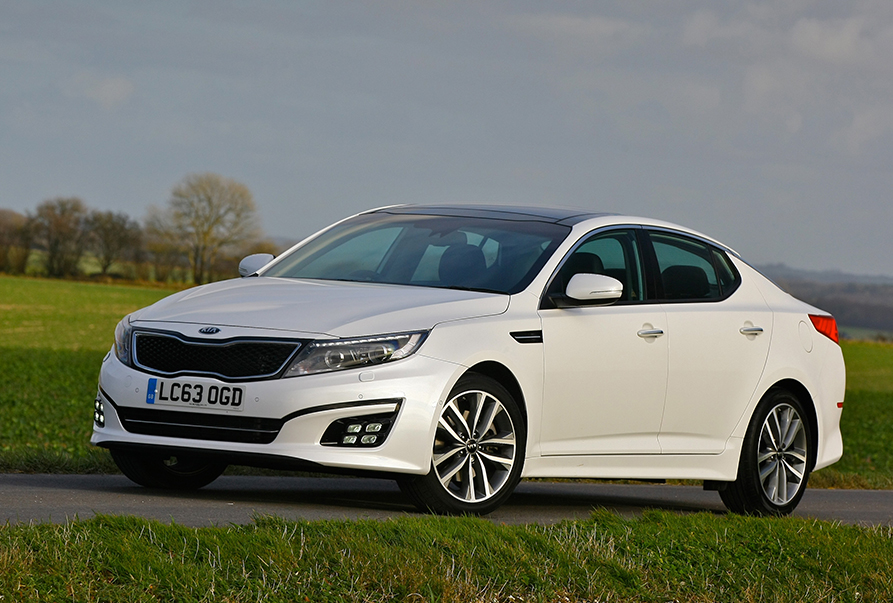 The unexciting roadholding is stable at best, boring at worst. You only know when the limit of the tyres' grip has been passed by looking out of the window and noticing the car start to run a wider than intended line. A Ford Mondeo, for example, is a far more rewarding car to drive; one with a sense of harmony between man and machine.
All this would be fine if the Optima were the most refined car in its class. However, it suffers a certain amount of engine thrum at 70mph, and the levels of wind and road noise aren't the best for this type of car. Unnervingly, the brake pedal has a wooden feel with a certain amount of dead travel before the system wakes up and does its job.
The interior
There is nothing fancy in here. It's a clearly laid out cabin which is pleasingly free from confusion, but any feel-good factor must have been left on the factory floor. Black plastic is complemented by a smattering of piano-black gloss trim, but it's unexciting – a disappointment given that the car's exterior shows how Kia's designers can make things look good.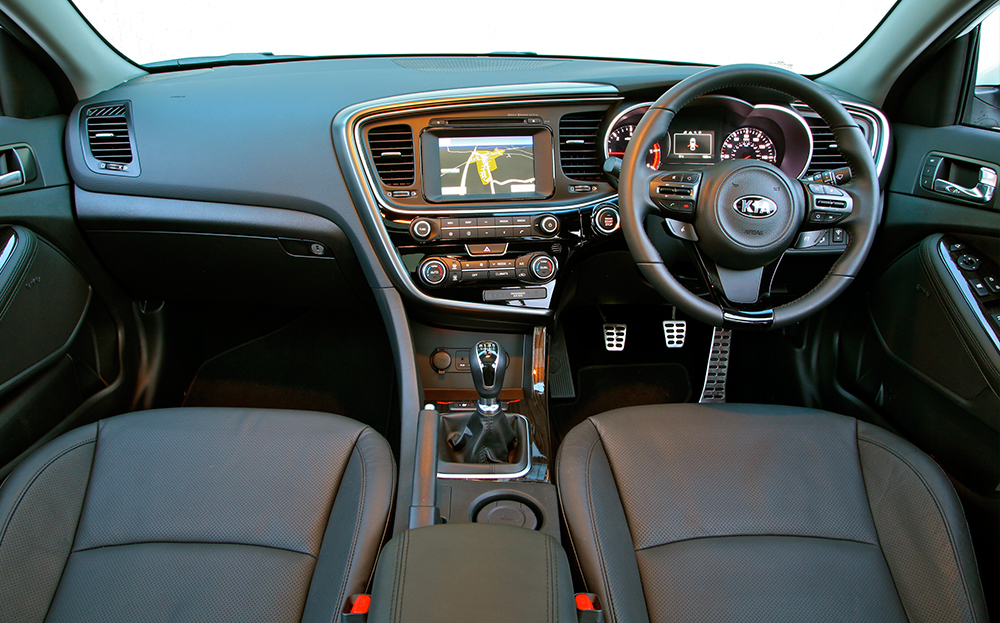 Many of the newly introduced driving aids are only available on the range-topping trim level – known as 3. Kia says this is because most company car drivers prefer to keep the costs of the car as low as possible.
Front headroom is on the tight side for anyone over six feet tall, and the new (for 2014) seats feel over padded, so you always seem to be perched on them rather than relaxing into them. Perhaps this is Kia's way of keeping company car drivers alert for their next sales pitch.
The back seat offers lots of legroom – plenty for adults – but with no ventilation in the rear cabin it's going to seem stuffy on a hot day. Still, the boot is jolly big – a shoebox over 500 litres – and it has a split/folding seat back (although the rear bulkhead obstructs the aperture).
The one to buy
Kia Optima 1, manual
Specifications
Price: From £19,995 (correct at first publication)
Engine: 1685cc, four-cylinder diesel
Power: 134bhp @ 4000rpm
Torque: 239 lb ft @ 2000rpm
Transmission: 6-speed manual, front-wheel drive
Acceleration: 0-62mph in 10.2sec
Top speed: 125mph
Fuel: 57.6mpg (combined)
CO2: 128g/km
Road tax band: D
Dimensions: L 4845mm, W 1830mm, H 1455mm
---
Search for and buy used Kia Optima here
---
Kia Optima rivals
Ford Mondeo – search for here 
Hyundai i40 – search for here
Vauxhall Insignia – search for here