Hyundai i40 review (2011-on)
Hyundai has rolled up its sleeves, knocked back a shot of Dutch courage and taken the company-car fight straight to Ford, Vauxhall and Volkswagen's doorstep.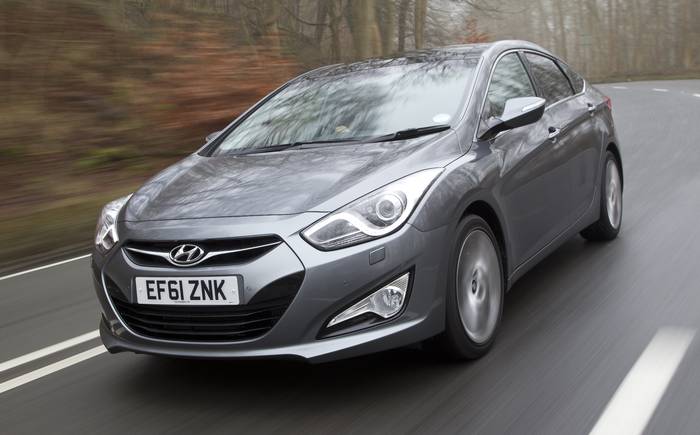 What is the Hyundai i40?
Hyundai has rolled up its sleeves, knocked back a shot of Dutch courage and taken the company-car fight straight to Ford, Vauxhall and Volkswagen's doorstep. The i40 may entice private buyers with its bold looks and five-year warranty, but in this category, with tax benefits this good, it's probably company-car users who will generate the lion's share of sales.
---
Search for and buy a used Hyundai i40 on driving.co.uk
---
Our pick of the range, the higher-powered 1.7-litre diesel, is competitively priced, undercutting the equivalent Ford Mondeo by £1,000. Its CO2 figure is low (119g/km), which decreases the tax burden on its driver, and as a family car the saloon version is spacious and practical. Buyers wanting serious carrying capacity should take a test drive of the handsome i40 Tourer (estate).
The drive

The 1.7-litre CRDi engine is a fine unit once wound up, but its maximum pulling power is generated too high up in the rev range, compromising flexibility under foot. Where most rival engines are hauling hard by 1700rpm, the Hyundai's has to build up to at least 2000rpm before doing any worthwhile work. It's not a major setback, but it shows that Hyundai's engineers still have work to do before they're building cars that make class benchmarks.
The good news is that the engine is efficient and clean: Hyundai claims a combined-cycle fuel economy of 62.8mpg and CO2 emissions of 199g/km. And it's a fairly sprightly car if you drive it hard, with 0-62mph acceleration in 10.3 seconds, which is perky enough.
On motorways the i40 is impressively quiet, making it ideal for drivers who cover a high annual mileage, but off the beaten track and down winding country roads it's not exactly the last word in excitement. To be fair, few cars in its class are, although the Ford Mondeo and VW Passat both steer and handle better, and have better-controlled damping at high speed. The Hyundai is stable, nevertheless, and never rattles its occupants.
The interior

The i40's interior is as curvaceous as a supermodels' pool party, the dashboard a sea of swoops and swirls that give the cabin a more exciting atmosphere than those of most rivals. And the materials used in trimming it both look and feel costly, so it happily stands comparison with the cabins of Toyota's and VW's offerings.
There's also plenty of space inside – more so than in most competitors – so driver and passengers alike can stretch out in comfort and don't have to suffer on long journeys.
Practicality is at a prime, too, and everywhere you look there are deep door bins and big stowage compartments. The boot is large, and its 525-litre volume can be extended by folding down the rear seat, although this doesn't lie completely flush with the boot floor, so huge, heavy items may instead have to be delivered by van.
Buying a used Hyundai i40
Hyundai provides a five-year warranty on all of its cars, underlining the confidence it has in them. So it'll come as little surprise that so far there have been no fault patterns cropping up and no recalls.
The not so good
The diesel engine could do with more torque at low revs.
The one to buy
Hyundai i40 1.7 CRDi (134bhp) Blue Drive Active
Factfile
Price:

£19,195 (correct at first publication)

Engine:

1997cc, 4 cylinders

Power:

134bhp @ 4000rpm

Torque:

240 lb ft @ 2000-2500rpm

Transmission:

6-speed manual

Acceleration:

0-62mph in 10.3sec

Top speed:

125mph

Fuel

62.8mpg

CO2:

119g/km

Road tax band:

C 

Dimensions:

L 4740mm, W 1815mm, H 1470mm
Hyundai i40 used car rivals for similar money
See prices of BMW 5-series
See prices of Jaguar XF 
See prices of Volvo S60