Jeep Grand Cherokee review (2011-on)
Good but aging and overpriced
A monster of an SUV from the company that arguably pioneered the 4×4 genre, it has been developed around the platform of the new Mercedes-Benz ML (a legacy of the now-dissolved DaimlerChrysler partnership). The current car was launched in mid-2011, and a facelifted version (reviewed here) arrived in July, 2013. Chrysler's Jeep division has worked hard to improve on what was previously a rugged, cut-price offering, so it's now better attuned to European tastes.
---
Search for and buy a used Jeep Grand Cherokee
---
Costing from £36,995, it's possible to spend as much as £59,995 on a Grand Cherokee, albeit the high performance SRT. Other SUVs drivers should consider include the Audi Q7, BMW X5, Mercedes M-class and even the quietly ageing Volvo XC90. As the most macho of the lot, the Grand Cherokee stands out of the crowd like a gun-slinger walking into a cocktail bar.
Unless you get cheap thrills from guzzling gas – in which case the high-powered 6.4-litre SRT model should be your thing – there is really only one engine worth considering, and that's the 3-litre V6 diesel. It is a substantial improvement in every respect over the motor of the previous generation Grand Cherokee, and there are five trim levels to choose from.
The drive
This is a likeable car. It feels tough enough to ram through a bank vault wall, sits solidly on the road and makes for a highly capable tow car. It can also handle itself should the driver ever venture off-road.
Show the Jeep Grand Cherokee a mountain and it will climb it thanks to the top-notch rough-terrain-tackling ingredients hidden beneath its skin. And it will do so with far more comfort and a markedly higher level of on-board equipment than any Grand Cherokee that has gone before it. Credentials include Jeep's respected Quadra-Trac four-wheel drive system backed up by height-adjustable air suspension (on the Overland versions), hill descent control and hill-start assist. The selectable 4×4 drive can be adjusted according to the terrain ahead, and all the driver needs to do is turn a control to select Sport, Snow, Auto, Sand/Mud or Rock mode respectively. And it works well – on really rough terrain the Jeep is perfectly capable of holding its own against the Land Rover Discovery.
The V6 diesel engine is powerful and delivers a big, fat slug of torque from low down in the rev range, giving a relaxed and effortless drive, and the latest eight-speed automatic gearbox is a big improvement over the old five-speed automatic transmission. It also helps raise fuel consumption from 34mpg to nearly 38mpg.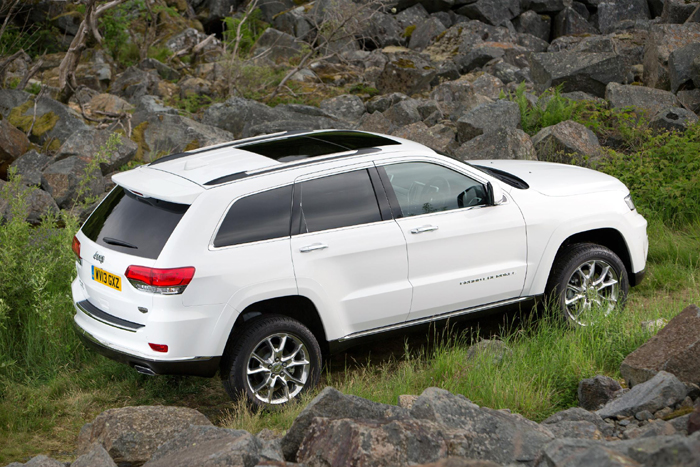 The air suspension gives good body control at higher speeds but a fidgety ride at low speed. The steering is light, the handling stable enough, but cars such as the BMW X5 deliver a more polished driving experience the road. Despite this, you find yourself warming to the Grand Cherokee's charms.
The cabin
The first thing any would-be buyer who wants a practical family SUV should know is that with Jeep's Grand Cherokee there is no option of seven seats; this is strictly a five-person car. That means the Q7, X5 and XC90 all hold an advantage over it.
Front-seat occupants are immersed in a pleasing enough environment, though not one that's so glamorous it threatens the future of interior designers at Audi or Mercedes-Benz. There's a digital display instead of analogue dials, and this can be tailored to display a wide range of information, including what the four-wheel drive system is doing at any given moment. The dashboard design is conservative and the materials a little ordinary, but there's no faulting the clear, uncomplicated user-friendliness of this Jeep's cabin layout.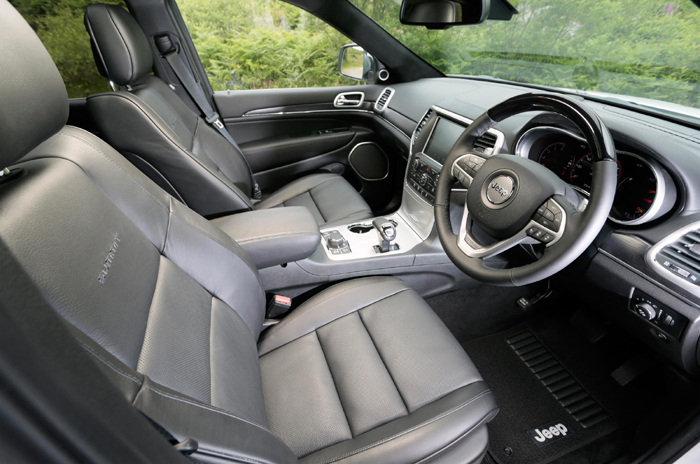 There are a host of welcome safety features fitted as standard to all models, including adaptive cruise control (which adjusts vehicle speed according to traffic conditions) and forward collision warning with crash mitigation (it warns drivers of slowing traffic when it detects they haven't reacted, and can even apply the brakes).
Cabin space is generous only to a point, as the transmission housing intrudes so much on the driver footwell that there's no room left for a left-foot footrest. At more than 780 litres, the Grand Cherokee's boot is huge, and its practicality can be further enhanced as the rear seats are of the split-and-fold type.
The one to buy
Jeep Grand Cherokee 3.0 CRD V6 Overland
Specifications
Price:

£45,695

Engine:

2987c V6 diesel

Power:

237bhp @ 4000rpm

Torque:

405 lb ft @ 1800-2800rpm

Transmission:

5-speed automatic

Acceleration:

0-62mph in 8.2sec

Top Speed:

126mph

Fuel

34.0mpg combined

CO2:

218g/km

Road Tax Band:

K

Dimensions:

L 4822mm, W 1943mm, H 1764mm
Jeep Grand Cherokee rivals
Land Rover Discovery (click here for used prices on driving.co.uk)
Porsche Cayenne (click here for used prices on driving.co.uk)
Mercedes-Benz M-class (click here for used prices on driving.co.uk)