Used Jaguar XF review (2008-2015)
The swish of the tail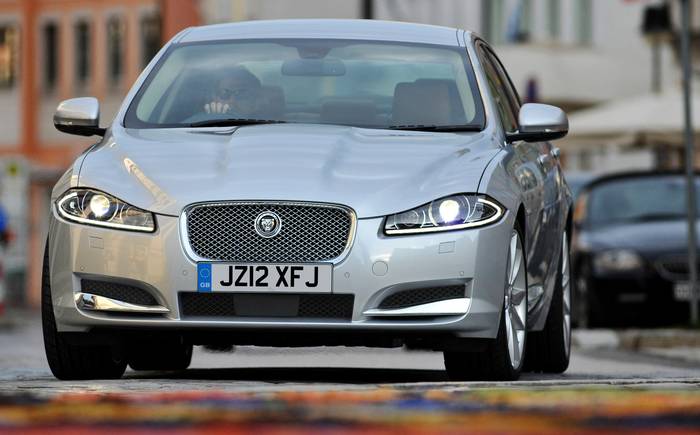 What is the Jaguar XF?
Jaguar's mid-size premium saloon, rivalling the likes of the Audi A6, Mercedes E-class and BMW 5-series. In the most important areas, this XF (codenamed X250, with the post-2015 model being the X260) matched the abilities of its best mid-size executive German rivals but added an extra sense of style and class.
The range extended from a 2.2-litre diesel with 163bhp to a mighty 550bhp XFR-S model with a 5-litre supercharged V8 on board. When new, the cheaper cars were not only better value, they were better full stop, although depreciation may mean the meatier models are now the best-value buys. A much-needed Sportbrake estate version went on sale at the end of 2012.
The X250 Jaguar XF in detail
By Andrew Frankel
What's it like to drive?
A Jaguar need not be hugely fast but it must always combine a fine ride with handling of genuine appeal to the driver This XF achieves this better than any other Jaguar of its time. And the cheaper and slower the XF, the lighter, more nimble and better-balanced it will be. All XFs grip hard and steer beautifully but the base 2.2-litre diesel, on modest 17in rims, rides better than a long wheelbase XJ limo, while on a decent road it will indulge the driver at a level usually reserved for purely sporting cars, and pretty well resolved ones at that.
On paper, performance seems merely adequate unless you choose at least the 3-litre diesel, but with a standard eight-speed gearbox even the lowest-powered XF rarely feels as gutless as its figures suggest. Nor is the concept of a four-cylinder Jaguar quite the contradiction in terms it might seem. Jaguar's engineers, concerned that the Ford-sourced engine would not deliver a truly refined driving experience, threw so much sound deadening at it that some suggest it's more refined than the 3-litre V6 diesel.
The interior
From the way the gear selector emerges from the centre console to air vents that rotate through 180 degrees when you start the engine, here is a cabin that surprises and delights. It looks beautiful, too, and in design terms it's a real step up from most rivals.
It's not all good news, though. Room in the back is limited and the driving environment, although very attractive, doesn't work anything like as well as offerings from BMW, Audi and Mercedes. The touchscreen dealing with all navigation, information and entertainment is particularly slow and, at times, frustratingly counterintuitive.
In the end — and like almost all Jaguars — whether the XF will appeal or not depends on whether what it lacks in operating efficiency is more than compensated for by the additional class and comfort it offers. For us, it is.
What to look out for when buying a used Jaguar XF
XF buyers are, by and large, very happy: they voted the car into third place in the 2011 Auto Express Driver Power survey and also car of the decade. Some electrical niggles were noted in early examples, however, including sticking windows, freezing touchscreens and drained batteries, and there have been a number of recalls — for malfunctioning rear seatbelts, an instrument cluster problem, engine cut-outs, loss of power steering assistance and a fire risk. It's not gremlin-free, then, but still an improvement over Jaguars of old.
The one to buy
2014 Jaguar XF 2.2 Diesel SE
Factfile
Engine:

2179cc, 4 cylinders

Power:

163bhp @ 3500rpm

Torque:

295 lb ft @ 2000rpm

Transmission:

8-speed automatic

Acceleration:

0-62mph in 10.5sec

Top speed:

130mph

Fuel:

55.4mpg combined

CO2:

298g/km

Road tax band:

E

Dimensions:

L 4961mm, W 1877mm, H 1460mm
Jaguar XF rivals
Mercedes E-class
BMW 5-series
Audi A6