First drive: Jaguar E-type Lightweight (2014)
Keep me away from cliffs and we'll scoot along just fine
---
Published 08 September 2014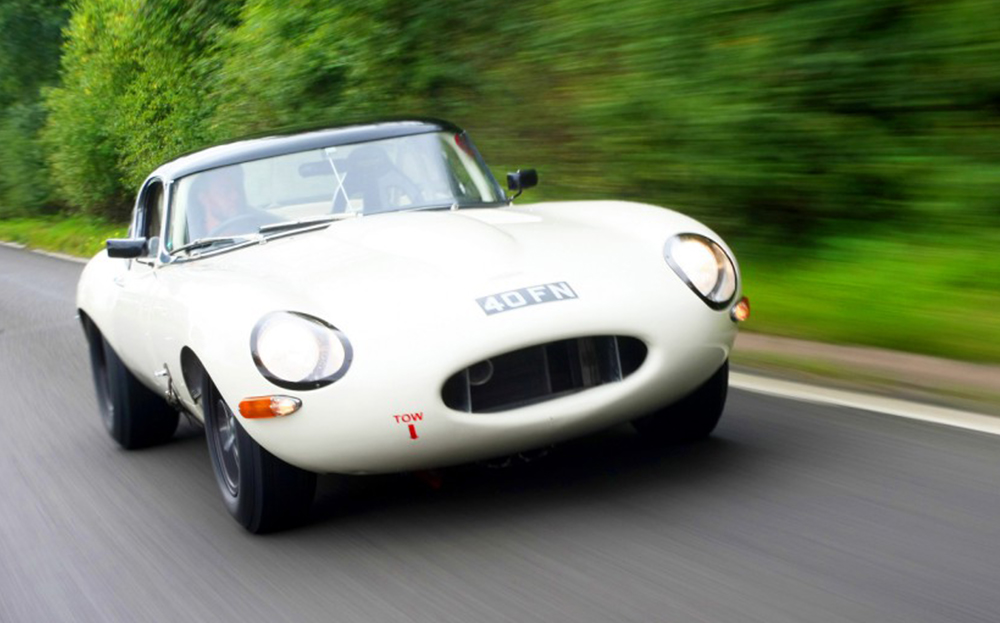 WHEN I was growing up in King's Cross in the 1950s and 1960s, no one really owned a car. Cars were a luxury — you had to be pretty well-to-do to afford one, and my dad, who worked as a caretaker in a block of flats, just didn't have the cash.
The closest we came was a few model cars, which I treasured. Pride of place in my collection was an E-type Jaguar in British racing green that I thought was the most beautiful car in the world. Back then every young boy dreamt of owning one. George Best drove one in his heyday and, even for a lifelong Chelsea fan such as me, that just added to the cool.
The only cars I ever actually got to go in were an old Bedford Dormobile and a Ford Anglia owned by my uncles. We all used to pile into both of them every summer and head to the coast. There would be 10 of us altogether, including all my cousins. We loved it. It was freedom and adventure — even though those vehicles were nothing like the sports cars of our fantasies.
---
Search for and buy used Jaguars here
---
When I was a kid, there were often old bangers discarded by the side of the road, Austins and the like, that you could play in. As little kids we used to jump into them, sit in the driver's seat, turn the steering wheel and make believe we could drive. Sometimes I might imagine I was in an E-type. Real E-types were almost never seen on the rough-and-ready London streets where I lived, though I have faint recollections of seeing a yellow one whizzing by once. Mind you, that could be wishful thinking. E-types were sleek and sexy and as unobtainable in real life as Leslie Ash, with whom I had a brief fictional fling in the 1979 film Quadrophenia. Out of my league.
But not any more. Last week, after decades of unrequited lust (discounting one very brief fling, more of which later ), I got my hands on a real E-type steering wheel and felt the growl of its powerful engine as I drove at the Goodwood motor racing circuit in West Sussex. This is where Jackie Stewart honed his skills as a young racing driver before going on to win three Formula One world championships and where Stirling Moss spectacularly crashed his Lotus in 1962, putting a sudden end to his remarkable racing career. Technically, I should mention that I wasn't actually permitted to drive the car on the track. It was something to do with insurance issues, I believe — something about my tendency to drop vehicles off cliffs (Quadrophenia) or crash them (EastEnders) . . . although in real life I'm quite a sensible driver.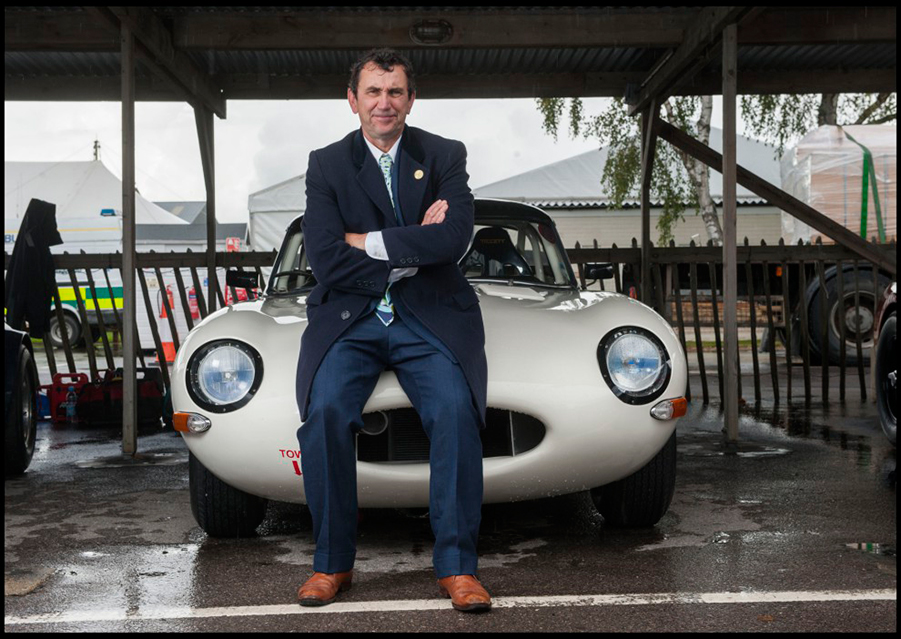 The first E-type came out in 1961, and more than 70,000 were built before production ended in 1975. Inspired by Jaguar's D-type racing car, winner of Le Mans three years running, the E-type combined stunning looks with impressive power: 256bhp; a top speed of about 150mph; and 0-60mph in about seven seconds — impressive by the standards of the day (especially compared with a Dormobile).
But the car I was going to drive last week was something even more special. In 1963 Jaguar produced a limited-edition E-type designed for the track: the Lightweight. Lighter and sleeker, with a pioneering all-aluminium body, this was, to many people's eyes, the ultimate E-type. Only 12 were produced. This one, which must be worth at least a few hundred thousand pounds, belonged to Martin Hunt, a financier turned vineyard owner and racer of vintage cars. He gamely — some would say "foolishly" — handed over the keys to his pride and joy, so pristine that it's hard to imagine any of it can date from the 1960s. The Lightweight weighs about 110kg less than a standard E-type, thanks to the aluminium body and engine block, plus a paucity of interior and exterior trim, which gives it an even more elegant, pared-back appearance.
Getting in was the first hurdle, because the Lightweight is a fully fledged, low-slung track car — and while it may be as sleek and sexy as ever, I'm not quite the whippet-thin angry young man I was in the 1970s. I finally managed to wriggle in behind the wheel and wished my boyhood self could see me now (minus the clambering-in part).
My day-to-day wheels are a Mercedes E 280 estate, which with its 3-litre engine can go pretty fast and is surprisingly fun to drive. But it's nothing like an E-type. There's just so much engine in an E-type. The sheer noise from its 3.8-litre straight-six reverberates up your legs and into your chest and makes you want to floor the accelerator and add the screech of tyres into the mix. Unfortunately, insurance worries dictated a more leisurely cruise and, all too briefly, I was forced to manoeuvre myself back onto my feet.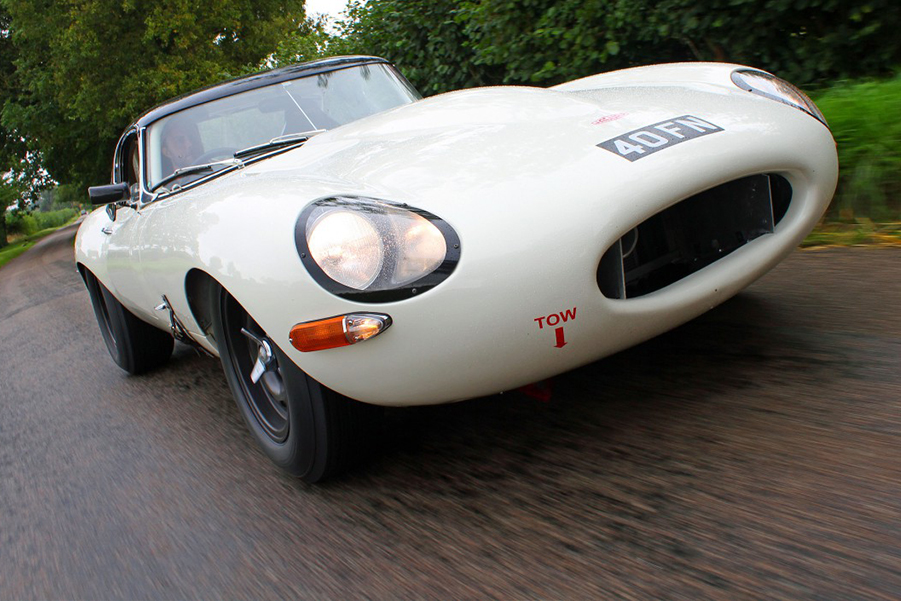 The E-type has retained its allure: it still makes you swoon just a little. It's in a class of its own and every bit as good as I had imagined all those years ago.
Its appeal has proved so enduring that Jaguar recently announced it would be producing six new Lightweights. The original planned run of 18 was not completed, and the new cars will be built to the same specification and have the unused chassis codes allocated in 1963.
Prices are expected to be well in excess of £1m — beyond my budget. People often assume that because you're fairly well known, you must be loaded, but I made only £5,000 from Quadrophenia and, anyway, I've never been one for blowing my money on expensive cars. My first was a Triumph 2000, which I bought from my brother-in-law for £200 when I was about 25 — I drove it on a provisional licence for ages. I didn't pass my test until 1987. Before that I was really more of a (whisper it) biker.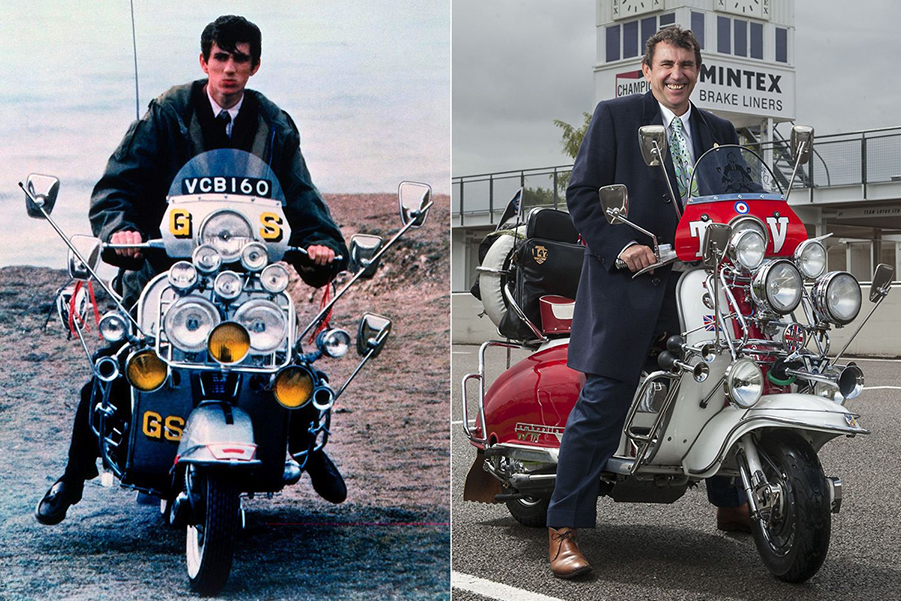 In Quadrophenia I played Jimmy, the mixed-up scooter-riding mod to end all mods, with his Lambretta Li 150 Series 3, sideburns, skinny ties and combat-green parka. And, don't get me wrong, I absolutely loved it. Riding the scooters without wearing a helmet was just great. They had a foot brake, which meant they were really easy to skid. I was told off quite a number of times for taking too many risks, especially when we were filming the final scene, when Jimmy's scooter goes off Beachy Head and into the sea. Off set I prefer motorbikes. I like the power.
As for cars, my most exciting driving has been done on film. There was the dramatic car crash that put an end to my stint on EastEnders a few years ago. Then there was the only other time I fleetingly grasped the steering wheel of an E-type. It was in filming for Rik Mayall Presents, a 1990s comedy series. My co-star Eddie Tudor-Pole and I were playing gangsters driving a bright red E-type. We were at Salford Quays with two cameras strapped to the front of the car and we had to do a circuit. Every time we came back, the director would ask how it went, and we kept pretending it was no good so we would get to do it again. Unfortunately, the owner wouldn't let me drive without him in it, so he was lying down on the back seat the whole time, shouting, "Slow down! Slow down!"
In the past I've always thought a car such as an E-type was really for looking at more than for driving. I am at an age now, though, when strange things can happen. I guess I'm ripe for a midlife crisis car. The only problem is, I don't want something I can't dent, which kind of rules out an E-type. Denting an E-type would be criminal.
Specifications
Price: About £2,000 new in 1963; now possibly priceless
Engine: 3868cc, 6 cylinders
Power: 335bhp @ 6500rpm
Torque: 280 lb ft @ 4500rpm
Transmission: 4-speed manual
Acceleration: 0-60mph in 7sec (estimated)
Top speed: 150mph (estimated)
Fuel/CO2: Not available
Road tax band: Historic vehicle (free)
---
Search for and buy used Jaguars here
---