First Drive review: Porsche Cayenne Turbo S (2015)
How Porsche gatecrashed the 2015 Volvo XC90 party
---
Published 14 February 2015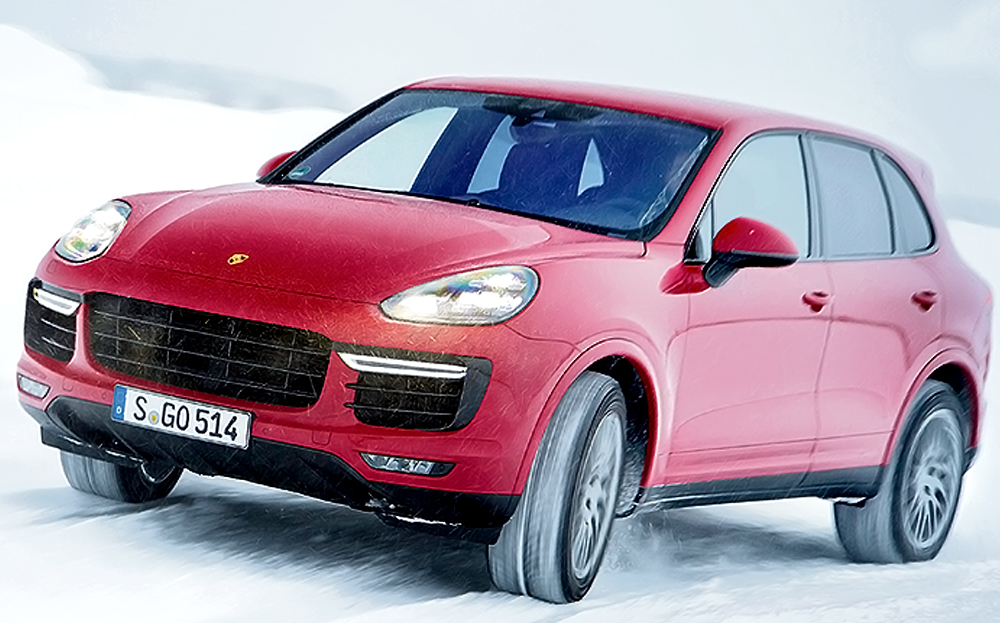 YOU HAVE to feel for Volvo. Like the conscientious pupil who has diligently learnt all the lines for the end-of-term play only to be upstaged by the brash school bully who makes an unscripted pyrotechnic entrance, the Swedish company has had its thunder well and truly stolen by Porsche.
---
Read also: 2015 Volvo XC90 first drive review
---
After 12 years of development, its new XC90 SUV was finally revealed to a hand-picked group of journalists last week in a closely managed event in Spain. It was heralded as one of the safest cars to take to the road, bristling with so much safety kit that you would be forgiven for thinking it simply could not crash. But even as Volvo executives spoke, still echoing in the ears of many of those present was the rumble of a rival's gargantuan V8 engine.
A few days before Volvo's carefully planned event, Porsche decided to gatecrash the party by unveiling its fire-breathing new monster SUV — and it didn't do it in Germany, as you might expect, but on Volvo's home turf. If Porsche has launched another car in Sweden in the past decade, I can't think of it.
Officially the Cayenne Turbo S was unveiled there in order to show off how clever the car's latest software is at marshalling stability, traction and handling precision in slippery conditions. Yet there was more than a hint of one-upmanship at play: Volvo, maker of one of the world's safest 4x4s; Porsche, maker of one of the world's most lairy.
So just how fast does a massive Porsche SUV that weighs more than 2 tons go? Well, the answer is "very". For a start, it's managed to get round 12.9 miles of the Nürburgring circuit — one of the most frightening stretches of tarmac — in a shade less than eight minutes, which isn't just quick for a big SUV: it's quick full stop.
The Cayenne Turbo S can reach 62mph in 4.1 seconds and keep hauling to 176mph. Not many years ago these were high-end supercar figures
And that's not all. The new Turbo S deploys a twin-turbo 4.8-litre V8 that develops even more power and torque than its predecessor, meaning it can reach 62mph in 4.1 seconds and keep hauling to 176mph. Not many years ago these were high-end supercar figures.
Nothing about this car is subtle,  including the 911 Turbo-style 21in wheels , front air intakes that would look more at home on an RAF Tornado and the obligatory quartet of sawn-off shotgun exhausts. Its power is put to good use too. We drove on an ice-covered private facility that did indeed demonstrate the ability of the Cayenne's four-wheel-drive system to direct power precisely to the wheels with the most grip, but it was on dry roads where you could find enough traction to deploy the Turbo S's quite staggering thrust that the car came into its own.
---
Don't know your BHPs from your MPVs? Click to take a look at our car jargon buster
---
The Turbo S delivers its thrust through a brilliantly responsive eight-speed gearbox. And even though the huge performance and power numbers the Turbo S generates can be intimidating, it's a real pussycat to drive if your trousers aren't on fire. Leave the transmission and suspension settings on Comfort, enjoy that high-riding driving position and the beautifully weighted steering and let that big-chested V8  waft you along contentedly. Add to that a great driving position and a supremely comfortable cabin and you might begin to think, "My, what a sensible family car this is."
Then again you might not. Pressing the Sport Plus button could be likened to poking a previously docile bear with a stick. And driving through a tunnel with windows down gives an idea of what startled pedestrians experience as the high-revving V8 crackles, woofs and pops.
Then there's the performance, which is where the car sticks two fingers up at the notion of sensible. The rate at which the Porsche gathers velocity is frankly phenomenal and the V8's staccato yelping through the gears so mesmerising that you might not notice just how much speed you've actually put on. Which is probably why the company, for the first time, has equipped the Turbo S with 10-piston brake callipers on the front wheels.
---
Browse the used Porsche Cayennes for sale on driving.co.uk
---
Is it better than the Volvo? Well, that depends on what you look for in an SUV. But as a gargantuan gatecrasher it is hard to beat.
Verdict ★★★★☆
We like: The sheer power and speed
We don't like: It's still vulgar
2015 Porsche Cayenne Turbo S specifications
Price: £118,455
Engine: 4806cc, V8, twin turbo
Power: 562bhp @ 6000rpm
Torque: 590 lb ft @ 2500rpm
Transmission: 8-speed Tiptronic S
Performance: 0-62mph in 4.1sec
Top speed: 176mph
Fuel: 24.6mpg (combined)
CO2: 267g/km
Road tax band: M (£1,090 first year; £500 thereafter)
Release date: On sale now