Guy Martin drives Range Rover Sport SVR (2015)
It will do anything, go anywhere — preferably without me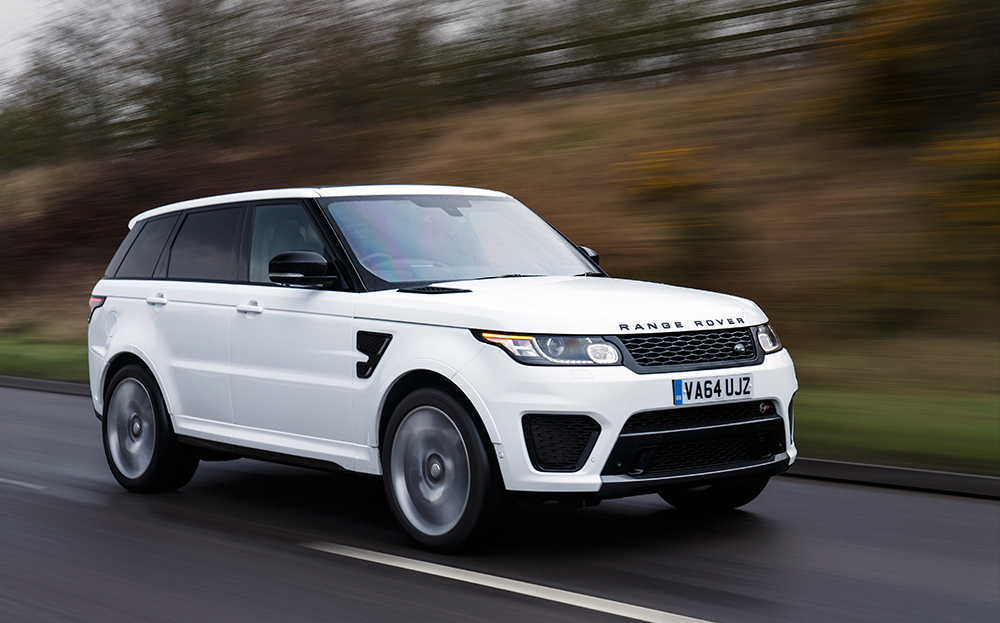 2015 Range Rover Sport SVR at a glance
Handling: ★★★★☆
Performance: ★★★★☆
Design: ★★★★☆
Interior: ★★★★★
Practicality: ★★★★★
Costs: ★★☆☆☆
---
Range Rover Sport SVR, £93,450
LET'S BE clear from the start: the Range Rover Sport SVR is not my kind of car. When I first drove it, all I could think was how pointless it was. It's a supercharged V8 Range Rover and, I thought, nothing but a trophy car. I can't imagine what would make more of a statement.
---
Browse the Range Rover Sports for sale on driving.co.uk
---
The buyer wants to show they have a load of money, but of course they're classy because they chose a Range Rover, and they know their onions because they bought a V8 supercharged one. I can imagine an arm sticking out of the window with a Ralph Lauren shirtsleeve and a Breitling watch on it. Give it three or four years, the car has its second owner and it's the local drug dealer's tattooed arm hanging out of the window.
So after a week of driving it, I'm ashamed of myself for liking it so much. I have to fight the urge to head down to Cleethorpes seafront and do a burnout in it. Can you do a burnout in a four-wheel-drive car? I bet I could find out.
I fell for the SVR on a drive from Rotterdam to Breuberg, on the far side of Frankfurt. I was visiting the Metzeler motorcycle tyre factory to see a special-edition supersports road tyre it is making with my name on the side. I was going to take my Ford Transit van, but £93,450 of bright white special-edition Range Rover turned up at the lorry yard where I work.
I'm ashamed of myself for liking it so much….Can you do a burnout in a four-wheel-drive car? I bet I could find out
Other than the colour, the first impressions are good. The SVR's build quality is in the same league as that of the £200,000-plus Aston Martin I borrowed recently for The Sunday Times. I like the finish of the dash, how everything looks under the bonnet and the way the doors close: it has a precision feel.
The sports seats aren't quite as snug as those of proper sports cars, such as the Porsche 911 GT3 RS. When you're in the Porsche, you're in it and it's quite a job to get out. If you weigh 20 stone you're not getting out of it. These are a happy medium, with the look of a racing seat and some support at the sides, but you can slide out of them easily enough.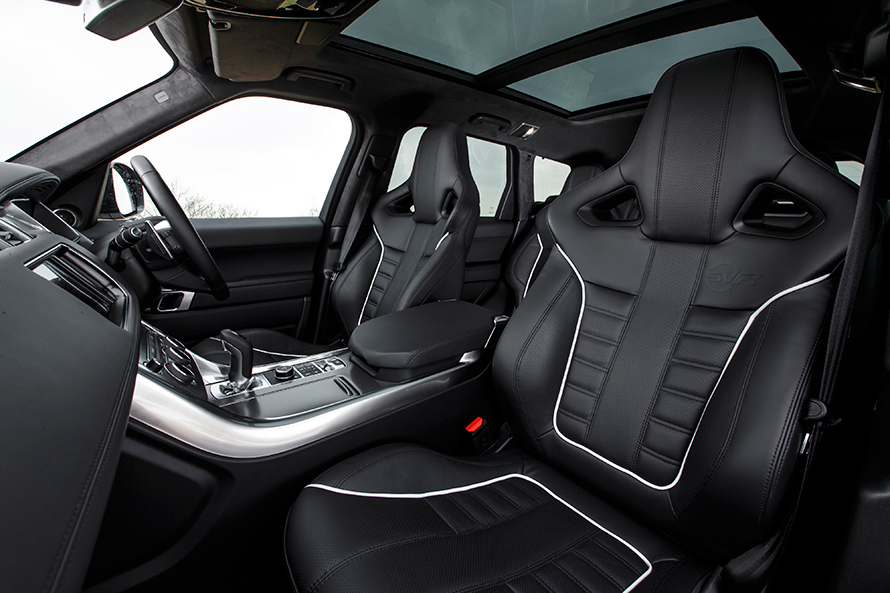 When I have the seat and the steering wheel positioned perfectly, I can't see the bottom of the dash, but all that is displayed there is the fuel consumption, and you don't want to see that anyway. It's the first car I've driven with a head-up display, which is available as an option. The most important information is projected up onto the windscreen, but not in a distracting way. While I don't need it, it is quite handy.
Within the first few miles I find the thing that is most impressive: the adaptive cruise control. I try it along the busy dual carriageway to Hull docks, and it's a novelty that would take a long time to get bored with. The first time I came across this kind of driver aid was in a Scania lorry, about a month before I drove the Range Rover.
Both systems — Scania's and Range Rover's — do so much that you just become an "aimer": you're not driving the vehicle, but simply pointing it in the right direction. You set the speed, as you would with a normal cruise control, but if a car in front gets too close, the system applies the brakes. When whatever is in front speeds up, or you move out to overtake, the car speeds up automatically, all without you pressing anything.
With a bit of a run-up, I see 165mph on the speedo. At that speed the dash says the car is doing 4mpg
It's mid-morning in Germany and the roads begin to clear. The dash shows the speed limit of every road you're using. On an autobahn the national speed limit sign means unlimited. With a bit of a run-up, I see 165mph on the speedo, though Range Rover claims only 162mph. At that speed the dash says the car is doing 4mpg.
The supercharged 5-litre V8 Range Rover isn't bothered about economy. You couldn't tip unleaded out of a 25-gallon barrel quicker than this thing can use it.
When the autobahn starts to curve I'm still doing 145mph and feel I need two hands on the wheel, but that might just be my inexperience: it is the first proper day of driving it. I am not hanging on for grim death.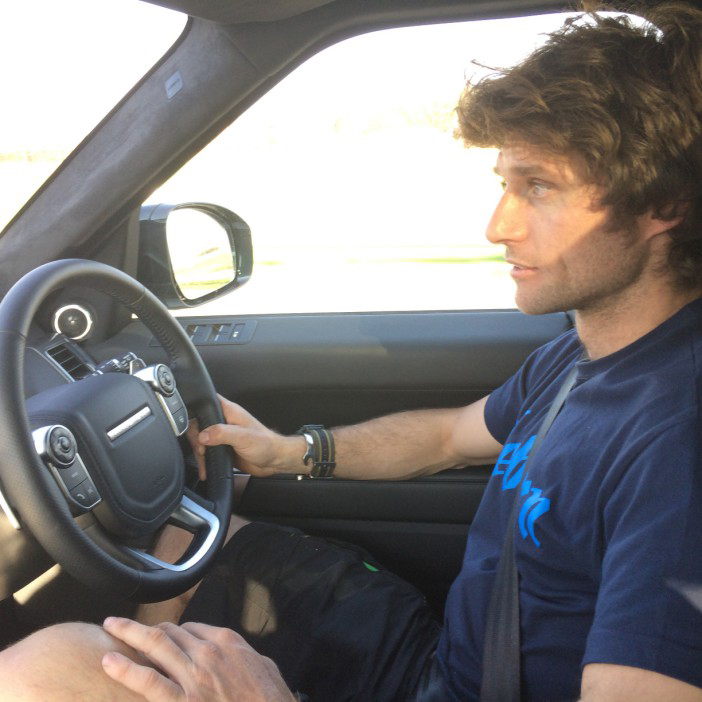 The car is wallowing very slightly through the curve at this speed, as if asking for some encouragement and a firm hand on the tiller. In a straight line it is deceptive how fast the SVR is travelling. I have one hand on the steering wheel at 160mph, and the sensation of speed is made clear only by how quickly I gain on other cars.
When a Skoda estate overtakes a lorry at 65mph in front of me, I realise the SVR stops as well as it goes: press the brakes and the eyeballs are nearly sucked out of my head. The Skoda pulls back in, but I settle back to a more sensible 90mph cruise for the rest of the journey.
Later I think back to the Skoda and what this thing must have looked like bearing down on it. It's monstrous. If I saw this in the mirrors of my van, I'm moving out of the way. After you, mate.
After a day at the tyre factory I take a different route home that means I'm on a back road to the Mosel river, with hairpins, blind bends and short straights, different from anything so far. It gives me the chance to chuck the SVR into a corner at a fair lick, and I find the whole thing wants to four-wheel-drift.
But when I lose some of the speed and keep feeding in the steering, it hooks the last bit of the corner so sharply that for a moment I think I'm going to run the inside tyres over the apex of the corner. And it is giving me a bit of feedback.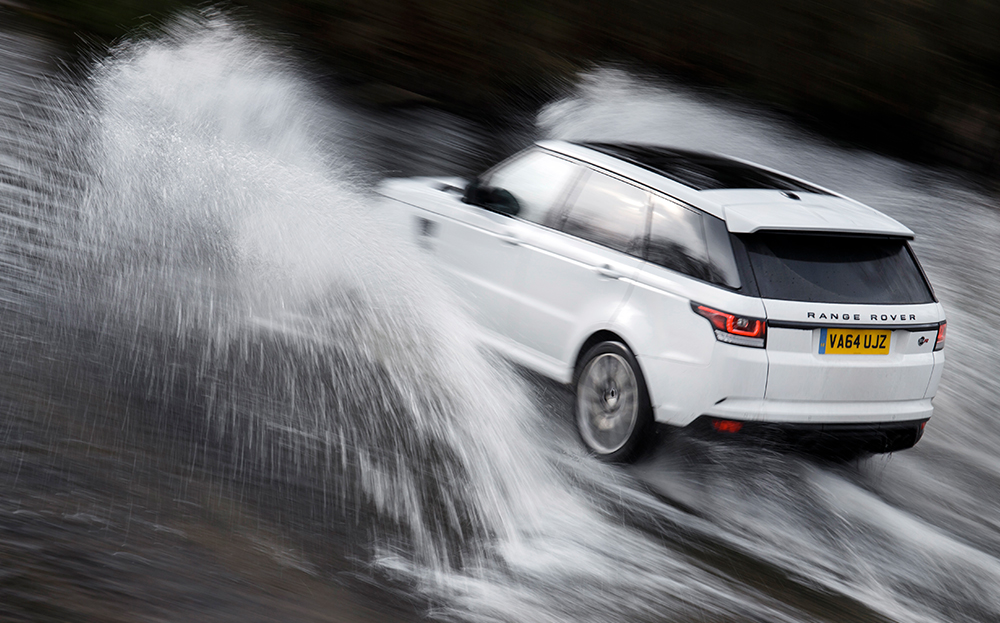 I thought it handled well for what it is: 2¼ tons of Range Rover. I stopped thinking about its pointlessness and kept wondering how something this big can go this quickly, stop as it does and handle so well, plus have all the gubbins it has. I was impressed. Again.
I planned to take it to the Nürburgring for a few laps on the way back to the ferry, but it was closed. Part of me thinks I might have been bringing it back in a skip if it hadn't been. Through the bends you're almost asking the car to defy the laws of physics, by overcoming a lot of inertia that wants to go straight on, while you want to follow the road around the bend. All that's keeping you on the tarmac is the friction between the tyre and the road. The rubber on the massive 22in wheels — another option — squeals in protest.
The kids started pointing at huge piles of dirt and bomb craters, asking if it could go up them. It would climb anything we pointed it at, even in reverse
After more than 700 miles in a day and a half it had become obvious what this car was good and not so good at. The SVR is not about keeping a hold on your carbon footprint, but it'll get you noticed. It's even got a button to press in case there aren't enough people looking at you. Push it and the exhaust becomes louder.
I was also convinced the SVR was not about controlled hill-descending, but when I got back to England I went to pick my dog up from my sister's and asked her and the young 'uns if we ought to go off-roading in it to make sure. We took it on a green lane, and even though it hadn't rained for a while, there were still boggy sections.
I had the car up to the axles in mud and it didn't even wheelspin. Nothing bothered it, even with those low-profile road tyres. I didn't have a lot of steering control, though, so I had to follow the ruts.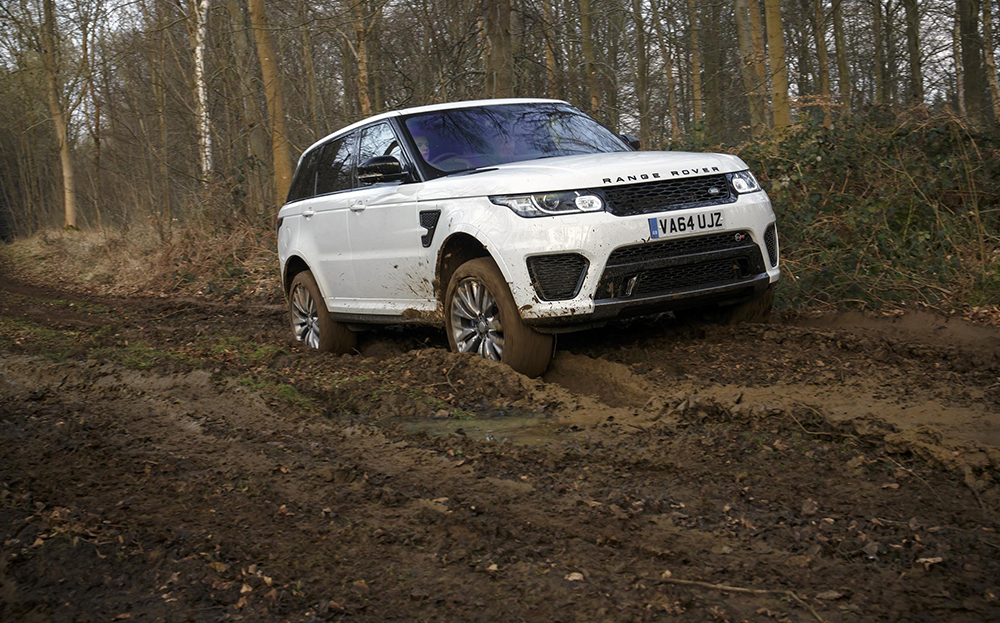 Then the kids started pointing at huge piles of dirt and bomb craters, asking if it could go up them. It would climb anything we pointed it at, even in reverse. We were in north Lincolnshire, so there aren't massively long hills, but the hill-descent system was brilliant. Set it at 10mph and it controls the crawl, whatever slope you are on.
I was left thinking there can't be many cars that'll do the thick end of 160mph on a German motorway one minute and wade through almost 3ft of muddy water the next, with no modifications, but it's still not for me. If it were a Vogue, it might be a slightly different story.
The kind of person who would buy this special edition doesn't give a monkey's when I say I wouldn't have one in a million years, but they might be happy to hear I couldn't be more impressed. It's an incredible piece of kit.
Range Rover Sport SVR specifications
Price: £93,450
Engine: 5000cc, V8
Power: 543bhp @ 6000rpm
Torque: 501 lb ft @ 2500rpm
Transmission: 8-speed automatic
Performance: 0-62mph: 4.7sec
Top speed: 162mph
Fuel: 22.1mpg (combined)
CO2: 298g/km
Road tax band: M (£1,100 for first year; £505 thereafter)
Release date: On sale now
Guy Martin's website is at guymartinproper.com
---
Browse the Range Rover Sports for sale on driving.co.uk
---