Ford Fiesta Mk 5 review (1999-2002)
Elderly, but still useful

What is the Ford Fiesta Mk 5?
This Fiesta is not more than a facelift of the 1995 Mk 4 model, and with some of its components said to date back as far as the Mk 2 of the 1980s, the Fiesta Mk 5 is verging on the archaic, both in its styling and its overall premise.
Still, it's not a bad choice for car buyers on a very tight budget. Those original underpinnings were pretty good and while it's not much to look at, it's an easy car to drive with decent handling and a reasonably comfortable ride for a supermini of this age and era.
As a low-cost runaround it does just fine, and many Mk 5s continue to give their owners faithful service. They're particularly popular among students and young adults who need cheap but dependable wheels to get to work, or around the country to university.
---
Search for and buy a used Ford Fiesta on driving.co.uk
---
Petrol models featured the familiar 1.25-litre Duratec engine, the ancient 1.3 Endura push-rod unit (pretty grim, even at the time) or the more versatile 1.4 and 1.6-litre units. This last powered the Zetec S, a version that fell rather short on hot-hatch performance and excitement, but did make for a livelier option.
The 1.25 is perfectly adequate if you'll be doing little more than shopping trips, the run to the railway station car park or other short-distance hops. Note that we're not mentioning the school run.Given this Fiesta's cramped, narrow cabin, and its absence of modern-day safety kit (only top-end models had more than a driver's airbag, and many examples lack even anti-lock brakes), it's not something we'd recommend as a family car, unless you're really desperate. Even in its time, it only just scraped a three-star Euro NCAP score, partly due to its dated bodyshell and its poor frontal impact protection.
Economy-wise, the diesels do promise good fuel returns – 62mpg from the efficiency-optimised 1.8 E-diesel – but are deadly slow and on the noisy side. The turbocharged 1.8TD is marginally better. Unless you're doing a really high mileage, the petrol models (cheaper to buy and maintain, cheaper to fill up, easier to find with low-ish mileages on the clock) will cost you less to run anyway, and be much more pleasant to drive.
Entry-level models are named Encore, Finesse or – to be avoided on principle – Fun. Zetec versions have slightly more sporty trim while the Ghia's the poshest of the bunch. Mid-range Freestyle, LX and Flight specifications aren't too miserable, but don't expect much by way of mod cons, gadgets or in-car entertainment. This is, after all, a car from the turn of the millennium, and how long ago does that seem now?
The drive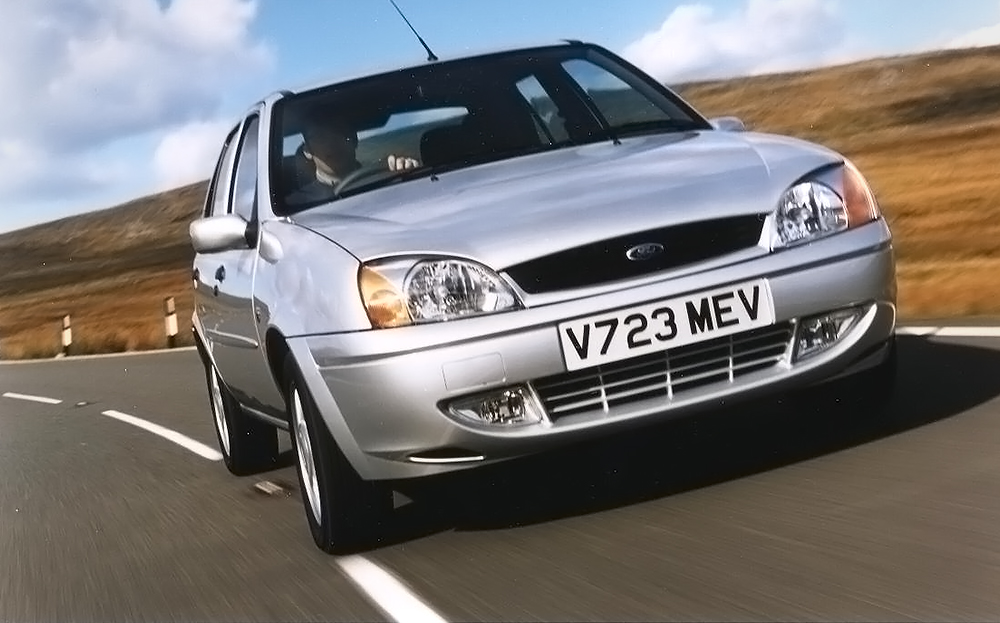 Underneath that dull, dreary body is a pretty good chassis. Handling has always been one of the Fiesta's strengths, and while some versions are inevitably more inspiring to drive than others, the Fiesta Mk 5 generally gives a good steer. It's certainly more entertaining than the contemporary Corsa.
The 1.4 and 1.6 petrols are better bets than the smaller units, should you regularly need to keep up with motorway traffic. They're considerably stronger in the mid-range, as well as giving more rapid acceleration and higher top speeds. Although the Zetec S was barely warmed-over, compared with other popular hot hatches around at the time such as the Renaultsport Clio 172 or even 206 GTi, it's a competent all-rounder that's fun without being too harsh on your pocket or insurance budget.
On an everyday note, the Mk 5's aged bodyshell does bring one advantage: thin windscreen and door pillars, giving an unobstructed view out at all angles. The Fiesta's an easy drive, and its narrow body is a boon when battling urban congestion and tackling tight spots. Parking's no problem, either – no need for fancy sensors in a car this small with good visibility.
The ride is relatively supple, with little body roll, though the Fiesta is more firmly sprung than the French superminis. Watch out for DIY-modified examples with unyielding aftermarket springs, however.
The interior

Here's where the Fiesta Mk 5 really shows its age – not just in its design and lack of all but the most basic of equipment, but in its cramped dimensions and overall packaging. The cabin is narrow, the rear seats are small (it's not really a five-seater) and access to the rear is awkward in the three-door, especially with the front seats positioned to give any legroom at all to those up front.
The boot's small, too. There's not much headroom for taller drivers or passengers, either. The contemporary Clio and 206 were both considerably more spacious, and also offered shapelier and more comfortable seats.
Upper-end models (including the LX, Ghia, and various special editions) will have niceties such as air-conditioning and a CD player, but the more basic versions didn't even have central locking, let alone front electric windows. That said, if you can live with a no-frills experience, wind-up windows mean one less potential electrical problem, at least. Ghia models (above) – if you can find one – even have leather trim.
What to look out for when buying a used Ford Fiesta Mk 5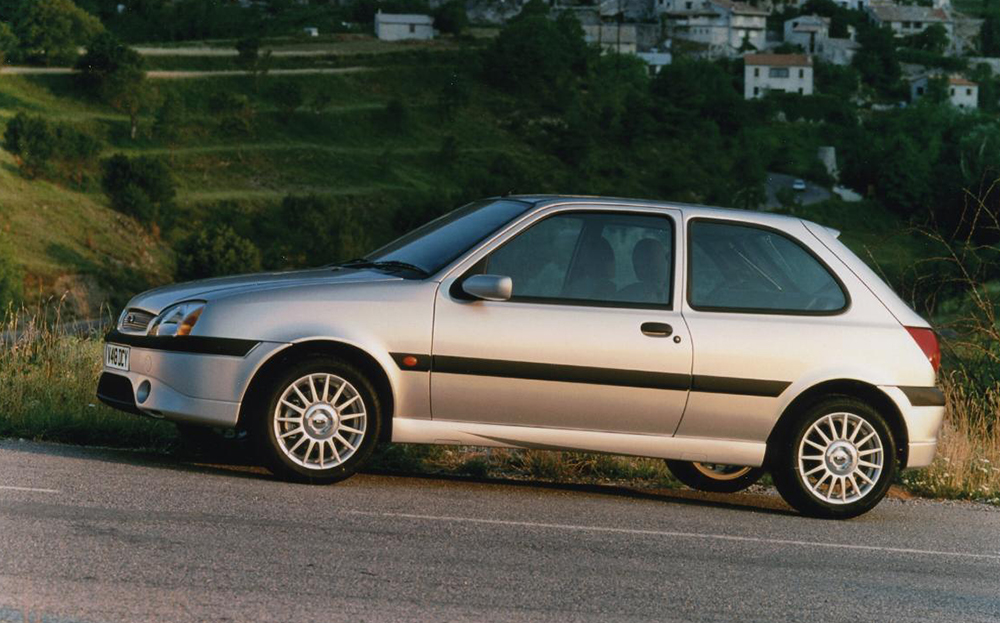 Sheer age, mileage, hard work and overall exhaustion are catching up with the Mk 5 Fiesta and given its appeal as cheap wheels, many examples will have suffered from maintenance (or lack of) on a budget. Many have also been thrashed and crashed by young and inexperienced drivers – or had their clutches and brakes hammered by learners – so you'll need to apply due caution. Weaker points include its suspension and brakes.
View modified examples with suspicion, especially those with "chipped" engines. Aftermarket alloys, a body kit and a boot full of bass subwoofers are more a matter of taste and not necessarily mechanically disastrous, though could send your insurance premium through the roof if declared (as required by law).
Fortunately, there are plenty of low-mileage, one-family examples around, and cars which have been owned long-term by sensible, dutiful elderly owners especially those living anywhere near the South Coast. Eastbourne and Worthing-area used-car dealers seem to have an unending supply.
Be realistic nonetheless, and don't necessarily expect a full service history with main dealer stamps all the way through. The Fiesta is easily maintained by cheaper independent garages or fast-fit outlets, so all you're really looking for at this price-level is evidence that it's had regular oil and fluid changes, and replacement of the usual consumables.
Rust is beginning to have an effect (watch out for it on those seaside-sourced examples) and these Dagenham-built Fiestas were not the most solidly screwed together. That said, the Mk 5's only recall was a faulty airbag warning control unit and light. If looked after, a Fiesta should happily run to 100,000 miles, though it'll probably be a bit creaky by this point.
The one to buy
Fiesta 1.25 Freestyle
Specifications
Engine: 1,242cc, 4-cylinder petrol
Power: 74bhp @ 5200rpm
Torque: 81lb ft @ 4000rpm
Transmission: 5-speed manual
Acceleration: 0-62mph in 13.1 sec
Top speed: 104mph
Fuel: 40.9mpg (combined)
CO2: 161g/km
Road tax band: G
Dimensions: L 3828mm, W 1793mm, H 1320mm
Ford Fiesta rivals
---
Search for and buy a used Ford Fiesta on driving.co.uk
---