Maserati Grecale 2022 review: An Italian answer to the Porsche Macan
Still want that Macan?
Italy is known for fashion and food, not its timekeeping, and although the new Maserati Grecale has been partly delayed by the small matter of a global health crisis and an equally global microchip shortage, it would still have been late to the mid-sized SUV party. Still, better late than never.
To make up for lost time, Maserati claims it has done "something different" with the Grecale, which is marketed as more of a coupé-SUV-cum-grand-tourer than a proper, practical 4×4 with a bit of power and luxury.
Sitting below the Levante in the Maserati line-up, the Grecale brings with it a raft of new technologies lifted directly from the MC20 supercar, as well as a sparkly new interior design and a modern exterior.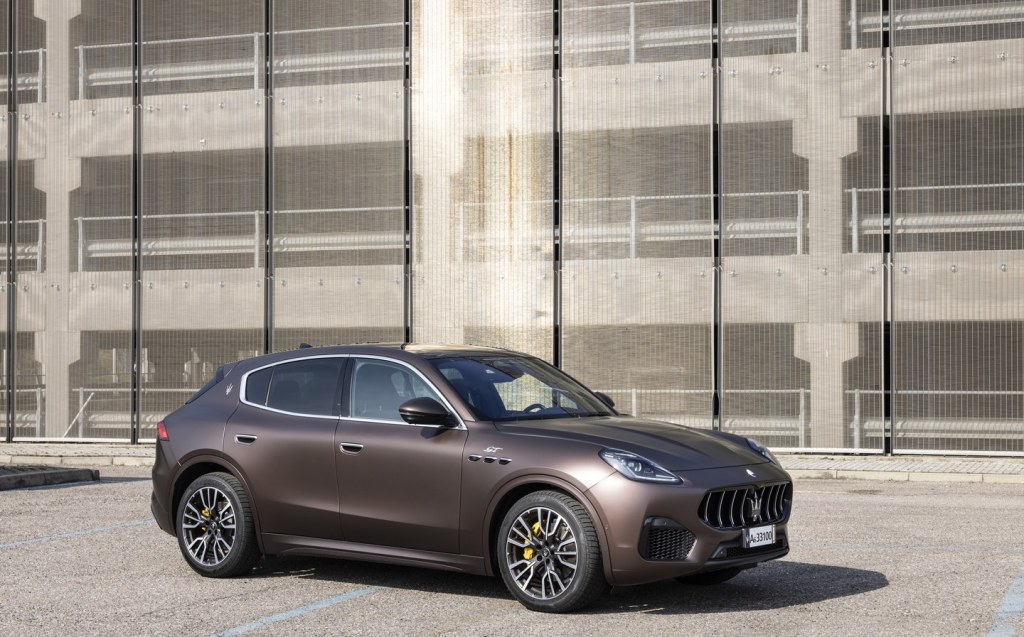 Under the fresh new skin, the car is based on the same basic architecture as the Alfa Romeo Giulia saloon and Stelvio SUV, which bodes well for handling prowess.
Power comes from a choice of three petrol engines: two 2-litre mild-hybrids and a 3-litre high-performance option, with all three getting four-wheel drive and an eight-speed automatic gearbox. A pure-electric Folgore model is slated for launch in 2023.
Exterior design and rivals
The Grecale's design appears to split opinion somewhat, with some customers drawn in by the rounded looks and the relatively low roofline (with a total height below 1.7 metres, it's hardly towering over its rivals), but others repelled by the chunkiness of the design.
Some have likened the Grecale to an overgrown Ford Puma, and from certain angles there is a whiff of mass-market Ford SUV, to be fair.
Not that Maserati would confess to that, of course. The company's designers talk of the MC20-derived styling cues and rear lights styled to ape the old 'boomerang' lights of the beautiful 3200 GT sports car. If you squint and apply some imagination, you might see what they're on about. Maybe.
Speaking of the rear end, that's where most of the differences between the three versions can be found. The GT model has the purest design, with smooth lines and trapezoidal tail pipes, but the Modena and Trofeo models have rear wheels pushed 34mm further apart, with more pronounced bumpers and arches to match. It's a subtle difference, but it makes the car feel a little more aggressive.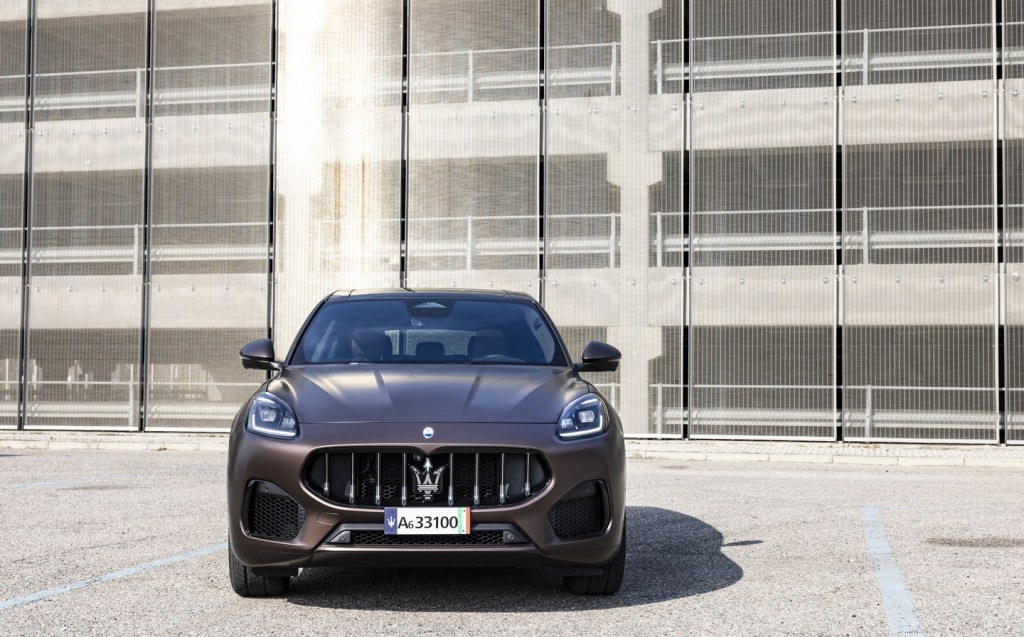 Overall, we think the Grecale looks fairly inoffensive but manages to fill its brief well. It isn't as pretty as a Range Rover Velar and nor is it as cohesive as the Porsche Macan, but it is a decent design.
If you remain unconvinced, we'd recommend seeing it in the metal before passing judgement — as with the BMW 4 Series, the Maserati Grecale somehow contrives to look worse in photographs.
Interior and practicality
The Grecale's cabin is a real step forward for Maserati, particularly when compared with the Levante's disappointing dashboard. The new design is centred around the two touchscreens, which house pretty much all the car's functions and allow the Grecale to almost eschew dashboard buttons completely.
In fact, physical switchgear is more or less limited to the gear selector buttons between the two screens.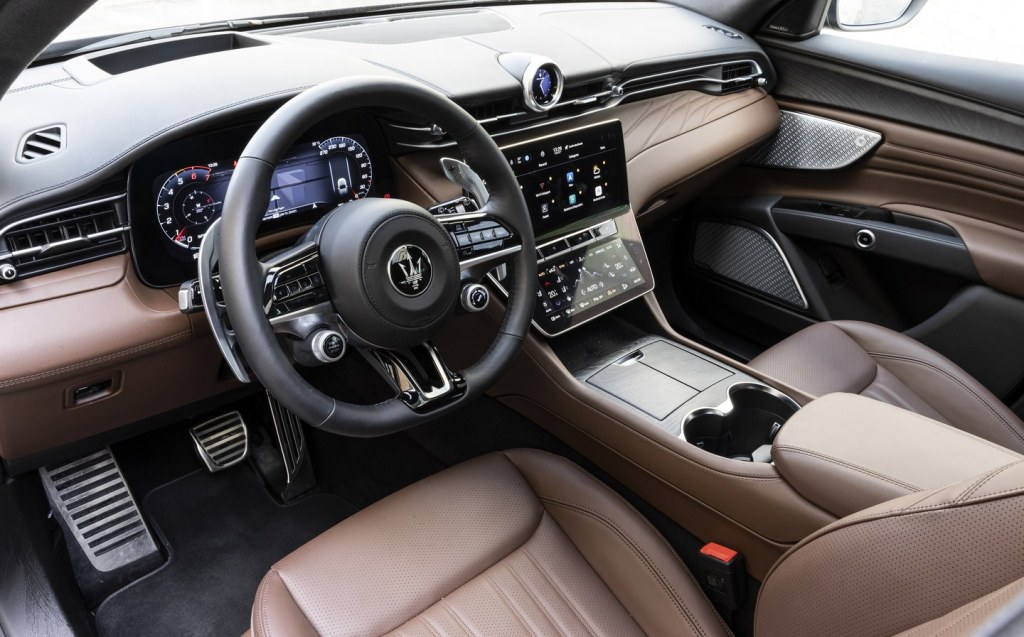 But while Maserati might have removed buttons from the dashboard, it has made up for that on the steering wheel. The spokes are home to most of the cruise control buttons, the audio system switches and even the engine start button.
Like Porsche, Maserati has also fitted the drive mode selector buttons on the wheel, with a rotary switch on the right-hand side. Behind the wheel there are F1-style paddle shifts for manual gearbox control, as well as the conventional stalks for indicators and wipers, plus some more audio controls on the back of the steering wheel. It's more complicated than it needs to be.
Quality can be a weak point for Maserati models, but the Grecale is generally rather good in this regard. The dashboard materials are soft and expensive-feeling while the lid for the central cubbyhole has a premium feel to it.
But there are some weak spots. All the chrome-effect trim is really made from plastic, so it feels a bit flimsy, and those steering wheel buttons are disappointing to the touch. Most of them rattle around on their mountings, and the action is neither as smooth nor as sturdy as you might hope.
It's a shame because they let down an otherwise very impressive cabin.
It's spacious, too. There's lots of room for those in the front, and the seats have plenty of adjustment and support, even if they are a little firm.
In the back, space is even more generous, with bags of legroom and ample shoulder space, although headroom will be a little tight for the tallest passengers.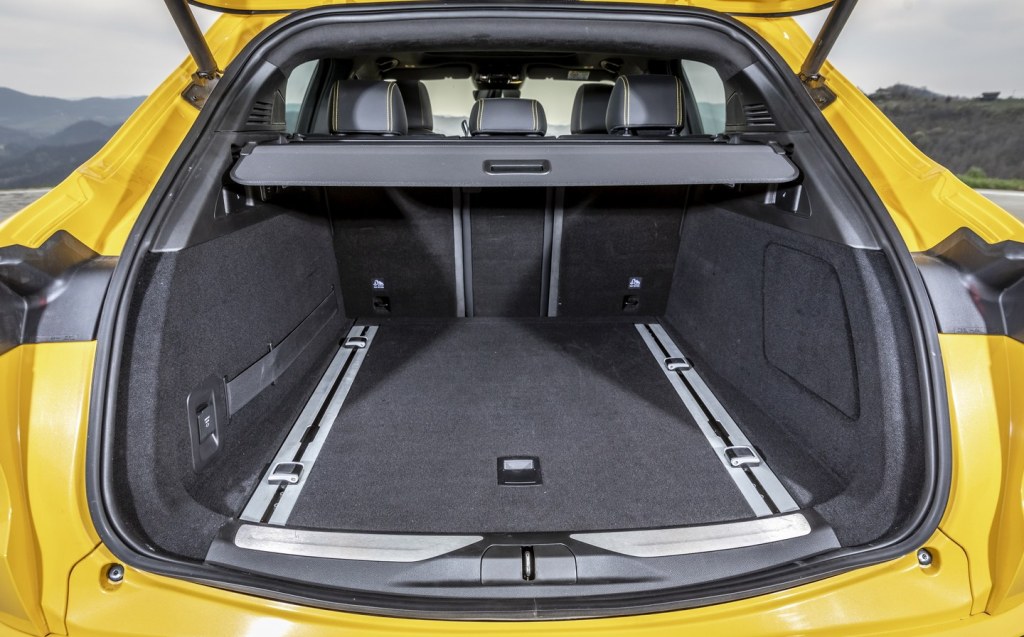 The boot is a good size, too, with the 2-litre GT and Modena models providing 535 litres of luggage space — more than you get in a Porsche Macan but slightly less than a Range Rover Velar. If you go for the V8-powered Trofeo, the boot grows to 575 litres, which is enough to beat most cars in this class.
Technology and safety
With so many buttons banished to the bin, technology plays a vital role in the Grecale. The new main touchscreen uses Android technology, and it's a vast improvement on the clunky systems that have plagued Maserati products for so long. It has its moments of sluggishness but it's mostly snappy and sharp, while the display is clear, and menus are relatively logical.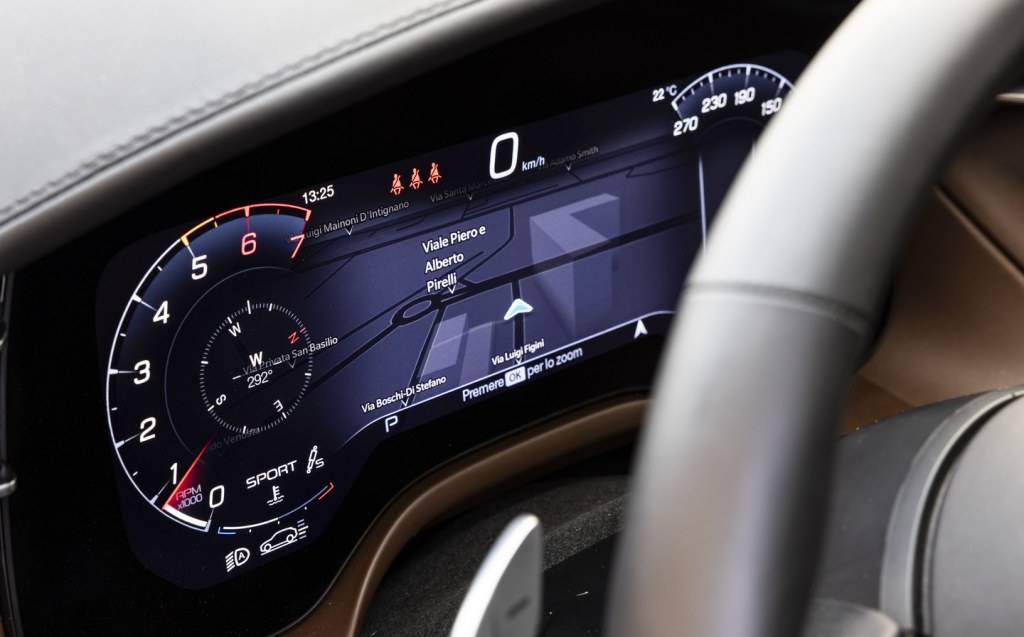 Much the same can be said of the head-up display, which is a surprising first for Maserati. Although the company has never fitted such a thing to its previous models, the Grecale's system is clear and effective, projecting all the vital information onto the windscreen.
However, the lower central touchscreen is not quite so impressive, with a busy, confusing display that takes more than a little getting used to.
Those screens are joined by another Maserati first in the digital dashboard clock. You can choose a two-hand display designed to look like the analogue clocks in other Maseratis, but you can also choose to see a G-meter, a compass or a readout that shows your brake and accelerator inputs. Quite why you'd want such a thing is anyone's guess, but it's there if you do.
More appealing is the Sonus Faber sound system, which comes as standard across the range. You get 14 speakers in the basic system, but the upgraded unit has 21 speakers and really impressive sound quality.
Performance, power output and acceleration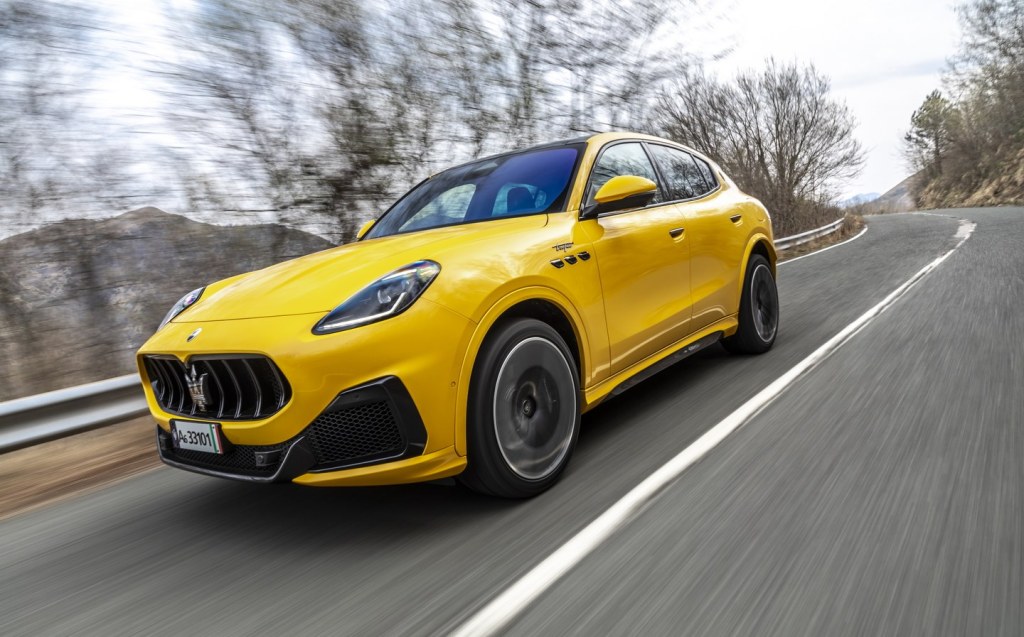 The Grecale comes with a choice of three engines, each of which is paired with a trim level. The basic GT we drove has a 296bhp 2-litre mild-hybrid petrol engine, while the mid-range Modena ups the power to 326bhp. Finally, the range is crowned by the high-performance Trofeo, which uses a 3-litre V6 petrol engine to produce 523bhp.
All three come with a slick eight-speed automatic transmission and four-wheel drive as standard, and the system usually sends most of its power to the rear wheels for handling reasons.
For most customers, the 2-litre GT will be more than powerful enough, providing enough grunt for a more-than-adequate 5.6-second sprint from 0-62mph and a top speed of 149mph. And despite being a four-cylinder engine, it sounds good while doing it. Maserati claims the engine is tuned to sound a bit like a V8, and that's clearly pie in the sky, but the four-cylinder sounds far more pleasant than most engines of its type.
Also in its favour is the mild-hybrid technology, which essentially works as a kind of clever stop-start system, allowing the car to stop the engine sooner and recoup some of the energy normally lost while braking or coasting. The 48-volt system also helps when the engine is under load, and those two facets help it achieve decent official economy figures.
Okay, 30.7-32.5mpg doesn't sound amazing, but it's better than you'll get from a less powerful 2-litre Porsche Macan.
But as much as we might extoll the virtues of the four-cylinder engine, the 3-litre V6 in the Trofeo model is the highlight. With an impressive rumble at idle and a chilling scream higher up the rev range, the 523bhp engine offers impressive performance. The sprint from 0-62mph takes just 3.8 seconds, and the top speed is 177mph.
Ride and handling
The Grecale is based on an elongated version of the Alfa Romeo Stelvio's underpinnings, and that's good news when it comes to roadholding. The Stelvio handles very well, and our early drive of the Grecale suggests the Maserati will be cut from similar cloth.
However, due to the vagaries of Italian law, our test car was fitted with winter tyres that blunted its capabilities somewhat, so real judgement will have to be reserved until we drive a Grecale on more representative rubber.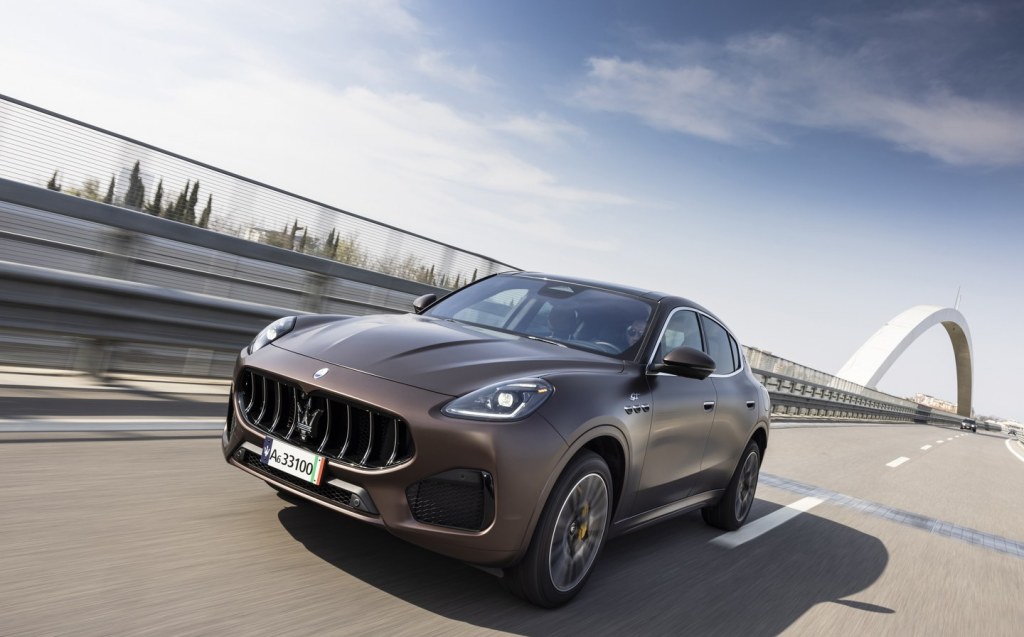 For now, we can only form some first impressions, but those impressions are pretty good. The chassis is solid, and the rear-biased all-wheel-drive system means the Grecale has a pleasant balance between the front and rear.
There is noticeable body roll in corners — certainly more than you'll find in the equivalent Porsche Macan — but that roll is well controlled and it never lurches or wallows around. In fact, it feels quite light on its feet. It isn't as agile as the Macan, which sets the standard for SUVs everywhere, but it can hold its own against the Range Rover Velar, Alfa Romeo Stelvio and Mercedes-Benz GLC.
We tested the basic GT model but a quick blast in the V6 Trofeo revealed a stiffer and pointier car, albeit one with more stability in fast corners. But the Trofeo is heavier, and it feels that way. It doesn't ride as well, either.
Admittedly, our Grecale GT test car was fitted with optional air suspension, rather than the standard steel springs, and that provided a fine balance between handling and comfort.
It's no magic carpet, but nor is it too jiggly, and the refinement is especially impressive, with truly little road and wind noise seeping into the cabin.
Combined with the smooth 2-litre engine the Grecale is a very pleasant motorway cruiser, but it's also a more competent urban runabout than you might expect.
Our only real criticism is with the steering, which feels over-assisted and a bit woolly in both the GT and Trofeo models, but we suspect summer tyres would go some way to fixing that issue.
Pricing and on-sale date
Maserati has not yet confirmed how much the Grecale will cost but it's expected to be significantly more expensive than the Stelvio on which it's based. With that car coming in at around £46,000, we're expecting prices to start at around £55,000 for the basic 2-litre GT model.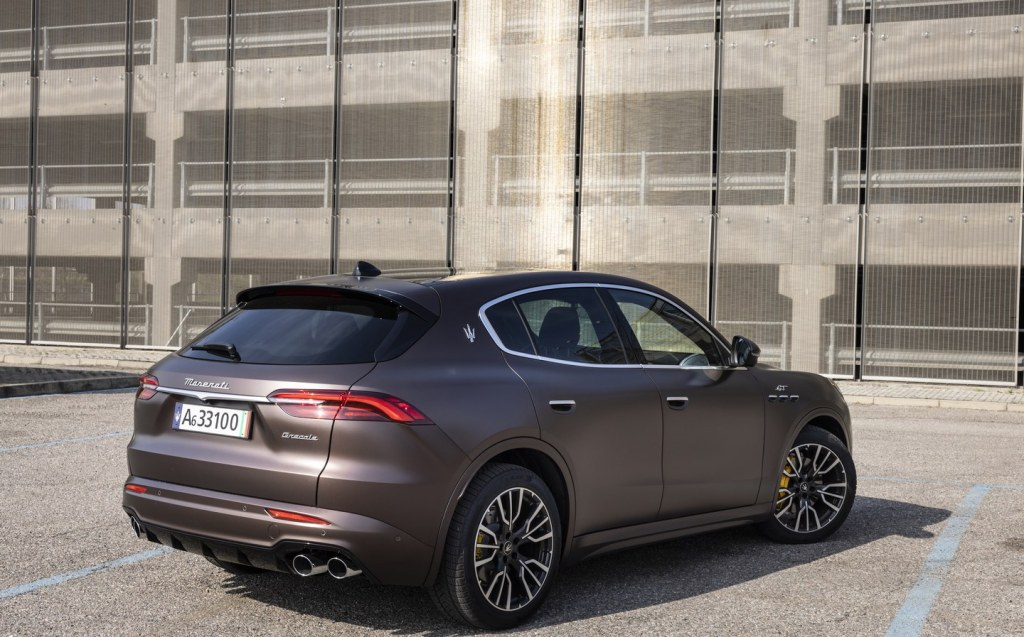 That entry-level variant is expected to be one of the best sellers in a three-tier line-up, offering all the necessities most customers will demand and 2-litre mild-hybrid petrol power.
Stepping up to the mid-range Modena adds some performance-related enhancements, including an extra 30bhp, a limited-slip rear differential and a wider rear end, plus some equipment upgrades.
The range is crowned by the Trofeo, with its 3-litre V6 petrol engine, sports exhausts, carbon-fibre trim and a sportier body kit.
Verdict: 2022 Maserati Grecale review
The Grecale is an accomplished premium SUV that's short on real weaknesses. Some of the plastics are a bit suspect and it's hardly going to be cheap, but if you're hooked on the Maserati badge, you won't have too much to complain about. But badge aside, the Grecale doesn't have any major strengths to make it stand out alongside its accomplished rivals.
In short, the Grecale won't give Porsche executives any sleepless nights, and the likes of BMW, Mercedes-Benz and Land Rover will rest easy, too. But if you've discounted those brands on the basis of exclusivity, style or anything else, the Grecale is well worth a look.
Related articles
Latest articles