Lexus LM 2023 review: The new Cadillac of minivans?
Get luxury
---
Published 27 September 2023
Were people carriers ever cool? In the still-brilliant 1995 movie Get Shorty, "shylock" character Chili Palmer (played by John Travolta, fresh from reigniting his career in Pulp Fiction), is lumbered with an Oldsmobile Silhouette — a car deemed by the producers to be the least likely model to be driven by a mobster. The rental employee fobs him off with the immortal line, "It's the Cadillac of minivans" and, given he has no other option, Palmer takes the car. 
Throughout the film he brushes off incredulous comments with the same line, and weirdly makes the car cool(ish) by association. Cool enough for the deeply uncool but highly successful Hollywood star Martin Weir (Danny DeVito) to buy one of his own after being told by Palmer, "Yeah, I like to sit up high, take everything in… I mean it is the Cadillac of minivans."
Minivans (now called MPVs outside the USA) have dwindled in popularity over the years, as car buyers on both sides of the Pond moved to buy SUVs, but they still make up six per cent of the new car sales in America, up from five per cent in 2021. Which is why it's odd that, while the all-new Lexus LM is being introduced in Europe, Australia and Japan for the first time (the old model sold in other Asian markets such as China, Hong Kong and Taiwan), Lexus U.S. has shunned it.
Costs and rivals
Perhaps that's because Americans want value out of their people carriers. The LM in Lexus LM stands for "luxury mover", and it's unabashedly aimed at the affluent, with a luxurious pricetag — in the UK it'll cost you upwards of £89,995 for the seven-seat version, or £112,995 if you want the truly sumptuous Takumi four-seater.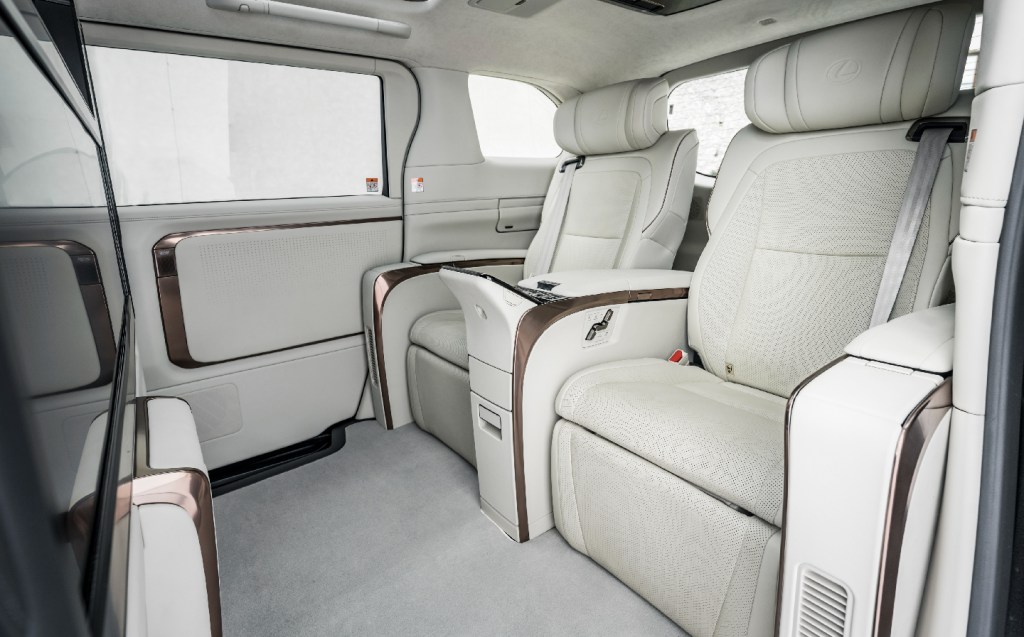 That is not small beans, you'll have to agree, but consider the competition: a Mercedes V-Class is probably the obvious rival, with prices starting at just under £74,000, though Lexus would argue (and with very good reason, as we'll come on to) that the LM is on another level of luxury altogether. You'd have to start looking at aftermarket versions of the V-Class to come close: a Klassen V might cost at least double what Lexus is asking. 
A stretched Range Rover SV luxury four-seater would again cost twice as much for not as much space as the LM … though at least you would be travelling in a genuinely classy car, which aftermarket van conversions really aren't.
First class luxury and tech
Lexus says the LM has been designed from the inside out, with most of the focus on passengers riding in the rear, and represents the ultimate expression of "Omotenashi" — a Japanese word that stands for hospitality and mindfulness. It's a first class cabin on wheels, the carmaker told us, especially in the Takumi model.
Whichever version you go for, the seats are clothed in sumptuous leather and the second row pews can be fully-reclined, aircraft-style, for naps on the move. They also include heating and ventilation, and even sensors that monitor your body temperature and adjust the heating accordingly.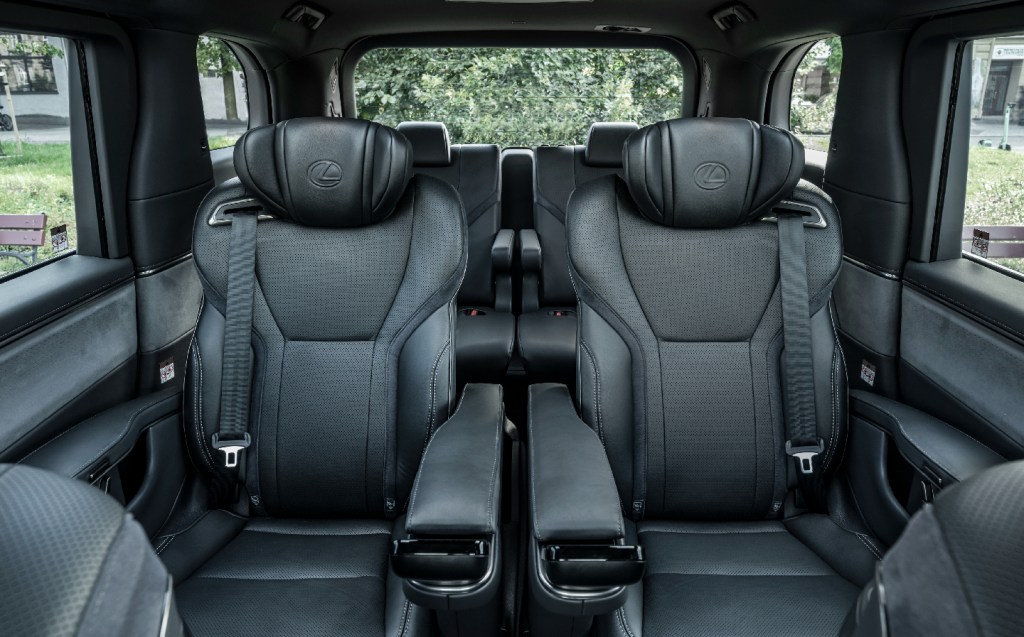 The infotainment and comfort settings can be controlled via a pair of touchscreens in the armrests. At the touch of a button you can control the in-car entertainment, lighting, seats and general ambiance. You can also open or close the window blinds and, in the Takumi, even close (or make opaque) a partition window between the front seats and rear cabin — something the Logan Roys of this world and uber-rich parents with bickering children alike will find an appealing feature.
Perhaps the standout feature on the Takumi model is the 48in video panel attached below the partition, which can be configured to play windscreen movies or split in two and connected to a laptop for business on the go, including Zoom meetings.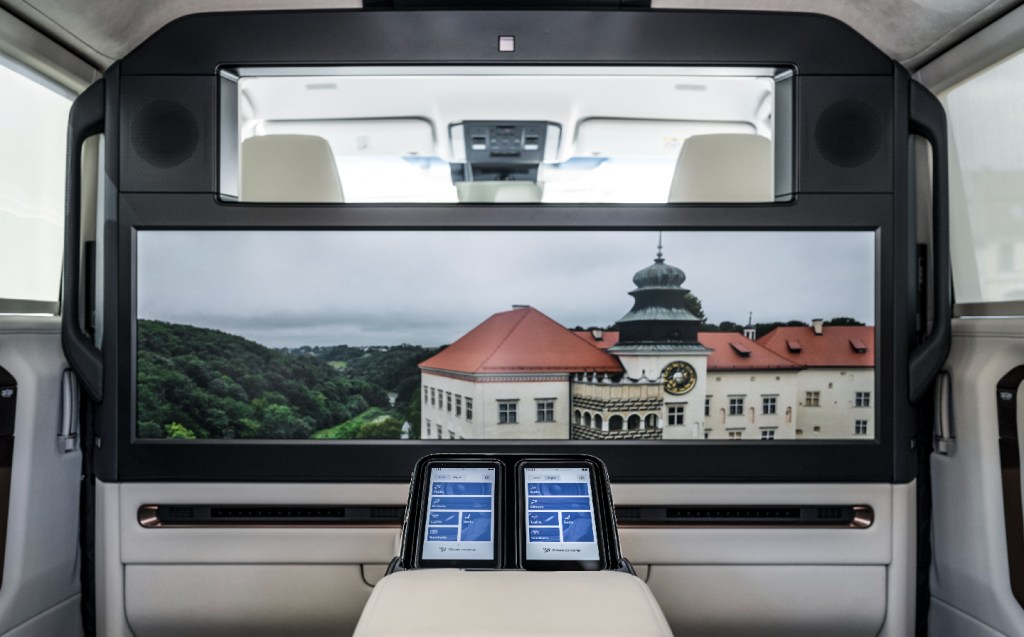 It definitely has the wow factor — it's huge, with a clean, crisp image, and it has the ability to switch between modes via one of the two rear smartphone controllers. But those who are actually able to watch a movie on the screen while the vehicle is in motion have stronger constitutions than me — it wasn't long before I switched off the video panel and concentrated on getting rid of the resulting nausea. 
Having a business meeting while on-the-move is possible but doesn't appeal for this reason; my colleagues don't need to see me lose my lunch. In a city centre at low speeds, though, it'd be more acceptable than along winding country lanes.
Sitting in the back of the seven-seat LM is a different experience, I found. It doesn't have the partition between the front and rear part of the cabin, which makes it feel far airier and — for me, at least — less claustrophobic.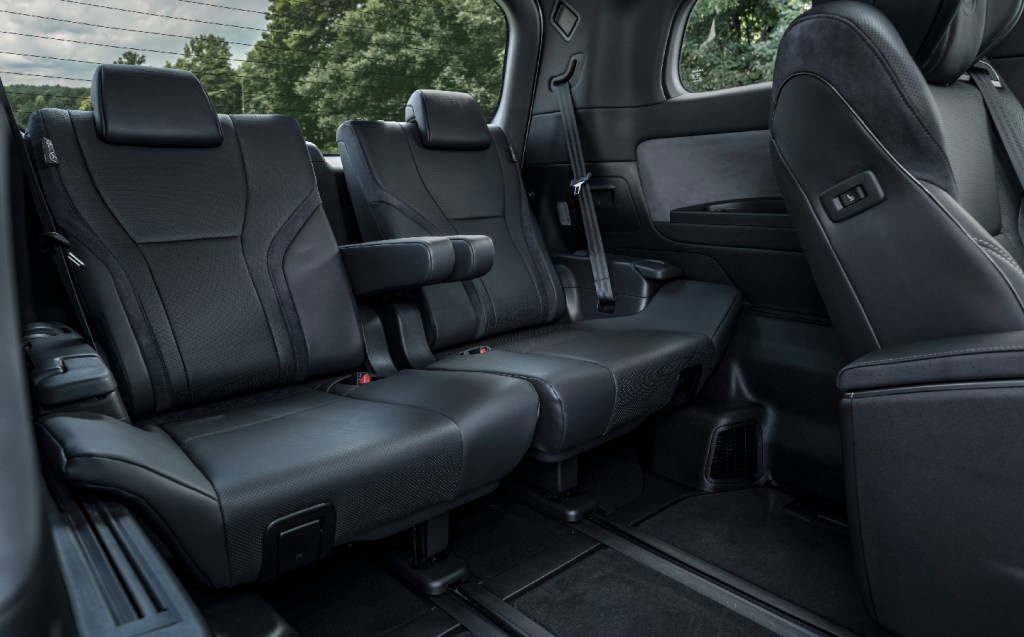 What's more, the second row of seats still have the same levels of comfort, including ventilation, heating, massage functions and the ability to fully recline, while offering extra flexibility with the third row.
Those rear-most seats aren't an afterthought, either — they fit two adults in comfort, with plenty of legroom. Buttons on the side of the middle seats allow those behind to slide them forward, increasing space for feet, and the backrest for the third-row seats can be tilted making it possible to get very comfortable back there — even for a pair of tall adults. Three adults would find it a squeeze, unless they had recently been involved in a tragic accident that lopped off all their arms, but three children shouldn't have an issue. It even has a decently-sized video screen, which folds from the roof between the front seats.
So unless you're not on speaking terms with your driver, or demand increased privacy, the seven-seater is my pick over the four-seater. Either way, you get excellent amounts of storage, cupholders, charging options for phones, including USB-C sockets and wireless pads on both sides of the car. In the Takumi four-seater, there's also a mini fridge. 
There are frustrations with both interiors, though. For example, it's hard to reach that fridge when belted in, and while there are electric blinds for the windows on the roof and sides of the car, there isn't one for the rear window, which seems like an odd oversight. It means bright sunshine or strobing streetlights will disturb reclining slumberers.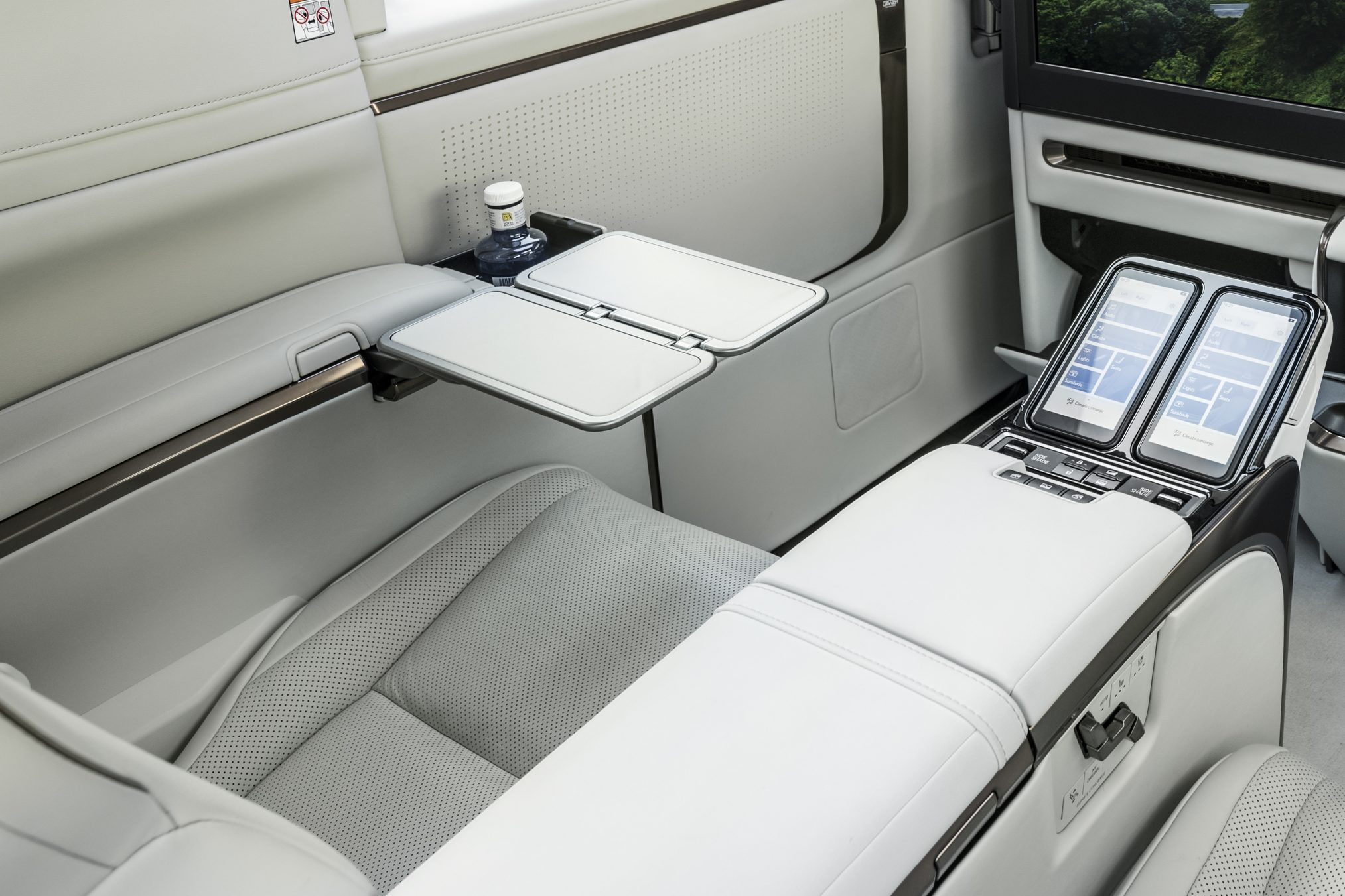 Another thing that might frustrate is that the tray tables, which slide out of the side armrests of the main rear seats, are pretty small — useful for mobile phones or resting a book but laptops will prove too large and heavy.
But whichever model you pick, at least the sound system won't disappoint. Lexus worked with Mark Levinson on two 3D surround versions, one for the seven-seater with 31 speakers and an upgraded version with 33 speakers for the four-seater "Takumi" model. They've been positioned around the cabin for ideal "stereoscopic sound", according to the video presentation, and the audio experience is pretty spectacular, based on the promo film played during our trip from the airport to our hotel in Krakow. Sound deadening is impressive, too, with thick side window glass, though the rearmost windows seemed thinner and there was some noise from passing cars.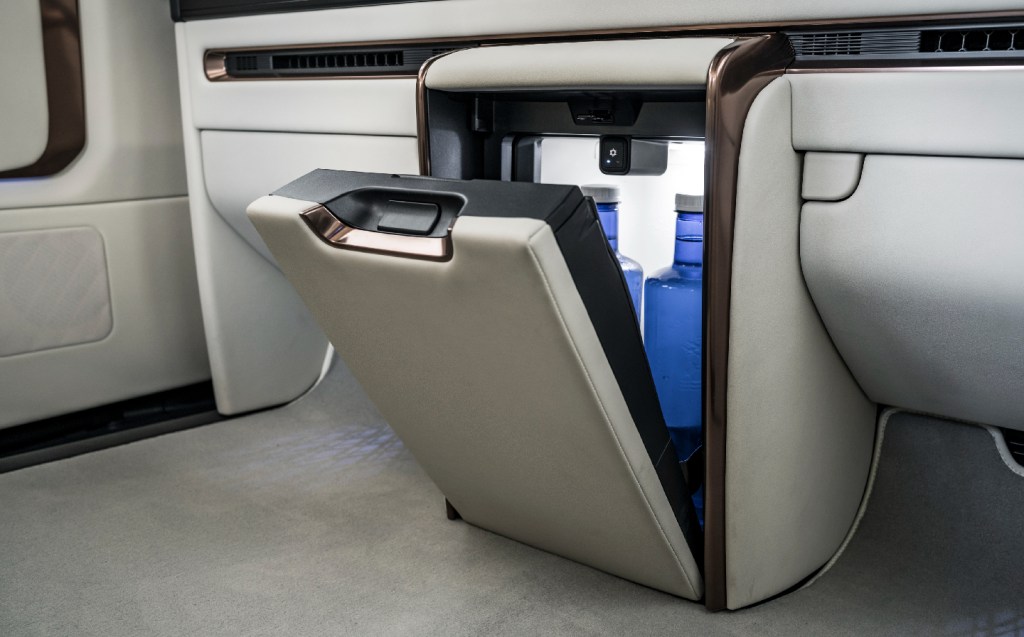 Sadly I can't confirm whether or not streaming from smartphones or laptops is simple to set up as the required HDMI-to-USB-C cables weren't made available to us. An alternative way to do it would be to use the Miracast app, though that requires a monthly payment subscription, so again, we'll have to take it from Lexus that it works. You can connect phones to the main stereo, rather than just the rear infotainment area, and split the audio so that it only plays in the rear, I was told; the driver can also listen to a separate radio station at the same time.
What's it like on the move?
If you are more likely to find yourself behind the wheel of the LM than behind a video screen in its rear, then there's good and bad news.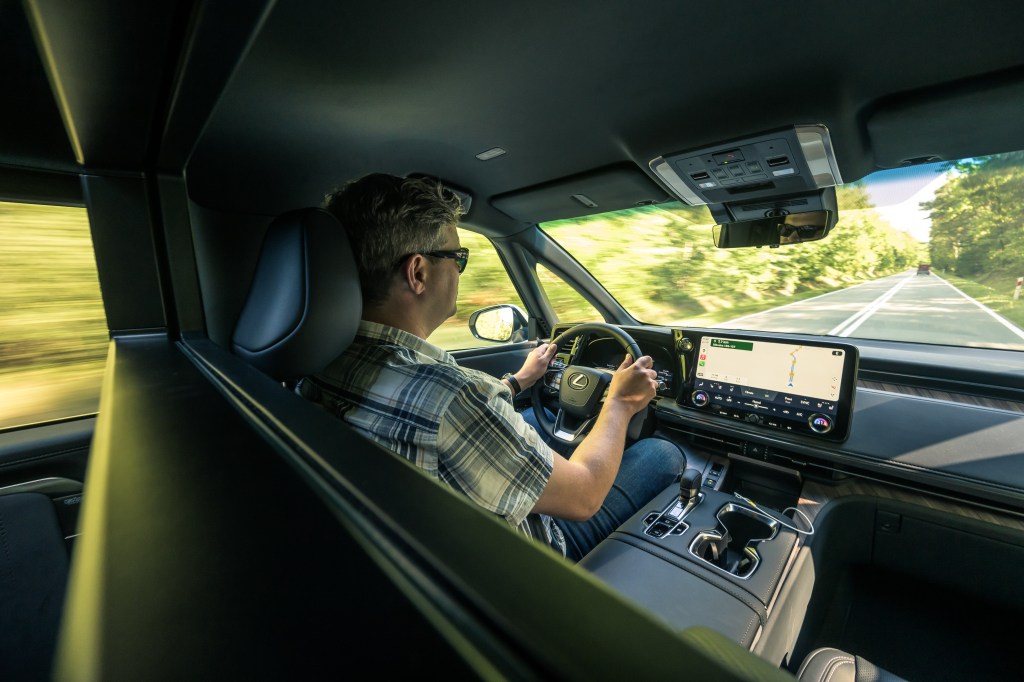 Under the bonnet is the Toyota/Lexus 2.5-litre full-hybrid system that's also found in the NX and RX SUVs. It produces up to 247bhp and decent amounts of torque, which meant on our test drives that the LM never really struggled for pull, either around town, on motorways or on twisty uphill routes. 
But it never feels punchy, either — partly because the LM weighs upwards of around 2.29 tonnes in its lightest front-wheel-drive form, and 2.35 tonnes with four-wheel drive, and partly because the continuously variable transmission can result in the engine spinning furiously even when the car isn't being being pushed too hard, resulting in the Toyota hybrid system's trademark disconnected driving experience.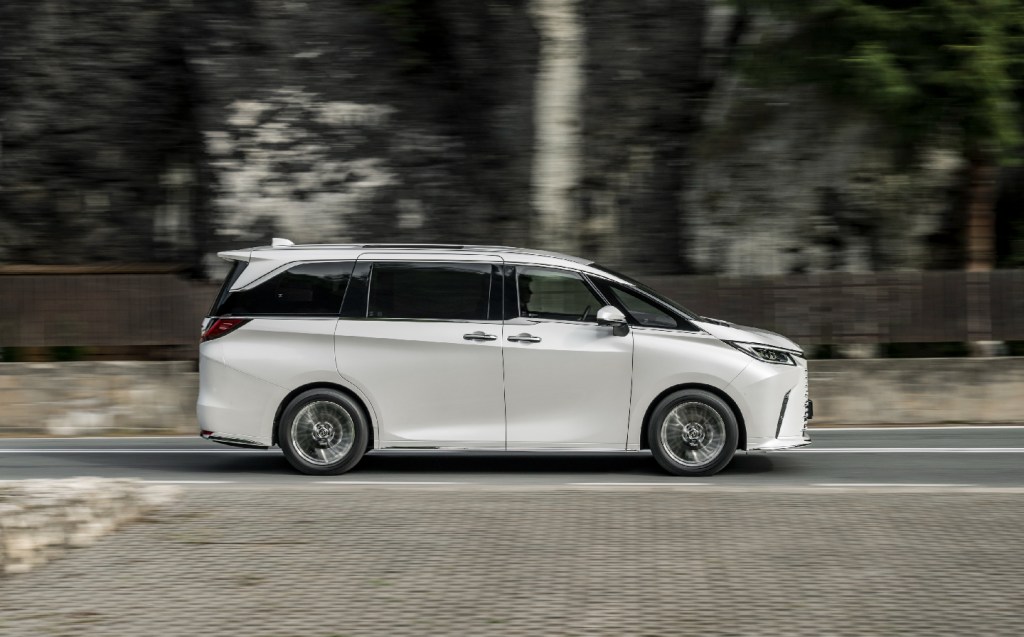 There's good and bad news on the ride quality front, too. The trick adaptive suspension is designed to reduce the amount of pitching during braking and accelerating, and the amount of roll during cornering, as well as help iron out bumps in the road. It does an amicable job of that all, on the whole, and combined with the fact that the LM — despite appearances — is based on car underpinnings rather than those of a van, champagne flutes are less likely to topple during journeys. It also means that the way the LM handles is impressive — definitely more large car than van.
And despite being over 5m long, it actually feels far more manoeuvrable than that in tight streets, and reversing is made simple thanks to big mirrors, a video camera in the rear-view mirror and 360-degree camera images displayed on the touchscreen.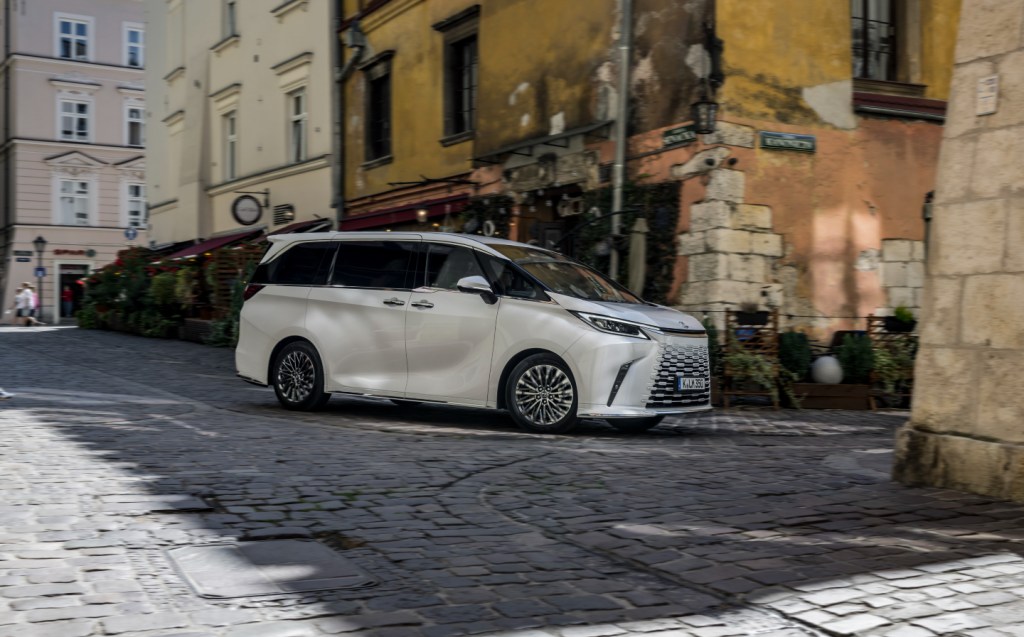 For the passengers, there's most definitely decent comfort even on rough surfaces, with reduced rebound when travelling over road humps, for example.
All of this can be fine-tuned via the driving mode selection, which frustratingly is altered via the touchscreen rather than having a physical button or dial. That means the car's nannying driver attention warning flashed up a few times as I tried to find my way around the touchscreen menus. It will run Apple Carplay and Android Auto, of course, and there are shortcuts to favourite features within the Lexus user interface, but it's not the most intuitive system.
For example, switching off the speed sign alerts means going deep into the menus with multiple taps, and when you switch the car off those bongs reset and you have to do it again next time you get in the car (although you usually notice after you're already driving, making it distracting). The irony of being told by the car to pay attention to the road while trying to find something within its own touchscreen menus was not lost on me.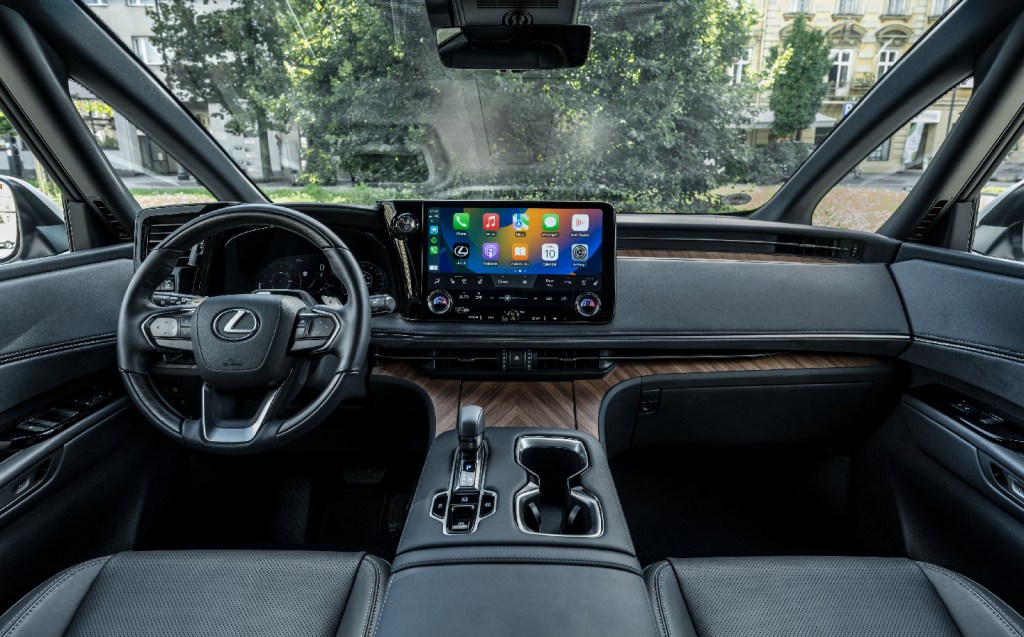 There are Eco, Normal, Sport and — an innovation for the LM — Rear Comfort modes from which to choose, and as you'll have guessed the latter is the one designed to offer optimum ride comfort for those sitting in rear. However, in reality it results in marginally increased vertical movement over the rear wheels, with what feels like slightly reduced damping, and that in turn meant marginally increased feelings of nausea — on some undulating roads it felt more akin to travelling by sea than road.
I asked Jeeves (an esteemed motoring writer for another publication, in fact) to switch to Normal or Sport modes in future, and he duly complied. We both agreed those were preferable from behind the wheel, too, with Sport mode offering improved throttle response and weightier steering feel.
Verdict: 2023 Lexus LM review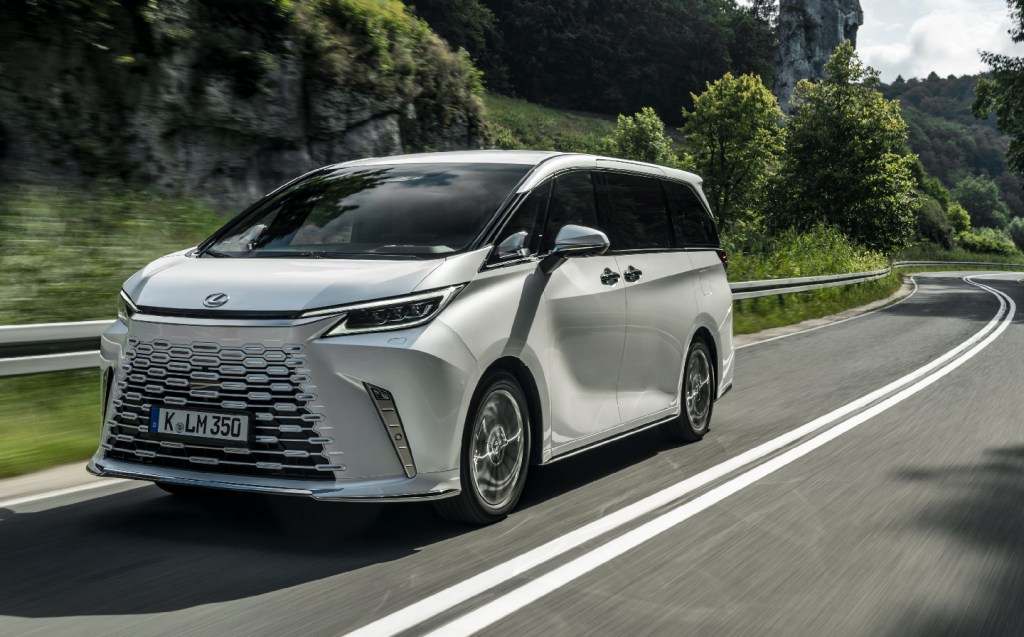 The Lexus LM carves an interesting niche. Yes, there are rivals out there, though nothing else really offers the LM's combination of interior space, luxury, technology and ride comfort – certainly not for the money. But the Lexus is let down by a few odd choices on the interior features and the disconnected driving experience from its hybrid powertrain.
The latter won't matter to those travelling in the back, mind you, and the hybrid drive does ensure a smooth ride. What's more, the price isn't a turnoff for buyers, it seems — more than 170 have been pre-ordered in the UK, and 600 in Europe, which means it's a success already and will bring in good retruns for Lexus.
But will it convince everyone, we wonder? What would Succession's Logan Roy say if he were asked to climb into an MPV rather than a Range Rover or Mercedes-Maybach? And while Get Shorty's Chili Palmer would surely be happier with the LM over his Oldsmobile minivan, it's still probably not the image he'd want to project.
Related articles
Latest articles