First Drive review: 2016 Tesla Model X P90D
Will the Falcon-winged electric SUV fly in the UK?
REINVENTING THE door has doomed many a promising car concept. The sliding doors on Peugeot's 1007, for example, so compromised the car's design that it was withdrawn from sale, while the "double-kinematic" (dual-hinged to you and me) system of the Renault Avantime was une catastrophe.
Disastrous doors are not the preserve of the French. The electrically-operated openings on the TVR Cerbera did away with handles altogether, but when "Sesame" didn't "Open", you were locked out and looked a pillock.
You might think that a start-up like Tesla would have learnt from the eccentricities of the past but Elon Musk, the billionaire founder and CEO,  has a taste for the absurd. He recently claimed that humanity was "living in a simulation". By comparison with this, the "Falcon Wing" doors on the Tesla Model X seem almost sensible.
---
Browse NEW or USED cars for sale on driving.co.uk
---
They are without doubt the most interesting and controversial feature of the Model X, which is the first attempt at an SUV by Tesla, the maker of exclusively pure-electric vehicles.
It's effectively a more family-orientated version of the Model S saloon, with some comedy rear doors. The Falcon Wings are double-hinged so they can open with just a foot of clearance and at the touch of a button. Electric motors take care of the theatrics, while an army of sensors stop the action if you're in danger of whacking something.
It all sounds horribly complex, because it is. Problems engineering the doors for production delayed the Model X's introduction and the first customer cars in the US have not proved trouble-free, with some doors refusing to open.3.2 Tesla's Head of Sales and Service, Jon McNeill, told Driving that software updates will fix these issues before UK deliveries start early next year. In other words, American early adopters have played the role of test driver.
Assuming he's right, the doors will undeniably prove a winner in the school car park. Not since the Teenage Mutant Ninja Turtles has anything been this cool.
What's more, they're actually useful. Although the Model X comes as standard with five seats, most customers are expected to choose the six- or seven-seater versions with three rows of chairs in either a 2-2-2 or a 2-3-2 formation. Access to the rear is genuinely improved, helped by a middle row that motors forth and tips on command.
The Model X uses the same underlying hardware as the Model S. The chassis is like a giant skateboard with the batteries under the seats and electric motors front and rear providing all-wheel drive, and there's a useful front boot where an engine would normally be – Tesla calls it a "frunk" – and good passenger space, even in the rearmost seats. It's much more practical than a Range Rover Sport, for example.
Upfront you get the same interface as the Model S, which is no bad thing. Just about everything is controlled using a giant touch screen display – think two iPads fused together – which is a doddle to use and adds to the futuristic vibe. You sit a bit higher than you do in the Model S, but not outrageously so. It feels more car-like than a Range Rover.
There's some clever thinking too. It might have a cartoonish name, but the "Bioweapon Defense [sic] Mode" pressurises the cabin and filters harmful bacteria. It's noisy, but while we were unable to test whether it'll withstand a military grade bio attack (as Tesla claims), it did prove a useful antidote to hayfever.
Another neat feature is the wraparound windscreen, which really adds to the sense of adventure. Tesla says it's largest all glass panoramic windscreen in production but don't let the salesperson tell you it's pioneering – this tech has featured on affordable cars such as the Citroën C4 Picasso and Vauxhall Astra.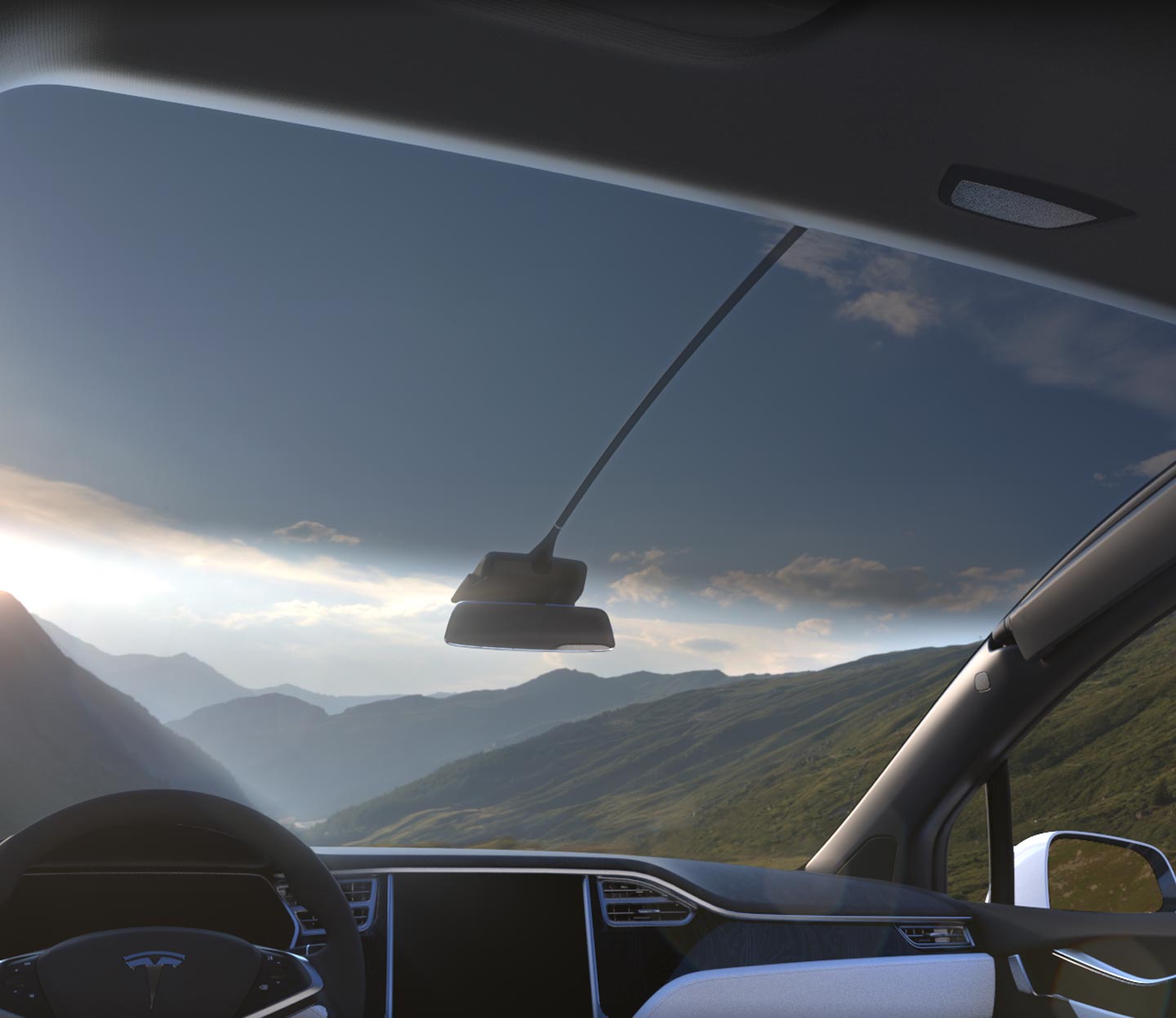 There are three models to choose from, depending on how far and fast you want to go. Model X life begins with the 60D at £64,100, which offers the lowest range of 220 miles (official estimate) per charge, and rises to £99,800 for the P90D, which has a classified range of 290 miles. Add desirable extras such as a posh hi-fi and Tesla's autonomous driving (Autopilot) system and that figure can easily rise to more than £120,000.
Our experience thus far is limited to the full fat P90D. For what is undeniably a chunky sum, you get what is unarguably the world's fastest accelerating SUV. It has the equivalent of 464bhp and 612 lb ft of torque, and in the so-called 'Ludicrous' mode, Tesla claims 0-60mph in 3.2sec.
That's McLaren fast, and feels it. If you're carrying kids it'll end in carnage – drinks will be spilt, tablets will be dropped, stomachs will be reset. It's utterly absurd yet hugely addictive, especially as it's achieved in near silence.
Tesla has obviously tweaked the software a little compared with the Model S and the effect of the regenerative braking system is much stronger as the batteries try to recoup some energy. Lifting off the throttle feels little different to applying the brakes. It seems a bit odd at first but you'll quickly re-adjust. In normal conditions, you'll drive everywhere using the throttle.
---
Browse NEW or USED cars for sale on driving.co.uk
---
The other thing that takes some getting used to is the Model X's size. At 2,271mm it's fractionally wider than a Range Rover and it's longer too. That's fine for soccer moms in Alabama, but a bit of a hassle in Chelsea.
At almost 2.5tonnes, it's also heavier than a Range Rover, but because so much of the weight is located low in the chassis, it feels more nimble. The steering could use a little more feel and the ride can feel a little stiff at times, but the X is still an engaging drive. This is one of the few six-seater family wagons that doesn't feel like an advert for contraception.
Although Tesla claims this is an SUV, don't expect to go off-roading in the Model X. With the optional air suspension, it'll lift up its skirt and bumble over grassy paths, but a Land Rover is it not. If you intend to use it to go skiing, you'll also have to pay careful attention to the range. Cold weather or deployment of Ludicrous mode will quickly diminish that 290-mile range. At least Tesla's own fast charging infrastructure is growing all the time.
First shown in February 2012, the Model X has been a long time coming, a function not least of those funky doors. For family-friendly Silicon Valley types it's a must-have, but whether it'll be such a big hit in Surrey remains to be seen. It's not cheap, but it's hugely desirable and there really is nothing else like it.