Audi Q8 2023 review: Is Audi's flagship SUV a little off-colour?
It's not as beige as its paint
---
Published 08 November 2023
Paint is remarkably important stuff. Obviously, it's the medium through which some artists express their brilliance — thanks to it we have treasures from Van Gogh, Picasso, Monet et al — but that's only the beginning. From the earliest caves paintings to the tanks of the Second World War, and from the fall of the Berlin Wall to the moon landings, paint has played a pivotal role. It can be used to tell a story, express a mood, set the tone of a room, protect a boat from the corrosive sea or hide people and objects from prying eyes. Whether it's applied delicately and deliberately or slapped on with reckless abandon, its effect cannot be understated.
And it's just as important in the car industry. Originally, carmakers saw paint as little more than a protective layer with which they would (often unsuccessfully) attempt to keep the dreaded rust at bay. Henry Ford famously kept costs down by offered his Model T in any colour, as long as it was black. But now it has become a fashion statement, a style accessory and a marketing tool.
In the case of Audi's new Sakhir Gold hue, we can't decide which one applies best.
Not what we'd call gold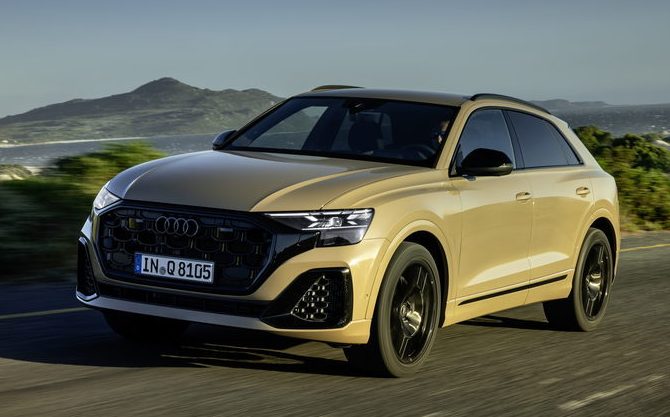 As you can probably see from these pictures, gold is one of the many words we're unlikely to use in a description of the new paint job, which is one of three freshly introduced options available for the new Audi Q8. It's more the colour of an American tourist's shorts — a dirty beige that kind of goes with desert camouflage, but definitely shouldn't be paired with improbably long white sports socks and a gaudy pair of Brooks trainers. The owner of anything this colour clearly owns a USS Missouri baseball cap and has a grandchild named Blake. That or they're suspiciously keen to hide in the desert.
Whatever, it's one of those colours that's going to divide opinions. Pretty much everyone blessed with the gift of sight will despise it, while a small minority will think it's just a bit grim. But an even smaller minority will love it, and while it isn't down to us to question their sanity, we extend them our best wishes and hope they feel better soon.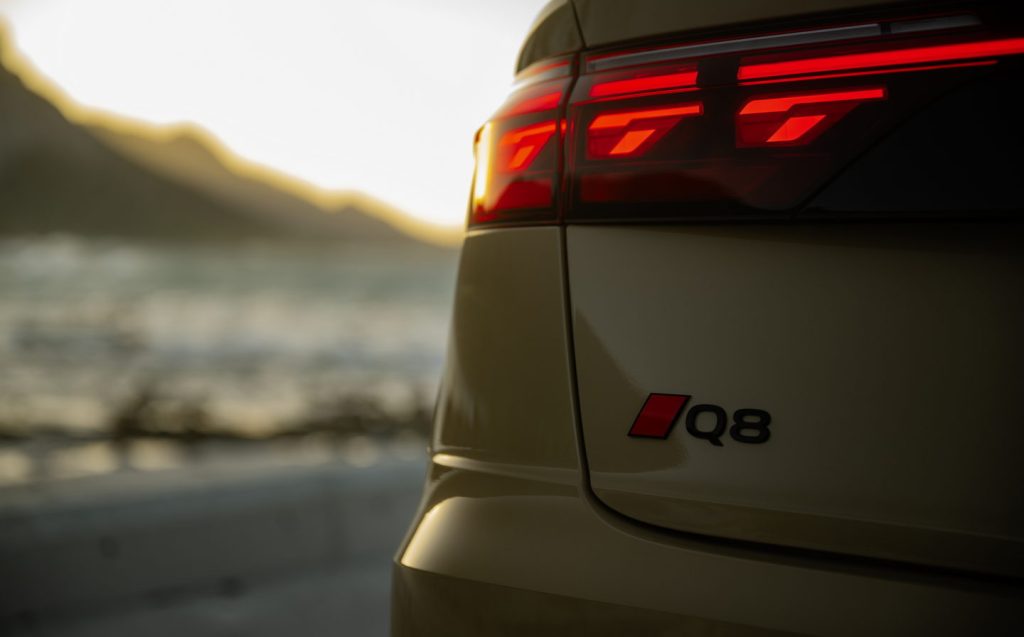 Normally, of course, that would be that. We'd have our say on Audi's, erm, bold new paint job, then get on with our lives and try to forget that something so unpleasant was ever signed off by the bosses at Audi's Ingolstadt HQ. But this one deserves special attention, because Audi itself has made a bit of a song and dance about Sakhir Gold. Or Burger Bun Beige if you prefer.
That's because this is one of the launch colours for the new Q8, although when we use the word "new" we do so advisedly. Yes, the Q8 — billed as a slightly more stylish version of the massive Q7 SUV — has been lightly revamped, but the differences aren't especially obvious.
It has new headlights
Audi made a lot of noise all three of its new colours — a red and a blue — though in fairness, neither of those is such a heinously ugly hue as Baby Food Brown. But point is that when a carmaker starts banging on about paint colours early doors, you know it doesn't have all that much to say about its updated model.
What else is new, though? The bumpers, lights and alloy wheel designs are the only real changes to the exterior, save for the colour options, and the cabin has changed even less. Some new interior design inlays are on offer, but that's your lot.
If you're wondering about changes to the chassis or engine range, you're out of luck. Yes, some new plug-in hybrid options are heading this way in the next year or so, but otherwise it's business as usual.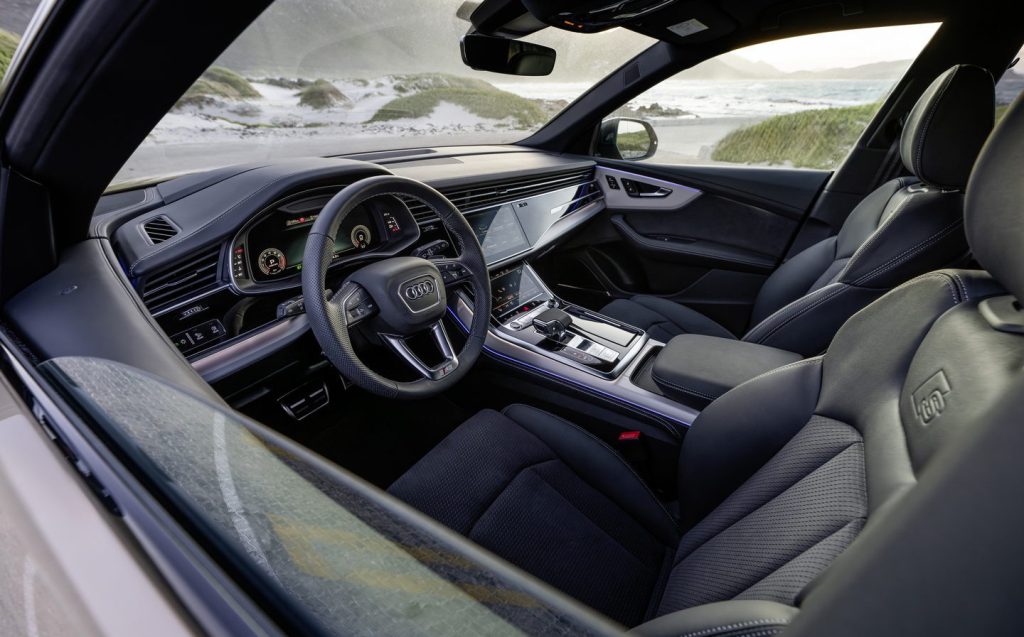 That's not such an issue for the Q8, mind you. It is a spacious, solidly built car with plenty of equipment and a chunky premium style — the new model does nothing to damage those points. Admittedly, one of the new trim inlays looks as though it was designed by the people who fit the wall panels to the inside of airliner cabins, but it's largely very upmarket in a Germanic kind of way.
Screens? We got 'em
The tech hasn't changed either, and while Audi's Virtual Cockpit digital instrument display remains one of the best things fitted to any Audi ever, and was an innovation that all other carmakers have now followed, the Q8's touchscreen is not such a triumph.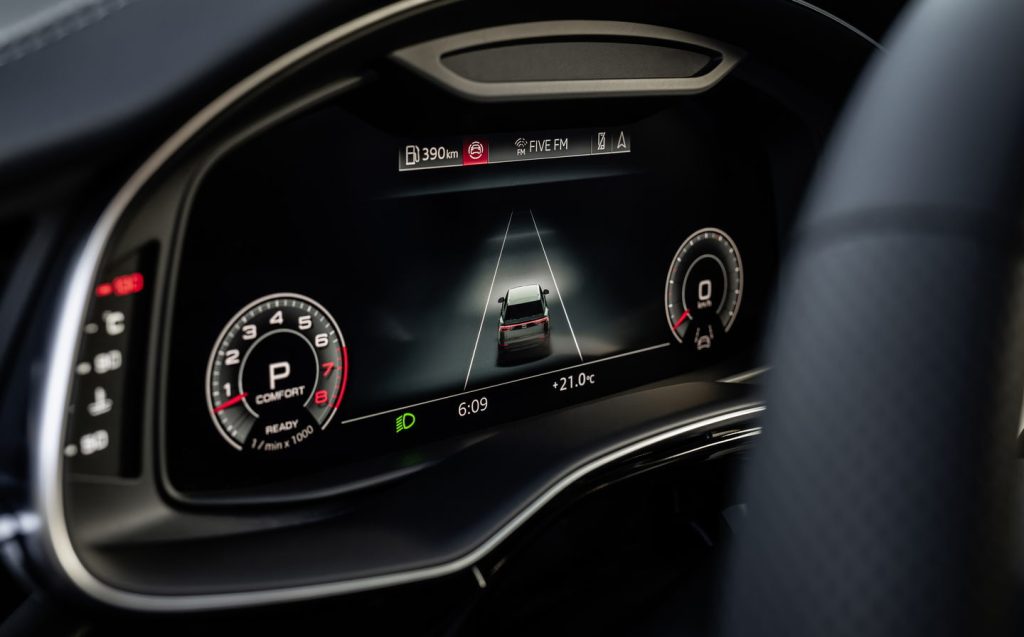 In fact, with strange haptic feedback that forces you to poke the screen with all the vigour of a football manager jabbing the chest of a particularly hapless referee, it's a bit of a dud. Don't get us wrong, logical menus and clear graphics mean it does the job, it just isn't necessarily pleasant to use.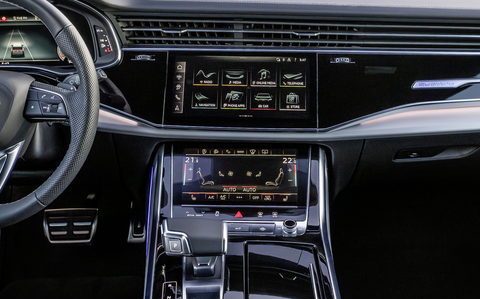 V8 says the heart, TDI says the head
Thankfully, the engine range is much more pleasant to use, if no different from before. For the time being, there's a choice of petrol and diesel engines, with the majority of those being smooth 3-litre V6 lumps.
The 4-litre V8 in the SQ8 is something of a dreamboat, with its smoothness and simmering performance potential, but the 3-litre diesel is the only sensible option. Refined, powerful and great for towing, it's eminently useful, and it's also the only engine to offer economy that won't leave you drowning in a muddy puddle of destitution.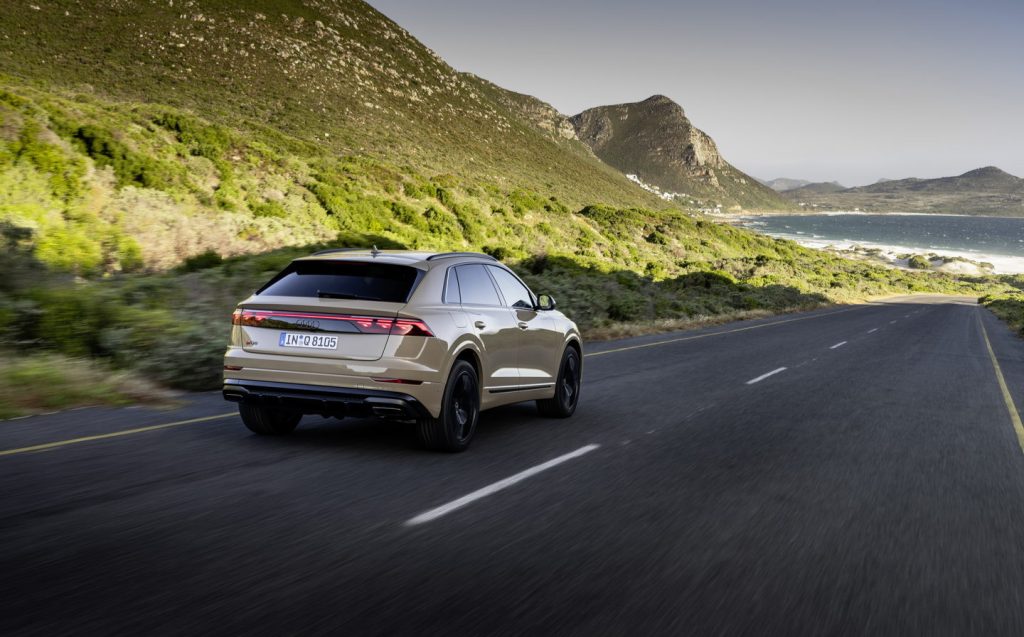 Whichever engine you opt for, the Q8 offers a broadly similar driving experience. Sure, the SQ8 is a bit of a roadrunner, and there's something beautifully effortless about that V8, but every version is more than punchy enough.
And while it doesn't handle as sharply as a Porsche Cayenne or a BMW X6, the Q8 is still very secure and stable in corners. The ride is adequate, too, although it's at its best on smaller wheels, and there's an unsettled undercurrent to the way it deals with small imperfections in the road, particularly around town. On a motorway, though, it wafts along gloriously.
There is one change that you won't find in any of Audi's publicity material, however, and that's the price. We're all aware that most new car prices are shooting up faster than one of Elon Musk's rockets — ironically all except Elon's Teslas, which seem to keep having their prices cut — so it shouldn't come as a surprise that the new Q8 is a little more expensive than its predecessor.
Even the cheapest of the new Audi Q8s comes in at more than £75,000, and that's a huge amount of money, whichever way you cut it. Even compared with rivals from Porsche and BMW, it isn't exactly a bargain.
So the new Q8 is essentially like Sakhir Gold. You probably don't want one — there are other, better looking alternatives that do the job just as well, if not better — but those that do want it will love it. There are no major weaknesses in the Q8 package, and it epitomises the style and substance that makes an Audi different.
However, we reckon the Porsche Cayenne and BMW X5 are far more appealing ways to spend the thick end of £100,000.
Related articles
Latest articles