First drive review: Vauxhall Adam (2012)
Plenty of pun-based paint jobs but no poke
---
Published 11 November 2012
WHEN MINI decided to cash in on the modern retro look pioneered by the likes of Volkswagen's Beetle, it had the cutesy 1950s original to ape. Likewise, Fiat had the massively characterful 500 to call upon for its modern tribute.
Vauxhall had no such classic in the archives on which to style its latest creation so instead it has gone for a modern and attractive look, while naming the new car not after Eve's partner but the founder of Vauxhall's sister company Opel.
Available to order now for deliveries in the spring, the Adam sits on a shortened version of the Corsa chassis and is available with just 1.2-litre and 1.4-litre petrol power, although the latter is available in two different power outputs: 86 and 99bhp. There is no diesel and none is planned but a VXR version should make an appearance next year, likely powered by a 1.6-litre turbo motor.
Vauxhall hopes young and old alike will see the Adam not so much as just another means of transport but a mobile fashion statement, a device through which owners will be able to express their characters with their car. Indeed, it has made the Adam available in so many different colour and trim combinations that, it asserts, were all 6.5 million people who attended the Paris motorshow (where the Adam made its debut in September) to order one, each could choose a unique specification.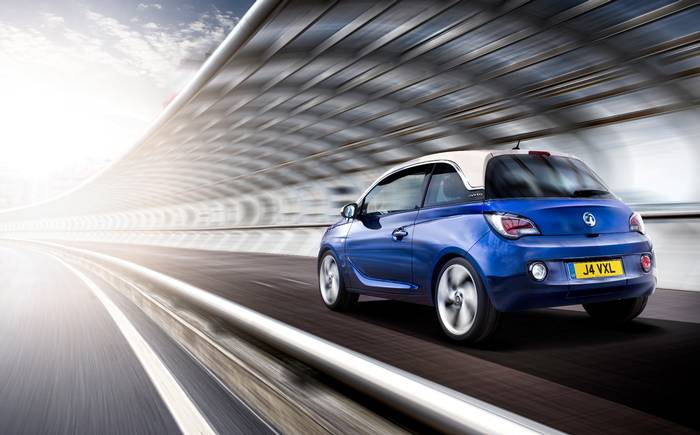 As you might have guessed, then, the Adam is a car in which to enjoy posing, not driving. Even the most powerful engine option provides acceleration inferior to that of even the Mini One, let alone any of the more sporting Cooper versions. The motor is smooth and quiet, and the five-speed gearbox is reasonably precise but there's nothing here to make you want to get up early at the weekend just for the fun of letting it loose.
You won't be sneaking off to your favourite roads in the Adam, either. UK cars will get their own steering tune but it will need to be transformed to give the Adam decent handling. The Euro-spec steering on our test car was too light, lacking any feel and with too little self-centering. Compared with the never less than delightful Mini it is astonishing to see just how far off the mark the Adam is here, as if it's designers have wilfully abandoned all efforts to make the car as good to drive as it is to look at, and instead spent all the money on accessory options.
At least its ride quality is better than you might expect from a car with abbreviated Corsa underpinnings.
So it really is about the look. If you ordered your Adam with a monotone interior it would be a very dull place to spend time. Ergonomically sound, but dull. So you really do need to play fast and loose with the dizzying array of personalisation options to get the best out of the Adam.
You could (and someone surely will) write a book detailing the literally millions of possible permutations available for the Adam, but the following will give you an idea of what's possible. Take a deep breath…
There are three spec levels: Jam, Glam and Slam. Each is available in 12 colours with names such as "Saturday White Fever", "James Blonde" and "Papa Don't Peach". Then, if you like, you can choose one of "Men in Brown", "I'll Be Black" or "White My Fire" for the roof. Exterior decal packs called Splat, Fly and Stripes are also available. There are also over 20 different wheel designs and colours.
Inside, another dozen colour choices await plus five roof-linings, including one featuring over 60 LED lights that look like stars at night. Add your choice of dashboard surround (if you get bored of yours you can buy new ones for £75, though a dealer will need to fit it) and you get some idea of just how easy it is to personalise the Adam to your tastes.
Whatever you choose, the interior is well laid out with a good driving position and notably comfortable front seats. There's not much room in the back but you would not expect it in a car like this. For the occasional grandchild or diminutive and understanding friend on a short run, it's fine.
Verdict ★★★☆☆
All show and no go
Vauxhall Adam 1.4i 16v Slam EcoFLEX Start/Stop (100PS) specifications
Release date:

On sale now

Price:

£13,725

Engine:

1398cc, straight three

Power:

99bhp@6000rpm

Torque:

96lb ft@4000rpm

Transmission:

5-speed manual

Acceleration:

0-62mph in 12.2sec

Top speed:

115mph

Fuel:

55.4mpg (combined)

CO2:

119g/km

Road tax band:

C (£30 per annum)

Dimensions:

L 3700mm W 1720mm H 1484mm
Vauxhall Adam rivals