First Drive review: Smart Fortwo (2015)
A little quick out of the blocks
---
Published 23 February 2015
SPRINGTIME for Lego: a study recently declared the Danish company the world's most powerful brand. It had dethroned Ferrari, last year's league-topper, its always sturdy prominence on billions of childhood toy shelves around the world heavily reinforced of late by the success of The Lego Movie.
And now, hot on the trail of that honour, here, right to my door, comes Lego's first production motorcar.
---
Browse the used Smart Fortwos for sale at driving.co.uk
---
Oh, hang on — no it doesn't. Closer inspection of the orange-and-white plastic blob that has just pulled up outside reveals it, in fact, to be the latest version of the Smart Fortwo. Easy mistake to make, though. This snubby, chunky retake on the company's familiar twin-seat buggy more than ever resembles a Lego vision of a car made real. It gives every impression that with a brick from here and another brick from there it could easily become a spacecraft or maybe a powerboat or perhaps a tree house . . . ("The only limit is your imagination," as Lego likes to say.)
Of course the Mercedes sub-brand has always played the cute card, thereby offering infantilism and high-end German engineering in one compelling automotive package. But this Fortwo seems to be holding a full hand of cute cards. Assembled in France on a sawn-off Renault Twingo chassis, it features naive-looking minimal overhangs for maximum agility.
This snubby, chunky retake on the company's familiar twin-seat buggy more than ever resembles a Lego vision of a car made real
The bodywork almost exclusively consists of two doors, making the car easy to get into and surprisingly unclaustrophobic once you're in there. The hatch at the back consists of a pop-up window and a downwards-opening tailgate, just like on a Range Rover, except with considerably less scope for using the lower section as balcony seating at a point-to-point meeting.
The interior now appears to be clad extensively in orange mesh, which is perfectly acceptable if you like orange mesh but could also be accused of straining for funkiness. There's a crisp and pleasingly large touchscreen sat nav and possibly the worst heating controller yet to feature in a car, harking back to the days of the tug-along slider in a way that is probably knowingly retro but is also horrible to use.
I take the whole package — orange mesh, temperature controller and all — to a supermarket in London on the grounds that this is one of those jobs a Smart was born to do, and (I should probably admit) because I happen to need some food.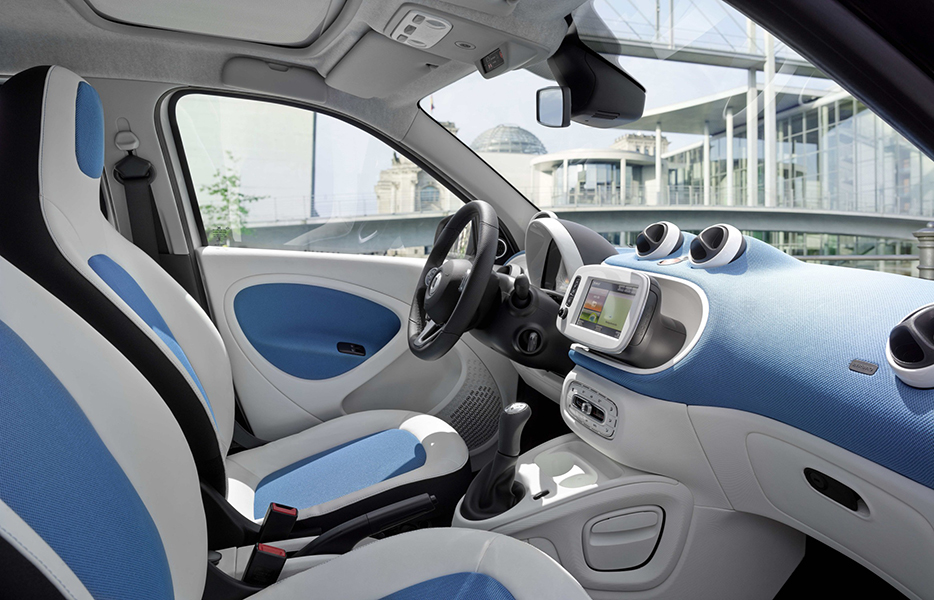 In Sainsbury's car park a small boy holding his father's hand turns in open-mouthed awe at my progress and continues to turn until he is being hoisted along backwards by his advancing parent. Presumably he thinks I'm a spacecraft or maybe a powerboat or perhaps a tree house. He certainly implies that there is one market segment where the Fortwo will have instant cachet: the under-fives.
I stuff four bags of shopping in the boot simply enough and head off again. The rear-mounted 999cc 70bhp petrol engine generates a substantial racket, but then it's virtually under your buttocks as you drive, so how could it not? From a standing start, first gear is almost comically underwhelming, but above that the car quickly becomes peppy and light of spirit, the rear-wheel drive prodding you along.
And it is, of course, exceptionally nimble. The Fortwo's proud boast is that it outdoes a London taxi for a turning circle. Presumably a London taxi will counter that it outdoes a Fortwo for passengers, luggage and general fortitude in the long run, while also having a nicer heating control, thereby ultimately clinching the argument.
Still, the acrobatic feats accessible via the light, spinny steering wheel remain impressive and I very quickly take to performing needless U-turns simply because I can. Emerging from a tight parking space, you can whip the wheel around and come out essentially sideways.
Which being the case, the Fortwo model I'm driving is fitted with possibly the most lavishly unnecessary reversing camera in automobile history. Parking this car could never be reckoned a complex challenge without the introduction of additional handicaps such as blindfolds. The whole thing ends just behind your ears, for heaven's sake. Why, you could practically stick your arm out of the window and feel around behind you for obstacles.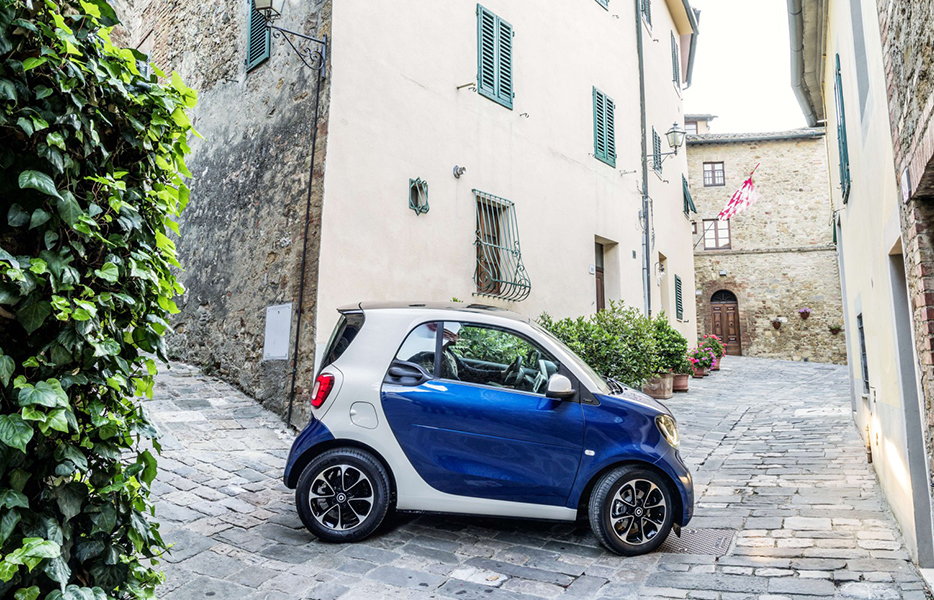 Still, it's of a piece with the car's mission to take out the most tedious and chore-like aspects of city driving and encourage a feeling of unencumbered vim, which it successfully does. Indeed, after a couple of hours of noodling around I'm beginning to enjoy that vim and thinking I could very easily welcome some of it into my life.
But then I notice how much it costs. At what point did the dream of convenient and sociable urban driving divorce the dream of democratic affordability? Hardly spoilt with extras to the value of £800, my Fortwo Edition #1 was wince-inducingly priced at more than £14,000.
One doesn't like to state the obvious, but with that kind of money you could buy a real car. Indeed you could acquire a very handsomely appointed Volkswagen Polo, with proper seats and a proper boot, and even with better economy and emissions figures. So why wouldn't you?
Answer: because you always did love Lego.
Giles's verdict  ★★★☆☆
We like: It's a city car with soul
We don't like: Works out at more than £6,500 a seat
Smart Fortwo Edition #1 specifications
Price: £13,225
Engine: 999cc, 3 cylinders, petrol/li>
Power/Torque: 70bhp @ 6000rpm/ 67 lb ft @ 2850rpm
Transmission: 5-speed manual
Performance: 0-62mph in 14.4sec
Top speed: 94mph
Fuel: 68.9mpg (combined)
CO2: 93g/km
Road tax band: A (free)
Release date: On sale now
Smart Fortwo rivals
Renault Twingo Dynamique S, £12,545
For Five-door body style makes it more practical than the Smart
Against Can't match the Smart's commanding driver's view
Volkswagen Rock Up!, £13,465
For Packs four seats and a boot into its three-door body; better value
Against Also lacks the Smart's view
---
Browse the used Smart ForTwo for sale at driving.co.uk
---