First drive review: Lexus IS 300h SE (2013)
The medium is the massage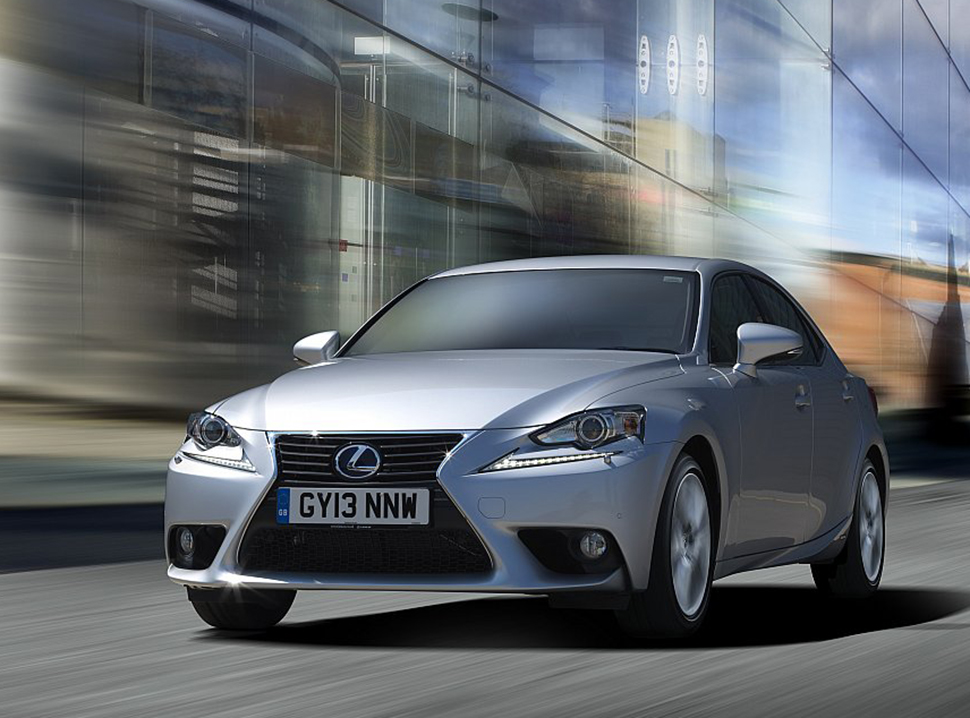 There's a fair amount riding on the new Lexus IS. First launched here in 1999 and updated once since then — in 2005 — this executive saloon has become the company's biggest seller in Britain. Lexus knows that what people make of the IS is to a large extent what people make of Lexus.
But what do people make of Lexus after 14 years of the IS? We think of luxury, certainly — of Japanese luxury, maybe. We know, perhaps, that this is the boutique branch of Toyota, and we may dimly remember the fondness for the marque of Alan Partridge, before he fell on harder times and lower pay at North Norfolk Digital. But beyond that, our image of the brand starts to lose focus, possibly.
---
Search for and buy a used Lexus IS on driving.co.uk
---
At the launch of the IS in Vienna last week, there was talk of sharpening a few minds by stressing the company's association with bleeding-edge design. Lexus has started sponsoring short films and putting its name to design prizes. The company is opening Lexus coffee bars and fashion shops — in Tokyo and New York, definitely, and maybe in London, though possibly not at this stage in north Norfolk.
Again, though, however good the coffee is and however cinematically powerful those short films, it's going to be the IS that takes the message to the world. And in fairness it too speaks loudly of design. Its strongest visual characteristic is the thick, upward-sweeping line that erupts out of the back end of the door sills and, in a passing allusion to a dragster, doesn't stop rising until it reaches the brake lights.
Then there's the new, daringly  trapezoid "spindle" grille, which adds a certain amount of forceful status to the model in the same way as electric gates do to a house. On the bustling F Sport version, the entire area is smeared with a threatening mesh, making it appear as though the car has recently eaten its way through a chain-link fence and omitted to wipe its mouth. Even in the calmer versions, though, that front end will probably divide people. But in a part of the market dominated by German-influenced conformity, credit it at least with sitting boldly apart.
The interior is less shouty but energetically sumptuous. There are touch-sensitive control panels for the air-conditioning. There's a fancy, acoustically precise Mark Levinson hi-fi. There are clean white dials, although, as with all hybrids, the dashboard is partially turned into a tiresome spreadsheet, with diagrams revealing exactly how much energy is being recycled at any moment.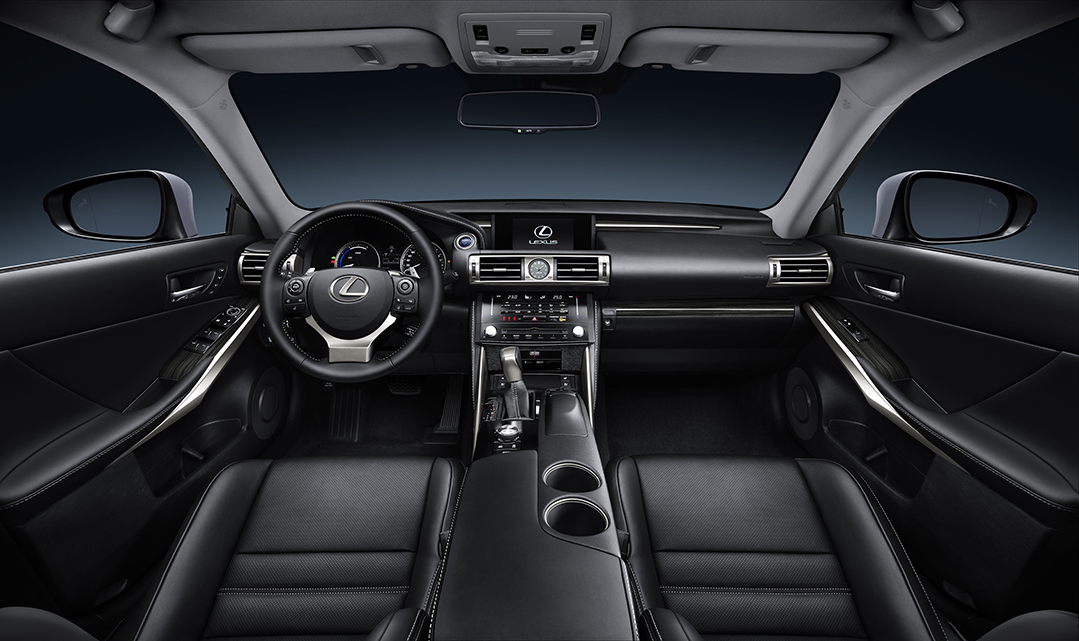 On the brighter side, though, customers can call up the Panoramio photo-sharing website on the IS's gloriously clear 7in screen, in effect turning the car into a £29,495 rear-wheel-drive photo album.
The car's radar looks out for cross traffic while you're reversing out of a tight parking space — an ideal preventative for those situations when stopping for coffee and a doughnut can become disappointingly expensive. (I speak from experience here — £450-worth of experience, in fact, earned in the car park of the Krispy Kreme at Shannon Corner in southwest London about three years ago.)
The IS also patiently monitors the more traditional blind spots for you, alerting you with a tiny orange symbol in the side mirror to any invisible presences that may be creeping up behind you. This is obviously a good idea, although immediately after I had come within a whisker of broadsiding a Peugeot 207 in three lanes of Viennese teatime traffic, it did occur to me to wonder if the system couldn't operate a little less modestly — perhaps with a manly shout of "No!", or an electric shock delivered via the steering wheel.
I drove the 300h hybrid, an arrangement offered for the first time on the IS. There's also a 2.5-litre V6 petrol version — the IS 250 — but no diesel. Lexus reckons hybrid does a cleaner job on consumption and emissions — and for a fat saloon with huge rear legroom to emit just 99g/km of CO2 is certainly impressive. At the same time this IS carries 60kg of weight that wouldn't necessarily be in a diesel model. In an IS 300h you are carting the equivalent of an extra passenger around — always.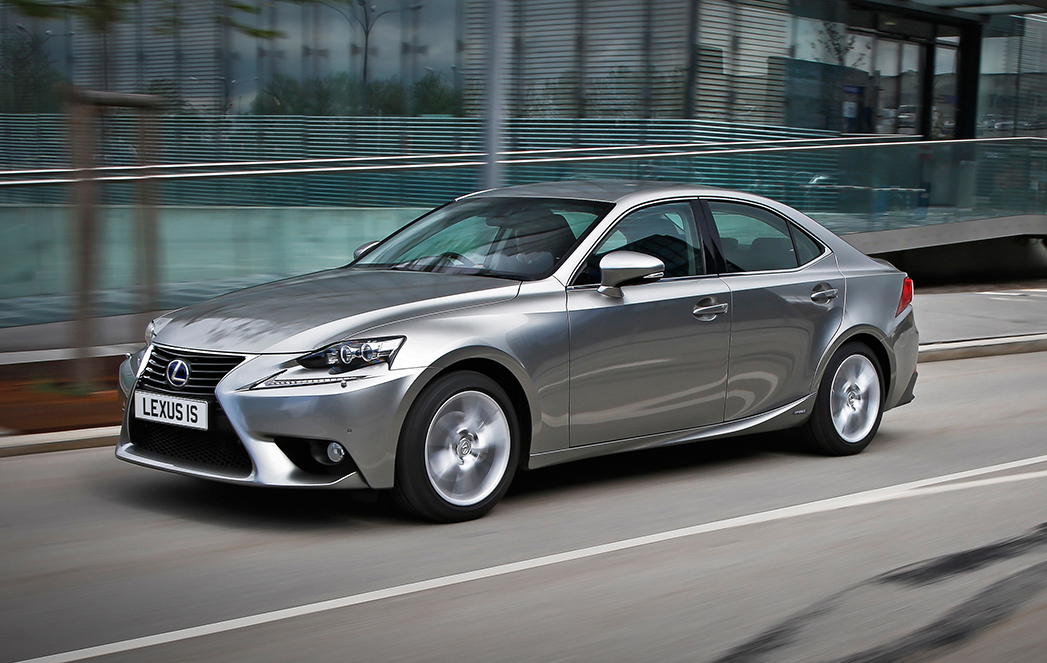 But maybe it's time to stop gnawing at the knotty questions about environmental benefit and start selling the hybrid system for what it offers as an experience in itself. With the exception of cars built by Bentley and Rolls-Royce — and costing about a quarter of a million pounds — there is surely no other setup that so narrows the gap between the experience of driving and that of being driven.
From the complete silence at start-up, all the way up to the low, soft hum at motorway cruising speed, the system is all about the replacement of grit by waft. Accordingly, in the IS, it doesn't matter how hard you push on, or how much you clench your teeth and wrench the steering wheel around; everything seems to be happening at a gentle and seductive remove. Really, if the car came with a loop track of spa-style panpipes, it would be wholly in keeping with the general feel.
Obviously that's the exact opposite of what many people are looking for behind a wheel. At the same time, there are plenty who find that the calm that exists by default in a hybrid's cabin works very effectively to lower the shoulders, depressurise the jaw and promote a sense of wellbeing in the stress-inducing driving environment.
Here's a job for Lexus, surely — and a more suitable one than building coffee bars, which plenty of other people already do well. Who better than a Japanese company to lead the way in emphasising the power of hybrid cars as holistic therapy? If you're someone who has to drive, but knows deep down that they would really rather be stretched out in the back, being gently kneaded around the neck and shoulders, then hybrid is almost certainly your arrangement. And the IS may well be your saloon car.
Verdict
★★★☆☆
Keeps calm and carries on.
Factfile
Lexus IS 300h SE
Engine:

2494cc, 4 cylinders, petrol-electric hybrid

Power:

178bhp @ 6000rpm

Torque:

163 lb ft @ 4200rpm

Transmission:

Continuously variable

Acceleration:

0-62mph: 8.3sec

Top speed:

124mph

Fuel:

65.7mpg (combined)

CO2:

99g/km

Road tax band:

A

Dimensions:

L 4665mm, W 1810mm, H 1430mm
The Rivals
---
---
---