First drive review: Ford Kuga (2013-on)
An unadventurous but sure-footed update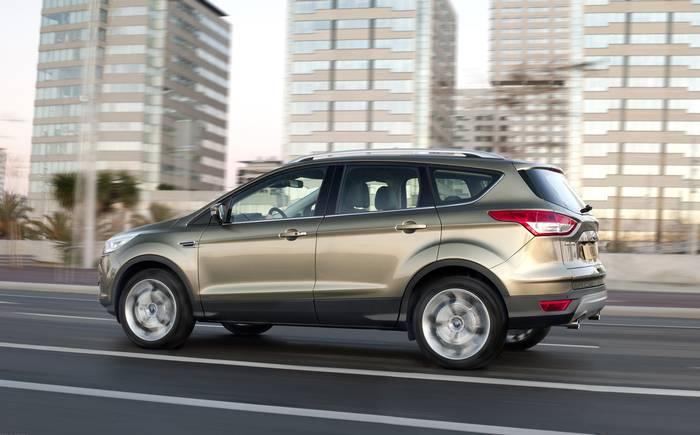 Which is why a lot is riding on Ford's all-new Kuga and why the company will also put on sale two more SUVs ‒ a smaller one called EcoSport and a larger one called Edge ‒ within the next year or so. And what of the car that's traditionally done the heavy lifting for Ford families? The new Mondeo's sale date has been delayed from now to the back end of next year. It tells you all you need to know about Ford's priorities right now.
---
Search for and buy used Ford Kuga on driving.co.uk
---
The new Kuga is bigger, more svelte and more fuel efficient than its predecessor and goes on sale here with either 1.6-litre turbo petrol power or a 2-litre diesel. The 148bhp petrol engine goes only into front-wheel drive Kugas, while the 138bhp diesel powers front and four-wheel-drive versions. There is also the car tested here: a 161bhp four-wheel-drive Kuga.
The bad news is that despite its handsome appearance and rugged image, the Kuga is the least adventurous Ford we've seen in a while. The company has an entirely deserved reputation for producing cars that stand a little proud of most of the chasing pack. Either through class-leading dynamics, such as those offered by the Fiesta, or innovation as illustrated by the sliding doors and absent B-pillars of the B-Max, Ford cars leave the impression that their designers and engineers tend to think a little harder about the needs and desires of the people who drive them. But you'll find no innovative features within the new Kuga. Meanwhile, the new car's performance is merely reasonable and its handling capable by the broadly unimpressive standards of its class but no more. It is a safe and stable car to drive but not exciting or agile.
That said, the Kuga makes very few mistakes. Quality improvements can be seen everywhere but especially in the plush cabin and the premium look and feel of its driving environment. At a steady cruise the ride and refinement are beyond serious criticism, though the suspension is a little firm at low speeds and the engine quite vocal under load. Moreover, not only will the Kuga carry your family in comfort, it'll swallow far more of their luggage too, thanks to a considerably larger boot whose tailgate can now be opened just by waving your foot under the rear bumper ‒ useful when your hands are full with children, luggage or shopping.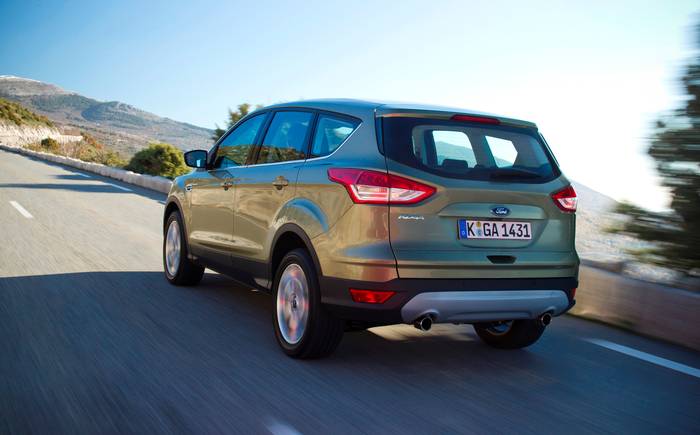 Like its predecessor, the new Kuga can claim to be one of the better mid-size SUVs and a car that will likely prove a faithful, safe and effective family holdall over the years. For many that will be enough. Indeed the only thing likely to really spoil the ownership experience is the knowledge that even the ancient Mondeo with the same engine is a whole second quicker to 62mph, does 137mph rather than 123mph, 53.3mpg instead of 47.9mpg and lives in tax band D (costing £100 per year) rather than G (costing £170 per year). Model for model the Mondeo costs around £2,000 less too. And it has a bigger boot. Still, what value has common sense when there is a trend to keep up with?
Verdict
★★★★☆
One of the better offerings in an under-achieving class
Factfile
Release date:

On sale now

Price:

£25,545 

Engine:

1997cc, four cylinders

Power:

161bhp @ 3750rpm

Torque:

251lb ft @ 2000rpm

Transmission:

6-speed manual

Acceleration:

0-62mph: 9.9sec

Top speed:

123mph

Fuel

47.9mpg

CO2:

154g/km

Road tax band:

G 

Dimensions:

L 4,524mm W 1,838mm H 1,701mm