First drive review: BMW M6 Gran Coupé (2013)
A flame thrower tuned to Classic FM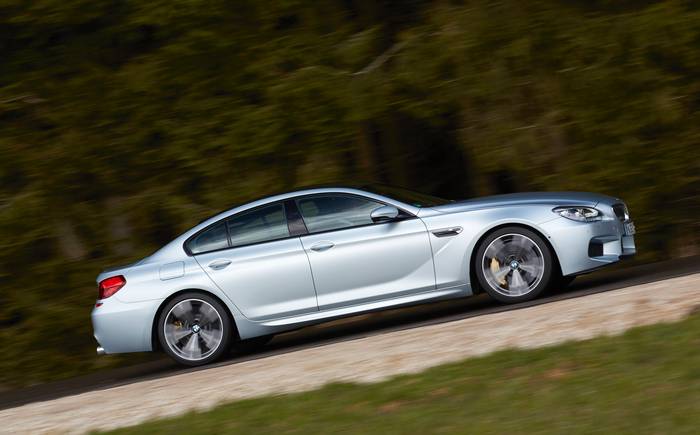 The M6 Gran Coupé is BMW's performance flagship. It's the 6-series coupé with plumper wheelarches, road-grazing skirts, unashamedly boastful 20in wheels and enough exhaust pipes to suggest the car has recently run over a church organ.
Yet it still looks as stately, composed and dignified as any executive saloon — and somehow remains so, even if you order the utterly wide-boy, gold-painted carbon ceramic brakes that convey the impression that someone has stuffed an ingot through the wheel spokes.
This is, we were proudly told at the launch in Munich the other day, the most luxurious M-badged BMW to date. Even allowing for the possibility that ''luxurious'' was a euphemism for "expensive", this was an unusual emphasis. Luxury before sportiness? Is BMW's M performance arm meant to be concerning itself with the virtues of 20-way adjustable electric seats? Isn't it meant to be more interested in seeing how fast those seats can be made to go before they burst into flames?
---
Search for and buy used BMW M6 on driving.co.uk
---
Of course, the M6 Gran Coupé does perform. Fitted with a carefree 552bhp 4.4-litre twin-turbo V8 engine, the car has a 0-62mph time of 4.2 seconds to match that of the Mercedes CLS 63 AMG, its natural rival. Note, though, that the Merc costs £15,560 less while BMW's own M5 is more than £24,000 cheaper — quite a step away — despite being just a tenth of a second slower.
There lingers the trace of a basic division at the heart of this imperious new coupé. How much does it fall in line with the traditional M remit of providing unstinting sporting excellence for nutters accustomed to driving as if their trousers were on fire, and how much is it about the leather-enriched pleasuring of middle-aged businessmen, many of whom just want to put on Classic FM and get home?
I had two hours to ponder this question on a test drive across the Bavarian countryside where — trust me — the M6 was out the other end of the village before you could say "continuously variable camshaft control". Indeed, I stepped a little heavily on the accelerator, passing a tractor at one point, and almost ended up in Austria.
The smoothness of the automatic shifts from the seven-speed double- clutch transmission is in stark contrast to the punch around the jaw and knee to the groin that you get from changing gear yourself, either by clicking the slightly counterintuitive gearstick up and down, or by flapping at the racing-driver paddles on the steering wheel.
You can customise the powertrain and chassis characteristics and then store your settings on the M Drive button, to have and to hold, from this day forward. If the softly cosseting, factory-supplied Comfort mode for the suspension doesn't provide enough intimacy with the road's imperfections for your liking, dial up the stiffer Sport Plus setting, which will have your joints and kidneys screaming for mercy in no time at all. In that mode, I was unsure whether I was driving a car or being dragged over a railway line on a sheet of hardboard.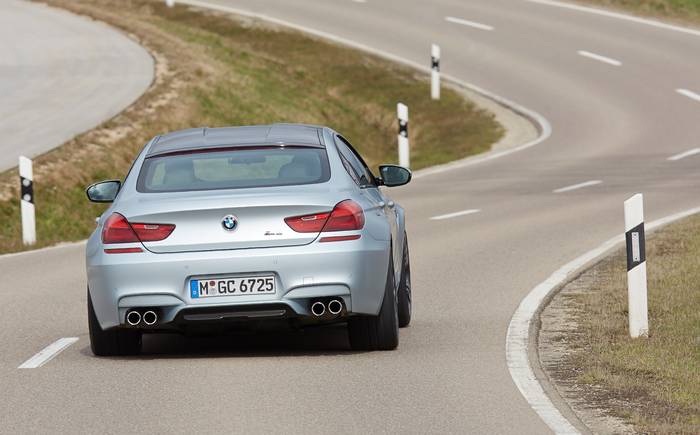 There are also Comfort, Sport and Sport Plus settings for the hydraulic steering as well, but their effect is simply to lob increasing amounts of weight onto the system so that by the time you reach Sport Plus, it's as though someone has tied a pallet of bricks to the steering wheel.
But then some people don't completely believe they have driven a performance car unless they feel afterwards as though they have just lost a fight in a nightclub cloakroom, and this M6 is at least going some way towards catering for them.
However, rear climate control suggests a milder concern for the welfare of those in the back, which again is unusual in an M series car. Moreover, close examination revealed the presence of a third seatbelt back there, heavily implying the possibility of stranding someone on the skimpy bluff of leather that separates the two main chairs. But I suppose if you're going to market a four-door model, you might as well admit the possibility of rear-based passengers — even given that they make the vehicle heavier and slow it down, not to mention possibly spoiling the driver's concentration and overall pleasure by talking.
The M6 is fitted with BMW's now familiar iDrive system, which is either a canny integration of switches into a single click-and-twist unit or a mighty complicated way to change the radio channel, depending on your point of view. Either way, the controller is rather unhelpfully farmed out to the far side of the centre console where noodling with it at 155mph may not be entirely recommended.
On the other hand, the BMW head-up display, quietly laying key information, including junction instructions from the sat nav, along the foot of the windscreen in easy-to-read and easy-to-love graphics truly is a thing of wonder and the world leader in this area.
On small roads the sheer bulk of the car made me feel I was driving antisocially even when I wasn't. On stretches of unrestricted autobahn, by contrast, the M6 came into its own. There seemed to be no speed at which further acceleration wasn't possible, and only the combination of heavy traffic, narrow lanes and a personal desire to die somewhere other than near Munich, on a car launch, eventually caused me to back off.
Clearly this is a machine that could eat Germany whole. But in a world without autobahns, what sense would it make? On the M25 it would simply be a prison sentence waiting to happen — albeit in a richly padded cell. It's brilliantly built, which goes without saying, and deeply impressive in all senses.
But there is no getting round the basic paradox of a bat-mad, flame-throwing performance coupé that — surely — no one less than 58 years old is going to want to drive. Also, it's nearly £100,000 and that's not just expensive — it's positively luxurious.
Verdict
★★★☆☆
More snobby than yobby
Factfile
BMW M6 Gran Coupé
Price:

£97,490 (Correct at time of publication)

Engine:

4395cc, V8 twin turbo

Power:

552bhp @ 6000rpm

Torque:

501 lb ft @ 1500rpm

Transmission:

7-speed sequential automatic

Acceleration:

0-62mph: 4.2sec

Top speed:

155mph

Fuel:

28.5mpg (combined cycle)

CO2:

232g/km

Road tax:

L 

Dimensions

L 5007mm, W 1894mm, H 1392mm
BMW M6 Gran Coupé rivals
Audi RS 7, £84,000 (estimated)
For Four-wheel drive as standard Against We haven't tested it yet
Search for and buy used Audi RS7 on driving.co.uk
Mercedes CLS 63 AMG, £81,930
For Sensational performance; outstanding roadholding; competitively priced Against Low-key styling may not be to all tastes
Search for and buy used Mercedes CLS on driving.co.uk