First Drive review: Audi TTS roadster
For real magic, just add sunshine
---
Published 09 February 2015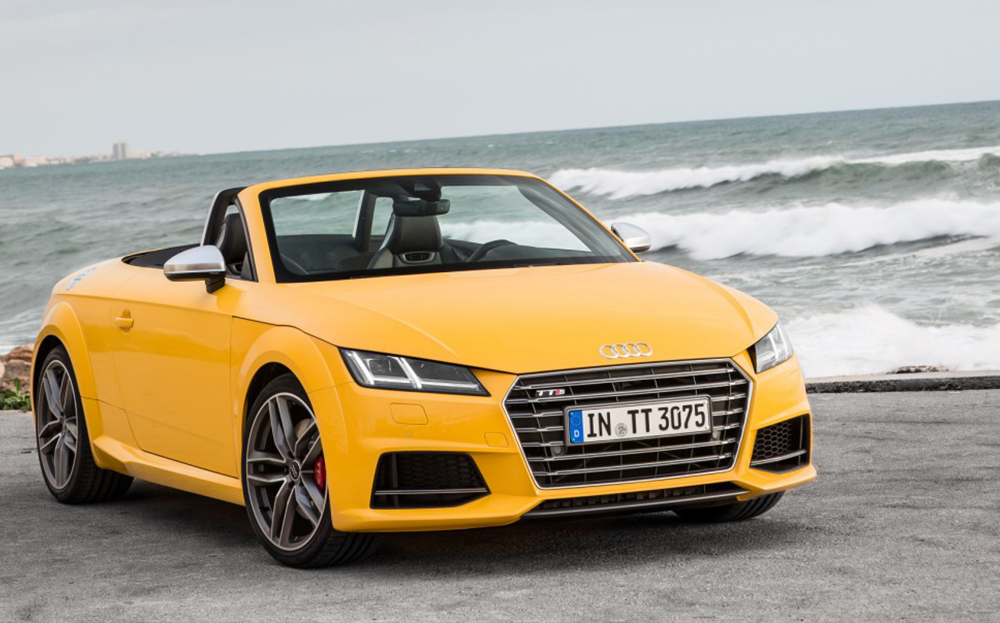 YOU PROBABLY know how these new-car introductions work. The manufacturer flies an aeroplane load of journalists to somewhere warm and convivial, places them in a fleet of shiny new vehicles and waits for words of rapture to emerge from the cosseted bubble and into the press. Unfortunately in Mallorca where I drove the Audi TTS roadster, it rained. It poured. It deluged.
The PR machine had already taken millions of pixels worth of photographs before our arrival, which was a relief — hence the gleaming Vegas Yellow car that you see driving in the winter sunshine. Reporting on how well the recently launched third-generation Audi TT fares as a convertible, though, would be a harder job. I can at least begin by telling you that it is watertight with the roof closed.
---
Browse the used Audi TT for sale on driving.co.uk
---
As a coupé, version three of the TT works very nicely. Its arrival before the roadster followed the timing for every TT generation to date. So it's interesting to discover from Ulrich Hackenberg, Audi's research and development chief, who has been involved with every TT range — in between various other high-profile Volkswagen Group roles — that the original TT concept was for an open car. It was the then group supremo, Ferdinand Pïech, who insisted it be launched first as a coupé. "So we put a hat on it," Hackenberg recalls.
He also says the first TT models were "lifestyle" cars rather than the proper sports cars their appearance suggested, but the driving dynamics have moved closer to the promise of the looks as the breed has evolved. This is true of all variants of the new TT but should be especially obvious in the car we are testing — the sporty TTS roadster, reckoned by its maker to be a viable rival to the Porsche Boxster.
A regular TT roadster gets a healthy 227bhp from its 2-litre turbocharged engine (or 181bhp if you opt for the frugal 114g/km CO2 diesel version). The TTS uses an enhanced version of the same engine, with strengthened internals, a larger turbocharger with more boost pressure and a bigger intercooler to release 306bhp. This is fed to all four wheels via a six-speed gearbox, either manual or double-clutch automatic.
All this is true of the coupé models too, but in the roadster you get a better chance to hear this top engine's potent-sounding crackle each time you change up a gear when accelerating hard. The TTS does this with vigour: with the faster-shifting double-clutch gearbox — Audi calls it S tronic — fitted to our test car it can sprint from a standstill to 62mph in an impressive 4.9 seconds, the engine delivering its effort in a seemingly uninterrupted surge of deep thrust.
This is not a unit of mere characterless efficiency, though. Imperfections ought to be perceived as negatives, but actually they endow the TTS with more personality. That bigger turbo makes the engine initially sluggish to respond to the accelerator from low speeds, immediately followed by a bigger shot of power than you might have intended to administer. And at times the engine's deep, powerful note takes on some odd harmonics, as though there are five cylinders at work instead of four. Maybe this is an acoustic preview for a future TT RS, given that the last one had five cylinders.
This sudden unintended acceleration — a term to make Audi's lawyers quake in their expensive shoes after the 1980s debacle in America when lawsuits damaged the company's sales there, even though people had simply been pressing the wrong pedal — can be lessened by switching the "drive select" function to Comfort.
This calms all the responses and makes the ride over bumps more yielding, although still far from supple. It could hardly be otherwise on such big wheels and shallow-sidewalled tyres.
On these soaking roads, Comfort mode is best. It mirrors the way racing drivers set up their cars for wet tracks. The opposite extreme is Dynamic, which would be great for smooth, dry, sweeping vistas and makes the TTS keenest to play at gentle power slides if the mood takes you. So slippery are these Mallorcan corners, though, that I daren't take such liberties. Disaster would surely follow.
The latest TT uses a lot of aluminium in its construction, including all the outer panels, so it manages to be reasonably lithe as well as tough. There's a kind of metallic precision about the way it looks too; a blend of crisp angles within a rounded profile, and the lights — at both ends — are particularly neat with their illuminated vertical bars.
The crisp but cosseting minimalism continues inside the cabin, which has lost the coupé's pair of vestigial rear seats because there's a strengthening double bulkhead there instead.
The dashboard is a piece of design so rational you wonder why it hasn't been done before. In the centre of each of the five turbine-like facia vents is a control for heated seats (the outer pair) and the air-conditioning functions (the middle trio).
The instrument panel is a single LCD display with the sat nav map — or anything else you want — as a backdrop to virtual dials alterable in size. The TTS includes here a mode with a large central rev counter incorporating a digital speedometer.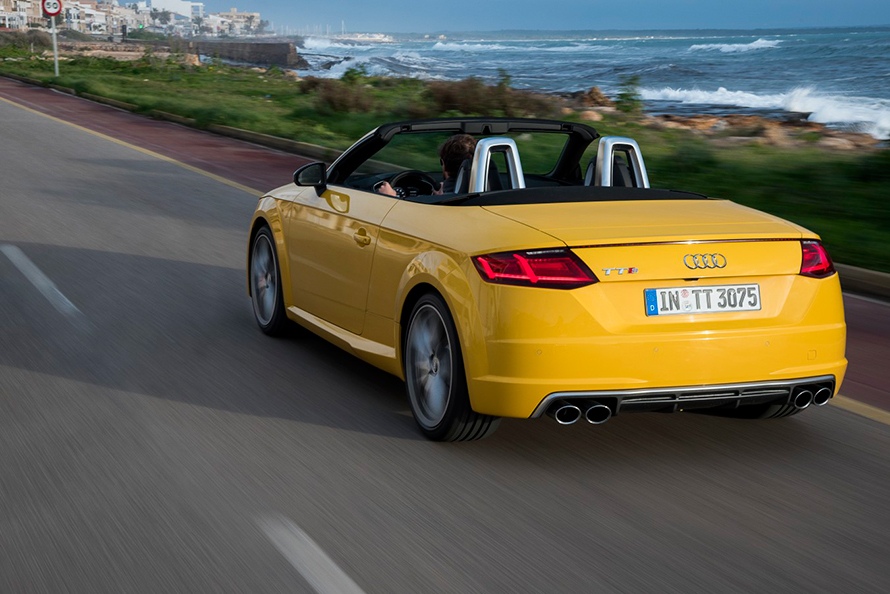 One more thing. I had to try the roof, rain or not. It takes just 10 seconds to open or close electronically, and you can do this with the TTS moving at up to 31mph. It's a three-layer fabric construction and very good at keeping wind noise out when closed.
On the highest part of the route we finally broke free of the rain, so down went the roof and up went the wind deflector for 10 informative minutes before wetness resumed. And in those minutes an Audi TT finally became a proper sports car.
How proper? As good as a Boxster? Depends on how much of a purist you are. The Boxster is a mid-engined, rear-wheel-drive Porsche, it sounds better and is ultimately more fun to drive, but the TTS out-accelerates it while costing less to buy, bhp for bhp, and less to run. If you're not a total car nut, you would be very happy with the TTS.
John's verdict  ★★★★☆
We like: The TT becomes the real sporty deal
We don't like: Uneven power delivery
Audi TTS roadster specifications