First drive review: Audi S1 quattro (2014)
Small but mighty, and as sure-footed as a snow leopard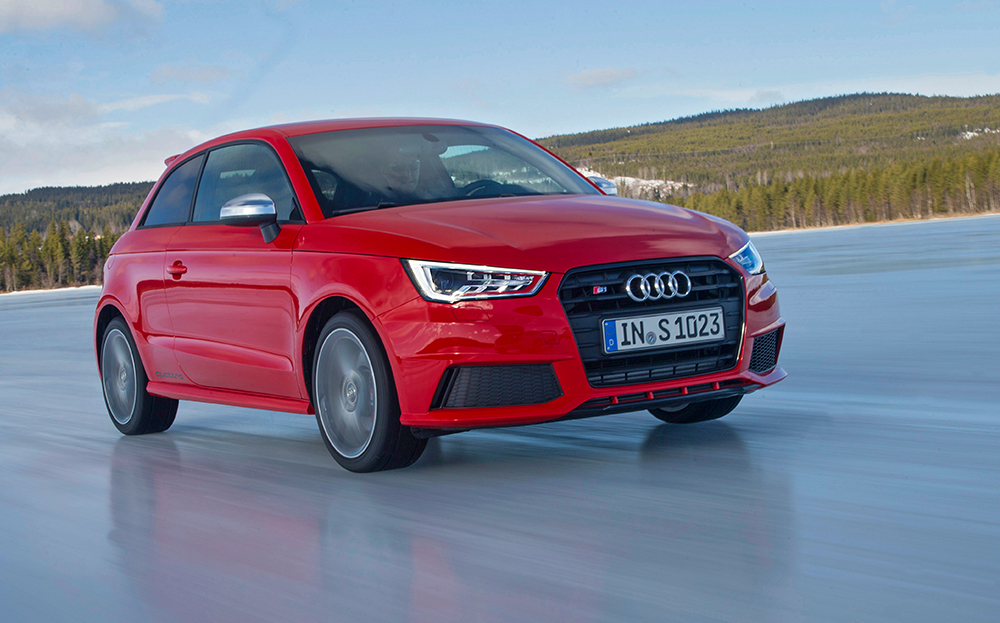 THE 2014 Audi S1 quattro wears the same badge as the all-conquering Group B rallying Audi Sport quattro S1 from the mid-1980s. That's a very big set of boots to fill so I had to wonder, has Audi set expectations for this hottest A1 a bit too high?
The new S1 looks pretty convincing on paper. It sports a new, 2-litre TFSI engine pumping out 228bhp and 273lb ft of torque through a permanent, quattro four-wheel drive powertrain. The company claims a 0-62mph sprint in just 5.8 seconds and a top speed limited to 155mph, so it's not exactly going to hang around.
You can get the S1 in three or five-door guise, each with the signature black roof. It also comes in a selection of truly eye-popping pastel colours (my favourite is Viper green, which won't do much for residual values but is hugely individual). Otherwise, the "hotness" cues include aluminium-finished wing mirrors, four exhaust pipes, large front air intakes and a cute little spoiler on the roof. The ride height is 25mm lower, too. The best word to describe the S1's look is pugnacious.
---
Search for and buy a quality used Audi A1 on driving.co.uk
---
Inside, the S1 is equally pumped with racing cues, from the flat-bottomed steering wheel to the hard-backed seats that match the body colour. It does feel special in the cabin and the usual Audi quality is there in everything you touch.
As with its bigger brother S models, the S1 features drive modes ranging from "efficiency" to "dynamic". This last stiffens the suspension settings, increases throttle response and gives the exhaust note a harder snarl.
I drove the S1 in pretty dire conditions in northern Sweden. If you just want to get from A to B on snow and ice-covered roads, there's really nothing that can touch a quattro drivetrain for traction. But that's not really what the S1 is all about. It is, first and foremost, a hot hatch, built to put a smile on your face and to take the fight straight to the likes of the Mini hatchback JCW and the Ford Fiesta ST3.
This it does in some style. The six-speed manual gearbox, with its tightly spaced gear ratios, is perfectly matched to the turbocharged 2-litre powerplant. There's no turbo lag to speak of and the car hurls itself through corners like a beagle on the scent. The steering has a lovely weight to it as well. The confidence the S1 inspires had me cornering at speeds I just wouldn't contemplate in a front-drive machine.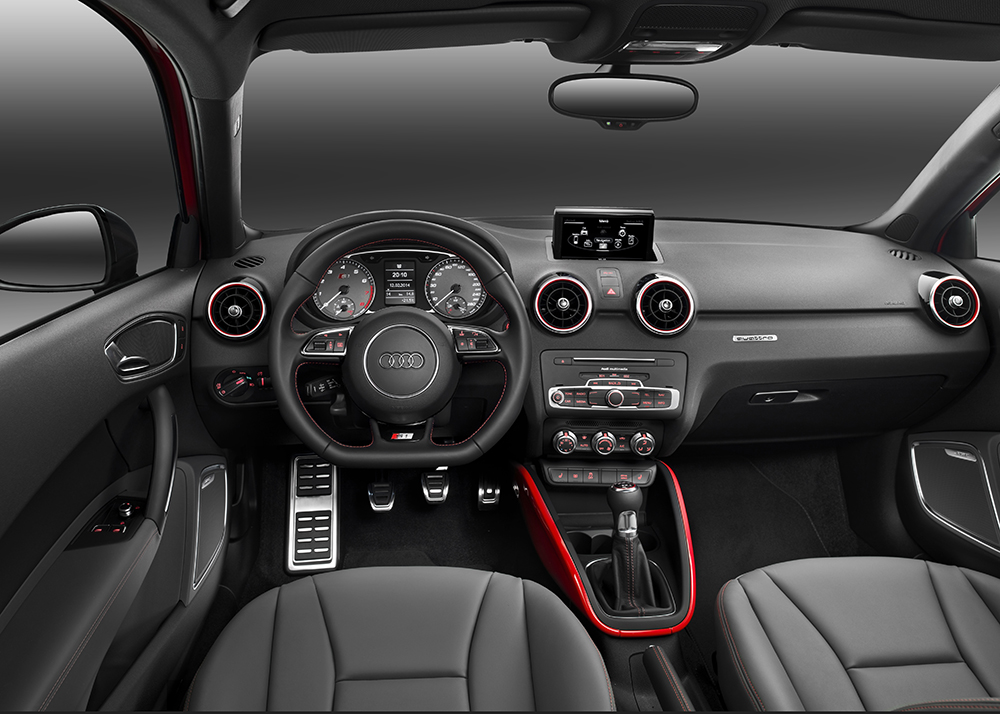 It's a hugely characterful drive, too. The engine sounds great in dynamic mode and I found myself downshifting just for the joy of playing the engine like a guitar. The S1 is a genuinely quick motor. I did about 15 laps of a closed circuit (damp but not icy) and the traction it generated was unbelievable. I wanted to see at what stage it would go into understeer or, perhaps, a bit of lift-off oversteer. There was none of the former, and very little of the latter. This is partly down to a clever electronic differential that distributes torque to each wheel to counteract under or oversteer.
The S1 should prove a pretty easy thing to live with, the only caveat being the ride quality. You wouldn't want to drive it for long in dynamic mode, but dial it back to efficiency mode and it's just about tolerable ‒ pretty good on patchy, broken surfaces but still a bit firm on larger potholes and dips. There are optional 18in wheels on offer, but I'd stick with the standard 17in to preserve the ride. Further to the "easy to live with" brief, the S1 returns a claimed 40.3mpg in three-door guise, which is really good-going considering the performance on offer. Audi also claims that resale values will be high, which I can believe.
So while it's a bit of a stretch to think of this S1 as a spiritual heir to the Audi Sport quattro S1 that, basically, rewrote the rallying rulebook, it is a hot hatch that fulfills the basic requirement of the breed. Namely, it's great fun to drive.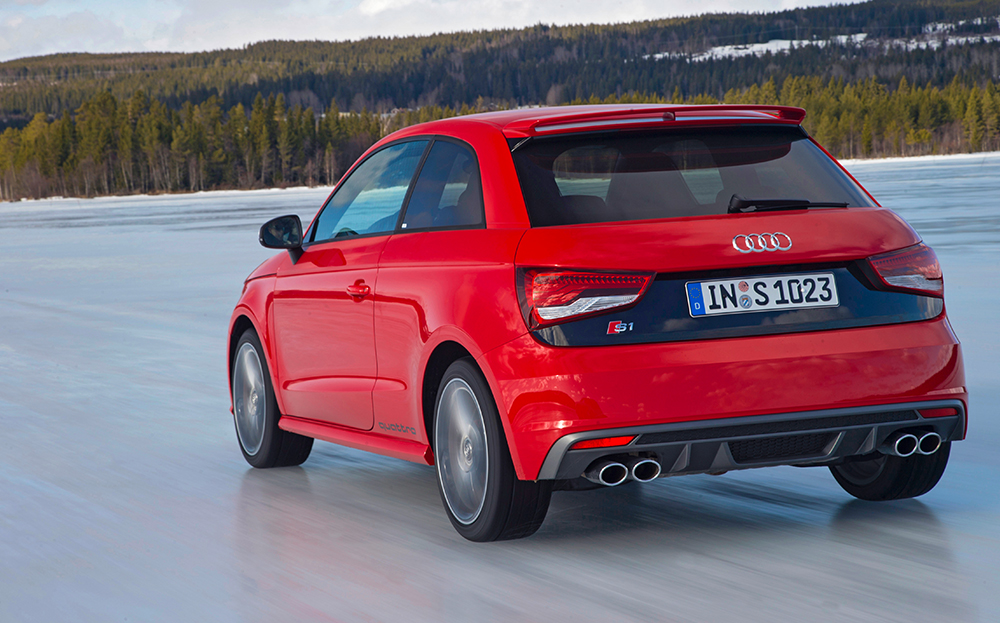 Verdict ★★★★☆
A proper hot hatch with more character than any other model in the Audi range
Audi S1 quattro specification
Release date: On sale now
Price: £24,900
Engine: 1984cc, four-cylinder turbo
Power: 228bhp @ 6000rpm
Torque: 273 lb ft @ 1600-3000rpm
Transmission: 6-speed manual
Acceleration: 0-62mph in 5.8sec
Top speed: 155mph
Fuel: 40.3mpg
CO2: 162g/km
Road tax band: G
Dimensions: L 3975mm, W 1740mm, H 1417mm
2014 Audi S1 quattro rivals
Mini Hatchback John Cooper Works, £22,460
For Really punchy performance with an inspiring exhaust note Against The boot's quite small, just 160 litres with seats up
Check Mini Hatchback used car prices on driving.co.uk
Ford Fiesta ST, £16,995
For Brilliant handling and good value Against The ride quality is on the firm side