First drive review: Audi RS 7 Sportback (2013)
The Audi with power, but where's the fun?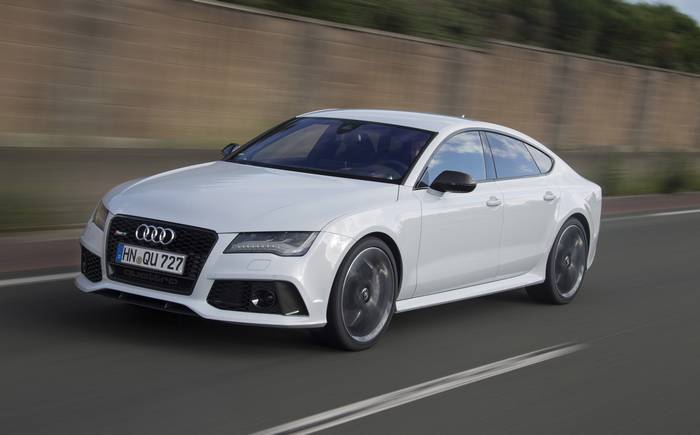 Last week you no doubt will have read about Jeremy Clarkson letting his hair down in Audi's RS 5 cabriolet. This is its bigger, more powerful brother, the RS 7 Sportback, which takes the number of sporty Audis to, well, more than you can count on your fingers and toes.
It is an £83,495 go-fast accessory for the entrepreneur hurrying to their next investment pitch, or just as likely a Wag running late for her hair extensions. And it comes at a time when Audi can do no wrong. Its UK sales have climbed from 13,096 in 1980 to 123,622 last year. The significance of the years? Well, the company gave out a handy "power graph" when we arrived to test the V8 twin-turbo RS 7. Not for its engine but to chart the rise in power of Audi's hot road cars.
The graph begins as a gentle 200bhp hillock in the 1980s before climbing gradually into a steep hill in the 1990s and then by around 2000, when it reaches 340bhp, all hell breaks loose and the next 12 years resemble Mount Etna at its angriest, a spewing eruption of horsepower, ambition and posturing until it reaches 572bhp.
---
Search for and buy a quality used Audi RS 7 on driving.co.uk
---
It reflects Audi's objective to leave BMW and Mercedes standing on the hard shoulder. Along the way the model range has grown to more than 40 cars, and the RS 7 Sportback is the company's new flagship — well, until the head of the car maker wakes up one morning and decides that the day has arrived when it will build something faster still.
The new Audi shares its mechanical bits with the company's RS 6 Avant, a capacious estate car for labrador owners with a sadistic streak. The RS 7 is a cross between a saloon and a coupé, with space to seat four bank robbers in its lavishly appointed cabin, while swallowing enough luggage to escape with riches beyond their wildest dreams.
And escape they would. This is one of the fastest cars on the road, capable of making the driver of any Ferrari you care to mention think better of trying to outrun it; the RS 7's quattro four-wheel-drive system, wide tyres, vast brakes and snappy flappy-paddle transmission all ensure that the engine's relentless urge can always be put to good use, come rain or shine.
That's significant. The German company estimates there are an average of 184 wet weather days across the UK's capital cities. It's a fair point, and one that rivals should take note of. On a recent test drive the Mercedes CLS 63 AMG exhibited a classic case of too much power and not enough traction, as the stability control had to keep stepping in to take command of the power delivery like an overprotective father trying to stop his child falling from a bike while learning to ride.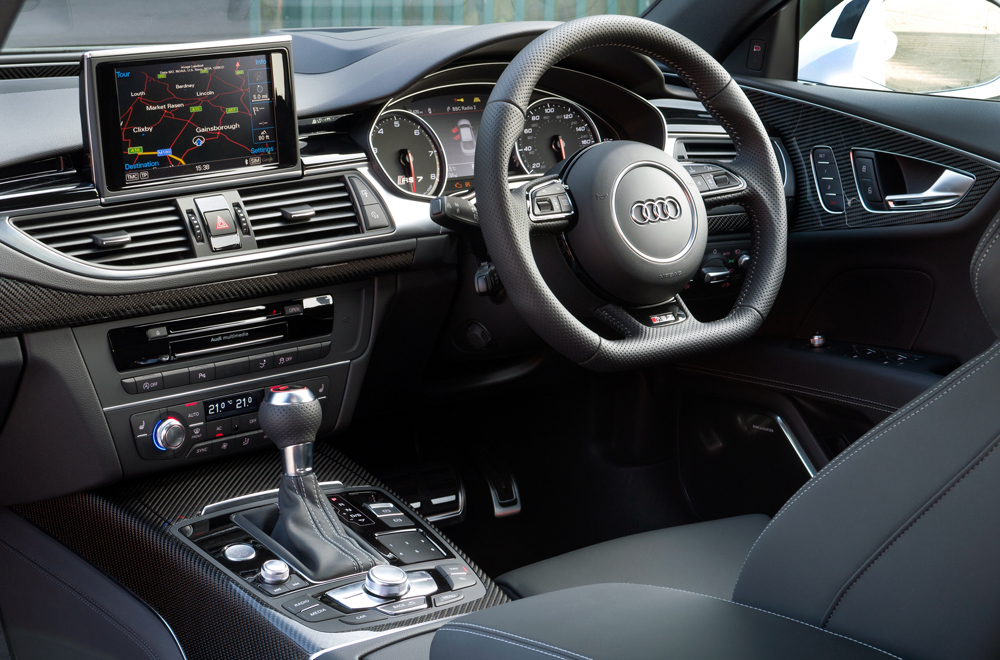 When you aren't in the mood to drive it like a bank robber, the RS 7 does the relaxing thing really rather well. Car manufacturers typically propose a route for journalists to follow that features a mix of roads. Part of Audi's course involved a whole heap of gridlock after a lorry spilt 10,000 litres of white emulsion on the autobahn; yet this played to the RS 7's strengths, as it pottered along in stop-start traffic with all the civility of a 2-litre TFSI — literally, as the engine features cylinder-on-demand technology that shuts off the intake and exhaust valves of four cylinders, improving fuel economy by as much as 10%.
Some petrolheads may turn white at the thought of such a sacrilegious act, yet the engineers have come up with an acoustic tuning system. This means that at all times a flex of the throttle has the RS 7 roaring like a sellout stadium gig rather than mumbling like a timid kitchen radio. And the switch from half power to full power is as good as imperceptible.
If there's a problem it's that the engineers at quattro GmbH — the Audi equivalent of BMW's M or Mercedes' AMG division — have inundated the car with gadgets galore. That's not just a sat nav, Bluetooth connectivity and a head-up display, but myriad settings for the steering, throttle and engine response, the suspension tuning and the rear differential (which adjusts power between the inside and outside wheels to enhance the roadholding). After switching between Comfort, Auto and Dynamic modes, without finding the holy grail of a car that feels at one with the driver, it was time to investigate the Individual setting.
This needs to be done while parked, as you can spend a good 10 minutes fiddling with the rotary controller of Audi's MMI (multimedia interface) as you cycle through the various options. Yet no matter how many times you try, the perfect setting for all conditions proves elusive. That means owners of the RS 7 will find themselves forever fine-tuning as the route switches between town and country roads, or main highways and motorways.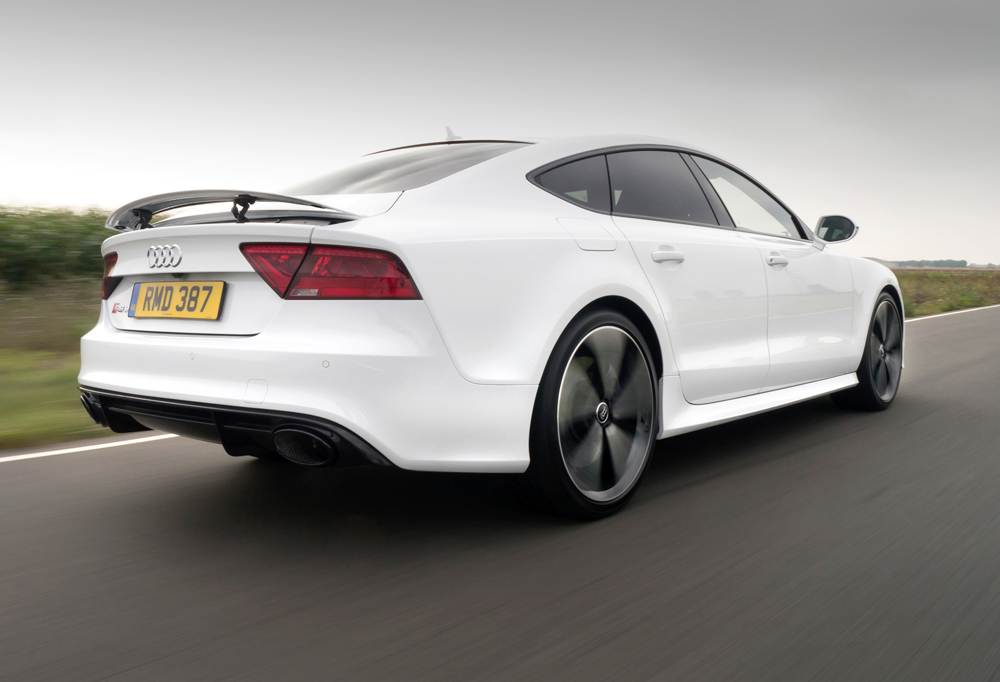 For a large car that weighs almost two tons the RS 7 feels more agile than it has any right to. The way it claws its way out of turns, or accelerates away from a standstill, never fails to make your tummy giddy. And the accompanying soundtrack from the exhaust could liven up a mediocre firework display, so impressive are the pops, bangs and crackles that accompany a brisk turn of speed.
Yet for all its performance and poise, there's something about the RS 7 that doesn't quite click with the driver. Technology alone can't ensure the experience delivers that one elusive factor — a grin on the motorist's face.
And you know what? We should have seen it coming. This is the 39th sports model from Audi, and by my reckoning, only three of those managed to do so.
Verdict

★★★☆☆
Where's the button marked 'fun'?
Factfile
Audi RS 7 Sportback
Engine:

3993cc, twin-turbo V8

Power:

552bhp @ 5700rpm

Torque:

516 lb ft @ 1750rpm

Transmission:

8 speed tiptronic

Acceleration:

0-62mph in 3.9sec

Top speed:

155mph

Fuel:

28.8mpg (combined)

CO2:

229g/km

Road tax band:

L 
The Rivals
---
BMW M6 Gran Coupé, £97,700
For Fantastic performance; roadholding better than the M6 coupé Against An M6 coupé is cheaper; Audi RS 7 will turn more heads
Buy a quality used BMW M6 on driving.co.uk
---
Mercedes CLS 63 AMG, £81,930
For Good value in this company; looks fantastic; luxurious cabin; top engine Against Harsh ride and limited tration won't be to all tastes
 Buy a quality used Mercedes Benz CLS on driving.co.uk
---