First Drive review: Audi A4 (2015)
It's 50 now — it doesn't need a driver
---
Published 21 September 2015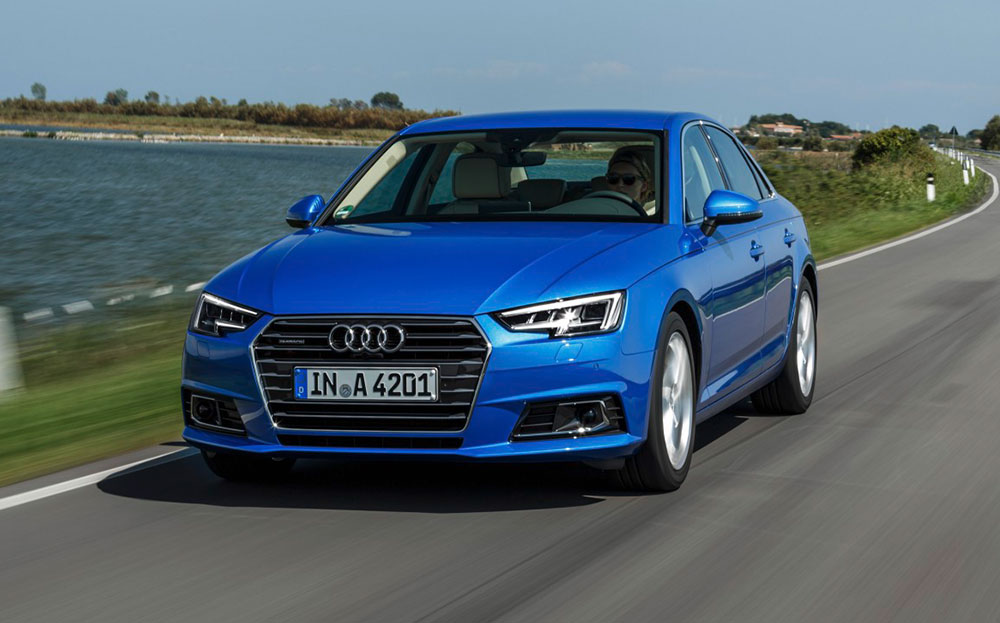 Audi A4, from £25,900
STRANGE TO think, but there was a time before the Audi A4. Just imagine: a time when the world had yet to know the complex pleasures and thoughtfully achieved advantages of this perfectly middle-class and somehow extremely English German saloon. What people did in those days to announce their affluence in an understated way so that somehow other people didn't get annoyed about it . . . well, we can only shake our heads and wonder.
---
Click to read car REVIEWS or search NEW or USED cars for sale on driving.co.uk
---
This new one is the car's ninth generation, as long as your creation theory sets the starting date with the Audi 80 in 1972. Take note, though, that Audi's own sense of history insists that, for the car's true genesis moment, you need to go back still further to the F103 models of the 1960s — and, presumably, before that, to the horse.
Whatever, there's no arguing that the A4 has been with us now in some shape or form for the best part of half a century, leading the Audi brand's expansive charge through the Yuppie era of the 1980s and then, even as the company's range mushroomed in ostensibly more exciting directions around it, playing a stalwart part in the steady march towards global ubiquity that seems to have been Audi's strategy in the 21st century.
It's probably fair to say that no model across that period has more effectively communicated Audi's core values, as we have come to know, respect and feel seduced by them. The A4 has always been luxurious but not vulgar enough to declare or dwell on the matter, furiously competitive but only ever quietly so, with passive aggression factory-fitted as standard. Twelve million sales tell their own story: it's the world's most naturally aspirational car.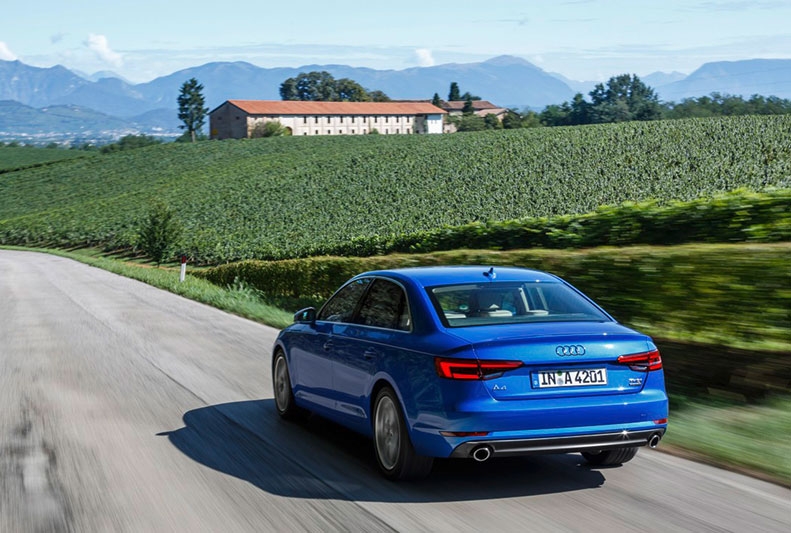 Over time it has, inevitably, undergone a gentle lengthening and widening, its lines gradually softening. But that imposing and yet somehow diffident shape has mostly held good for about the past 25 years. Notable changes have only really been seen around the boot lid, which went through a slightly rebellious angled period in the early 1990s, but grew out of it, and the bonnet, which has gradually clammed up of late, in the best sense of the expression.
The new model has keener lights and a nice, fresh bevelled edge along its waistline. It's pretty trim all over. Among the first adopters of aluminium as a construction material, the A4 has always watched its weight, and this time it appears before us 120kg lighter.
Despite remaining sentimentally loyal to creamy yet potent engines, the new range manages the statutory and conflicted trick of being more fuel-efficient (21% so) while offering more power (25%).
But perhaps what is the most notable development here is the giant portfolio of assistance systems. Driverless cars may still be the stuff of the future and a complex legal minefield waiting to be cleared, but the new A4 is about as close as you can get to full automation while still bothering with a driving seat.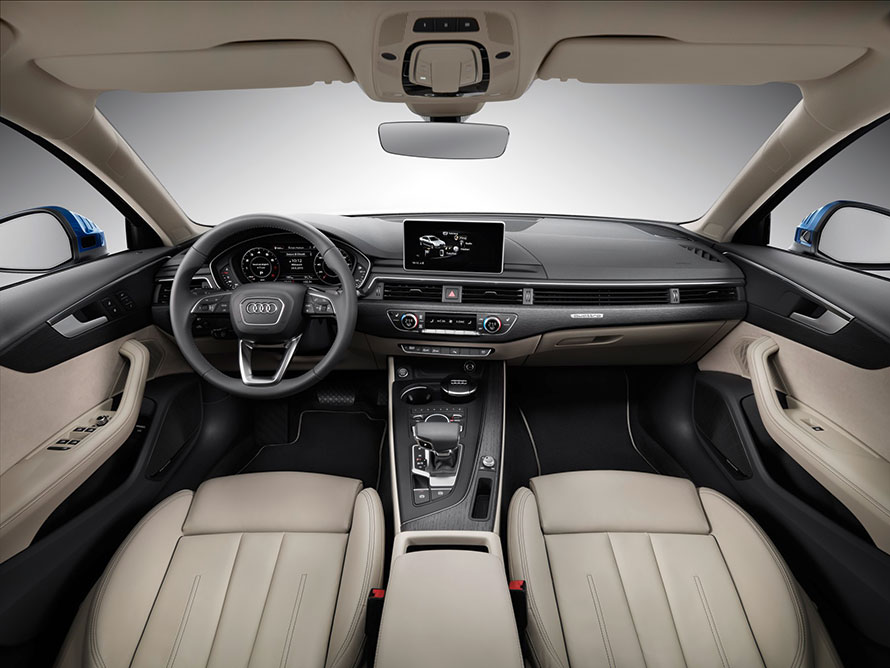 Its extraordinarily refined Pre-sense City automatic braking system (see "Braking good", below) and its array of constantly twitching sensors combine not just to get you into parking spots, but to look out for oncoming traffic from all angles and even steer and pace the car on your behalf on congested, slow-moving roads, to the point where you could remove your hands from the wheel — though nobody is suggesting you should do that. (As we said: a legal minefield.)
Inside, you now get the very likeable (if oddly vertical) Audi virtual cockpit, enabling you to customise the clock display and spread the sat nav on its bright acres directly ahead of you — the digital version of having a road map open across the steering wheel, though much safer than that, obviously.
Plus, naturally, the car specialises as never before in "connectivity", a word seldom heard when the A4 was young, though now the motoring industry speaks of little else — and small wonder, really. The car business has clearly been spooked into an overwhelming preoccupation with the subject by the coming of age of a generation that goes pale and starts to shake if forced to endure 20 minutes without wi-fi and whose view of the desirability of cars and driving is diluted accordingly.
The result is the promotion of infotainment not as a casual afterthought or ticklesome add-on but as the very beating heart of the product, offered in ever more bounteous and convenient supply — so much so that you sometimes wonder whether the highest aspiration a car can have these days is to be an elaborate protective cover for a mobile phone. (Audi, note, now refers frankly to the centre console as a "phone box" and has here plumbed it with an induction plate that will top up your phone's battery wirelessly. Did you hear that, kids? Audi cares about you.)
---
Search the used Audi A4s for sale on driving.co.uk
---
Still, in the case of this A4, at least your giant phone charger also includes a proper car. I drove the 2-litre diesel Ultra, whose strikingly frugal emissions duck taxation. The low, firm engine note was kept pleasantly remote by standards of acoustic insulation that wouldn't shame an old A8 luxury saloon. Indeed the car drove like something far larger and petrol-powered. There was some heft in the steering and it peeled through the air.
It's not taut and sporty like a BMW 3-series, but it's far more magisterial and performs with a permanent, assured sweep. You could spend long hours in this car without enervation and with, at the same time, an undeviating sense of your social standing — plus an undeviating wi-fi signal. Result.
Essentially the project here is the further refinement of the already refined. What's the future of that process? Where does it lead? It's a philosophical conundrum. Do you ever run out of refinements? Does refinement, if pursued for long enough, eventually start coming back on the other side as clonking shoddiness?
Audi doesn't seem to think so, and it's probably right, but you'd bank on the A4 being around long enough for us all to find out.
2015 Audi A4 2.0 TDI Ultra SE specifications
Engine: 1968cc, 4 cylinders
Power: 148bhp @ 3250rpm
Torque: 236 lb ft @ 1500rpm
Transmission: 6-speed manual
Acceleration: 0-62mph: 8.9sec
Top speed: 130mph
Fuel: 74.3mpg (combined)
CO2: 99g/km
Price: £29,150
Release date: On sale now
Audi A4 rivals
BMW 320d EfficientDynamics Plus, £30,485
For Best in its class to drive; low CO2 emissions and strong fuel economy
Against The company car park will be full of them
Mercedes C 220 d SE, £30,175
For Classy interior; relaxing to drive; frugal and efficient
Against No option of four-wheel drive
---
Read our review of pre-production Audi A4
---
Braking good: the anti-crash systems coming as standard to a vehicle right behind you
THE Audi A4 is one of the first mid-market models to come with autonomous braking as standard — but it won't be the last, writes Dominic Tobin.
The technology, first available on high- end cars, uses cameras and in some cases radar sensors to detect when a frontal collision is imminent. It then sounds a warning to the driver, and if no action is taken and the brakes are not activated, the car applies them itself.
Of all the modern safety innovations, from antilock braking to blind spot detection and rear-view cameras, autonomous braking will, experts predict, be the most groundbreaking. In fact some claim that it is the most important innovation since the introduction of mandatory seatbelts in the early 1980s.
"It's reducing so many crashes," says Matthew Avery, director of research for Thatcham, which tests safety systems for the insurance industry. "It could be as important as the seatbelt in terms of vehicle safety. Because of the effect on minor crashes, which are so prolific, we are absolutely sure you'll see a significant reduction in death rate and [those] seriously killed or injured with autonomous emergency braking [AEB] systems."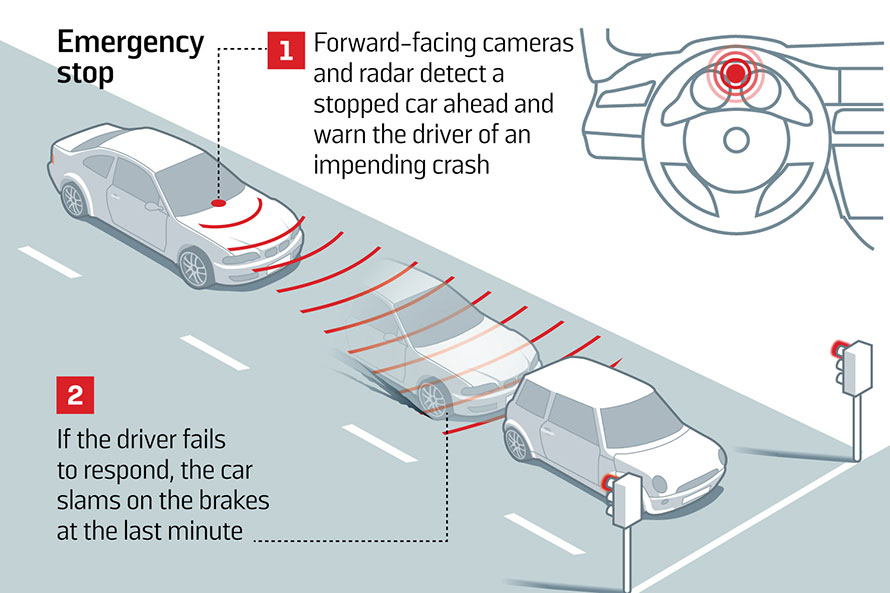 The benefits are so great that there are now moves to make AEB systems compulsory in all new European cars. In America 10 big car manufacturers — Volkswagen, Audi, BMW, Ford, General Motors, Mazda, Mercedes, Tesla, Toyota and Volvo — have struck an agreement with government officials to fit the technology as standard.
"We are entering a new era of vehicle safety, focused on preventing crashes from ever occurring, rather than just protecting occupants when crashes begin," the US transport secretary, Anthony Foxx, said of the agreement. "But if technologies such as automatic emergency braking are only available as options, or on the most expensive models, too few Americans will see the benefits,"
Car makers have not made it easy for customers to understand their systems. Officials generally use the term AEB, as do Jaguar and Land Rover, but Mercedes offers collision prevention assist. Skoda and Volkswagen call it Front Assist and Audi has Pre-sense Front and the more advanced Pre-sense City.
Then there's the confusion over exactly what they do. The most basic systems will intervene only at slow city speeds, such as the £275 option available on the Skoda Citigo. Others combine radar with cameras that can improve the detection of pedestrians. Newer systems are able to operate at motorway speeds and can bring the car to a halt, or greatly reduce its speed if a crash is imminent. Volvo's new XC90, which comes with AEB as standard, will brake at up to 143mph.
Euro NCAP now incorporates the systems into its independent tests. Its website displays a separate score for a car's safety assist technology and provides a detailed table of how each AEB system performs, if fitted.
"It's one of the top technologies that can mitigate a lot of common crashes that we see," says Michiel van Ratingen, secretary-general of Euro NCAP. To get a five-star rating without AEB would be pretty much impossible.
"When you talk about [AEB that works at] higher speeds, that becomes more interesting because these systems really try to mitigate crashes when the speeds are significant. We should be able to see fatalities drop, serious injuries drop, as a result of it."