First Drive review: Audi A4 pre-production model (2015)
Forget the 3-series; this could be the real 'ultimate driving machine'
2015 Audi A4 (pre-production) at a glance:
Handling: ★★★★★
Performance: ★★★☆☆
Design: ★★★★☆
Interior: ★★★★☆
Practicality: ★★★★☆
Costs: ★★★★☆
---
THE ALL-NEW Audi A4 is being launched at a time when the posh family car market is undergoing a monumental shake-up, and it's Jaguar's doing: the launch of the XE has put the frighteners on the German establishment. Mercedes, BMW and  Audi are all worried the British car will eat into sales of their models.
A good time, then, for Audi  to launch its all-new A4 and A4 Avant (estate). These are mightily important cars for Audi,  which perhaps explains why the company flew journalists to the Black Forest and put us behind the wheel of a pre-production version of the car for a "final shakedown" (the car is 98% finished) before its proper launch later this year. It seems Audi thinks it has something rather special up its sleeve this time around.
It's now up to 120kg lighter than before, the equivalent of two Beyoncés.
This is, officially, the ninth generation of the A4 and, as is usually the way with new cars these days, the model has grown in size — it's 20mm longer and 16mm wider than the outgoing car — but has lost weight: it's apparently 120kg lighter. At the recent launch of its new Q7, Audi told the assembled press that the SUV had lost the equivalent of seven Kylie Minogues. By that logic, the A4 is about two Beyoncés lighter.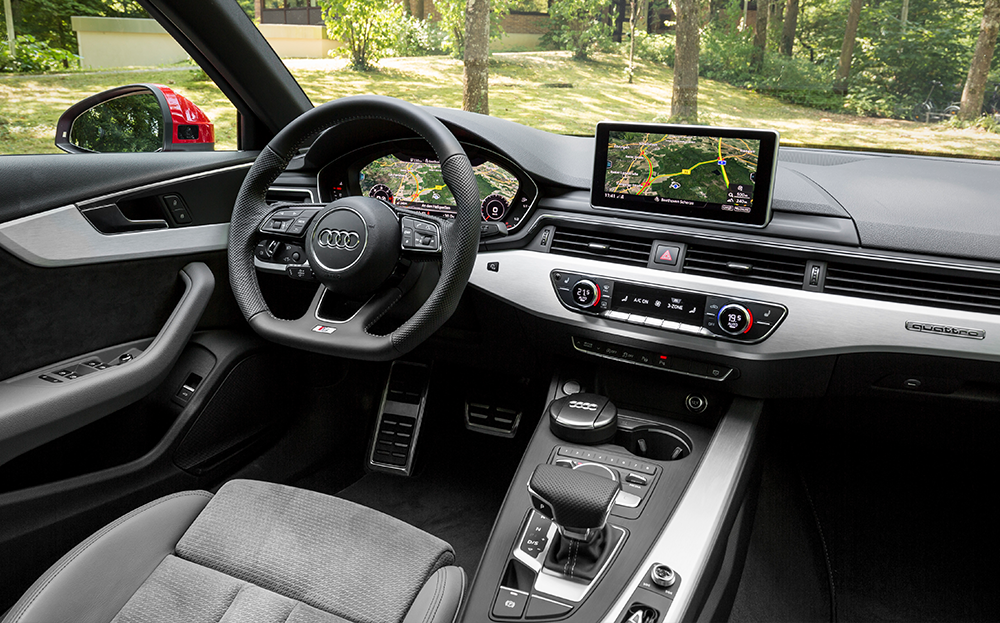 Both the saloon and the Avant have become a bit more aerodynamic, too, and now have lowest-in-class drag coefficient figures. A more powerful but less thirsty range of three petrol and four diesel engines contributes to an increase in fuel efficiency of 21%, Audi reckons.
The most popular variant will be the 2.0 TDI diesel, which comes with either 147bhp or 187bhp, managing in  the latter tuning an official 57mpg and 107g/km of CO2, but Audi's poster boy is the petrol-powered 2.0 TFSI Ultra.
The new powerplant officially marks the end of the downsizing trend: smaller engines with increasingly large turbochargers to maintain horsepower while reducing fuel burnt. The 2-litre engine has bigger cylinders (it replaces the 1.8) but takes less fuel and air into them on each stroke, in effect making it a 1.4-litre engine. However, it has a higher compression ratio and injection pressure, as well as turbocharging.
Still following? Good. The result is 187bhp and an impressive 49mpg, with a diesel-rivalling CO2 emission figure of 109g/km. Even better, you'll largely avoid pumping out the harmful nitrogen oxides and particulates for which diesels are now becoming known.
This is all while offering strong performance: put your foot down and some mechanical wizardry gives you the full 2 litres: you'll hit 62mph from standstill in just 7.3 seconds. Audi calls the new method of combustion "rightsizing", rather than downsizing, and expects to put it in other models in the coming years.
What else is new? The virtual cockpit, which replaces the rev counter and speed dials with a fully digital display, may be enough on its own to tempt gadget-loving buyers looking for a change from their 3-series or C-class. It was launched on the new TT and can also be found on the new Q7. It's available on higher-spec A4s as standard, and as an option otherwise. Audi predicts most buyers will splash out the extra few hundred pounds to make sure they don't miss out on virtual cockpit bragging rights.
The new car is fun to drive, which may be something of a surprise to those who've driven previous A4s
The A4 has other next-generation tech from the Q7 too, including the ability to switch to an Apple Car Play or Android Auto infotainment system when your phone is connected, a "3D sound" stereo (the speakers are up near your head on the A-pillars), a full-colour head-up display, Matrix Beam headlights (LEDs that can dip sections of the light to avoid dazzling oncoming drivers while maintaining full beam elsewhere) and an adaptive cruise control system with active steering and Audi Pre Sense technology that puts the car "one step away from self-driving". Audi is setting a lot of store by the tech in its new cars: the head of electronic development says his budget has quadrupled since 2009.
But what is it like to drive? In a word, excellent. Having driven a number of diesel and petrol variants in two-wheel-drive and quattro all-wheel-drive forms, with various suspension setups (sports, adaptive damping and even sports adaptive damping), we can say the new A4 is a revelation.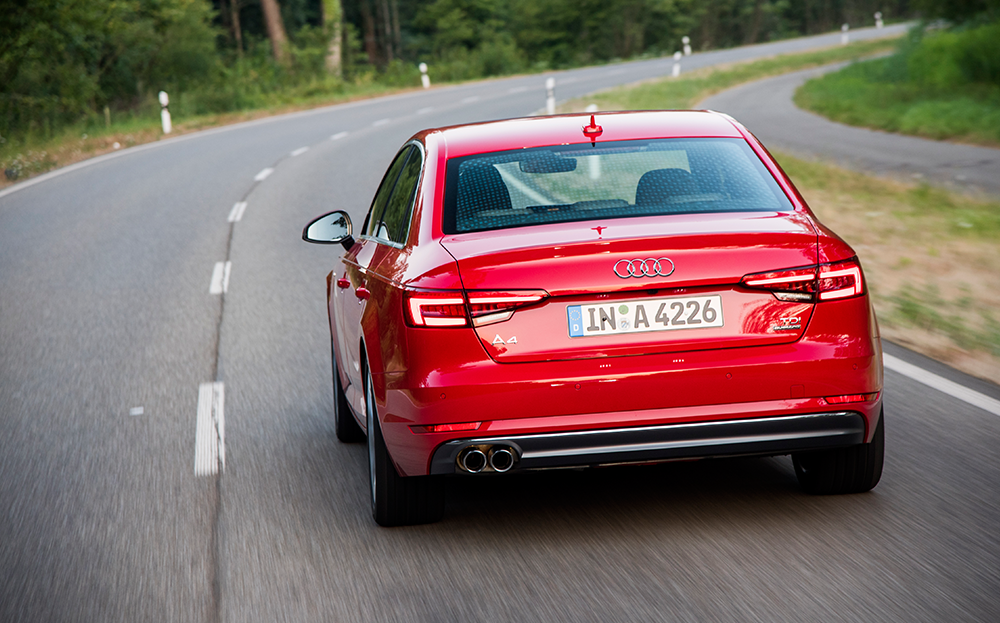 It's fun, even, which may be something of a surprise to those who've been left cold by previous A4s. On the twisty roads through the Black Forest the A4 didn't put a foot wrong, devouring hairpins and high-speed corners with relish, providing perfect feedback through the wheel and inspiring supreme confidence. Those who revel in the taut driveability of the 3-series may now, finally, be tempted to switch allegiance. This is a much more impressive drive than the car it replaces and will have owners looking for reasons to take it out.
It's quieter on the autobahns, too (Audi says it now leads the class in sound-deadening) and soaks up imperfections in the road much more ably than the outgoing car, despite the huge leap in handling.
The new A4 was a fabulous surprise. Despite Audi's claims about styling tweaks, it looks to the untrained eye virtually identical to the car it replaces. But, my goodness, it's a different beast underneath.
2015 Audi A4 2.0 TFSI Ultra saloon specifications
Engine: 1984cc, 4 cylinders, turbocharged, petrol
Power: 187bhp
Torque: 236 lb ft @ 1450rpm
Transmission: 7-speed S tronic (automatic), front-wheel drive
Performance: 0-62mph in 7.3sec
Top speed: 149mph
Fuel: 49mpg
CO2: 109g/km
Road tax band: B (free for first year; £20 thereafter)
Price: Not available
Release date: Late summer 2015
2015 Audi A4 saloon rivals
BMW 3-series, £24,255 (view cars for sale)
For Still a fabulous driver's car; good value
Against Heavier, less economical and not as hi-tech as the new A4
 Jaguar XE, £26,990 (view cars for sale)
For Classy image; excellent dynamics from lightweight aluminium construction
Against Not the most fun out of Sport mode; on the pricy side