First Drive review: 2017 Land Rover Discovery
The workhorse trips over its couture coat
THINK OF a Land Rover and you'll probably conjure up an image of a farmer taking bales to the top field or a coastguard pulling a boat across a beach. Whatever the conditions outside, says the subliminal sales pitch, Land Rovers look after the people inside. It's not just a matter of engineering pride; it's crucial to sales.
So the new Land Rover Discovery has a lot to live up to. Though many customers won't tackle anything steeper than the speed bumps in the Waitrose car park, it needs to win its spurs by being a genuine off-roader, not just a family-friendly SUV.
The latest version (strictly the Discovery 5, but Land Rover is simply calling it "new") can carry seven, including the driver, and goes head to head with German rivals such as BMW's X5 and Audi's Q7, and Far East contenders such as Hyundai's Santa Fe. But whereas those offer gadgets galore or long warranties, with the Discovery you get something else — a hard-to-define sense that when you're out in the wilderness, it won't let you down.
---
Browse NEW or USED cars for sale
---
Which is why I'm gunning a £50,000 car up a 40ft dune in the middle of the desert on a gradient that would challenge a dune buggy. The sand is doing nothing for the pristine paintwork but everything for its credentials. And somehow the wheels seem to be finding grip, even axle deep in the loose surface. The car's electronics keep it inching up the slope by making tiny adjustments to the braking and throttle response. If it were remotely alive, I'd say it was enjoying itself.
The good news is that the car stays true to Land Rover's tradition of a high-up "command" driving position and "stadium seating" (passengers are higher than the row in front), and that sets it above its rivals in every sense. As well as a proper low-range gearbox, there's a kind of computerised off-road expert that distributes torque between the wheels and decides whether to lock or unlock the differentials.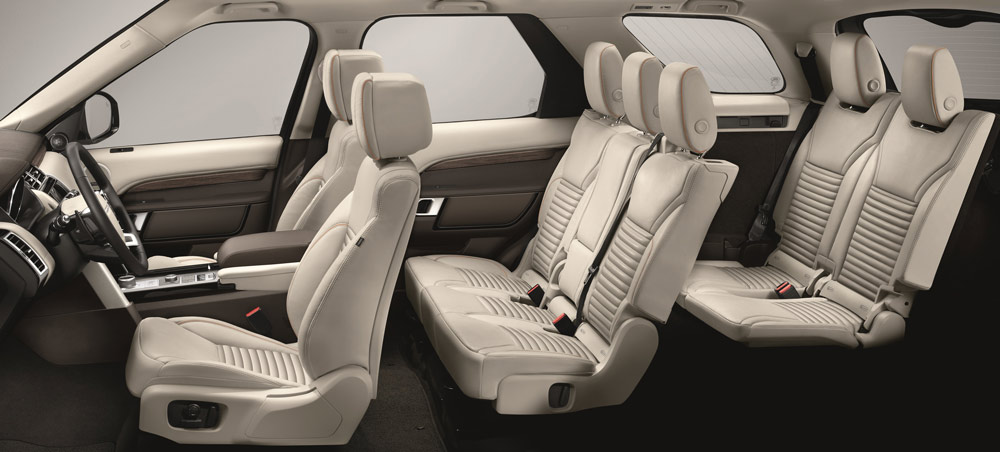 Diehard 4×4 enthusiasts will be horrified, but it works quite well. Land Rover's trademarked Terrain Response system offers settings for slippery surfaces such as snow and grass, sticky ones such as mud and steep and uneven ones such as rocks, though Land Rover, when asked, struggled to explain why such manual settings were needed, given that the car can supposedly sense the conditions and make its own adjustments.
For those who care about such things, its approach, departure and breakover angles are a decent 29, 27 and 21 degrees respectively, and ground clearance is 284mm — 43mm more than that of the old Disco. It has a wading depth of 900mm — any deeper and it floats, the company says. There are some clever features its predecessor did not have, notably the fold-flat seating, which you can control with buttons near the tailgate, via the driver's touchscreen or even through a phone app. And there's also a wristband to lock and unlock the car, so no need to carry the key in your jogging bottoms or kayak.
Park it next to the Range Rover, the Discovery Sport or the Evoque (or the newly unveiled Velar, for that matter) and you would have trouble telling them apart
It's a lot of vehicle for the money, but this Land Rover has a problem, and it has nothing to do with terrain. The pressure to expand its clientele has caused a rift between the old guard and the new. It's not enough, it seems, for Land Rovers to be sturdy, go-anywhere vehicles. The patronage of farmers and coastguards no longer pays the bills. The company has gone all aspirational, using Victoria Beckham as a "creative design executive" and a new marketing vocabulary, consisting of terms such as DNA and sustainability. As a commercial strategy, it has worked. Land Rovers are as popular in Dongguan and Dallas as they are in Devon. Sales of the Discovery worldwide top 1m.
But you can apply only so much gloss before the workhorse you've painted over becomes unrecognisable. Purists will say the new Discovery has made too many concessions. The Discovery 4 seemed altogether more rugged with its distinctive squared-off — some would say brutalist — look and its bomb-proof ladder chassis. By trying to reduce weight (getting rid of the ladder chassis) and improve aerodynamics, the designers have created a successor with distinctly ho-hum looks. Park it next to the Range Rover, the Discovery Sport or the Evoque (or the newly unveiled Velar, for that matter) and you would have trouble telling them apart, size excepted. That's fine in terms of brand consistency, but the once distinctive Discovery now looks like a clutch of other SUVs.
Land Rover's riposte to this criticism is that the vehicle can still cope with anything that's thrown at it and yet can transport a driver and six passengers in comfort. Hence its decision to let me subject the car to the punishment it's now putting up with. It copes well up to a point, but there are flaws.
The engine in the £43,495 entry-level Discovery is disappointing — a 2-litre diesel made at Land Rover's new engine plant in Wolverhampton. In the lunar landscape of Bryce Canyon national park, Utah, it felt underwhelming. Some higher-spec versions of the car have a 3-litre diesel, but that dates from 2004 and is still produced at Ford's Dagenham engine plant. It's been upgraded from 2.7 litres, but the performance and economy of the 3-litre diesel Discovery are at best average.
---
Browse NEW or USED cars for sale
---
Why is there no diesel-electric hybrid? Mitsubishi's Outlander PHEV has shown that a plug-in hybrid SUV is not only possible but practical. It's all very well for Land Rover to recruit Bear Grylls and Ranulph Fiennes as ambassadors, but it rings a little hollow when the vehicle you're driving through the wilderness is a stove on wheels and a rather dated one at that.
Land Rover says not to rule out a hybrid, or even an all-electric version, but will go no further than that. Some readers may recall a prototype diesel-electric hybrid from 2006. Called the Land-e, it is apparently still on the drawing board, and the company says it "can't comment on speculation about future products".
Come on, Land Rover: there's no excuse, especially when you have one of the world's most advanced engine plants. A greener Discovery is not just Bear Grylls; it's bare minimum.
Jeremy Clarkson is away
Write to us at driving@sunday-times.co.uk, or Driving, The Sunday Times, 1 London Bridge Street, London SE1 9GF