First Drive review: 2016 Jaguar F-Pace SUV (prototype)
Well knock me sideways — it's a drifting dream
---
Published 25 January 2016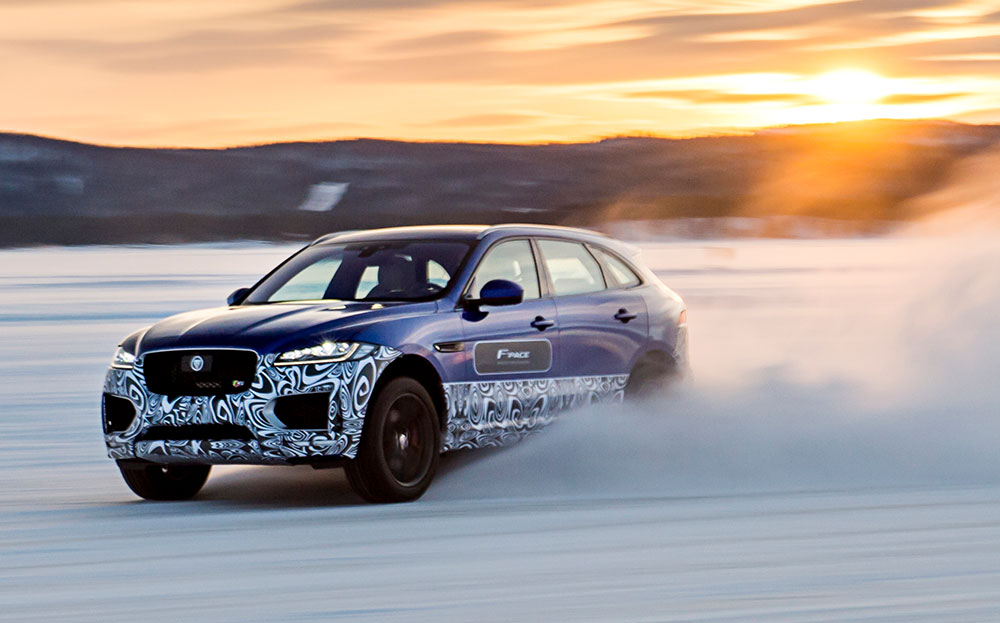 2016 Jaguar F-Pace prototype at a glance
Handling: ★★★★☆
Comfort: ★★★★☆
Performance: ★★★★☆
Design: ★★★★☆
Interior: ★★★★☆
Practicality: ★★★★☆
Costs: ★★★★☆
---
IT'S A Jaaaagggg, but not as you know it. Arthur Daley would have loved the houndstooth and Windsor leather interior, but what on earth would he have made of the jacked-up suspension and all-terrain settings?
---
View the used SUVs for sale at driving.co.uk
---
The newest offering from Britain's luxury car maker is a big step away from the walnut-panelled saloons beloved of prime ministers and affable geezers.
First teased as a concept car at the Frankfurt motor show in 2013, the F-Pace remains remarkably faithful to the C-X17 concept version — big, with a bluff grille, shallow window line and chunky rear end.
But is it an SUV, a shooting brake or just a raised-up estate car? No, it's a performance crossover. What does that mean, exactly? Possibly that Ian Callum, Jaguar's head of design, grew up surrounded by cars such as the Jensen Interceptor, Reliant Scimitar GTE and Volvo P1800. Look at an F-Pace in profile, imagine it without back doors and it's pretty much a shooting brake.
---
Interview: Ian Callum, Jaguar's design director, on SUVs, supercars and retro style
---
We put the F-Pace to an extreme test — and ourselves too — tackling Sweden's bone-chilling -27C weather to find out whether this is the car that could propel the British company from being one of the smallest producers of premium cars to becoming a force to be reckoned with.
On first impression, it's a lot of car for the money. Prices have caught pundits and rivals by surprise. Bentley's SUV, the Bentayga, was recently launched with a price tag of £160,000, the upcoming Maserati Levante will cost about £55,000, and the rival Porsche Macan starts at £43,550, so many were expecting the F-Pace to come in at £40,000 at least. In fact it will be available for a shade more than £34,000.
For that you get features such as a widescreen infotainment system, shared with the top-of-the-range XJ, and a dashboard lifted almost wholesale from the XE, with which the F-Pace also shares its platform, plus off-road systems derived from the Discovery Sport.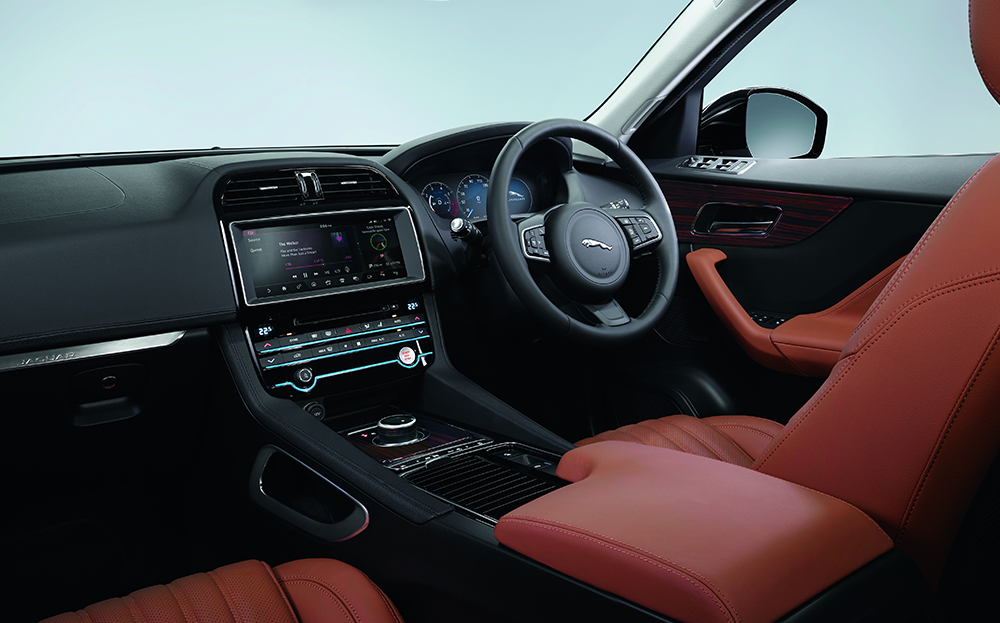 So how does it drive? Our test was limited to snow and ice, so final verdicts on how it rides and handles on grippier surfaces will have to wait. I can't tell you much about feedback through the steering either, because I'm driving it in ski gloves on the "large circle" track at Jaguar Land Rover's Revi cold weather testing centre, a collection of tracks on a frozen lake.
Fire up the engine and the rotary controller for the gearbox rises out of the centre console like a big cat lifting its head from sleep. Will the F-Pace bite back on the polished ice?
Aside from a love for The Bridge and Ikea home furnishings, Sweden and Surrey have little in common and four-wheel drive is often overkill
The car I'm in is the 375bhp supercharged petrol V6 version, powered by the same engine as the F-type V6 S. Admittedly, it is still a prototype, but Jaguar says it's as near as makes no difference to the production versions you'll be able to buy.
There will also be a pair of diesel options: a 2-litre 178bhp four-cylinder available in manual or automatic and a 3.0-litre, 296bhp V6 that comes as auto only.
And, my word, it's fast. "Power!" yells the man from Jag and I floor the throttle, sending the car at 90° to the direction of travel, until the electronics intervene to control wheel slip and drag it back into a straight line. This car, on ice at least, is a hoot.
The F-Pace pulls off another clever trick. It looks low and sleek compared with other SUVs, yet a Porsche Macan is lower and a BMW X3 barely any taller. Inside, it can hold five people and the rear seats are slightly higher than the front ones, improving the view ahead and helping to prevent passengers from feeling like they're stuck below deck on a heaving ocean liner. It's also got a big boot, with 650 litres of space — handy for anyone who needs to carry large quantities of beverages, Arthur.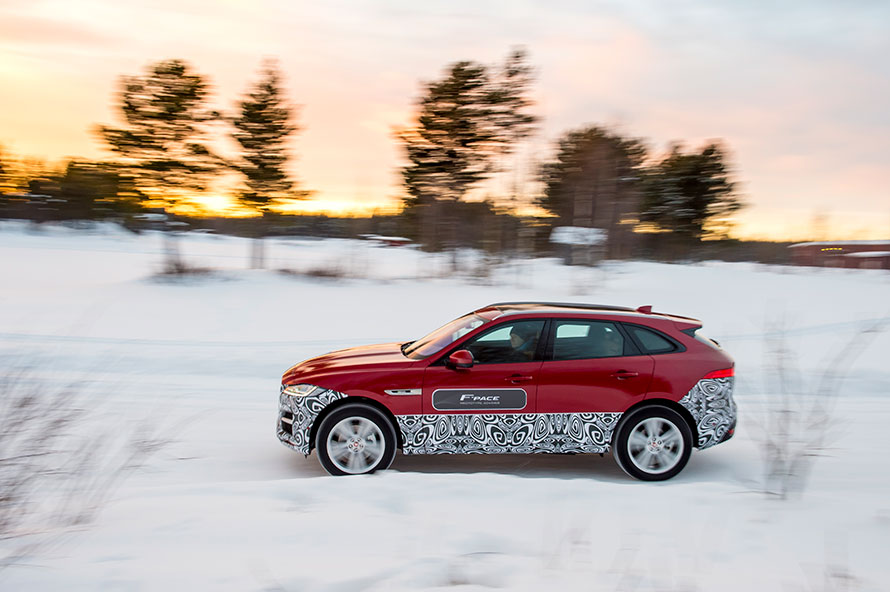 Given that SUVs are bought as much for their image as their ability, perhaps it shouldn't come as a surprise that Jaguar is offering two-wheel drive. It recognises, perhaps, that aside from a love for The Bridge and Ikea home furnishings, Sweden and Surrey have little in common and four-wheel drive is often overkill.
The 2.0-litre diesel version of the F-Pace — available in Prestige, Portfolio and R-Sport trim levels — is the cheapest of the range, starting at £34,170.
Jaguar says the F-Pace is 80% aluminium, a nice point of difference to have in a competitive market. The 2.0-litre, all-wheel-drive model weighs 1,767kg, which is 3kg lighter than the lightest Macan and just under 40kg lighter than the equivalent BMW X3.
It's fabulously forgiving, even at the limit with everything turned off. Low-slung as it is, the body doesn't lean over in the corners, so there's very little weight transfer and, as a result, when it starts to slip, it does so remarkably smoothly — on the ice, almost balletically. That makes it a breeze to slide into corners on Jaguar's twistiest Swedish track, working the throttle and brakes in unison to slingshot between turns.
Time to play with the electronics. There is so much jargon associated with the car's systems that you could fill a handbook with it. (In fact, Jaguar does.) JaguarDrive Control changes the car's character, with Eco Mode, Dynamic Mode and a winter mode being the quick-start driving options, with the further choice of tailoring the steering, engine response and suspension to a driver's preference.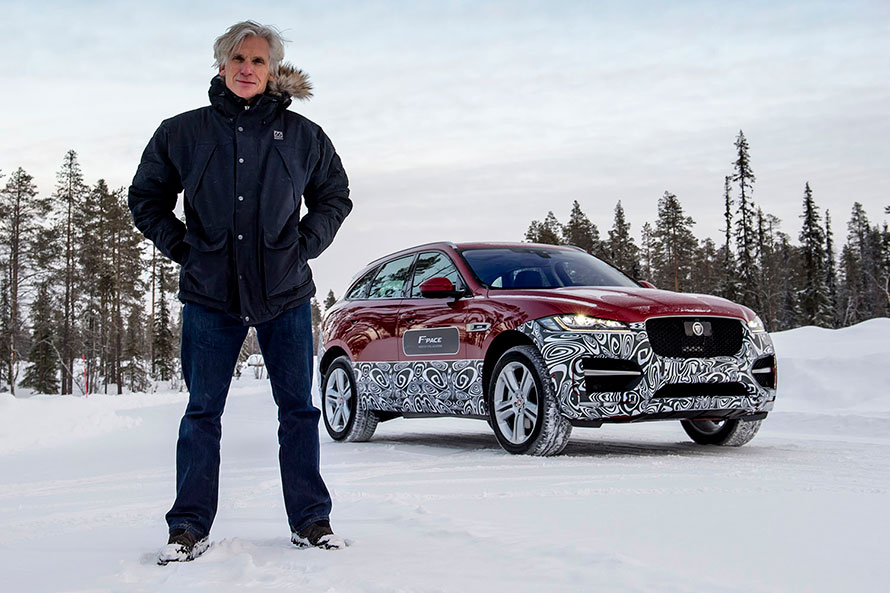 Under normal driving conditions, all the engine's power is directed to the back wheels, a trick designed to ensure the F-Pace feels much like any other Jaguar on the road. But within 165 milliseconds, power can be switched to the front wheels, or to a 50/50 split, or anywhere between.
Rumour has it the F-Pace is more sporty to drive than it was first intended to be. The new Jaguar began development years before Porsche launched its Macan SUV. After the German company released the Macan, Jaguar engineers admit that it set new standards for a sporty driving experience and forced them to make changes to the F-Pace in an attempt to make it compete.
Will it trump its rivals? We'll have to reserve judgment until we can try one on tarmac, of course, but in the snowy wastes close to the Arctic Circle, it's very good indeed. And fun, guv'nor.
2016 Jaguar F-Pace V6 S specifications
PRICE: £51,450 (range starts at £34,170)
ENGINE: 2995cc, V6, supercharged, petrol
POWER: 375bhp @ 6500rpm
TORQUE: 332 lb ft @ 4500rpm
TRANSMISSION: 8-speed automatic, 4-wheel drive
ACCELERATION: 0-62mph: 5.5sec
TOP SPEED: 155mph
FUEL: 31.7mpg
CO2: 209g/km
ROAD TAX BAND: K (£640 for first year; £290 thereafter)
RELEASE DATE: On sale now
---
Browse NEW or USED cars for sale on driving.co.uk
---