First Drive review: 2016 Alfa Romeo Giulia
It's make or break for Alfa — can the Giulia see off the Germans?
CONSIDERING HOW many mediocre cars Alfa Romeo has turned out during the more recent chapters of its 106-year history, it's a wonder that the doors to the factory haven't shut for good.
The Italian company is so far off the radar of its German competitors, it might as well be on the dark side of the moon. Worse still, it is so far off the radar of anyone other than a small group of driving enthusiasts in branded anoraks that if the new Giulia saloon fails to find drivers, Alfa Romeo will surely skid off the road and be relegated to the great scrapheap in the sky, with Saab.
If that sounds harsh, take it up with Harald Wester, Alfa's chief executive: he openly admitted at the Giulia's launch that this car will make or break the company.
So the Giulia needs to be good. Actually, it needs to be intensely, dazzlingly brilliant if Alfa is to stand any hope of persuading drivers to turn their backs on the Audi A4, BMW 3-series and Mercedes C-class — the cars that dominate the so-called premium saloon market.
And we're pleased to report that there are flashes of brilliance in the Giulia that shine out like a lighthouse guiding a boat to safety. It handles as well as a 3-series and rides as comfortably as an A4.
Inside, it looks stylish and is by far the best-made Alfa yet, able — in some respects — to hold its own with a BMW.
"One colleague suffered from jammed parking sensors, so he drove around with the Giulia shrieking: 'Beeeeeeeeeeeeeeeeeeeeeeeeeeeep!' "
However, in other areas it's as though Alfa Romeo is a stuck record, its needle unable to play past a reputation for poor quality.
The first Giulia we were loaned had to be wheeled off like an A&E patient after the infotainment system failed. Another we drove had an engine warning light on the dashboard screaming for attention and cruise control that refused to be switched on. A third car had a frozen infotainment system, which could only be brought back to life by stopping the car and switching the ignition off and on again — and at times some air vents stopped blowing.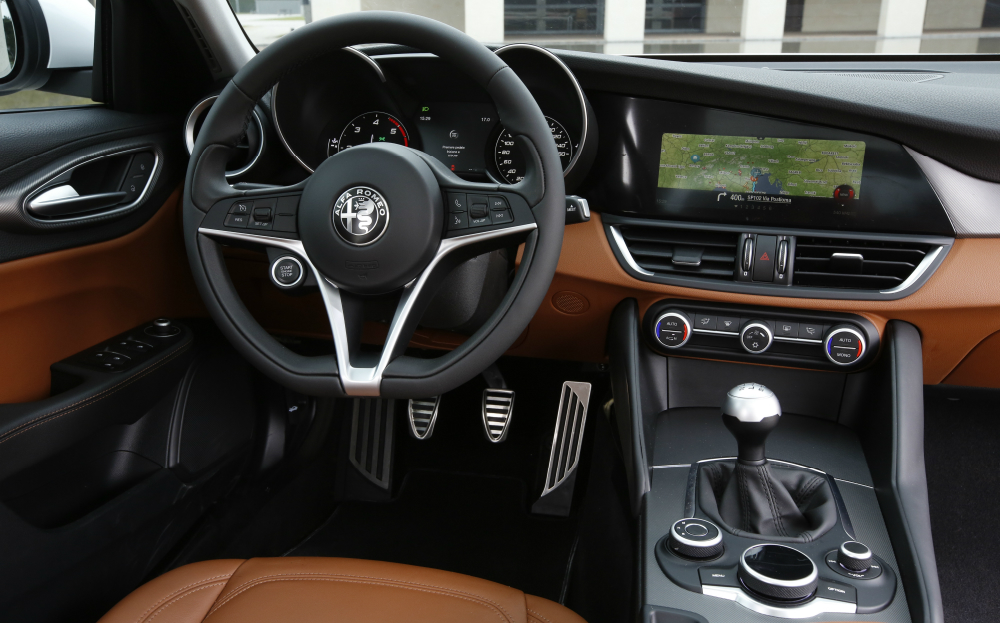 One colleague suffered from jammed parking sensors, so he drove around with the Giulia shrieking: "Beeeeeeeeeeeeeeeeeeeeeeeeeeeep!"
We asked Wester about these gremlins, and he put it down to modern cars' computers having around 100m lines of code — "twice as many as a new airliner". That's of little comfort to drivers who feel the time has come for a change from their predictable German saloon. And of course this doesn't happen at the launch of competitors' cars.
There are other irritations. Alfa doesn't believe drivers should have touchscreen displays — concentrate on driving, it says — yet the scrolling "mouse" wheel is cumbersome and possibly more distracting than a touchscreen. The seatbelts aren't height-adjustable and the indicator can't be cancelled by nudging it in the same direction a second time — only by nudging it in the opposing direction. Together these little bugbears could be enough to put off the new customers Alfa so badly needs to win over.
That's the bad stuff out of the way. The Giulia is a distinctive car, particularly from the front, whose huge grille and large headlamps hypnotise you like a cobra about to strike. Inside, Alfa has finally managed to combine style and robustness, and there's enough cabin and boot space to keep most drivers and passengers happy. And what's this? A perfect driving position (on left-hand-drive cars at least). That's a first for a modern Alfa Romeo.
The Italian company has bet the family silver on a new, rear-wheel-drive platform that can be scaled to underpin everything from a family hatchback (a Giulietta replacement) to a big, 5-series-rivalling saloon and a family of SUVs. It really is as good as they come.
Those who like driving as if auditioning to be the Stig will find that the new platform makes for a car that appears to offer sporty handling and a comfortable ride. We say "appears", because the proof of the pudding will come when we can test the car in Britain. On first acquaintance it feels as though it delivers the best of both worlds, with a remarkably pliant feel and balanced handling through bends that is complemented by Alfa's trademark fast-acting steering.
Most British Giulias will be powered by a new 2.1-litre turbodiesel engine, made from aluminium. We tried the 178bhp version (there will be a 148bhp version too) and it performed well throughout the rev range, but there was too much noise under hard acceleration. It promises 67mpg and emissions of 109g/km.
Alfisti who shake their heads in despair at the thought of diesel power can opt for a 197bhp 2-litre turbo petrol (47mpg and 138g/km), a wonderfully smooth engine that delivers brisk performance and has the faintest hint of an Alfa rasp at the top of the rev range. This has the potential to be tuned into something quite special.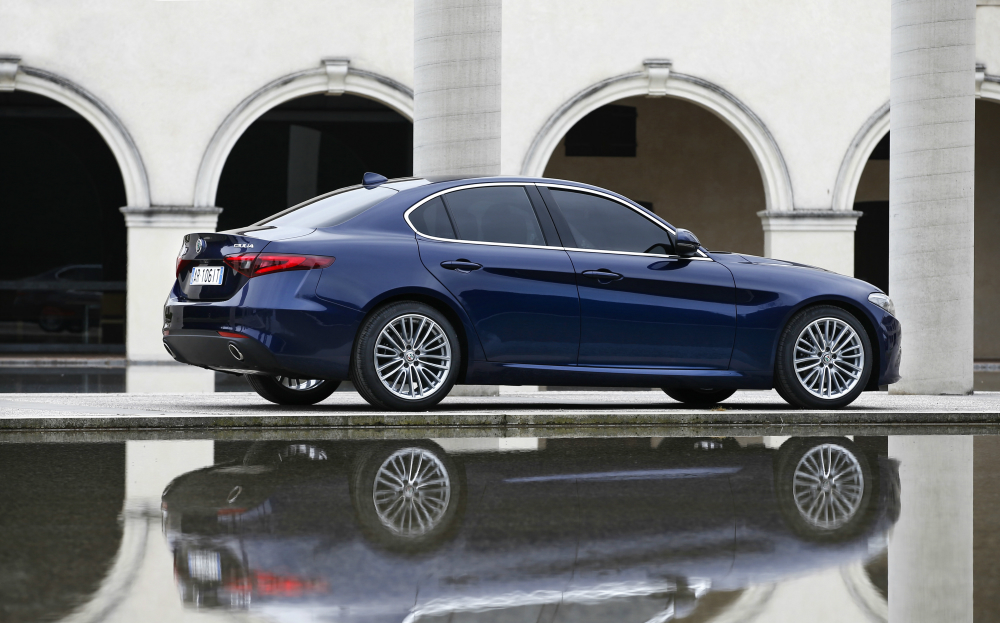 Every Giulia sold in Britain will have an eight-speed automatic gearbox. A six-speed manual is available elsewhere, but Alfa UK says automatics are more popular here. It can be manually operated, though, by large aluminium paddles behind the steering wheel, and it's generally smooth; the throttle and gearbox response can be tweaked with the help of Alfa's DNA settings-adjustment system.
The red-blooded Giulia for full-throttle drivers is the Quadrifoglio. It's essentially a Ferrari in drag, a four-door Fiorano special that will set the hills alive with the sound of music — the music being a wailing V6 engine, a popping exhaust and the shrill shriek of skidding tyres.
With a 2.9-litre V6 bi-turbo engine pumping out 503bhp, it is breathtakingly fast (0-62mph in 3.9 seconds), and its superior chassis feels as though it can harness all that power to the driver's advantage. To judge by our brief fling, it should be able to show a BMW M3 a clean pair of heels on a racetrack.
"The Quadrifoglio sounds fabulous, the engine feels big-chested and the handling is surprisingly progressive"
The Quadrifoglio's carbon-fibre bonnet and roof, active carbon front spoiler, carbon-ceramic brakes and torque vectoring differential, plus the Race setting in the DNA driving system, make it a pretty exotic machine. It sounds fabulous, the engine feels big-chested and the handling is surprisingly progressive, given how much power the rear wheels have to deal with.
It would be nice to think Alfa could find the time to slot a less powerful, less expensive V6 version into the Giulia range. Or perhaps a more potent version of the four-cylinder petrol with, say, 300bhp.
On the subject of affordability, the company hasn't announced pricing yet. All it will say is that the car will be closely matched to the BMW 3-series. Matching it too closely, however, could be asking for trouble. The Giulia is memorably good to drive, but the questionable quality of the dealer network and gremlins we experienced suggest that Alfa needs to provide a financial incentive if it's going to win drivers in this competitive market.