Fiat Panda review Mk 3 (2011-on)
The Panda is the Fiat 500's sensible sister; a small, five-door hatchback that looks a little like a stylish domestic appliance.
What is the Fiat Panda?
The Panda is the Fiat 500's sensible sister, a small, five-door hatchback that looks a little like a stylish domestic appliance. The original Panda arrived in 1980 and was a very basic, low-cost car intended as an urban runabout. It survived for 23 years before being replaced by the considerably more civilised – though still cheap – version with two extra doors and every bit as much charm. That generation of Panda, which was just as successful, continued to sell for eight years until its replacement by the third-generation Panda that brought the sales tally to a mighty 6.4 million.
---
Search for and buy a used Fiat Panda on driving.co.uk
---
This success means the Italian company took few chances with the latest Panda model, producing a car instantly recognisable to anyone acquainted with the original, with the same boxy silhouette, stylishly small third side-window and the trademark near-vertical tailgate. It rides on an updated, strengthened version of the previous model's under-structure, despite which the 2012 Panda is bigger, has a new cabin, more standard equipment, revised suspension and new body panels all over.
Fiat's unusual two-cylinder, 69bhp and 85bhp TwinAir engines are part of an engine range that includes the best-buy 65bhp 1.2-litre petrol and a 75bhp 1.3-litre diesel – both four-cylinder units – and there is even an automatic transmission option. This new Panda is fresh, functional and appealing, qualities it very much needs against the likes of the Kia Rio, Hyundai i10 and Volkswagen's polished new Up! model.
The drive

The Panda's airy cabin, diminutive scale, light steering and uncomplicated controls make it entertaining and easy to drive, the 1.2-litre motor endowing it with the ability to make cheerily brisk progress. It handles bends with tidy resolve, even though its wet-weather grip is a tad lacking, and most impressively, it cruises the motorway with unexpected calm. Comfortable seats and a (mostly) smooth ride make this little Fiat a surprisingly able long-distance machine, and that's all the more pleasing in view of its keen pricing. This all makes this little Fiat an impressively effective all-rounder, and one with real personality. In fact – and we should whisper it because this won't be popular – the Panda is actually a better car than its evocative 500 sibling.
The interior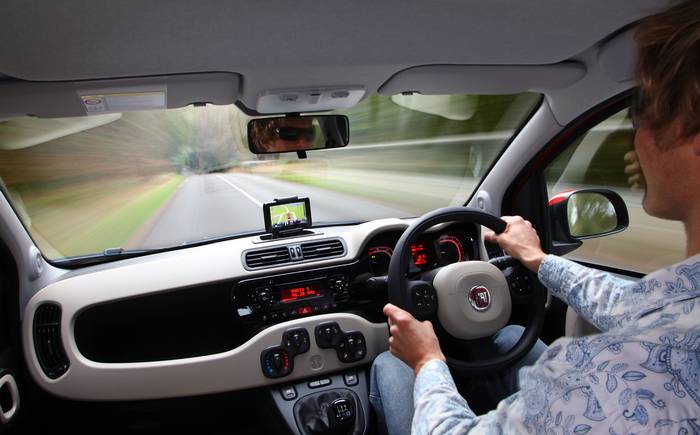 The Panda is more of a family machine than it looks, thanks to its roomy rear seating, decent boot space and remarkable total of 14 cabin storage compartments, some of which are surprisingly capacious. In its current generation it has more elbow-room and knee-room than previously, as well as the very useful option of a sliding rear seat that can yield enough legroom for two middling-height adults to travel in comfort. There's good space all round for the front-seat occupants too, who have a pleasing view of a stylishly designed dashboard heavy on what Fiat amusingly calls "squircles" – components and mouldings shaped like squares with rounded corners. The more obvious squircles are the instrument dials, the steering wheel hub, the stereo and climate controls, the gear-knob, and outside the car, rather neat rear side windows. On a grander scale, the rear half of the Panda's silhouette is squircle-like too, and probably not by accident.
The one to buy
Fiat Panda 1.2 Easy
Factfile
Price:

£9550 (correct at first publication)

Engine:

1242cc, 4 cylinders

Power:

69bhp @ 5500rpm

Torque:

75 lb ft @ 3000rpm

Transmission:

5-speed manual

Acceleration:

0-62mph in 14.2sec

Top Speed:

102mph

Fuel

54.3mpg combined

CO2:

120g/km

Road Tax Band:

C 

Dimensions:

L 3653mm, W 1643mm, H 1551mm
Fiat Panda used car rival for similar money