Fiat 500 review (2007-on)
The most stylish, small new car to go on sale since, well, the previous Fiat 500 in 1957.
What is the Fiat 500?
This is the most stylish, small new car to go on sale since, well, the previous Fiat 500 in 1957. Fiat has had all sorts of issues building medium-sized and large cars, but when it comes to city motors, there's probably not a car maker on earth with a longer or more convincing record in the field, all the way back to the pre-war Topolino.
---
Search for and buy a used Fiat 500 on driving.co.uk
---
Not that the current 500 is exactly new. It made its debut in 2007 and, except for the introduction of the two-cylinder TwinAir engine and some suspension revisions inherited from the Ford Ka that shares the same platform, the standard 500 is much now as it was then. Nevertheless, the range has been expanded to include a convertible 500C — with a clever, full-length fabric sunroof — and a fast but flawed Abarth model. Rivals include the Ka and the cheaper Minis.
The drive
The 500 isn't nearly as good to drive as it is to look at. That is largely because the 500 shares its underpinnings with the rather more humble Fiat Panda.
Leave the Abarth to one side, because it is too esoteric, and the diesel, because you'll never drive it far enough to recoup the extra purchase cost, and the range reduces to two engines. There's a cooking 1.2-litre four-cylinder, whose origins date back almost 30 years, and the TwinAir, which has two cylinders. Even though this tiddling engine has only 0.9 litres, it develops 85bhp compared with the 1.2's 69bhp. That's thanks to turbocharging.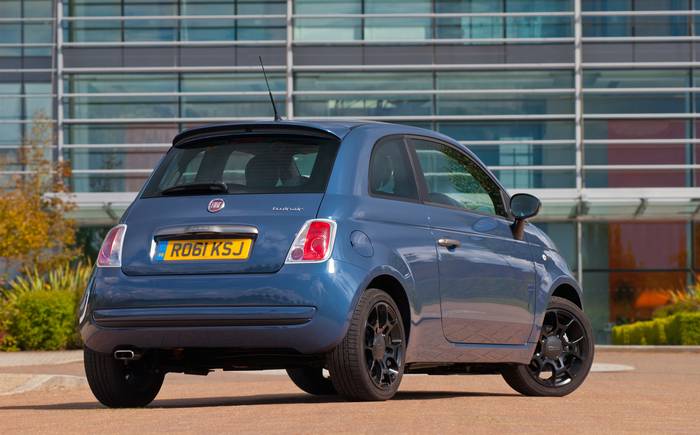 So if you can afford the extra £1,400, the TwinAir is the one to choose. It's not only quicker and uses a fraction less fuel, but it's also excellent to listen to, providing charm and character beyond the car's appearance. The 1.2-litre, meanwhile, is quieter and smoother than you might think but provides very limited performance.
Neither is much fun to drive. The ride is bouncy at best and grip levels no more than adequate. Despite appearances to the contrary, the 500 is a rather boring and occasionally annoying little car to drive on your favourite, entertaining roads.
The interior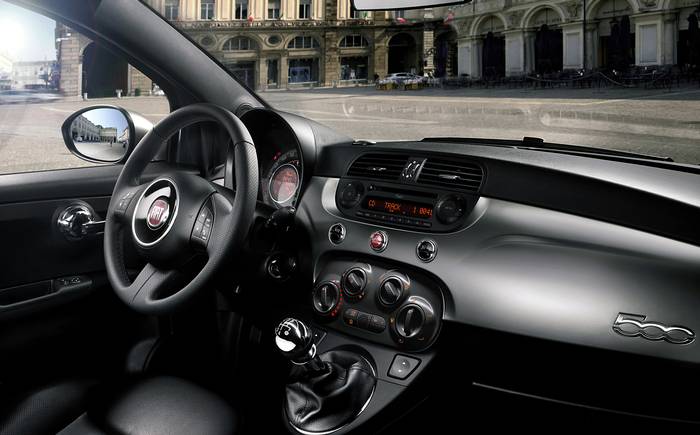 Some car makers spend so much time and money getting the outside right that they appear to have forgotten to leave a budget for the interior. Not Fiat: the promise of the 500's exterior styling is kept alive in full by its cute, stylish cabin. We like the huge central dial and the body-coloured dash in particular. It's very retro but it really works.
Just don't expect it to work terribly well as versatile runabout. While the 500 does have rear seats, that stylishly sloping roofline and short wheelbase mean that head and legroom are tight. Factor in the unpleasant ride quality and tiny boot and it's clear that this is a car for those not yet in the family way who will put up with a cramped and uncomfortable car if it means they get to look cool.
Buying a used Fiat 500
Fiat quality has been improving since its darkest days, but the 500 has not been without problems. To date four recalls have been issued on the 500, and six on the Abarth model, ranging from potential airbag problems to steering faults. It is important to check that these faults have been put right; a dealer will rectify them without charge and without question. Recalls aside, owners report irritations such as creaking front suspension, peeling body stripes, and glitches in Bluetooth connectivity and iPod integration. There have also been reports of engine management lights flickering on. An extended warranty on your second-hand buy might well be worth it.
The one to buy
Fiat 500 TwinAir 0.9 Lounge
Factfile
Price:

£13,510 (correct at first publication)

Engine:

875cc, two cylinders

Power:

85bhp @ 5500rpm

Torque:

107 lb ft @ 1900rpm

Transmission:

5-speed manual

Acceleration:

0-62mph in 11sec

Top speed:

108mph

Fuel:

70.6mpg (combined)

CO2:

92g/km

Road tax band:

A 

Dimensions:

L 3546mm, W 1627mm, H 1488mm
Fiat 500 used car rivals for similar money
See prices of Mini Cooper 
See prices of Citroën DS3 
See prices of Alfa Romeo MiTo