Extended test: 2020 Volkswagen Touareg SEL Tech review
Tina Milton and family get acquainted with Volkswagen's large, luxury SUV
Volkswagen Touareg specifications
Model Volkswagen Touareg V6 SEL Tech 3.0 TDI 4MOTION 231PS 8spd auto tiptronic
Price From £51,510 OTR
Price with options £59,010 OTR
Colour Aquamarine Blue Ultra Metallic
Cost options fitted Air suspension (£1,705), Park Assist including area view (£115), Towbar (£1,130), Headlight Washers (£185), Driver's Assistance Pack Plus (£1,000), Tyre pressure monitoring system (£175), High Beam Assist (£135), 'Vienna' leather front ergoComfort seats with 14-way adjustment (£1,180), Memory pack (£115)
Engine 2,967c, 6-cylinder, diesel
Power output 228bhp at 3,250-4,750rpm
Torque 368 lb ft at 1,750-3,000 rpm
Weight (DIN/EU) 2,092kg / 2,167kg
Towing capacity 3,500kg (braked) / 750kg (unbraked)
Luggage capacity 1,051 / 1,910 litres (seats up/ down)
Top speed 135mph
0-62mph 7.5sec
Fuel consumption (WLTP combined cycle) 34.6mpg
CO2 emissions (WLTP) 214 g/km
VED (road tax) £1,305 for first year; £475 for years 2-6; £150 thereafter
BIK tax payable (2020/21) 37%; £3,264 (20%) or £6,528 (40%)
Insurance group 37E
Test details
Test period November 2020 – May 2021
Starting mileage 6,425 miles
VW Touareg review updates
---
December 17, 2020: Introducing the Volkswagen Touareg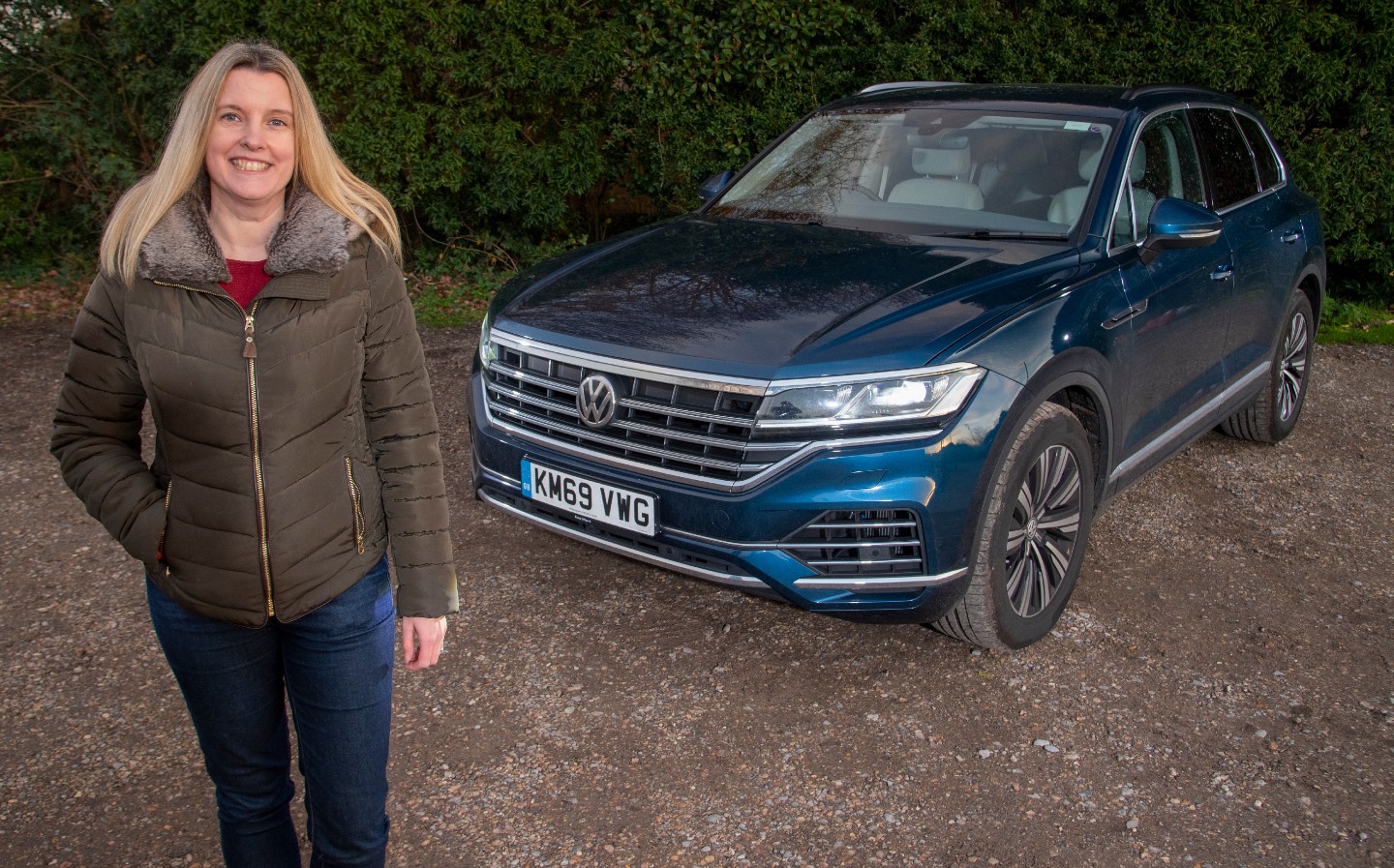 Let's address the name, Touareg, right from the start. Derived from a Saharan nomadic group, it's clearly a nod to the car's rugged, 4×4 capabilities. This seems a bit silly as most of us won't get the chance of a desert-based test drive, but I can confidently confirm from my first impressions of the VW Touareg that there is nothing silly about the car itself. This is a full-on sensible SUV, highly functional but with a luxury feel. Big engine, spacious cabin, huge boot and, in its latest incarnation, an impressive amount of technology.
Volkswagen landed Manufacturer of the Year at our Sunday Times Motor Awards 2020, partly because of its huge investment in electric vehicles, but the big Touareg shows what it can still deliver at the other end of the automotive spectrum — a long-distance, diesel-powered luxury contender in the highly competitive large SUV segment.
From a comfort, price and practicality perspective, the Touareg most closely rivals the BMW X5, though families are also likely to look at the Volvo XC90 or Land Rover Discovery, which both offer seven seats — the Touareg is strictly a five-seater. The Skoda Kodiaq and Kia Sorento also feature a third row of seats in the boot, and would save you a bit of cash, too, but they don't offer anything like the comfort of the big VW.
Actually, in terms of luxury, the Touareg SEL Tech has competitors a little closer to home within the Volkswagen Group: the Audi Q7 and Porsche Cayenne. At more than £50,000, VW certainly needs to pack a punch to sway prospective buyers.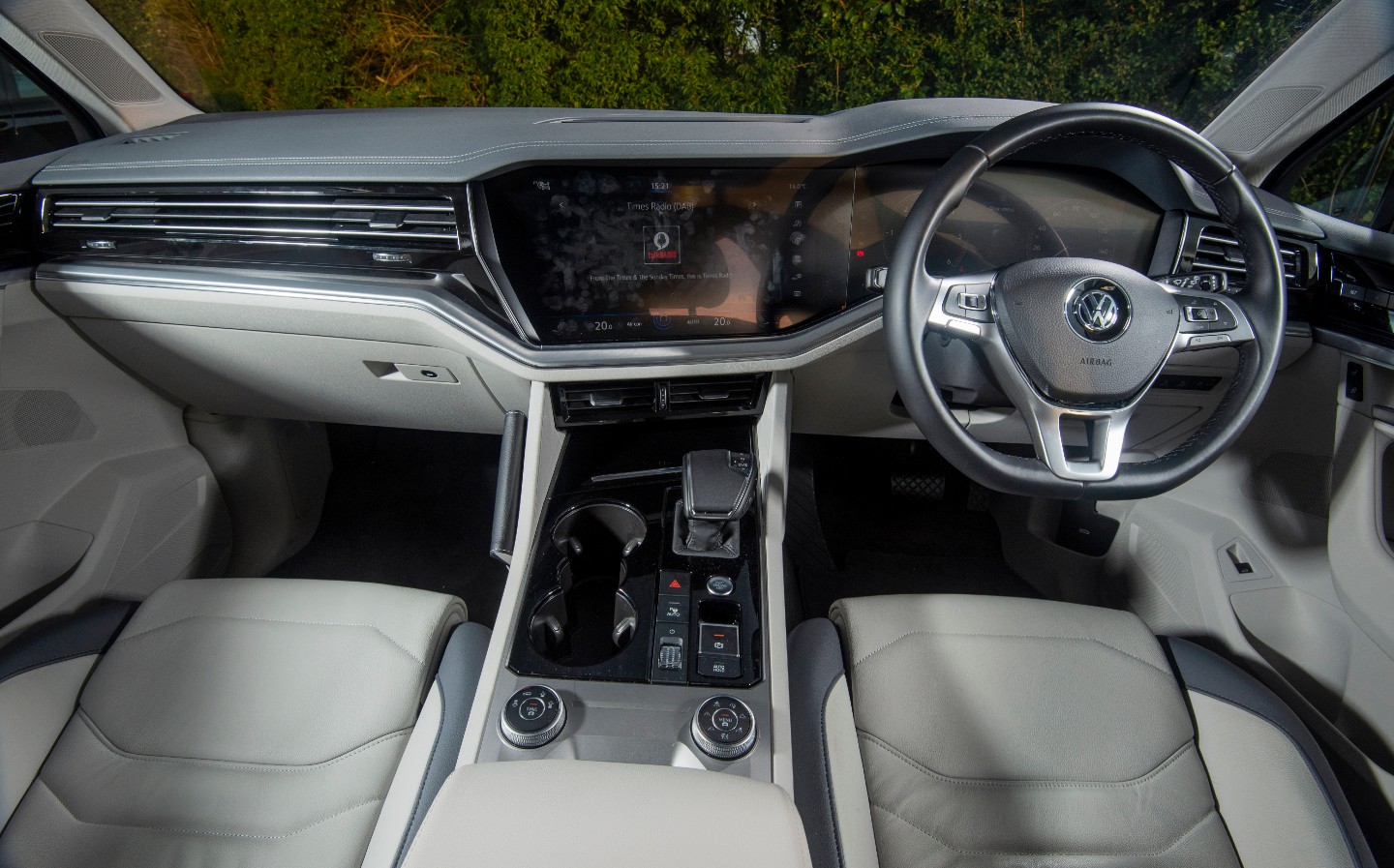 With a month of driving in the tank, the Touareg has been an enjoyable addition to the family fleet. Stand out features explored and welcomed so far include: the easy to set up Apple Car Play (its real-time traffic updates beating VW's integrated sat nav system); cruise control and lane guidance (perfect for that M4 50mph zone that has no end in sight); and park assist (an added option on the model I'm reviewing with the 360-degree birds eye view around the car, shown on the screen, which is great for squeezing into tight spots on the Ikea run).
The Touareg is a very large car, a bit of a bruiser in size to be honest, but its styling and premium trim levels compensate for this. You certainly notice the size in car parks, filling every drop of space within the white lines — quite often with a little bit of overhang, too, depending on the car park.
The size issue comes with a few advantages, making it a very comfortable ride, seamlessly riding over any lumps and bumps in the road. There are plenty of drive and suspension modes to play around with, so can suit those who want to adjust to their preference.
With darker days descended and the walking boots now in permanent residence in the boot, the Touareg is set for a thorough winter work-out. My husband Rob (a News UK employee) and I have two football-playing muddy boys and Jessie the Cavapoo as part of the reviewing process, too, so we'll have a range of trials for the Touareg to navigate over the next six months.
Test period November 2020 – May 2021
Starting mileage 6,425 miles
Miles to date 612 miles
As ever with our extended tests, you can ask questions at any time via Tina's Twitter account or the comments below.
Tweet to @tina_milton Follow @tina_milton
January 20, 2021: What's the VW Touareg like to drive?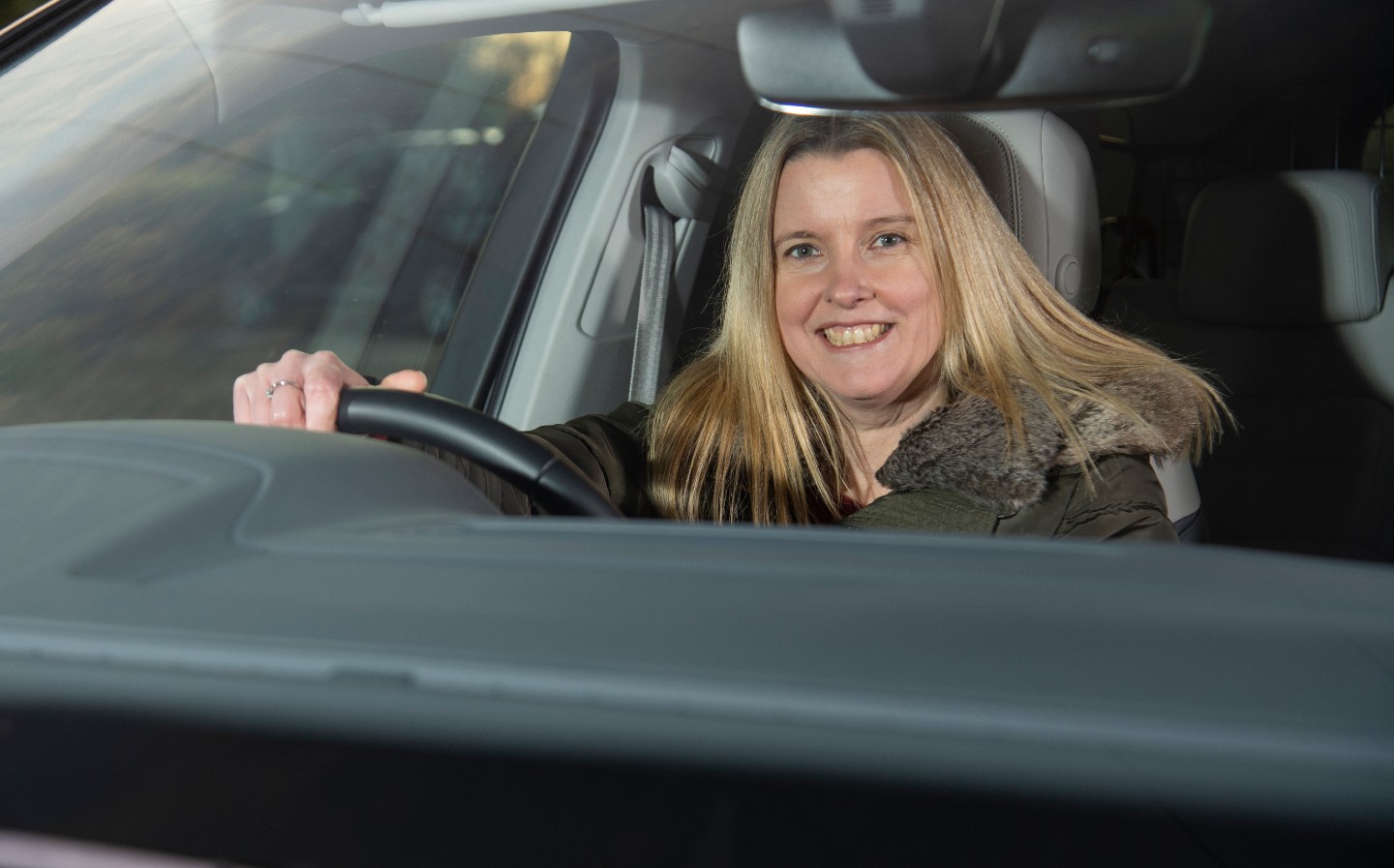 This month has been all about putting the Touareg through its paces, really getting to grips with what it has to offer. I was able to take it for a few extended drives before the current instalment of national lockdown kicked in, allowing me to get a broader feel for how it handles over different journey lengths and types.
First up, the ride is super smooth. I've mainly had the Touareg in Eco mode and the automatic transmission has been effortlessly changing through the gears. The in-cabin engine sound is almost non-existent, even with a 3-litre V6 under the bonnet.
Its pick-up from a standing start is particularly impressive, as you might expect, building speed without ever sounding like it's having to strain, and doing so just as well when fully loaded with the whole family and a bootload of Christmas gifts.
The Eco mode also has a built in anticipatory assist feature when approaching junctions and roundabouts. This displays a dashboard icon to take your foot off the accelerator and you get vibration through the pedal, too. It is a strange feeling at first but one I've become accustomed to as it nudges your awareness to potential upcoming hazards.
The Touareg sits firmly in the large rather than sporty SUV market but this doesn't mean it can't shift at a fair old clip, and it certainly has injected a fun factor into motorway driving.
Toying with the cruise control and at a steady 60-70mph, I was able to get a pleasing 38mpg, however I'd say normal day-to-day use has this nearer to 33mpg. The Touareg's fuel consumption has only been particularly noticeable after a couple of trips through congested urban spots. It's definitely better suited to the open roads and would be a thirsty ride if it never made it out of town, where stop-start driving means lots of energy is needed to get it going and slow it down.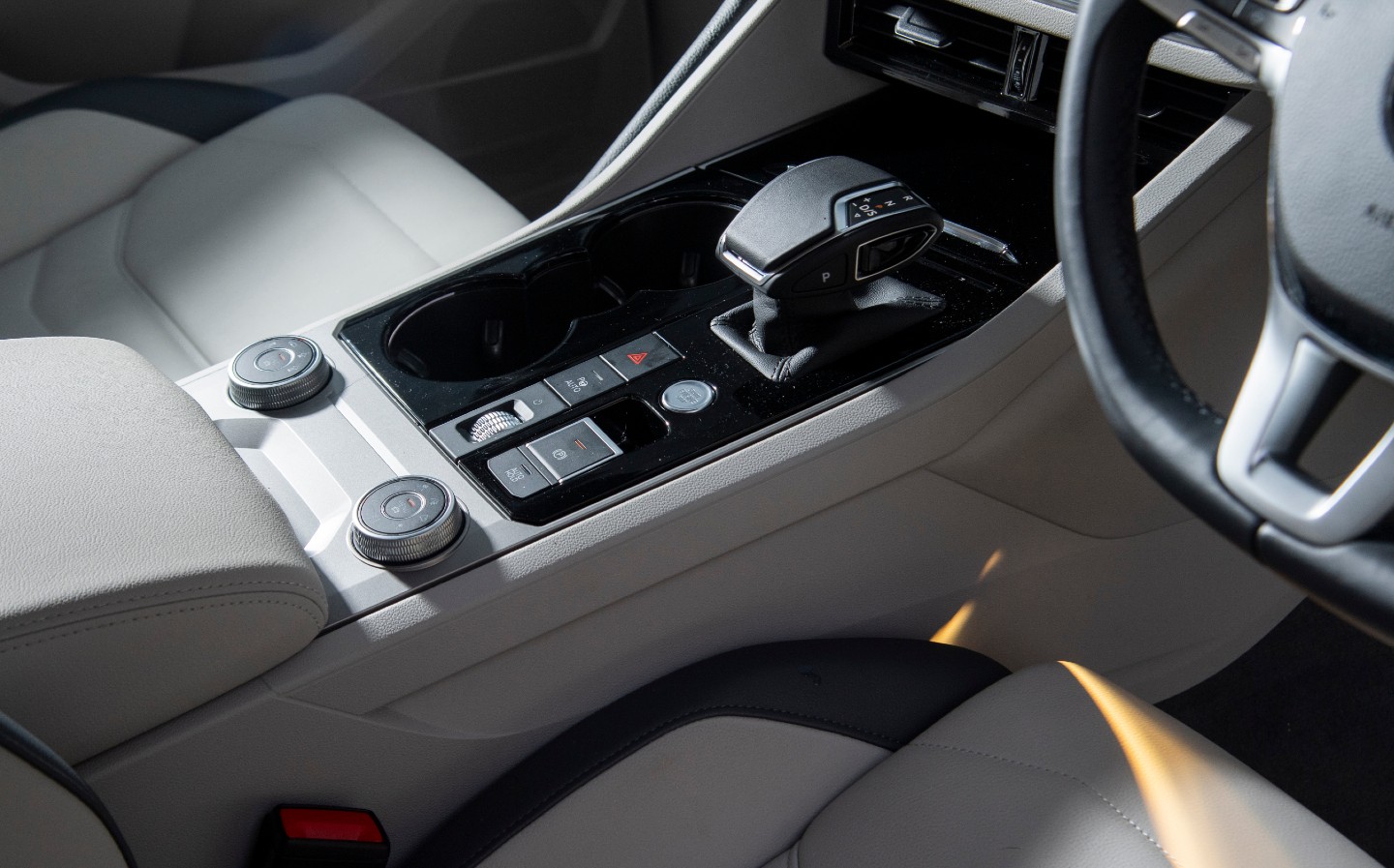 I'm in two minds on the number of sensors the Touareg deploys. The model I'm testing seems to have more trigger points than a vault in the Bank of England.
The helpful side of this has been when manoeuvring the bulky Touareg's rear end in to skinny parking spots, the sonar sensors working well in combination with the three-point camera system.
However, the annoying side comes in the form of the automatic braking intervention feature. This kicked in as I gently began to pull away to cross a local roundabout, the car automatically slamming on the brakes and sounding a warning alarm as it anticipated I was about to hit a car that had already passed.
While I accept the safety conscious intention, it actually felt disconcerting that I wasn't being allowed to make a judgment that the road was clear.
In a recent review for The Sunday Times, Richard Porter, the script editor for Jeremy Clarkson's motoring show The Grand Tour, had similar issues with the Audi e-tron Sportback, which is interesting as that Audi is also made by the Volkswagen Group, and so no doubt shares the same sensors and technology.
On the plus side, climbing from the Touareg into our trusty manual Nissan Qashqai felt like stepping back in time. Yes, the latter's gear changes increases the connection with the car, and some would say that improves the driving experience, but I'd forego that in favour of the much more cosseting, versatile and smooth qualities of the Tourareg. And besides, this is an SUV, not a sports car.
With lockdown having tightened in early January, leaving me with fewer excuses to get out onto the road, next month I'll be focusing on the tech and infotainment the Touareg has to offer. With a 15in central touchscreen as part of the package, I reckon I could be set for my own in-car night at the movies.
Starting mileage 6,425 miles
Mileage today 7,595 miles
Miles to date 1,170
As ever with our extended tests, you can ask questions at any time via Tina's Twitter account or the comments below.
Tweet to @tina_milton Follow @tina_milton

February 28, 2021: How good is the VW Touareg's touchscreen infotainment?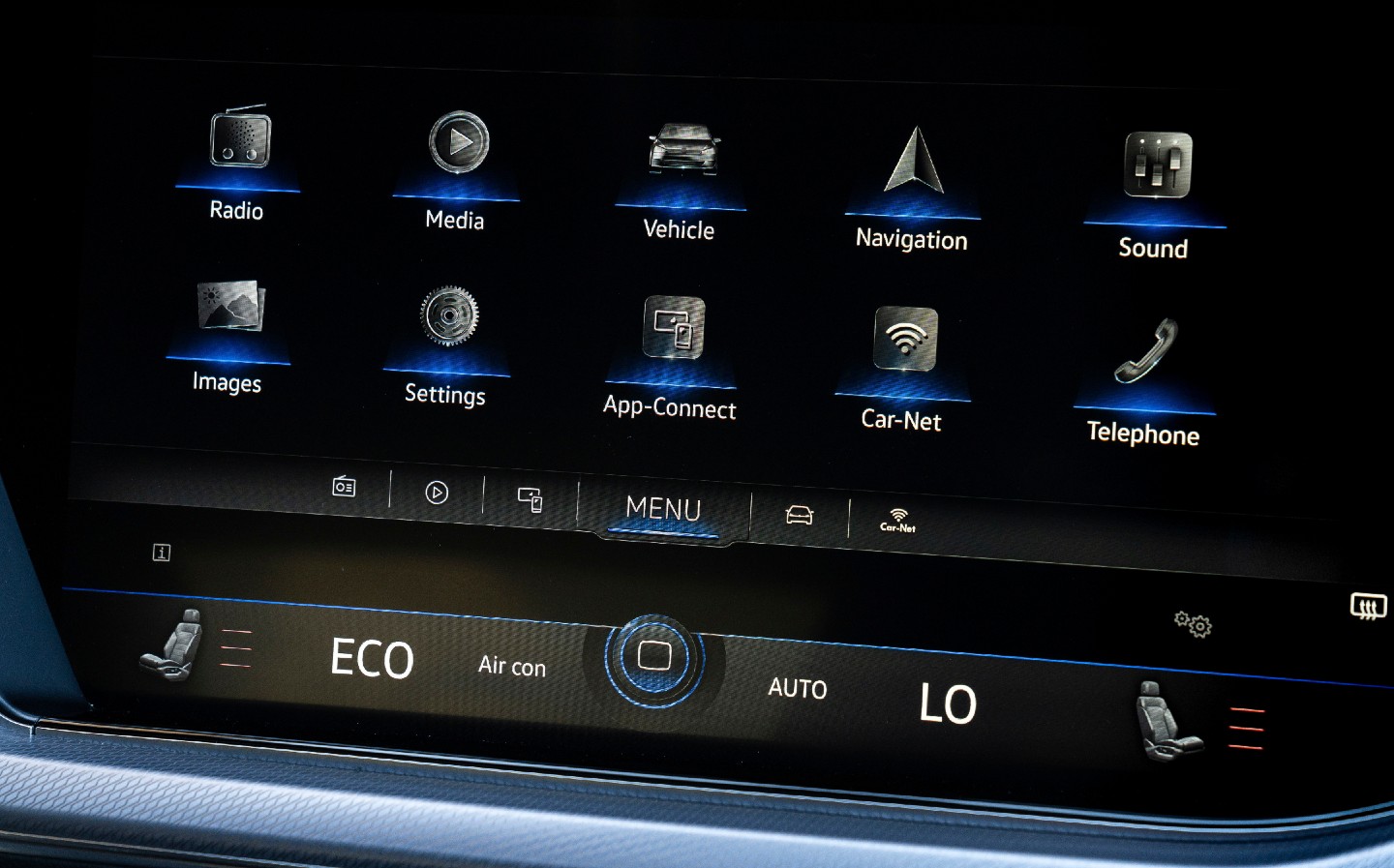 In our house, the currency of screen time has always been incredibly valuable. From the Xbox to Nintendo Switch, mobiles to tablets, a tech-fix is something we hold dear, and the current lockdown has pushed the importance of gadgets to new heights.
So, when the Volkswagen Touareg arrived on our driveway sporting an epic panoramic front screen that wouldn't look out of place on an inflight simulator, my husband and I were rubbing our hands together with glee.
This was like taking delivery of gold bullion in screen terms. We knew the front passenger seat was going to be hot property for our boys, giving them easy access to the "Innovision Cockpit", featuring a show-stopping 15in touchscreen that melds seamlessly into a 12in customisable digital instrument driver's display.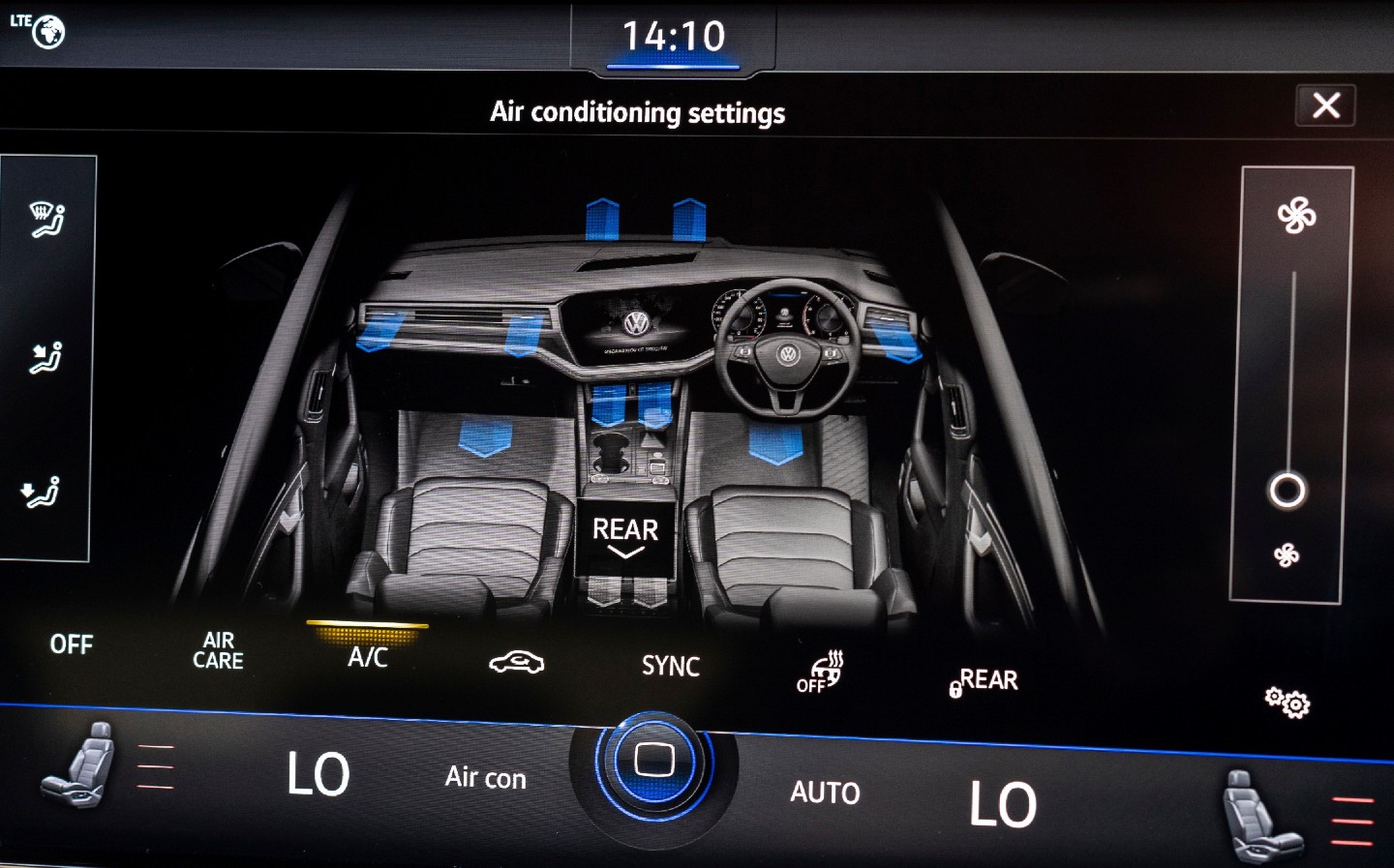 This larger mission control panel commands a host of features, from Knight Rider-style ambient in-car lighting and hybrid radio (combining traditional signals with DAB and internet channels), to four-zone climate control and seat heating.
While Driving.co.uk's editor wasn't won over by BMW's gesture control system, I've found it hard not to be impressed with the VW's intuitive operation, to easily swipe between menus. Voice control is also possible, of course.
The Touareg's Connected navigation system is particularly generous with a 3D model city display and useful icons for local conveniences such as petrol stations and food outlets. However, I found there was a lack of speed camera positioning and it wasn't clear how to change the navigator's voice.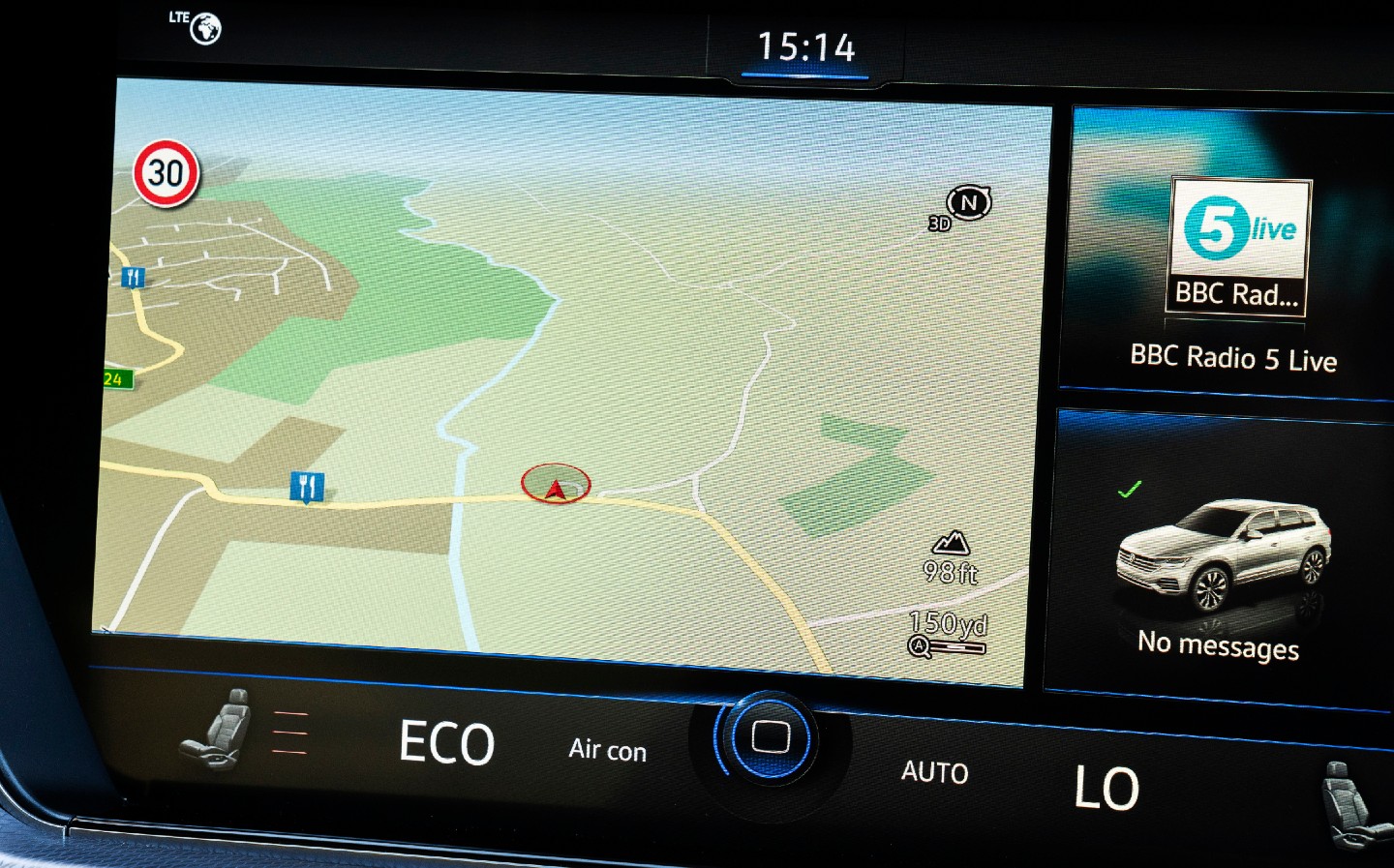 Also, a road closure on a click-and-collect mission to Ikea didn't switch to the usual re-routing option offered on Apple Maps, so at this point I swapped to my iPhone synching via Apple CarPlay. The VW systems did offer alternative routes but it was a bit of a faff to find these on the pull-down menu and select them while driving.
And while the infotainment system is relatively user friendly, some functions are too well hidden and I found myself having to drill down several menus to find features. I'm sure this means there will be plenty of gems to discover in the months ahead, it can be rather distracting while driving and I think for everyday adjustments such as adjusting the air-conditioning, the Touareg's controls could be much simpler to use.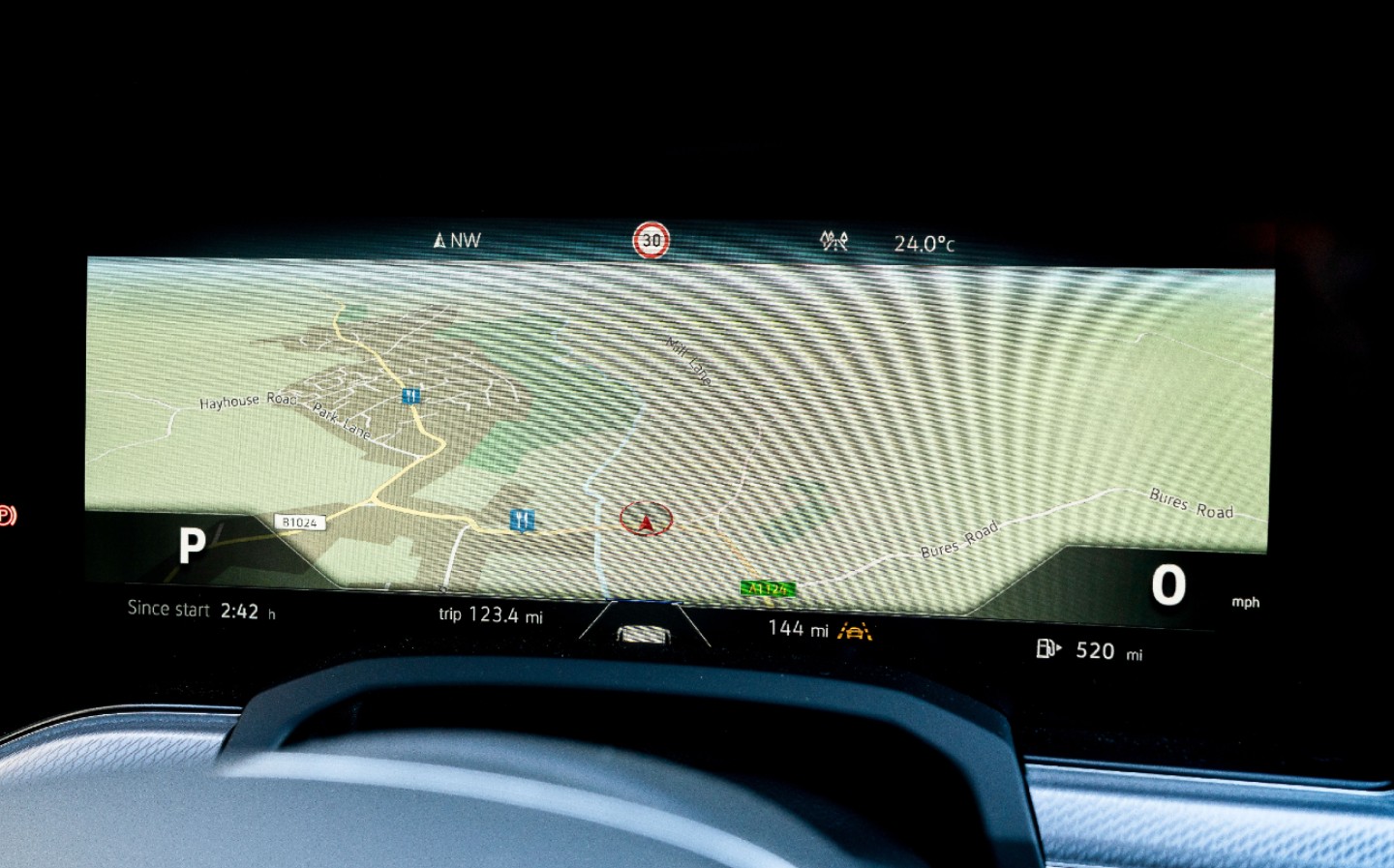 The optional fully digital driver's display screen is a neat bit of added tech and has some useful functionality to play with. This includes the ability to temporarily swap out the rev counter and speedometer for an expanded sat nav map or more detailed view of the Touareg's performance stats — tech pioneered by sister brand Audi. This has proved useful on longer motorway journeys and it's been easy to scroll through the many different settings available via the steering wheel controls.
Overall the sheer size and crystal-clear qualities of the TFT touchscreen are mesmerising for the driver and as the SEL Tech name suggests, for tech-hungry, gadget lovers this version of the Touareg is a smooth operator, and a definite family hit. Just don't get too hung up about the kids leaving sticky fingerprints.
Starting mileage 6,425 miles
Miles this month 271
Miles to date 1,441
As ever with our extended tests, you can ask questions at any time via Tina's Twitter account or the comments below.
Tweet to @tina_milton Follow @tina_milton
March 29, 2021: Is the Touareg a good car for dog owners?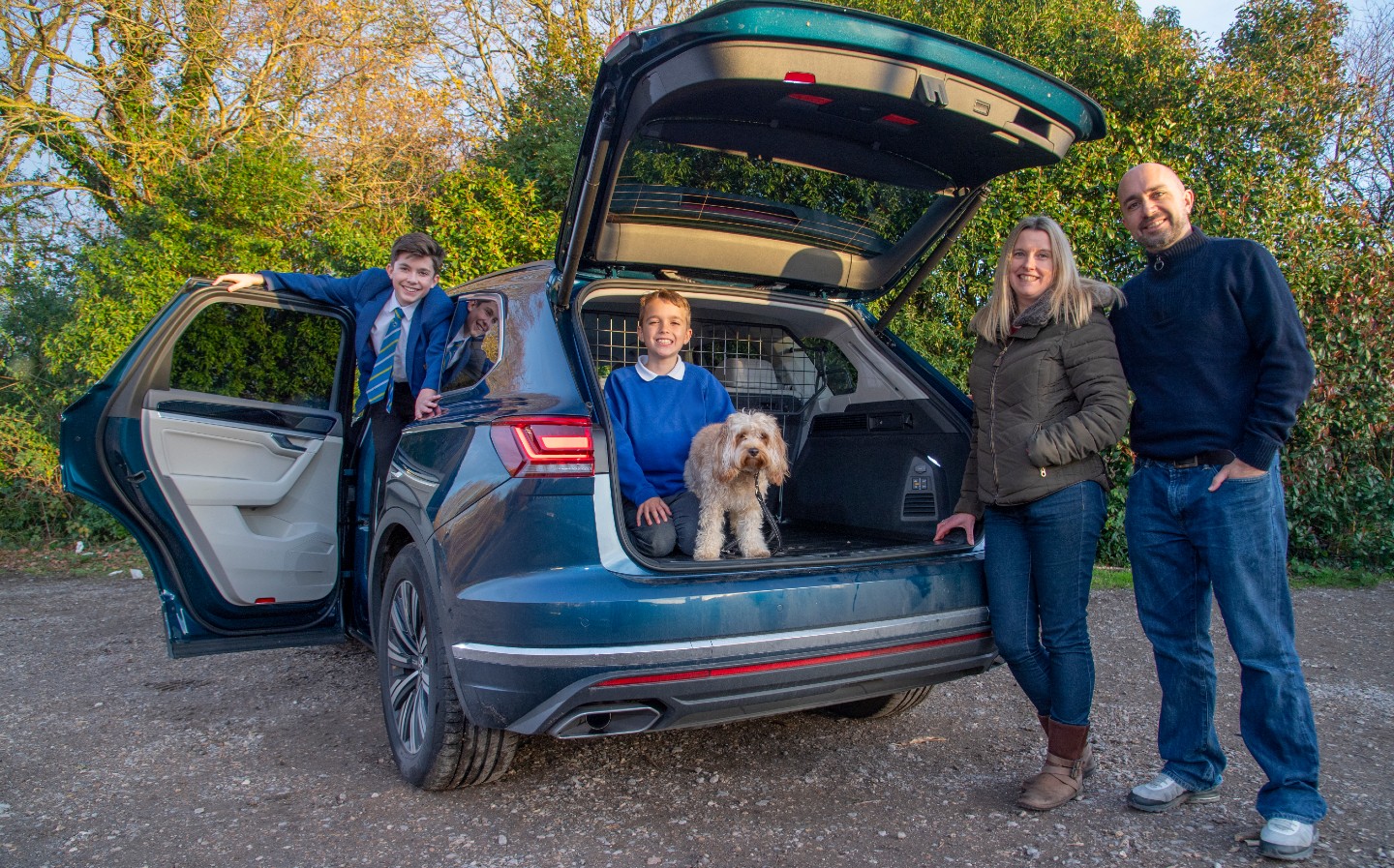 Our cavapoo is normally one cosy customer when travelling in our Nissan Qashqai. She assumes her fluffy-towel throne on the back seat of our Qashqai, flanked by our boys who are always on hand to clip her collar to the seatbelt strap and offer comfy laps and cuddles if she so desires.
So when our pampered pooch clocked the vast 810-litre boot of the VW Touareg, she looked somewhat overwhelmed. But after a shaky start, with the boot's automatic tailgate beeps unsettling her (I'm talking back legs here more than anything), she soon adjusted to her new space.
For the owners, this dog-friendly set up is the business. In her roomy abode, our cavapoo has plenty of space to spread out. She could be (and has been) described as an oversized cat, the boot is large enough to accommodate bigger breeds, from a German Shepherd to a Fox Red Labrador. In fact, the in-law's black Lab road tested the space after a forest walk and it passed with flying colours. There's still ample capacity for muddy boots and shoes, without encroaching on any canine leg room.
The Touareg's optional extras for dog owners mean canine companions can be blocked off from the back seats — our test car is fitted with a partition grille — but this hasn't unsettled our dog, and she can be tethered to the metal barrier, holding her securely in place when travelling.
The wipe-clean boot tray (also optional) is particularly useful after muddy runs in our local country park, preventing the build-up of dust and mud on the boot's carpeted finish, which could otherwise become a scrubbing and vacuuming nightmare. The mat is also easy to remove and hose down when needed.
There are plenty of additional passenger-friendly features, for both the canine and non-canine occupants. Black out windows on the passenger doors and boot are a bonus, preventing our cavapoo from becoming a hot dog on sunny days, while also deflecting any glare from the boys' eyes.
Two USB sockets and a 12v socket for rear passengers are a bonus for families to extend screen time on the go, but flip-down trays or headrest tablet holders would be a useful addition. In-flight-style cup holders within a pull-down rear armrest are practical, particularly when driving home from football matches, as is the seat warming facility on the front seats to help mum and dad defrost afterwards.
I am not a big fan of our Touareg's creamy upholstery and chrome interior trim, though, as dirty hands and paws do not mix well with the lighter shades, showing up even the slightest of marks, spills or stains.
From grassy terrains and wet cobbles to thick muddy verges and flooded woodland, the Touareg's driving modes help to negotiate even the most challenging of dog-walking landscapes. Its 4Motion Active Control features four driving modes: road, off-road, off-road individual and snow. Under the driver profile selection, I found the Sport setting was particularly useful for more challenging country roads.
In terms of competition for dog-friendly drives and options available, the Touareg squares up against a few notable adversaries. These include: the Nissan X Trail and its dedicated Paw Pack; Volvo XC90 with its dog gate and compartment packages; and the Land Rover Discovery that comes with optional extras, such as a foldable carrier and spill-proof bowl.
The Touareg sits well in this mix, with generous boot volume to carry even the larger hounds with space to spare. Additional non-Volkswagen supplied dog accessories are available for the Touareg, such as boot guards and dividers, which I would look to invest in beyond the six months I've got it for review.
For a family of four with a dog or two in tow, the Touareg is a spacious haven with plentiful child-friendly and dog-friendly perks. It certainly gets the seal of approval from our four-legged family member, who has finally learnt to enjoy her own space in the boot, giving us all some well-earned time off for good behaviour.
Mileage this month 327 miles
Mileage to date 1,768
Average economy 33.6 mpg
As ever with our extended tests, you can ask questions at any time via Tina's Twitter account or the comments below.
Tweet to @tina_milton Follow @tina_milton
April 28, 2020: To option or not to option?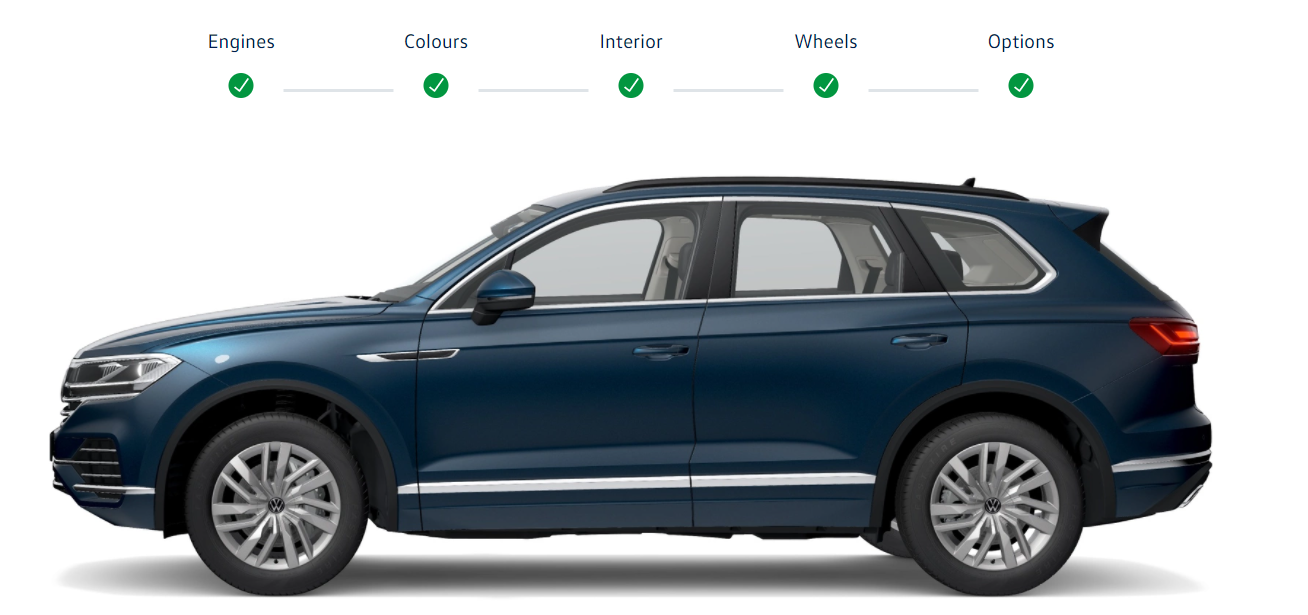 As any new car buyer narrows down their shortlist to the final chosen few and begins to rationalise their budget, it's important to account for the options that are available for your selected models, as often these can be the clinching details.
The Touareg I'm reviewing has had several notable spec upgrades and these have certainly added to the experience. My stand-out top three must-haves would be Park Assist (£115), the ergoComfort seats (£1,180) and the Air Suspension (£1,705).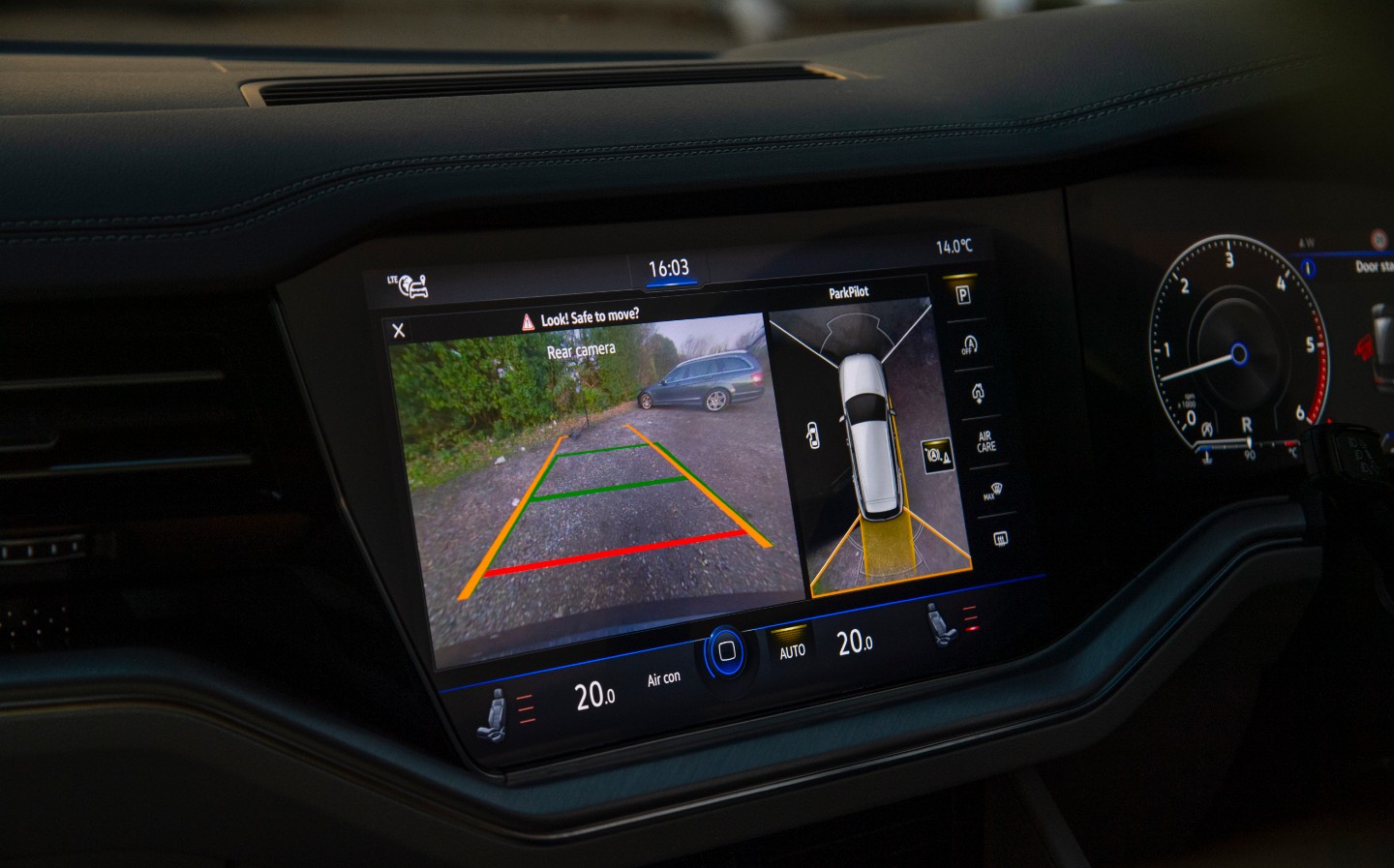 I've covered Park Assist in previous columns but after five months of driving, I'm a converted fan and wonder what I'd do without it. Park Assist tech has the ability to reverse steer the car into the chosen parking spot, requiring the driver to just control the accelerator and brake. This gives a welcome helping hand for those super tight spaces.
The rear-view camera is also useful, but I did find wet weather forced me back to my standard parking behaviour as blurred imagery was not clear enough to rely on. Overall, for drivers who enjoy a tricky parking challenge, the Touareg's tech option is definitely one I'd recommend.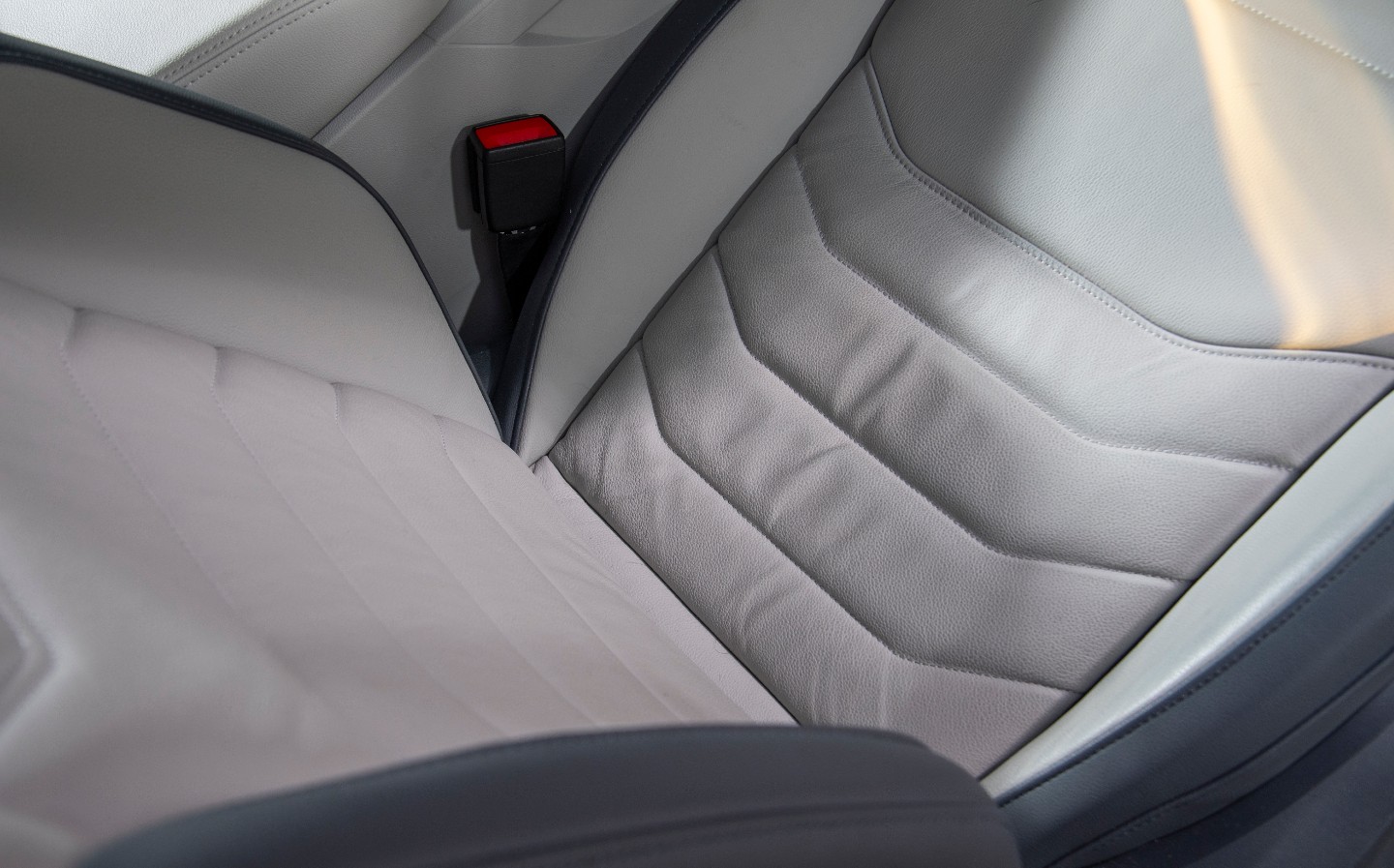 The 'Vienna' leather front ergoComfort seats that come with a 14-way adjustment control are heavenly, either for longer motorway journeys or even at a recent drive-in theatre outing. The leather provides a durable and luxurious finish, giving the cabin a high-quality spec that pushes this Touareg SEL model into premium SUV contention.
The cream colouring may not be hugely practical for two kids in the back seats, but in the front it adds to a VIP vibe. The number of adjustments might be slightly excessive for some, but it has provided for a very comfortable range of settings, including height, seat cushion angle, backrest and even 4-way electrically-adjustable lumbar support.
The air suspension has certainly provided for a super smooth ride and I've barely registered those annoying winter potholes. This might be a pricey extra to factor into the final reckoning of options, but for a relatively large vehicle, I must vouch it for its worth, particularly when carrying increased loads. On that basis, it would also be a strong option for those using the Touareg for towing.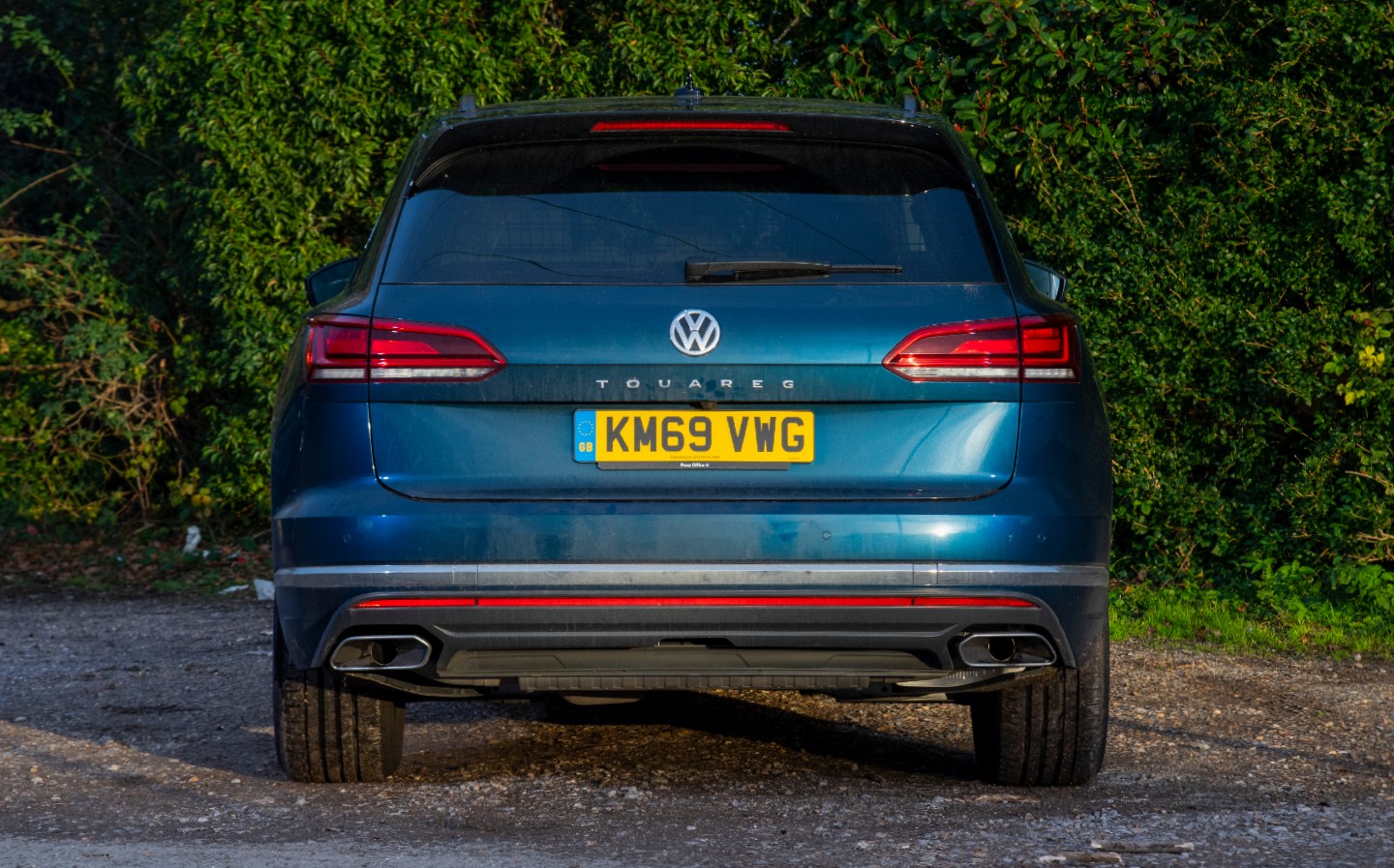 The tyre pressure monitoring systems (£175) gets an honourable mention. It has come in to play over recent months, as the weather has yo-yo'd from frosty morning starts to balmy summer afternoons, which has seen the tyre pressures swing accordingly. Tracking this has been handy, with the coloured warning system on the dash screen alerting to significant shifts.
The Driver's Assistance Pack Plus (£1,000) while very safety conscious has actually been rather frustratingly over sensitive, the sensors setting off the alarm at even the slightest potential hazard. I can understand the theory but in practice it can make you jump and question your driving awareness unnecessarily.
The use of the Memory pack (£115) is one that I'll investigate a bit more, but think I'd try and get this thrown in to sweeten the deal.
Mileage this month 402 miles
Mileage to date 2,170
Average economy 34 mpg
As ever with our extended tests, you can ask questions at any time via Tina's Twitter account or the comments below.
Tweet to @tina_milton Follow @tina_milton
June 10, 2021: A feast for families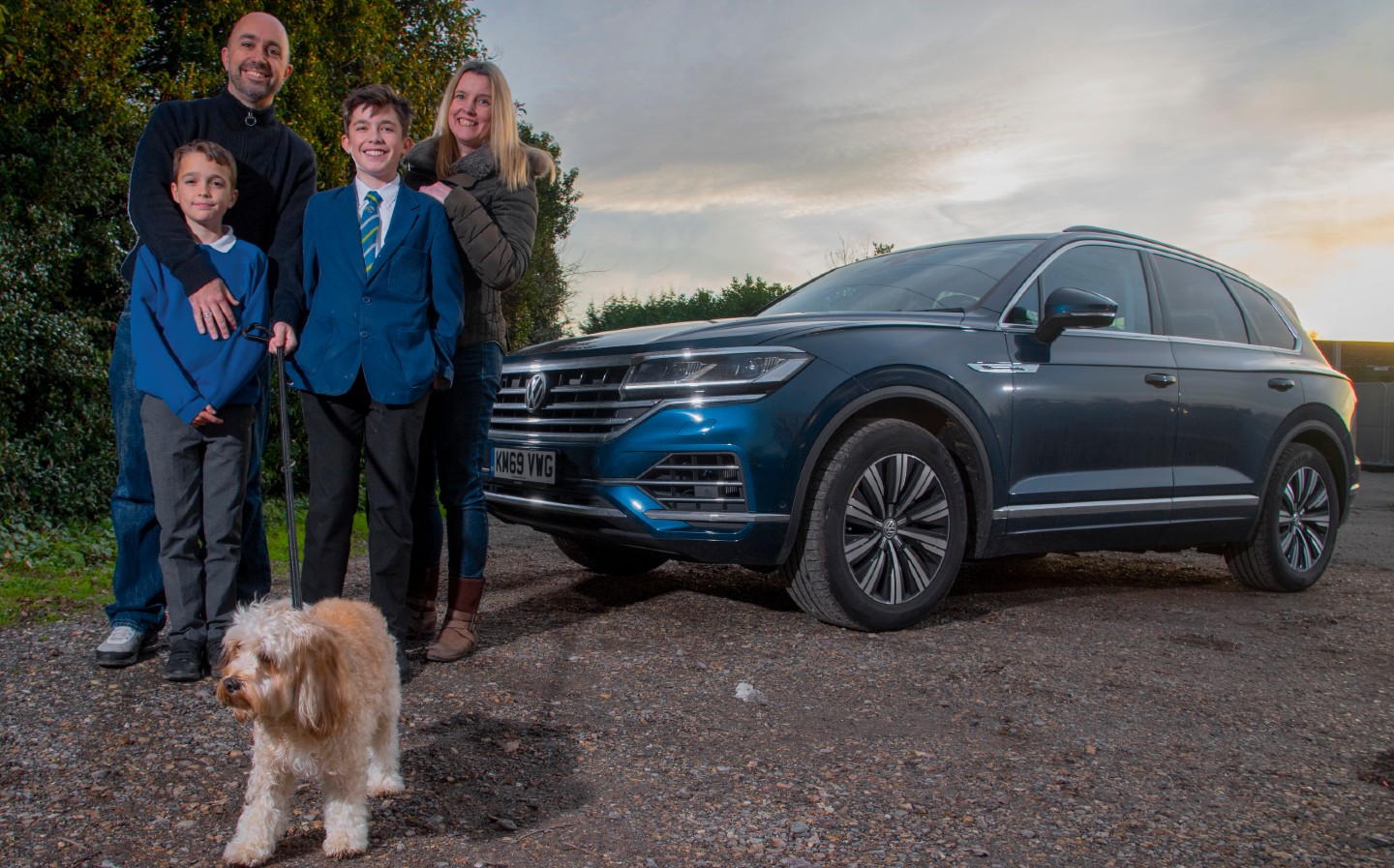 As our long-term updates have outlined, I'm a big fan of the many excellent tech features the Touareg has to offer. I've waxed lyrical about the impressive touchscreen display and the infotainment kit, but there is one final gem to highlight in this final post.
This month we utilised the controls to lower the boot, as we had the mother-in-law's Labrador to accommodate for a stroll in the woods. The ride height was easy to adjust via the buttons in the luggage area, lowering the air suspension so her aging but large pooch had fewer centimetres to scale when climbing aboard. Whether for canine passengers or for storing hefty goods, this tech addition gets the thumbs up.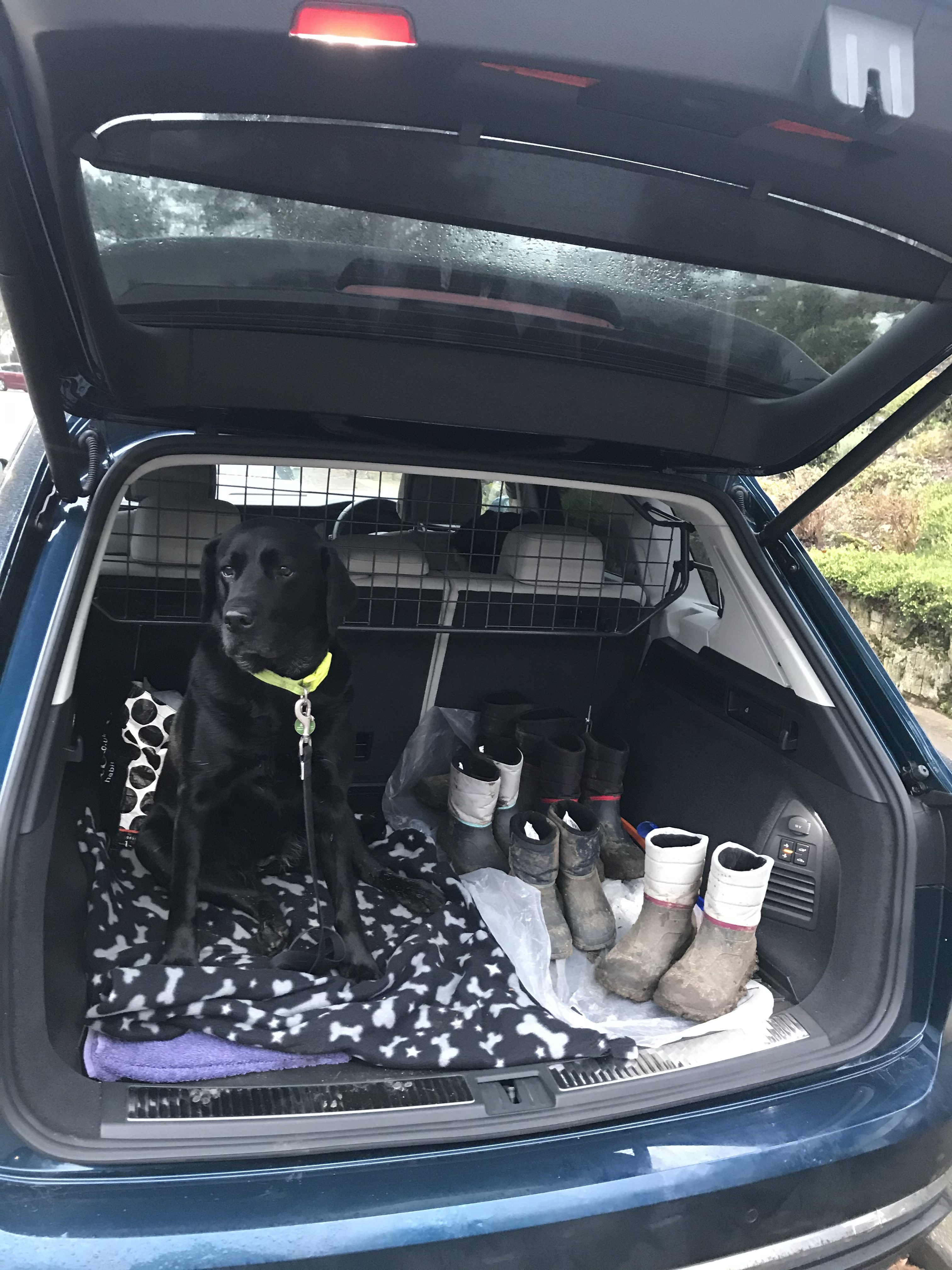 Even in the welcome lighter evenings, night driving in the Touareg is extremely enjoyable as the ambient in-cabin lighting provides a calm and sophisticated experience. The stylish beads of LED along the doors and roof panels give the interior a warm glow, offering sufficient light to undertake tasks without hindering safety.
It's this type of premium finish that really separates the Touareg from the ambitious competition in the large SUV category, (think Peugeot 5008, Hyundai Santa Fe and Kia Sorento (the outgoing version, at least — Driving.co.uk recently tested the new Sorento), raising the bar to put it in an altogether different bracket of shortlisted rivals.
With lockdown easing in recent times, we've been racking up significantly increased mileage and have taken the Touareg on a few different and longer types of journeys. It seems most at home on motorways and long country roads, eager to gain speed and maintain an effortless cruise. This is demonstrated by the fuel economy data, as it's been posting a pleasing 39.1 mpg and this suggests that much-maligned diesel engines can be dependably efficient.
In congested town traffic the Touareg is unsurprisingly less at home, feeling rather cumbersome and as if tied to an unwanted lead. I'd advocate the Touareg as a first-rate selection for country dwellers, as many of its notable qualities seem suited to more rural settings, but the Touareg's bulk, practicality and performance stats count against it for shorter journeys and in cities.
With six months in the Touareg's driving seat under my belt, I reckon its functionality and comfort levels completely justify its premium price tag. It offers a fully comprehensive five-seater package and the dog accessories have passed the road test with flying colours.
The option to boost to seven seats must have played on the Volkswagen design team's mind but I can understand why they haven't shoehorned this in to a perfectly well-executed model. If you truly need these seats, look elsewhere (actually, VW offers the less opulent Tiguan Allspace with a third row), as the Touareg has far too many other outstanding features for this to be a real purchasing deal breaker.
As our tenure with the Touareg draws to a close this month, it's time for the final verdict. Having been put through its paces on beach day trips, outdoor theatre visits and many muddy wooded walks, Volkswagen's largest SUV ranks well as a capable, dog-friendly choice for all family needs. It's a human and a furry-pawed high five from us.
Starting mileage 6,425 miles
Mileage this month 1,675 miles
Mileage to date 3,845 miles
Average Economy 39.1 mpg
This ends the extended test but you can still ask Tina a question on Twitter:
Tweet to @tina_milton Follow @tina_milton