Extended test: 2023 Dacia Jogger TCe 110 seven-seater review
The most affordable seven-seater on the market gets its toughest test yet
2023 Dacia Jogger specifications
Model 2023 Dacia Jogger Expression TCe 110
Base price for this version £19,595
Price as tested (with options) £20,245
Options Metallic paint (Moonstone Grey*) £650
Engine 999cc 3-cylinder turbocharged petrol
Transmission 6-speed manual, front-wheel drive
Power output 108bhp @ 5,000-5,250rpm
Torque 147 lb ft @ 2,900-3,500rpm
Top speed 113mph
0-62mph 11.2sec
Fuel consumption (WLTP combined cycle) 48.7mpg
CO2 emissions (WLTP) 130g/km
VED (road tax) £210 for first year; £180 thereafter
Kerb weight 1,205kg
Max towing weights 1,200kg / 640kg (braked / unbraked)
Seats 7
Luggage capacity 160 litres (7 seats) / 568 litres (third row folded) / 1,819 litres (all seats folded)
* Moonstone Grey is no longer an option. Shadow Grey and Urban Grey are now available to customers instead.
Test details
Test period May – October 2023
Starting mileage 583 miles
Test updates
---
May 3, 2023: The ultimate test for the Dacia Jogger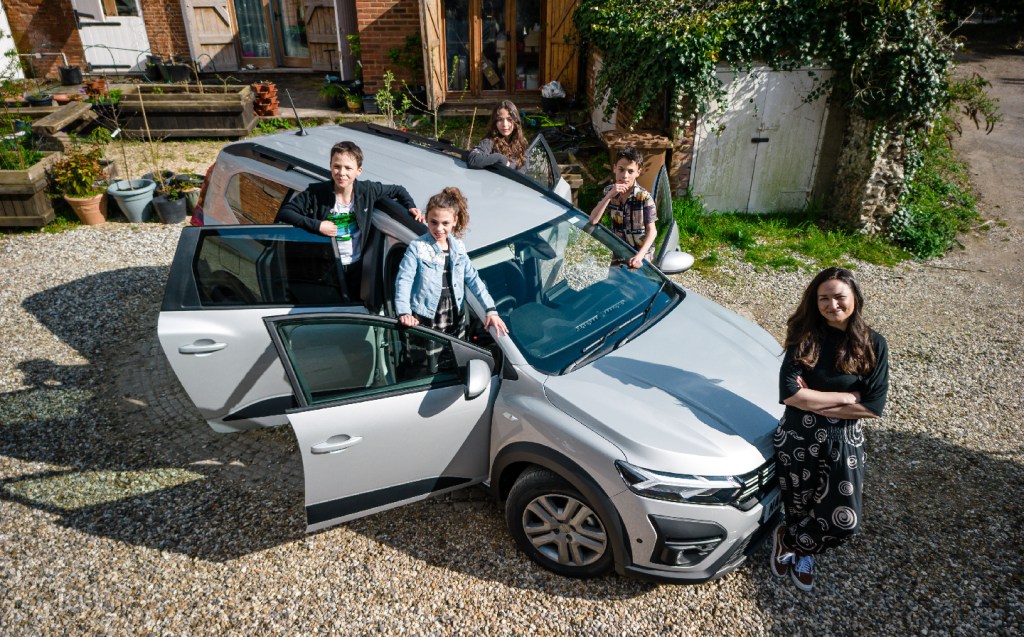 Having four children is a challenge in many ways, but transporting them to places is one of my biggest considerations. We live in rural Cambridgeshire with no public transport links, so driving is my only option for school runs, clubs and so on.
We have two routes of access to our place and both really put cars through their paces. The dual carriageway on one side, with its 70mph speed limit, is like living in The Fast and the Furious most days.
On the other side of the house is a pothole-strewn, long and winding farm track; it's still the quickest route to the village and safest route out of here in general but daily use punished my old favourite car, a long-wheelbase 2004 Kia Sedona. I'll be gentle with the Jogger but it will need to cope with that road on a regular basis.
So interior space, decent performance and robustness are very important to me.
That makes the Dacia Jogger TCe 130 perfect on paper. The slightly raised ride height and rugged-looking plastic trim around the wheelarches give it a mild off-road look and should help down the lane, as will the 16in wheels — small (by today's standards) wheels means taller tyre sidewalls, which is essential on rough surfaces.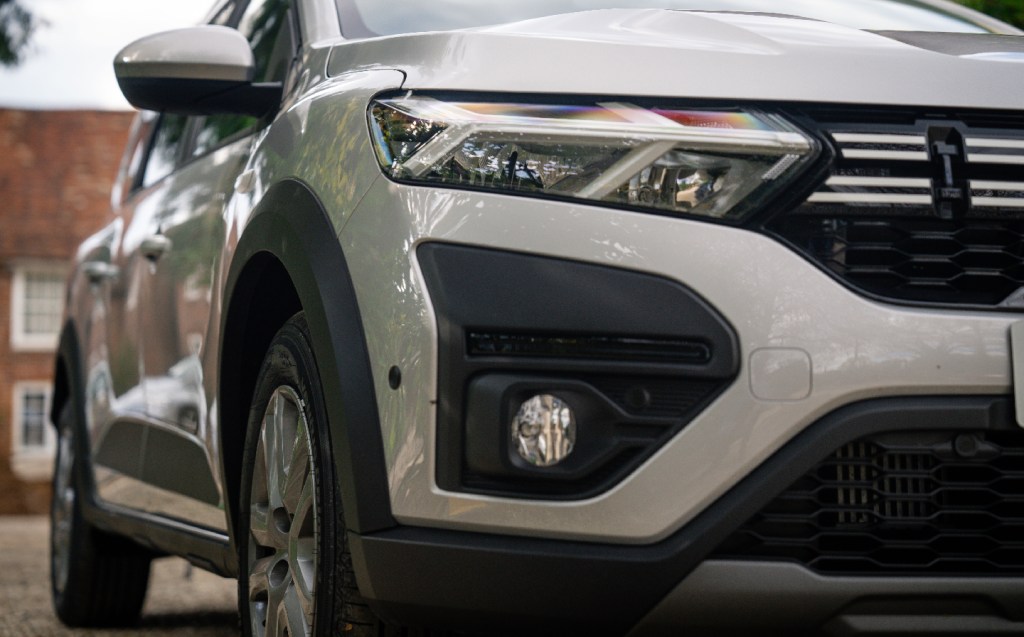 And for us, the practicality is a godsend. School runs mean speed is essential — not in terms of the engine performance but of entry and egress. We all need to be able to jump in quickly and go-go-go, then for the kids to be able to bolt out of the car safely, as close to the school as I can get them. They all have big backpacks, sports kits and all the extra stuff for the day, too, which has to be thrown into footwells and held on laps. In reality, we find the boot is often unused when speed is everything.
So seven seats is brilliant. It means the kids aren't crammed three-abreast in the second row, which as most parents of multiple kids will appreciate inevitably results in screams of "Stop touching me!" and even the occasional physical fight. When you have three in a middle row, with baggage, there would inevitably be the most explosive arguments.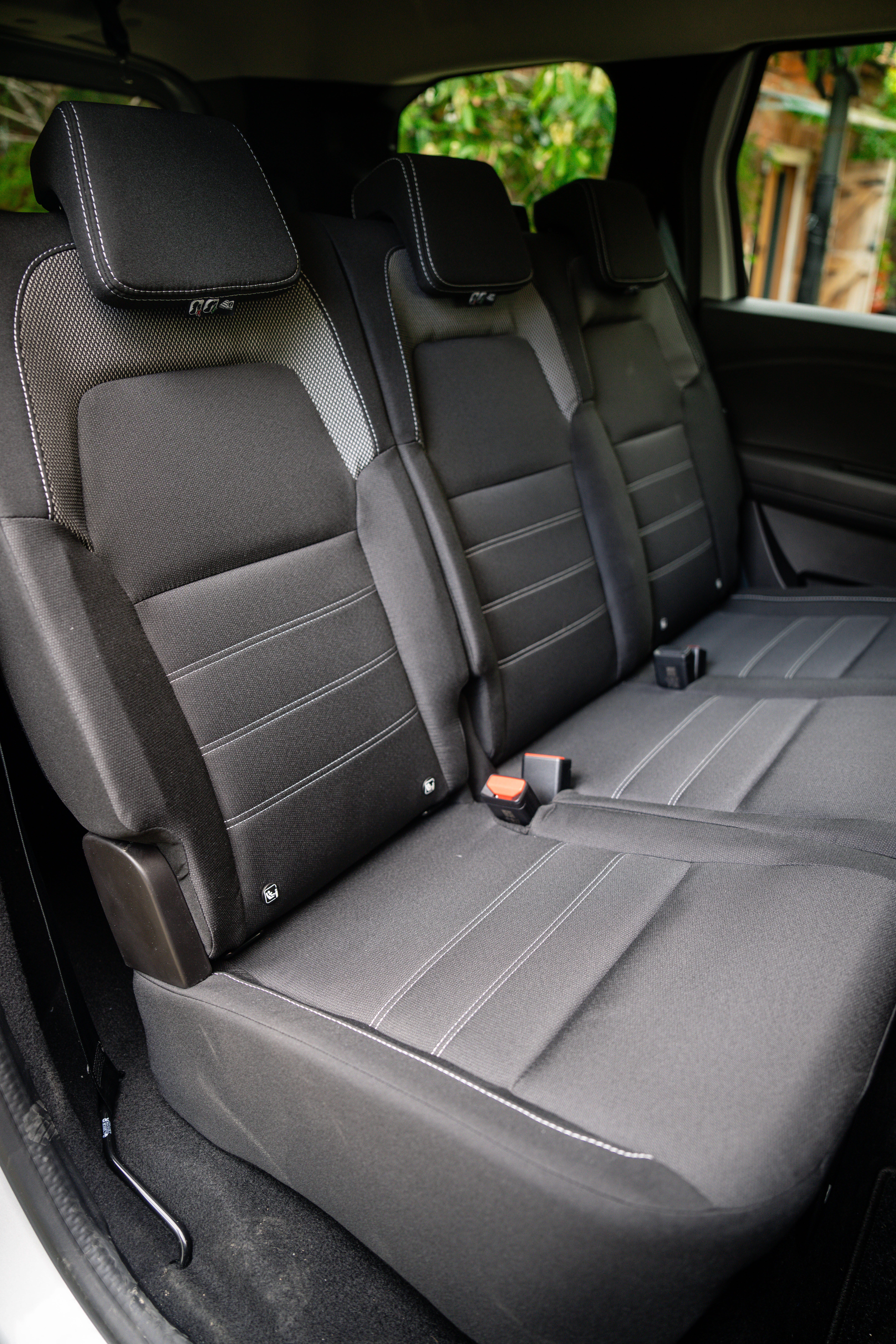 What I've found straight away with the Jogger is that one of my lot opts for the front seat, with two taking the middle row — at arms' length from each other — while the fourth chooses to space out in back row, which is simple to get to with the pull of a handle to fold the backrest of a second-row chair (pull a strap and the whole seat folds forward, as in the picture above, but the children tend to just jump over).
Anyway, it means peace at last again; well only hormones creeping in now to contend with.
But just as important is affordability. I don't know of any other seven-seaters that cost this little to buy. Vauxhall doesn't make the Zafira any more and its Combo Life is electric, which means you pay a premium compared with petrol cars (over £30,000, in fact). Likewise the Citroen Berlingo is now electric-only, and costs from £32,315. You can't get a new Grand C4 Picasso these days, Ford has discontinued the Grand C-Max and Renault doesn't make a seven-seater since the Grand Scenic was dropped.
In short, there aren't a lot of seven-seat new cars these days, and the ones that are around cost a lot more than many families on a budget can afford. Normally I'd buy used anyway (my real car is a hand-me-down and very much on its last legs), but with the Jogger costing from just £18,295 it's definitely worth a look on finance. There's a new hybrid Jogger but I wanted to try the less pricey petrol version. Dacia's deal at the time of writing for the entry-level TCe 130 would cost £234 per month over 49 months with a £2,502 deposit (7.9% APR, max 6,000 miles per year).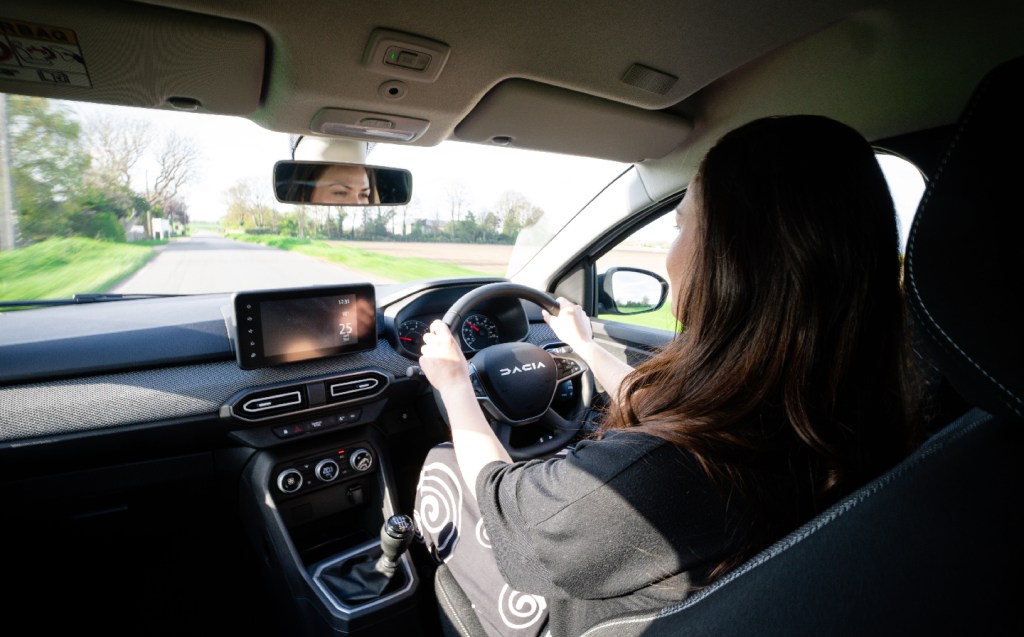 That is still a significant outlay for many families, so is it worth it? Dacia has delivered the Jogger you see in the pics to me so I can find out, and it's fair to say that I (and the kids) will be putting it through its paces. My four children are 11 and 12 years old (I had my first then, to my surprise, became pregnant with triplets almost immediately — something I wrote about in the Sunday Times Magazine when they were all much younger) so they're out of child seats now but rough and tumble comes with the territory.
As part of looking at affordability, aside from the cost of the car, I'll be keeping a close eye on fuel efficiency — over 40mpg so far is impressive. And safety is important so I'll cover that, too.
I don't mind admitting I'm looking forward to a few of the creature comforts of this mid-spec Expression version, like the DAB radio, keyless entry, front and rear parking sensors, and ability to run Apple CarPlay. Some gremlins with the latter two have emerged in the first days so I'll update on that next time… perhaps it's user error, though looking at forums it may not be.
So I'll get into some more of those aspects next time but if you have any questions, do ask in the comments below and I'll try to address them.
Current mileage 851
Miles to date 268
Average economy 40.8mpg
If you want to ask Misty a question about the Dacia Jogger, enter a comment below. She'll aim to post updates monthly so bookmark this page if you'd like to follow her progress.
June 14, 2023: Petrol or hybrid? I know which one I'd go for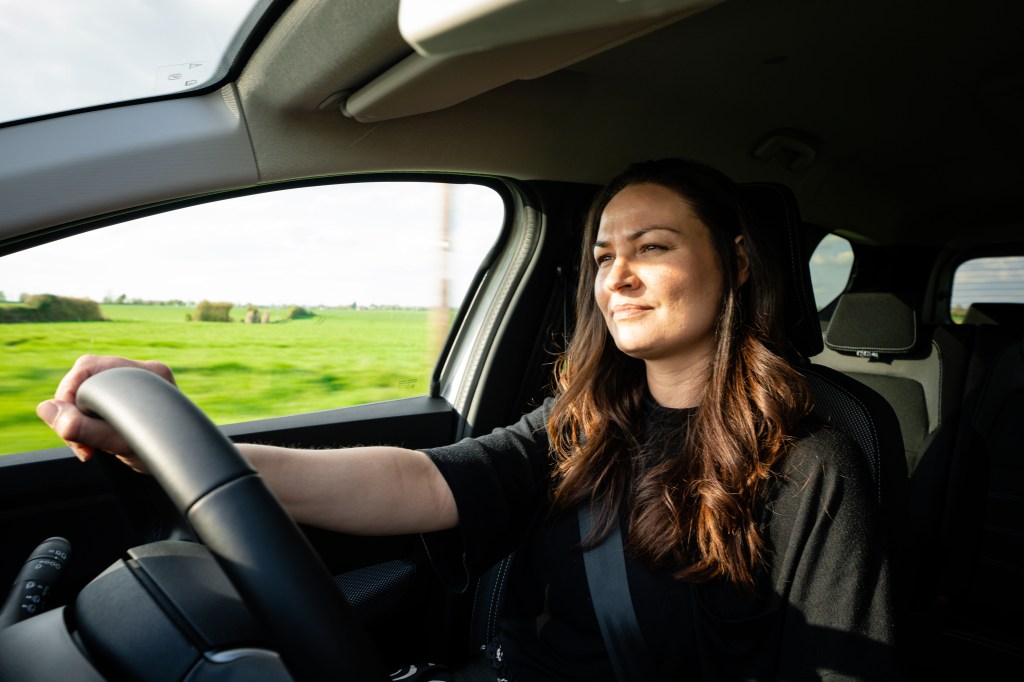 After more than a month testing the Dacia Jogger I've found a lot to enjoy about the car. For a seven-seater of its size it feels surprisingly light, and when the children aren't onboard it feels quite zippy considering it only has a 1-litre engine under the bonnet.
It grips the road really nicely, too, and is smooth and handles bumps well, making country roads rather enjoyable.
Fill the Jogger up with kids and their paraphernalia and it's less nimble, of course, and more ponderous. You have to change down gears when hitting even the slightest hill on a motorway or A-road, and that's when you really notice the performance — or lack thereof — from this 108bhp pure-petrol version.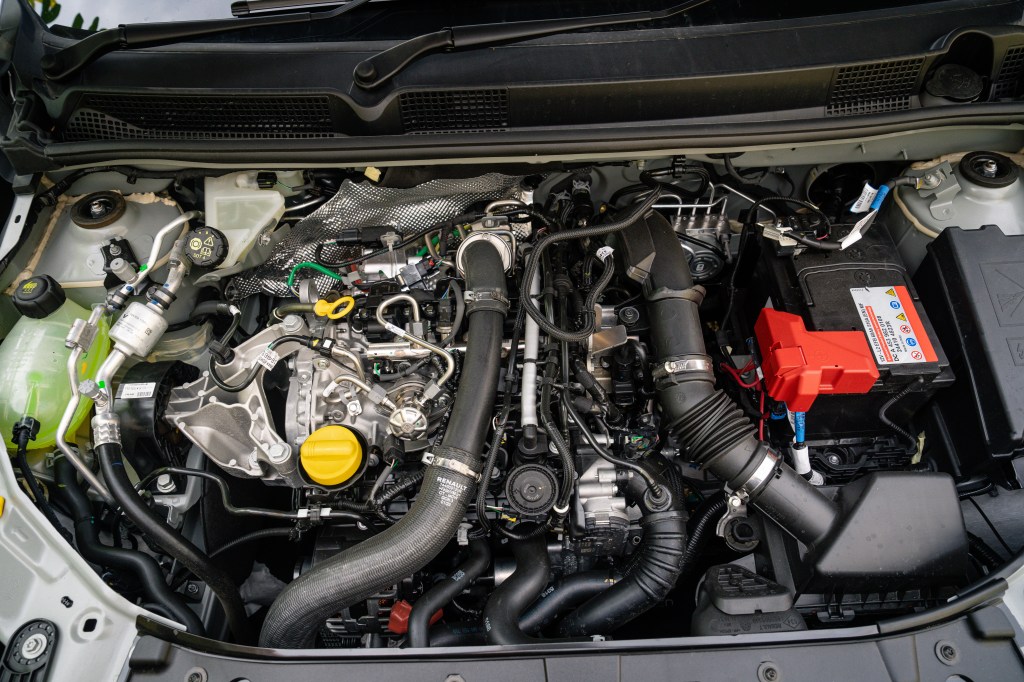 It's no wonder Dacia has now launched a full hybrid model with 138bhp, and the benefit of electrical assistance. I haven't tried that version and in his review for Driving.co.uk, Dave Humphreys described the performance as "modest", but I guarantee it'll feel like a better option to drive. It's more economical, too, with Dave finding it managed 58mpg — I'm only getting just over 39mpg from this less powerful version.
Mind you, the Jogger Hybrid in Expression trim costs from £22,995 — a premium of £3,500 over the TCe 110 — so you will need to do some maths to see which one works out cheaper over time, depending on your mileage.
Either way, it's a vast contrast to my 138bhp 2009 Chrysler Sebring 2.0CRD — that manages less than 30mpg despite being a diesel, and whereas the Chrysler needs a couple of fill-ups a week the Dacia only needs to be filled once, at a cost (currently) of under £70 for a full tank. That's progress.
A couple of things have been mildly irritating, though. For one, there is nowhere suitable on the dashboard to attach a phone holder. I was given another version of the 110 for a short time before this car was delivered and it had a slightly higher spec that came with its own phone holder attached to the side of the display screen. It was excellent, and in the perfect position. The car I have now doesn't have that, and I miss it — the only option is to use a sucker mount holder and I'm not a big fan of those.
What about the built in sat nav and CarPlay/Android Auto you ask? Well, there is a sat nav built in with the car but having used it twice and not liked it, I have not used it again since. And the Carplay… I'll hold off giving my opinion on this as I've had trouble getting it to work. It connects but then disconnects after a few minutes. I bought a more expensive car charger that made no difference but I have now learnt that there are chargers specifically for CarPlay so I will purchase one of those and hopefully that will sort it before I have a rant. It could be user error, as they say.
I'm also not a fan of the electronic handbrake, but I'll come onto that next time as it needs a fuller explanation than I have time for here. I'll also talk a bit more about the practicalities of the Jogger when you have four children, and some of the other tech features included on the Expression model.
Current mileage: 1,894
Miles to date: 1,311
Average economy (indicated): 39.1mpg
If you want to ask Misty a question about the Dacia Jogger, enter a comment below. She'll aim to post updates monthly so bookmark this page if you'd like to follow her progress.
August 8, 2023: Tech pros and woes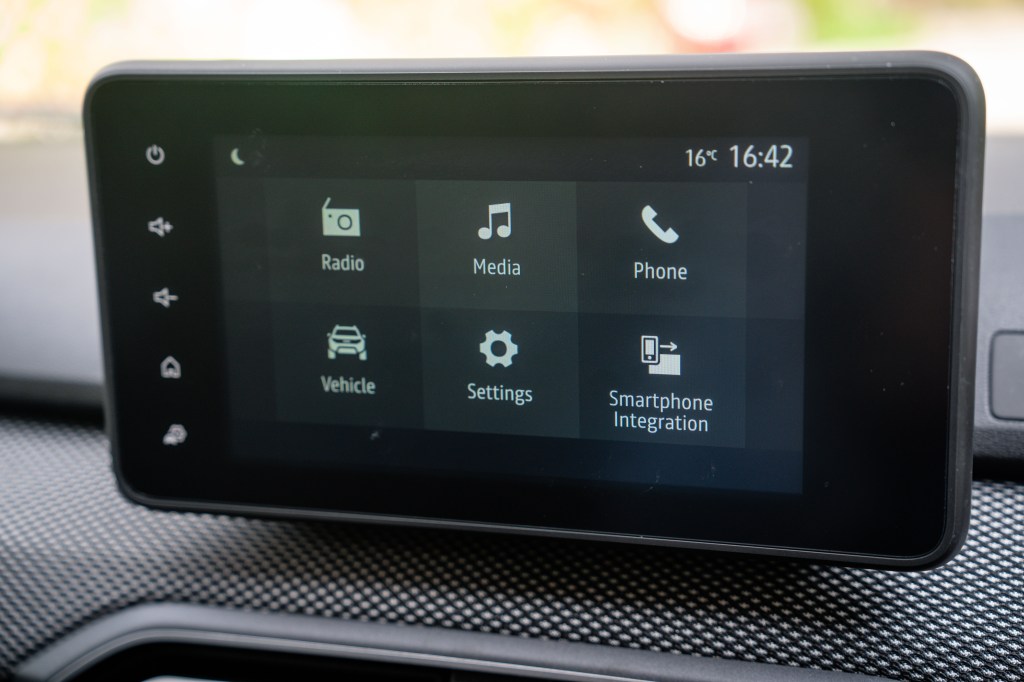 Before I get onto some details on the Jogger's technology, I wanted to mention that the interior space continues to be a blessing for us. There's generous leg room in both back rows and the seats are comfortable enough, and although I initially thought having to collapse the back seats would be a faff any time I had shopping or needed space in the boot, the levers are easy to use and I don't mind it at all.
I would say, however: do not let children collapse the seats themselves as it would be easy to pinch little fingers in the mechanism.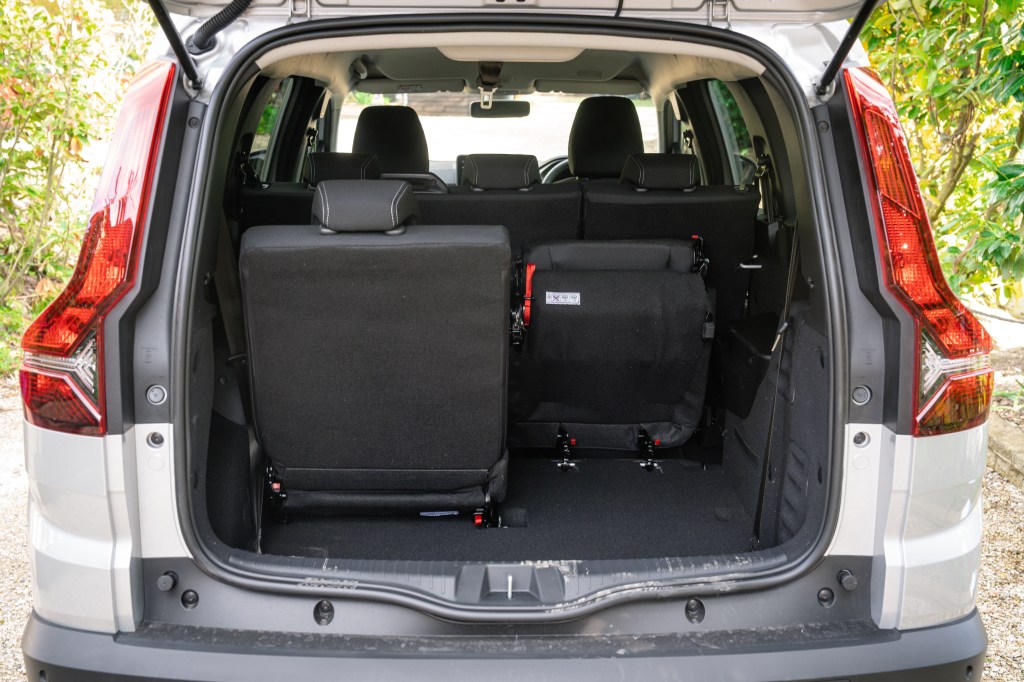 Now, the tech. First off, I am not a fan — or particularly trusting of — the electronic handbrake. It is loud, jolty a lot of the time and when waiting to pull out at a junction on a hill, if I'm slightly leisurely about it the handbrake will come off before I've found the biting point. Looking this up online I found some other have had the same issue, and they advised it is wise to hold up the handbrake button to avoid the car rolling back. So it's possible to prevent the issue but it was alarming at first, and not ideal.
That wasn't the end of my handbrake woes, though. One morning it decided to throw a tantrum, causing my kids to be late to school. We got in and went to drive off but the handbrake would not disengage and I couldn't manually turn it off. I turned the car off and then started up again several times to no avail, so tried switching off and then moving the key away from the car until it locked itself before coming back and starting up again. I tried this numerous times over 10 minutes, not knowing what else I could do and just hoped. Finally it decided to behave and we could get on our way, but it was frustrating and a concern. Thankfully it has not happened again.
On the plus side, I LOVE the reversing camera. This is the first car I've driven with one and it is awesome, expanding your range of vision significantly. If it is raining, though, the positioning of the lens means it collects water droplets, which impedes its vision significantly.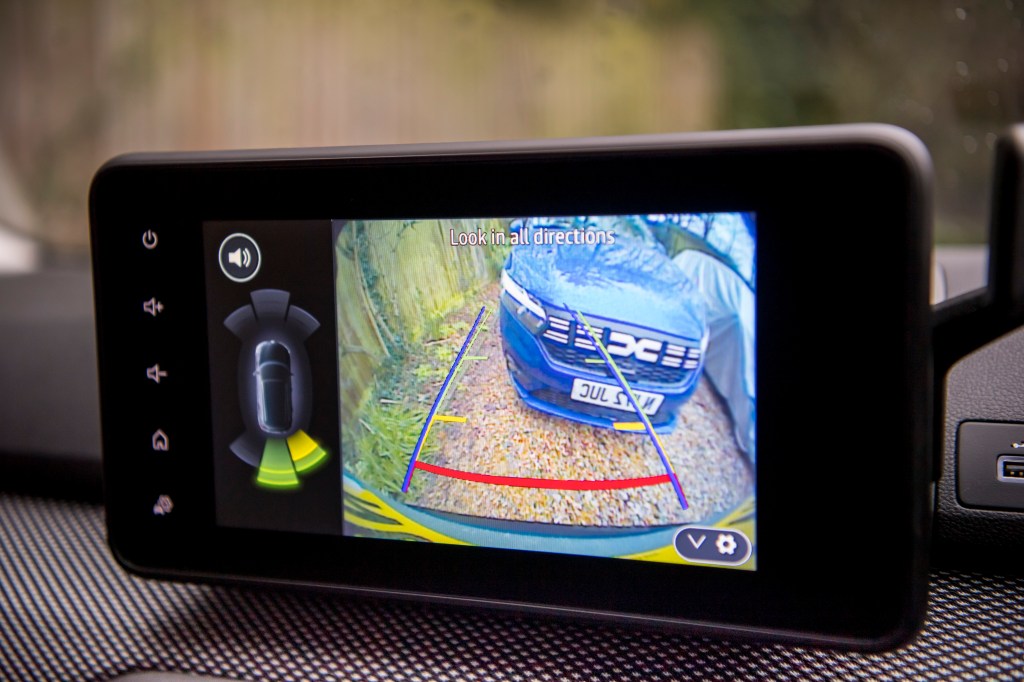 And that can be an issue because, although I of course look over my shoulders and in the mirrors, all around the car, I do find the narrow, highly-placed rear window creates blind spots. You need to be very alert in case of small children or animals around the rear of the car, and so the camera and sensors are a great tool for safety.
It's also a joy having DAB radio, and a change from my Sebring which is only being able to pick up two or three stations around here. The joy is dampened, though, by the quality of the speakers. We love turning up the music and having a good sing-along usually, but not so much in the Jogger — anything louder than a moderate volume is very tinny and starts sounding distorted.
Also, I've given up on Apple CarPlay. I've tried several things to get the touchscreen to work with my phone but it keeps dropping out, so I have bought a phone holder and just connect via Bluetooth. I'm going to try one more cable but am not holding out much hope.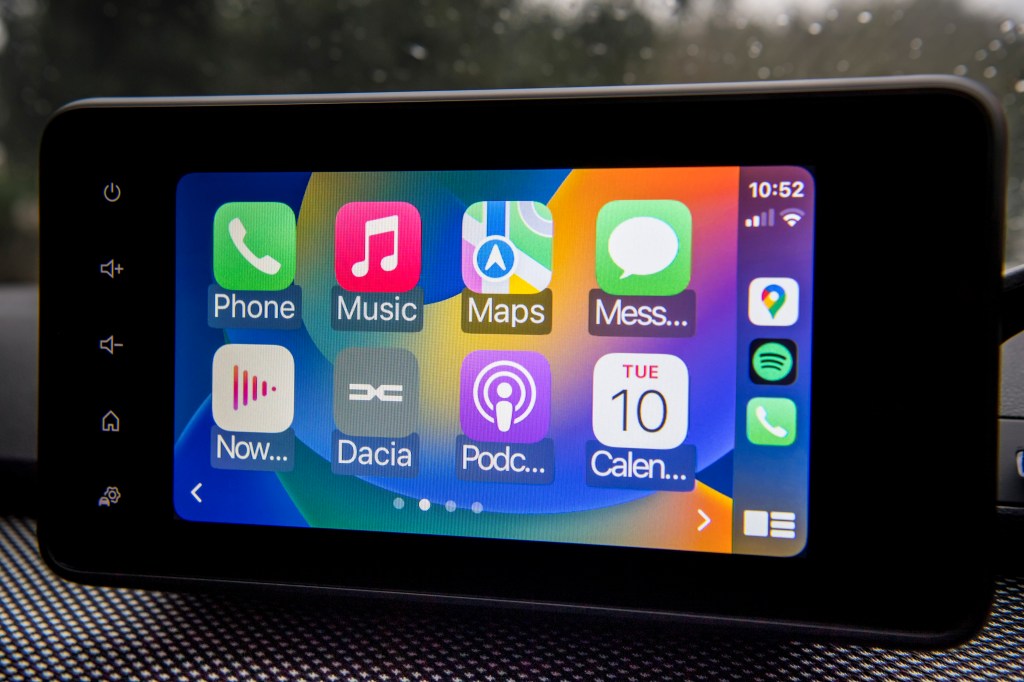 One final word on a gripe: the gearbox is fine usually, although sometimes doesn't disengage from reverse when trying to then engage first. When misbehaving I have to put my foot fully on the clutch, slide into neutral and then lift off the clutch, before press it down again, allowing me to slide the gearlever into first.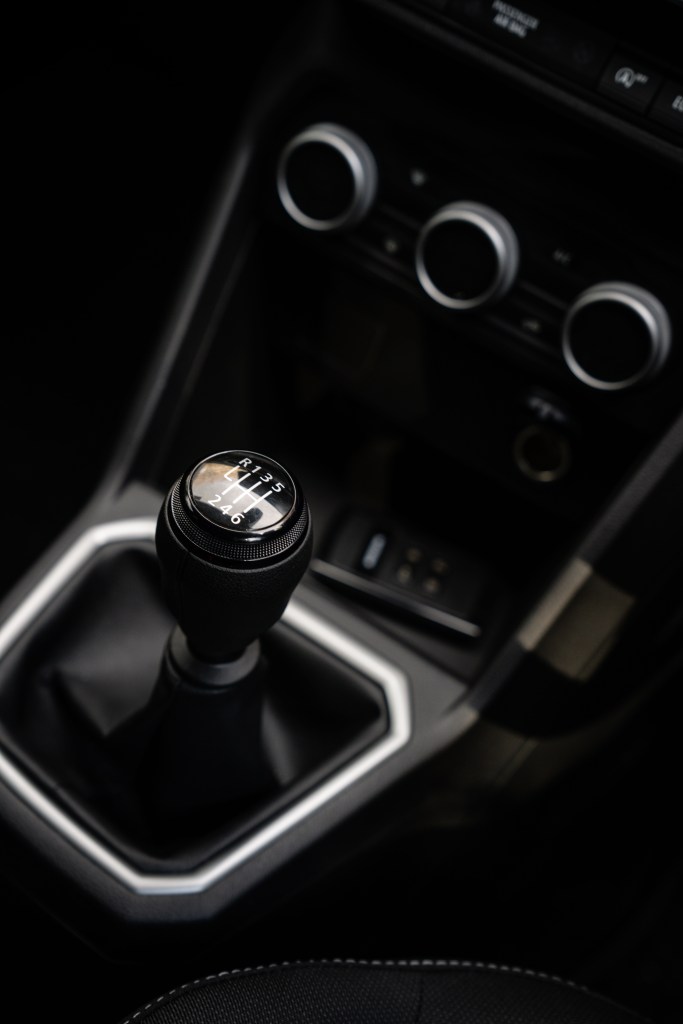 I've been told that this is called "double declutching", and was thought to have been banished from modern cars years ago. It's yet another reason to buy the hybrid version, I reckon — with its automatic transmission you'd have no such issues.
Which all sounds pretty bad but in truth I've still been enjoying the Jogger and its eccentricities. The old adage "You get what you pay for" is in my mind fairly regularly, and as a way to get my kids and I around it's still very hard to beat for the money.
Current mileage: 3,370
Miles to date: 2,787
Average economy (indicated): 37.9mpg
If you want to ask Misty a question about the Dacia Jogger, enter a comment below. She'll aim to post updates monthly so bookmark this page if you'd like to follow her progress.
Related articles
Latest articles