Extended test: Renault Zoe electric car
Is it time to go fully electric?
The Driving team has been testing the three types of car with electric power: a Toyota Auris Touring (hybrid), a Volkswagen Golf GTE (plug-in hybrid) and a Renault Zoe (pure-electric, below). Which will prove the most practical solution during the winter months for three full-time workers with young families?
---
Specifications
Model 2017 Renault Zoe Dynamique Nav R90 Z.E.40
Motor R90 electric motor (5AGEN3 synchronous with rotor coil)
Power 91bhp @ 3,000-11,300rpm
Torque 162 lb ft @ 250-2,500rpm
Top speed 84mph
0-62mph 13.5sec
Battery 41kWh, 400v Lithium ion
Range (NEDC lab test) 250 miles
Range (Renault real-world estimates) 186 miles temperate, 124 miles winter
Charging time 15hrs @ 3kW; 7hrs 30min @ 7kW (e.g. home wallbox); 2hrs 40min @ 22kW (on-street fast charge); 1hr 40min to 80% full @ 43kW (motorway rapid charge)
Road tax Exempt
Benefit in kind tax 9%; £508 or £1,016 (2017/2018; 20% or 40% tax payer)
Price after PiCG £18,170 plus £59-110/month battery rental (or £23,770 to own the battery)
Price after PiCG with options £19,495 plus £59-110/month battery rental
Options fitted Heated front seats (£250); Renault i.d Zircon Blue metallic paint (£650); Rear view camera (£250); Blue interior touch pack (£175)
Test details
Test period October 17, 2017 to March 17, 2018
Starting mileage 1,993 miles
Updates
---
Browse NEW or USED cars for sale
---
November 15, 2017: A shaky start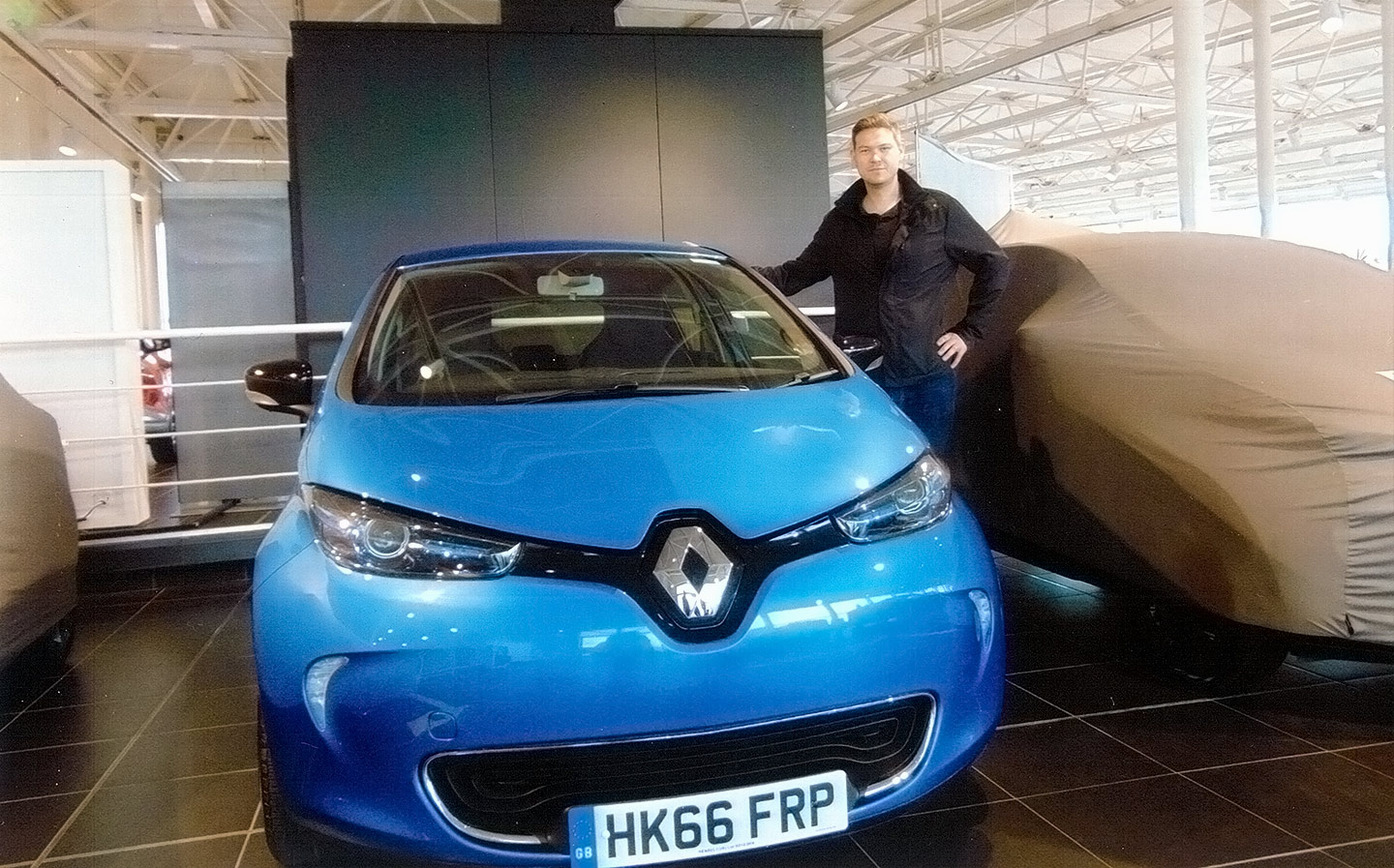 The future is electric, so they say. In truth, I've believed this for years and freely admit to loving all things four-wheeled, regardless of what powers them, as long as they're fun. I also know my way around an electric car, having written about many, many of them in an earlier life (pre-Sunday Times).
The Zoe is no stranger, of course. The first model launched in 2013 with a 22kWh battery and an official range of 130 miles, which was pretty good at the time. It was a favourite EV at the time, with cuter looks than the Nissan Leaf and more engaging handling. The latest Zoe, which arrived at the end of last year, is equally as cute but with greatly increased range — officially 250 miles but Renault says in the real world, 186 miles is more likely in temperate weather. It also now has a "Chameleon" onboard charger, which means it charges faster and smarter. I was very much looking forward to seeing how else she had grown up over the last four years, and indeed, how a pure-electric supermini copes with winter temperatures and my family.
And it all started so well: my introduction to the Zoe at Renault London West flagship was fantastic. They gave me the full customer treatment, pulling the wraps off the car, giving me a full tour of its ins and outs, taking a snap of me with it, which is printed there and then and presented in a smart "Thank you" sleeve, and handing me a Renault-branded cake (this is standard for new car buyers, I was told), before I merrily went on my way. The whole process makes you feel like you've just made the best decision ever, which is what you want when you've just handed over the best part for £20,000 (plus £59 per month to rent the battery), of course.
A couple of quality issues began to present themselves early on, though. The first was in the dealership, when the SD card containing UK & Ireland mapping for the sat nav system wouldn't stay in the card reader, below the screen. A mechanic from the service department was summoned to sort it out, and it was quickly resolved.
Later, when removing a dash cam plug from the 12V socket, the housing came away from the centre console; I carefully pushed it back inside, being sure not to break off any wires.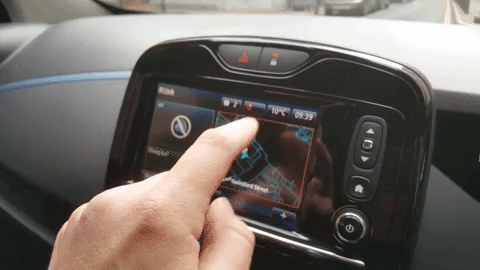 Then, a couple of weeks ago, the touchscreen stopped responding. At the same time, I noticed the Z.E. mobile app stopped showing me the battery charge level while it was charging, and the digital instrument binnacle didn't switch off at night, while the car was locked outside my house. It's likely all three things were related.
Renault took it back for repairs and reset the system, and all is well with the electronics now. The 12V socket seems to have been fixed, too. I have no doubt the worst of the gremlins are behind me and I can enjoy driving the car, but of course, I'll not shy away from reporting on all the details, good or bad. Which, next time, will be the main topic: favourite features and niggling irritations.
The good news is I managed some pretty impressive eco driving over the first hundred miles and then again for the next hundred, managing 4.8mpkWh, or miles per kilowatt-hour (think of miles per gallon, in old money). I'm getting less than that more recently, which may be down to the recent temperature drop or the fact that I'm trying less hard to hypermile, having settled into a more normal style of driving, but it's still around 4mpkWh or more.
I'll go into costs of electricity in more detail in a later update, but the Energy Savings Trust states the average price per kWh of electricity in England, Wales and Scotland is 14.37p, meaning if I were charging at home (I'm not — again, more later), each mile would be costing me less than 3.6p. If I were in a petrol-powered Renault Clio Dynamique Nav 1.2 16V 75, paying 120.5p per litre (today's UK average price), it'd cost me 11.4p per mile. No wonder electric car drivers are thought to be smug.
Mileage today 2,605 miles
Distance since start 612 miles
Average consumption 4.3 m/kWh
Update: As pointed out in the comments, there is also a monthly battery rental fee to factor into running costs (unless you buy the car outright). I'll go into costs in more detail soon.
Want to ask a question? Contact me via Twitter:
December 11, 2017: Look and feel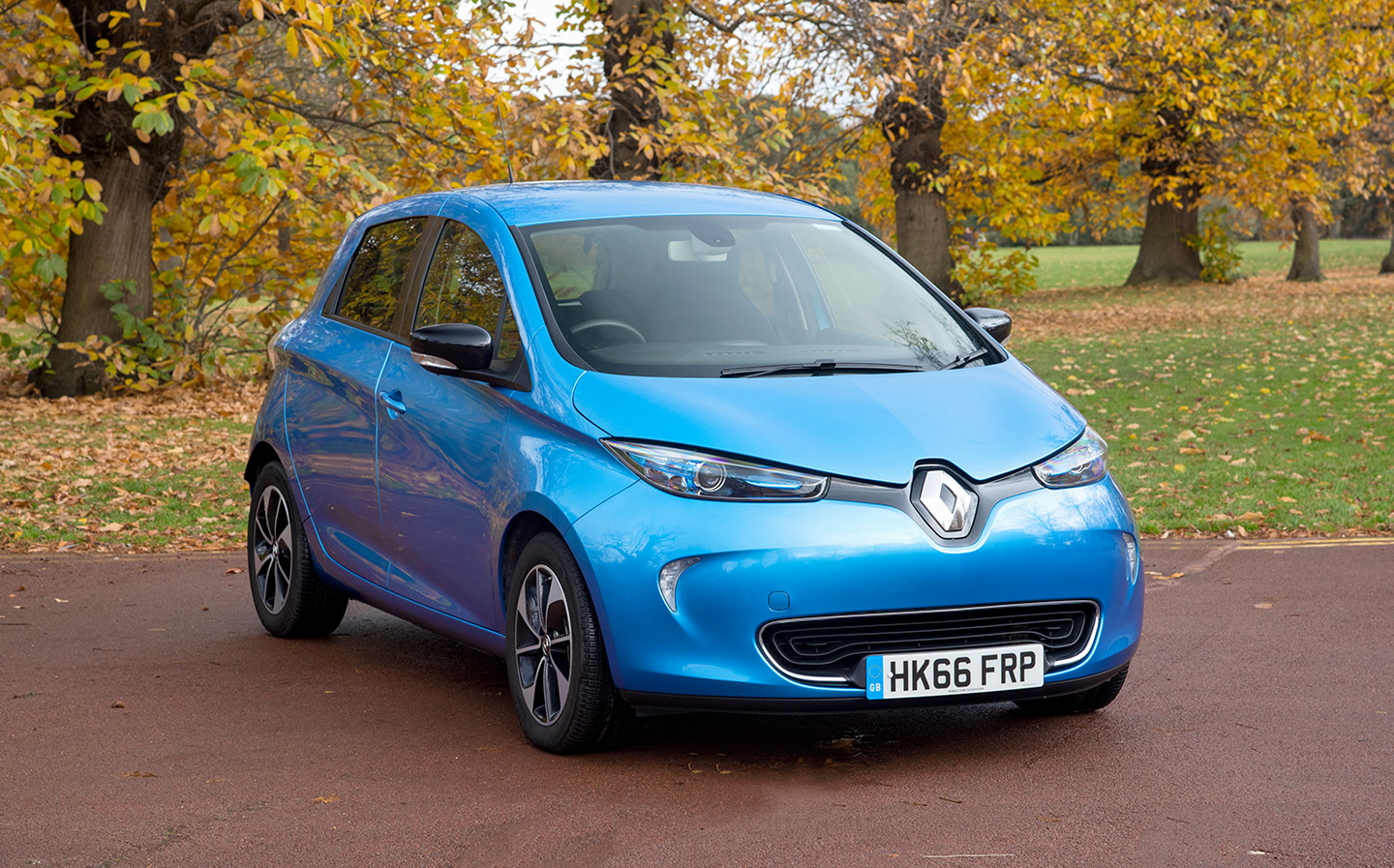 You'll be pleased to read that the Zoe has been absolutely trouble-free since my last update. In fact, it's been a pleasure to live with and it's a delight to drive, too. I think it's fair to say the the Zoe doesn't give me what Clarkson calls "The Fizz" every time I get behind the wheel. He also reserves the term "priapic" for certain really exciting cars. There's not a bit of that with the Zoe, but it would be wrong to say I haven't developed a fondness for the little guy.
For starters, the shape of the car is sensational. I really, really like its rounded, teardrop-like front end with the front edge of the bonnet jutting just slightly over the narrow headlights, giving the Zoe's face a stern look. This is exaggerated by the gaping air intake and LED dimples make the car appear to be shouting, "Hey, get out of the way." The first Zoe was a little too cutesy; this one is a bit more of a rebel.
It's good as you head round the back, too, with curved lines running along the doors to a particularly attractive pair of light clusters, above which is a C-pillar that appears to have been pinched forward, giving the car a look of speed. Honestly, I love walking out to the Zoe every morning — it just looks fabulous. There are some major practicality issues with the design, however, that I'll get into at a later date, but to look at? Stunning.
Inside, it's not quite the same story. It's certainly not ugly, and there are some nice touches, such as the smart-looking (and comfortable) all-in-one seat and headrest, glossy black touchscreen surround, and blue detailing on the dashboard, and around the speakers and drive select lever. But frankly, it's still a bit dull. While Tesla is making electric cars with interiors that make you think, "Bloody hell, I'm in the future," Renault is going down the "If it ain't broke, don't fix it" route.
And if you're used to Renault switchgear, you'll find it all very familiar inside the Zoe. If you're not, you'll wonder why on Earth the stereo controls are on a stalk behind the steering wheel, rather than on the wheel itself, and what the "R" and "O" buttons that are on the wheel are supposed to mean (reset and off for the cruise control, as it happens).
Curiously, Renault has decided to give the Zoe a manual handbrake rather than an electronic parking brake; it's what customers wanted, I was told. It's an odd move, though, given how most new cars have gone the other way and chosen electronic parking brakes, for convenience and space saving; for the Zoe, it's almost a backward move. And on an automatic or electric car, a physical handbrake makes even less sense, given they're not needed for a hill start.
Don't get me wrong, I like a proper, old school handbrake as much as the next car enthusiast, but it's not important for the Zoe to have one and, worse still, it takes up valuable space between the front seats. So much so that the cupholders take cans but my reusable plastic coffee cup for the morning commute doesn't fit in there properly with the handbrake down. Fortunately, there's a cup holder for the rear passengers further back, behind the handbrake in the centre console, which I use instead.
You might think this is a minor consideration but it just makes you wonder why Renault didn't spend a bit more time thinking about this sort of thing, which is a matter of customer convenience and I'm reminded about every time I get into the car.
Also ridiculous is the tiny glovebox, so small that even the car's manual doesn't fit. This is because in converting to right-hand-drive, Renault didn't bother switching over the position of the fusebox, so it takes up half the glovebox space in the UK version. This is common to many Renault models, and it drives me crazy.
Out on the road, though, the Zoe is a joy. Thanks to it having maximum torque (twisting force) from zero revs and no gears to shift through, it has smooth, rapid acceleration and will beat just about everything away from the lights, including many motorcyclists. Over about 40mph, petrol and diesel cars will begin to catch the Zoe again but by then you've got road position, and proved a point to electric car naysayers.
To say the Zoe doesn't have body roll would be a lie, but it does feel remarkably stable and sorted for a car with such a short wheelbase. It doesn't feel as light and nippy through the corners as a Fiesta with a small Ecoboost engine (the Zoe is more than 200kg heavier) but it does have a spot on amount of suspension travel with well-judged firmness and shock damping. Combined with a nicely-weighted steering feel and the responsive accelerator, it is a fun car to drive, if you want to have fun.
There is a slight lack of zing over a petrol equivalent, though. In an three-cylinder turbocharged petrol car the engine thrums away in the background and it feels like there's a bit of drama to proceedings. There's not much of that with the Zoe. It's quick, it's responsive, but it isn't entirely thrilling. Whether you really want that from a car is another question — I suspect most people don't — and I feel that I get more satisfaction from driving a car that is saving me money in fuel and isn't emitting pollutants into the atmosphere every time I hit the road. It's a good trade-off, I think.
Mileage today 3,363 miles
Distance since start 1,370 miles
Distance last update 758 miles
Average consumption since last update 4.0 m/kWh
Want to ask a question? Contact me via Twitter:
January 12, 2018: Cold war — what happens to range in winter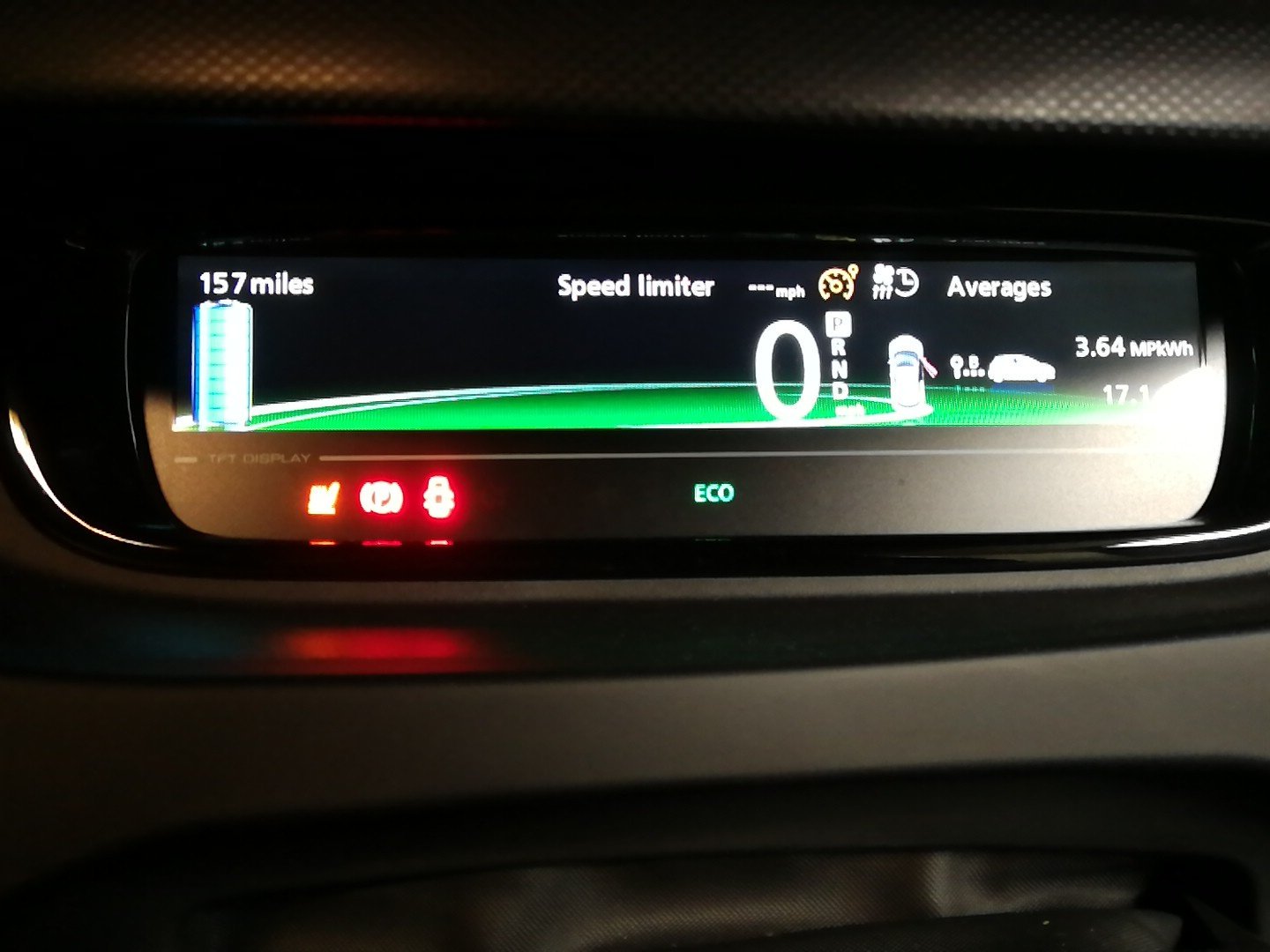 During the cold snap before Christmas, an esteemed journalist from a well-known weekly car magazine tweeted a picture of his Zoe's estimated range at full charge. His two-year-old model, which he and his wife bought on a PCP finance deal (no, it isn't a test car on loan from a manufacturer, like mine), showed just 47 miles of range before he'd need to plug in again.
Before you start panicking, it's important to note that his Zoe is the previous generation model to the one tested here, and in normal temperatures he'd normally be getting only around 100 miles out of it. But still, that means after two years, in cold weather he's only getting 50% of the car's original range.
A full charge of my Z.E.40 R90, in temperate conditions, yields around 180 miles in the real world. On the same, cold day in December, my car was showing 157 miles, or 87% of the summer range. I sent a photo to the journalist. "The world is improving!" came the reply.
It suggests that the newer, bigger battery holds its charge better but I should point out a couple of things. Firstly, my Zoe is newer and the battery hasn't been through as many cycles as his, so is less tired. Secondly, the Zoe calculates estimated range based on the previous miles driven (I've asked Renault for the exact details), looking at speed, driving style, use of things like air conditioning (that draws a lot of power but in winter, with a lot of rain and condensation, air con is often essential to prevent windows from fogging) and things like elevation changes (going up a steep hill obviously uses more energy than rolling along a flat and level road). For all I know, the other journalist's wife may drive up and down the Pennines every day like Lewis Hamilton, with the air con turned up to 11.
I'm sure I've also been driving more spiritedly of late, now that I've got over the idea that I'll have to hypermile to avoid running out of juice (I've relaxed into normal driving style over time).
It's also important to say that my opposite number has blogged about his reduced winter range and claimed 50 miles is plenty for his wife's daily needs; anything extra is superfluous.
However, for some people this could be a very important consideration. If you live out in the sticks, finding yourself stranded in freezing weather could be very serious indeed. It pays to be aware that cold weather can significantly reduce how far you're able to travel per charge in an electric car.
There's another cold snap on the way so I'll be monitoring the range closely.
Getting some grumbles off my chest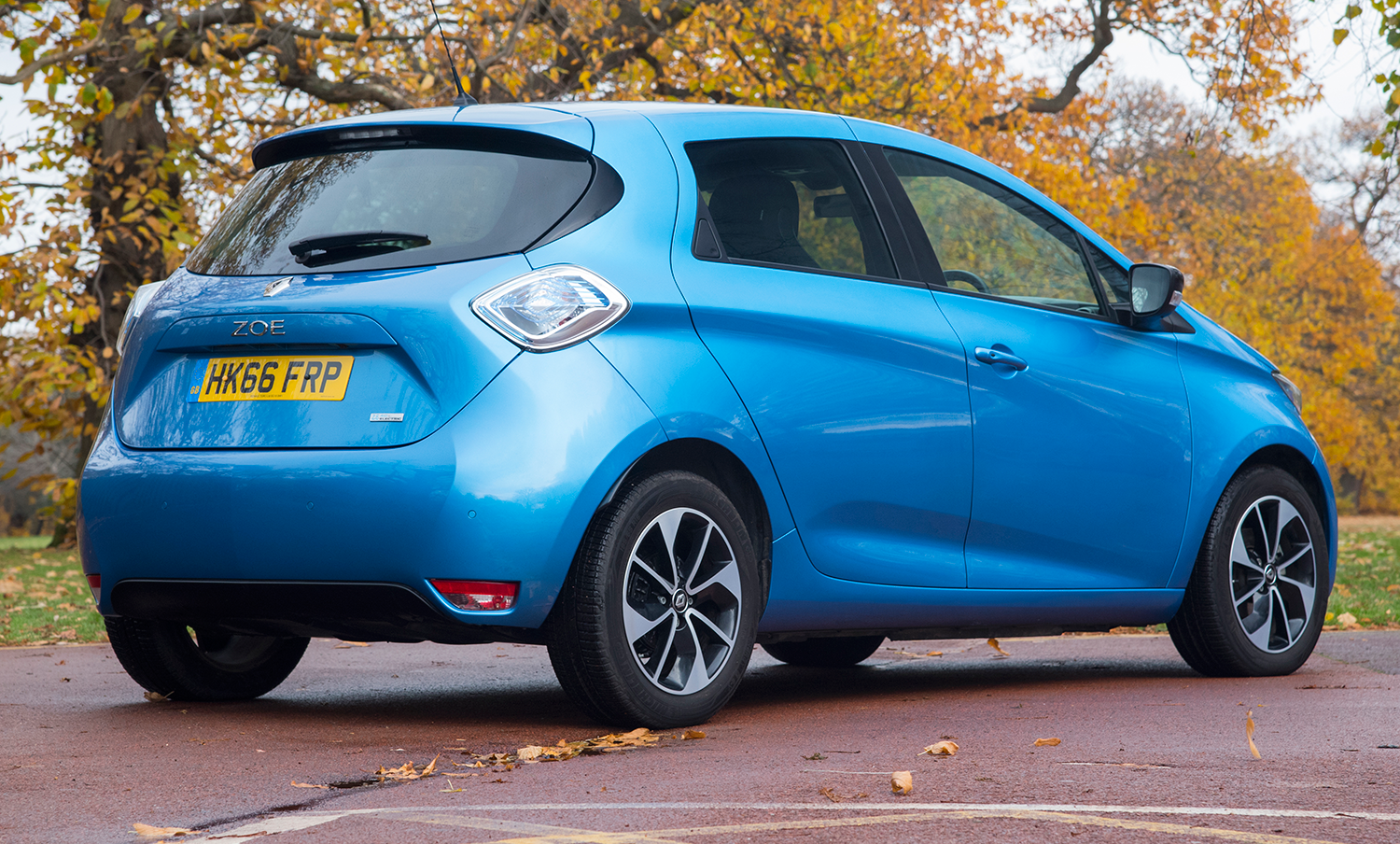 Two updates in a day? I know, I'm spoiling you, but I need to get a few things off my chest.
I'll tell you now, I love the Zoe. But I wouldn't be doing you any favours if I sugar-coated the ownership experience, so – ignoring the issue of range for the time being — here are some things that aren't so good about it.
It's the pointiest car I've ever driven. And I don't mean the handling. Because the doors don't sit recessed within a standard frame, but instead extend up and over the top of the roof, the top edge is sheet metal rather than rubber, as you might find on most other cars. What's more, the rear edges come to a point, making them quite sharp. This is a particularly problem on the rear doors and I have caught my should blade, which is at the same height, quite badly on two occasions while loading my kids into their child seats. I came close to catching my eye once, too. The boot lid also looks vicious, but is less likely to do you harm.
The USB socket is puny. Connect to Bluetooth and run a sat nav application on your phone and you'll drain its battery sharpish. The Zoe has one USB port and one 12V (cigarette lighter) socket. I use the latter for a dash cam so plugged my smartphone into the USB, only to find out that the battery was still draining, albeit a little slower. The solution was to buy a 12V adapter online; it features two 12V sockets and two USB ports, one fast and one "smart", for a slower trickle charge. Both USB sockets give my phone a net gain in battery charge while running my apps. Problem solved but it could have been easier; most other cars' USBs aren't as puny.
The cupholders are awkwardly located. I've talked about this in a previous post but it's worth including again here. If you have a re-usable plastic beverage cup, e.g. for the morning coffee, it may not fit easily in one of the two cupholders between the front seats, as the handbrake gets in the way. Mine doesn't sit in there happily, anyway. Instead I use the cupholder further back, meant for the rear passengers.
The seats are a little basic. Don't get me wrong; they're comfy. But on the Dynamique model, at least, there's no height adjustment and no lumber support.
The rear door handles will confuse the grandparents. My mother-in-law needed to be shown how to open the rear doors three times before she understood it properly. My father-in-law also stood beside the car, looking confused, until I pointed out how the handles work (you push in on the finger print then pull the flap). My wife worked it out quicker but struggled to operate them while simultaneously carrying a child. What's wrong with a grab handle, Renault?
The glovebox is tiny. Also mentioned above, in converting from left- to right-hand-drive Renault didn't bother moving the fuse box, which takes up half the space in the glovebox. It's too small even for the manual, which has to go in the door pocket.
The app is quite basic. The Renault ZE Services app shows current battery status, and allows you to schedule charging and set the air conditioning to come on while the car is charging (known as "pre-conditioning", this is a brilliant idea , as you're not using the battery to warm the cabin). It's a little basic compared to some apps from rival car makers, though, which include maps showing charging point locations and sometimes allow you to pre-set sat nav routes or locate your parked car, for example. The Tesla app even lets you lock or unlock the car, honk the horn and flash the headlights. It also allows you to change the pre-conditioning temperature and even "summon" the car, as they now include limited self-driving ability. A Tesla costs a fair bit more than a Zoe, mind you!
The charging point is on the nose. Not necessarily a bad thing for most charging points but some of the on-street public chargers are positioned centrally to the side of the parking bays, meaning the cable has to stretch around the front of the car. At one bay I stopped at, the cable wasn't long enough.
Mileage today 3,730 miles
Distance since start 1,737 miles
Distance since last update 758 miles
Average consumption since last update 3.8 m/kWh
Want to ask a question? Contact me via Twitter:
February 7, 2018: The M25 Motorway Challenge
Last week I attempted an entire loop of the M25 on a single charge of the Zoe. Renault estimates a range of 123 miles at 69mph in the Zoe Z.E.40 R90, which sounded like a stat that needed checking.
I chose the M25 as it's local to me, 117 miles all the way round, and there are plenty of Ecotricity rapid chargers at the services and just off the motorway at various points, if needed. I had no intention of running out of juice and declaring the Zoe a dud car; this was instead about getting a realistic feel for how far you can go at motorway speeds, if needed. And at some point, you will need to head onto a motorway or dual carriageway.
A number of things aside from speed can affect range, as mentioned above. The use of air conditioning is a big drain, for example, and running the stereo and lights will reduce range, too, although to a lesser degree.
Topography is a factor, as well – if you're having to drive up a lot of hills, obviously that requires more energy. Conversely, with the Zoe's regenerative braking I can also see the predicted range increasing as I head downhill, as it feeds power from the wheels back into the battery, but overall, hills negatively affect how far you can travel.
Then there's weather: extreme cold isn't good for the battery's chemistry and so the Zoe heats its pack to keep it operating within an ideal temperature range, which obviously requires energy. It also needs extra juice to keep the cabin warm when the mercury drops. And given that it's currently winter in the UK, and it was 3C when I left the house on the day of the M25 challenge, Renault's claim of 123 miles could have been a little optimistic.
My plan was to switch off air con, as most owners would do the same on such a trip, if possible, set the cruise control to 70mph and just stick as close to that speed as possible, heading clockwise around the M25 from Cobham Services. I used this as a start and end location because there are three Ecotricity Electric Highway rapid chargers to plug into, to ensure I was at max battery beforeI set off.
Of course, I encountered a few 50mph speed limit sections along the way, and ended up hitting a five-mile tailback between junctions 27 and 28 (there was a lorry fire), which delayed me by around 30mins and reduced my average speed significantly. But the vast majority of the total distance (116.4 miles on the trip computer) was at a steady 70mph (indicated), and it was a fairly typical motorway run overall.
The video above showed what happened, so I won't give you any spoilers here, but I was very impressed by the little Zoe's ability to eat up the miles at motorway speeds. I now have a very good idea of how far it can go and how simple it is to rapid charge if needed, which certainly helps build confidence.
Cost of ownership (part 1)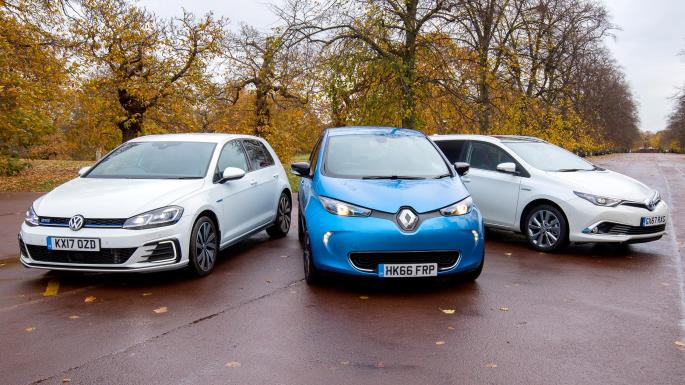 Just a quick note about another important matter before I sign off…
The Zoe appeared in the Sunday Times Money section a couple of weeks ago, comparing the costs of running it against a hybrid and a plug-in hybrid. Read the original article on the Times & Sunday Times website here, or find a version of it on driving.co.uk here.
The headline news is about depreciation – the decline in value of the Zoe over time – which is significant, it has to be said, and it's something you really must factor into your own calculations before investing in a Renault Zoe.
However, you should bear in mind that cost savings on fuel over time can vary – if you cover a lot of miles, the savings will be more significant. And if you drive into the London Congestion Charging Zone, that's a huge saving over a year, too. Then consider the varying savings that can be had on the list price, too, which vary from dealer to dealer. I'll do some sums on my own usage of the Zoe in a separate update before the car goes back to Renault in March.
Mileage today 4,689 miles
Distance since start 2,696 miles
Distance since last update 959 miles
Average consumption since last update Before M25 Challenge: 3.8 m/kWh / During the M25 Challenge: 3.3 m/kWh
Want to ask a question? Contact me via Twitter:
February 14, 2018: The Zoe's hottest feature? Its air conditioning system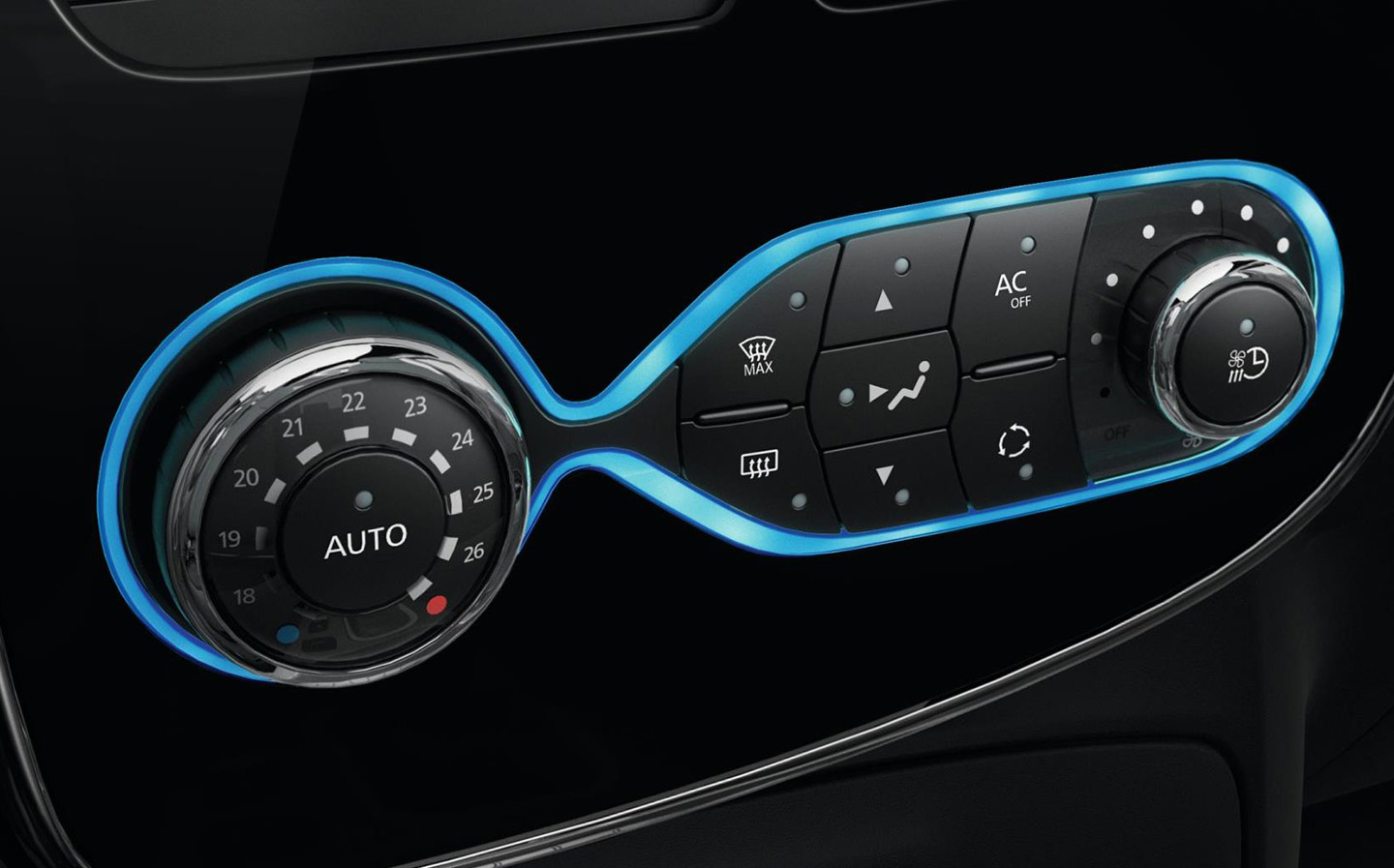 One of the biggest criticisms of pure-electric cars is range – how far you can travel before it runs out of juice. As far as small, affordable models go, the Zoe has reset the thinking on "range anxiety" to a large extent with a bigger, more efficient battery pack that I have found manages 180 miles easily on a mix of A-roads and city driving in temperatures around 10C. Even on motorways, the Renault manages a pretty impressive number of miles (see above).
When the temperature drops to freezing, though, EV range reduces. It's recently been -2C or -3C when I've left the house for my commute and the predicted range has been more like 150 to 160 miles. Renault estimates winter range at around 124 miles, but that seems to be way too pessimistic for those who live in the south of England.
There are a number of reasons for reduced range in winter. The chemicals in the battery don't like the cold, which inherently affects their performance. Most EVs these days regulate the pack's temperature to help improve performance and reduce battery fade over time, but this uses extra energy. In addition, the days are shorter so you need to use headlights more often, and the cabin requires more – and more powerful – heating, which uses energy.
Air conditioning, which is especially useful for reducing fogging of the windows when it rains, is traditionally a big drain on the battery. Four of five years ago I tested a Smart ElectricDrive, which included a range predictor that reacted immediately to changes in conditions; switch on A/C and the needle would move rather dramatically.
The new Zoe addresses this issue in a very smart way: it uses a heat pump similar to those used to heat the interiors of motorhomes. Renault says this is a world first for a production car but, of course, the system can now be found in the Leaf from sister-company Nissan (although Renault claims it's a cost option on rival cars, whereas it's standard on the Zoe.)
I'm no James May, so I won't try to explain the science of it in detail, but basically the pump compresses warm air from outside the car to make it even hotter while ejecting the cooler air from the cabin. Renault says the system uses three times less energy than a conventional A/C set-up.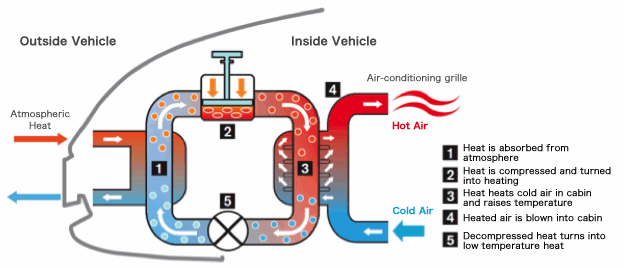 Impact on energy consumption aside, what I know for sure is that it is incredibly effective. In these sub-zero temperature the cabin heats up very quickly indeed and windows defrost much quick than for any other car I've driven to date.
Of course, if you're plugging in the Zoe at night you have the option to set a "pre-conditioning" timer so that the car is completely frost free when you come out to it in the morning, and all powered by your mains electricity supply rather than the car's battery.
Mileage today 4968 miles
Distance since start 2975 miles
Distance since last update 279 miles
Average consumption since last update 3.6 m/kWh
Want to ask a question? Contact me via Twitter:
March 23, 2018: The cost of electric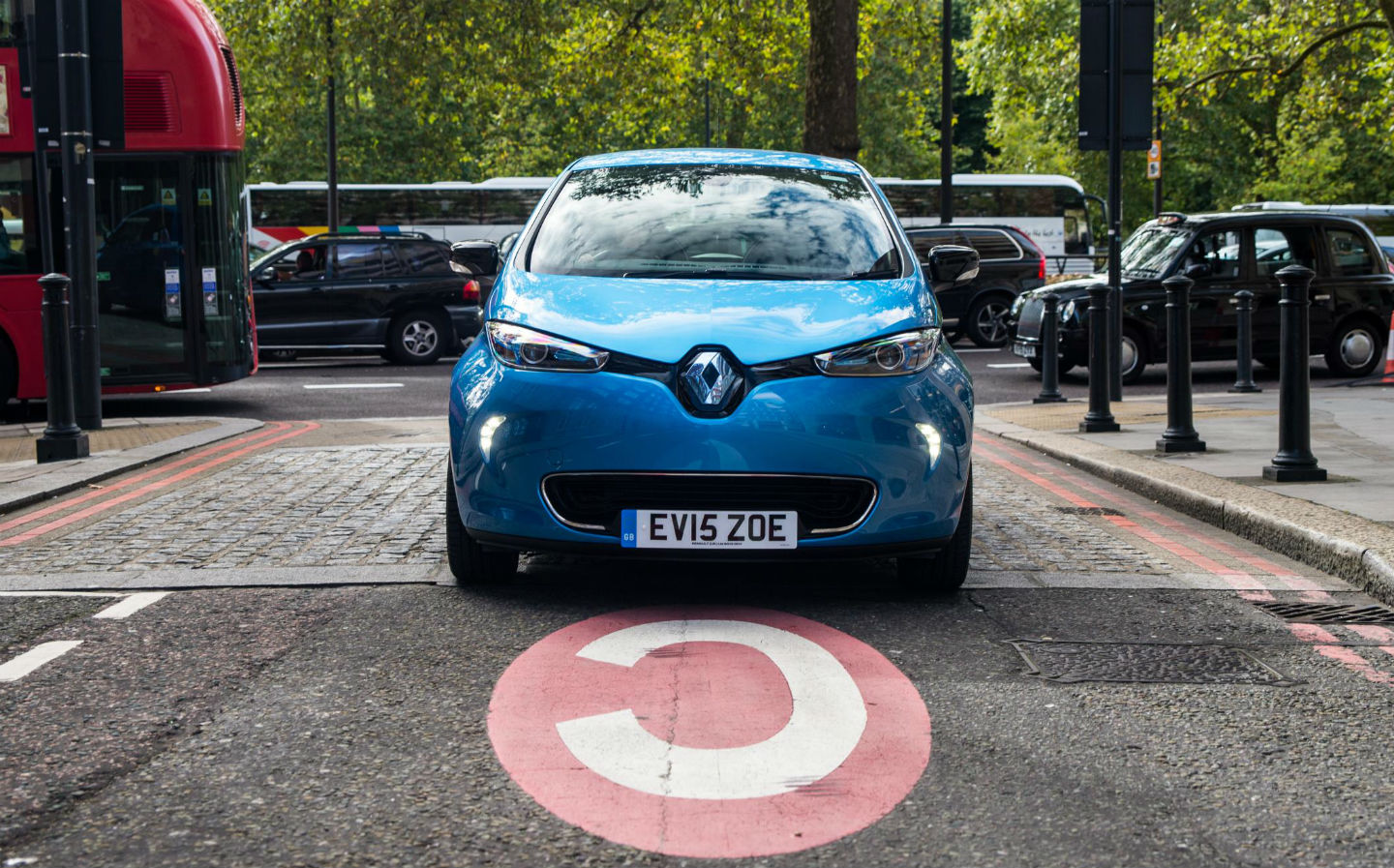 My time with the Zoe comes to an end next month, so we'd better have a look at ownership costs in a bit more detail.
As mentioned above, the Zoe appeared in the Sunday Times Money section at the beginning of the year, in a three-way comparison against a plug-in hybrid (Golf GTE) and mild hybrid (Toyota Auris Hybrid Touring).
The Golf came out on top for cost of ownership over three years and 10,000 miles, when the authors factored in the retail price, tax, insurance, fuel, servicing and depreciation (the loss in overall value over time). The Zoe came second and the Toyota third.
But running costs are so dependent on specific circumstances. This is what it would be setting me back, as a buyer…
Price
The 2017 Renault Zoe Dynamique Nav R90 Z.E.40, with options as tested here, costs £19,495 plus battery rental.
Let's look at finance. Renault now sells a R110 version of the car so I can't see what deal they'd have done for me last October but if I had put down £5,000 of my own money and borrowed £14,495 from a bank, I can see I'd get the loan from Clydesdale Bank at 2.8% APR for a monthly cost of £420.
If you want to go for a PCP finance deal, which allows you to pay for the chunk of the car's value that is lost to depreciation, rather than the whole thing, it would make the monthly payments cheaper, of course, but the Renault website is Glitch Central and the PCP calculator is currently unavailable.
Now, battery hire: I've done 5,860 miles since the car was delivered on October 17 so I think I can assume I'd need to pay the "up to 10,500 miles per year" price for the Z.E.40 battery, which is £99 per month. (If you want unlimited mileage, it's an extra £11 per month).
Total monthly cost for the car and battery, then, is £519 per month.
Tax
As it's pure-electric, the Zoe is exempt from VED (road tax). By contrast, a diesel Clio would cost its owner £340 in road tax for the first three years.
It is also exempt from the London Congestion Charge, which would save £10.50 a day, if you enter the zone using Auto Pay (£11.50 is the standard fee).
The Zoe will also avoid any future emissions charges, such as the London T Charge and Ultra Low Emission Zone (ULEZ).
Insurance
The Money article says the insurance for a 40-year-old driver with a 10-year no-claims bonus would cost £1,540. I'm insured under a policy from Renault, so to get my own cost, I've had to get a quick quote from Confused.com.
Alarmingly, it values the Zoe at £8,650 – more than £10,000 less than the sticker price in October! It also means my insurance quote will be lower than it would have been had I done it on the day the car was delivered, but it's the best I can do, I'm afraid.
I won't go into my personal details but I'm mid-30s, park off-street and have zero no-claims. My comprehensive insurance application with a £250 excess would cost from £1,496 per year. Monthly instalments weren't available with this deal but it works out at £125 per month before interest.
Fuel
I have done 3,867 miles at an average of 3.8m/kWh, which means I've consumed 1,018kWh of electricity. I charge almost exclusively at a POLAR charging point at a public car park in London, near my office.
POLAR charges at £7.85 monthly charge, after a three month free period, so effectively £5.89 per month) plus 9p per kWh (even in the first three months). So, if I had only charged solely at this point (for simplicity, I'm ignoring a few charges elsewhere), it would have cost me £91.62 in electricity so far, plus £29.45 for POLAR membership over five months, or £24.21 per month.
Which is pretty astonishing, as fuel goes, for 773 miles per month… PetrolPrices.com says the average cost per litre of diesel yesterday was 122.5p, so if I had been getting 40mpg from a diesel car car, 773 miles would have cost £107.62.
On the other hand, if I'd only been charging at home, where my electricity tariff is 12.38p per kWh, I'd have paid £126 in fuel so far, or £25.20 per month. A cheaper tariff, such as one that is cheaper at night, while the car is charging, would almost certainly work out cheaper.
I cannot forget my annual charge for the car park, though: £2,790. Q-Park has a 50% discount for electric cars (which I'm not taking advantage of, incidentally), so the annual cost for the Zoe would be £1,395, or £116 per month.
Servicing
Nothing has gone wrong and it hasn't needed a service, of course. All I've had to do is top up with screen wash, which is a negligible cost.
We have looked into the cost over three years, though: fewer moving parts, no need for oil changes and less wear and tear on expensive items such as brakes means servicing should be cheap. As it's quite heavy, you may get through tyres slightly quicker, but this depends on how you drive it, of course. Renault says it should typically cost £193 for the first three years, against £399 for a diesel Clio.
Depreciation
This is pretty heinous for the Zoe. As stated in the Money article, bear in mind that if you try to sell your Zoe at the end of the three years, valuations experts CAP HPI reckon it is likely to fetch just £5,225, a fall of £18,545 (78%) from its cost price after the grant was applied; a reflection of the lack of demand for second-hand small pure electric cars. An equivalent Clio dCi 110 would lose a slightly more modest 65% of its original cost.
CAP HPI expect that over the next few years, as more new-generation electric vehicles with improved battery technology come onto the market, their levels of depreciation will improve.
Conclusion
Whether or not the Zoe makes sense financially is so specific to the buyer that making a black or white recommendation would be pointless. But for me personally, based on the above, I'd be looking at £519 per month for the car and battery, zero tax, upwards of £125 insurance, £24.21 for electricity, £116 per month for parking and £5 per month for servicing, which works out at £789.21 per month.
Take off the parking charge and it's much more reasonable but still, while I would pay a lot less in fuel and servicing for the Zoe, the high price of the car when new and the heavy depreciation mean that it's still quite costly.
It may make the deal sweeter for you when you take into account the fact that you're not pumping exhaust fumes into the lungs of cyclists and pedestrians, though.
And if you were to buy a Zoe after one, two or three years, you'd be picking it up at an absolute bargain price, swinging the deal massively in your favour.
Mileage today 5,860 miles
Distance since start 3,867 miles
Distance since last update 892 miles
Average consumption since last update5 m/kWh (includes sub-zero temperatures and two trips via motorway to Gatwick Airport from near Weybridge, Surrey)
Want to ask a question? Contact me via Twitter:
Tweet to @wdron Follow @wdron
May 3, 2018: Final report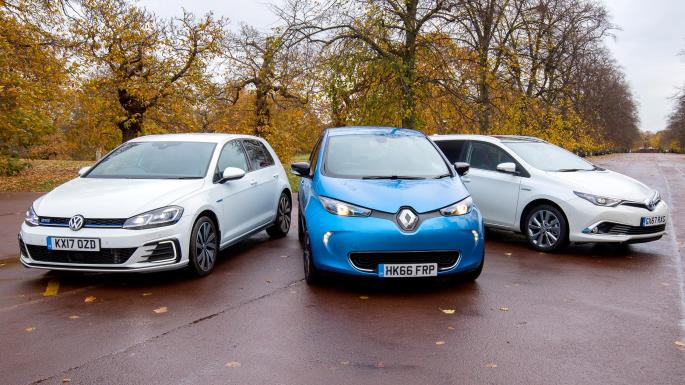 It's over. The Zoe has gone from my driveway (it was collected on April 16, in fact). And I'll admit, I do miss it.
This test set to find out which of three electrified cars would prove the most practical over the winter months for three full-time workers with young families. The pure-electric Zoe was up against a Toyota Auris Touring hybrid and a Volkswagen Golf GTE plug-in hybrid, both of which were run by my colleagues.
I'm now running a mild-hybrid SUV, so have a sense of what James Mills experienced with his Auris loan car. By comparison with the Zoe, the new car is slower to accelerate, less efficient and has a worse soundtrack, thanks to its CVT transmission (like automatic gears, but worse). I miss the nippy little Zoe, with its instant torque and relatively nimble handling.
Clearly the Golf GTE has that same kind of electric nippiness, as it can be run for around 30 miles on battery power alone, before the petrol engine kicks in. It also adds that extra confidence of a fuel tank, meaning that it's better-suited to long-distance trips that the Zoe; a petrol top-up takes minutes whereas when the Zoe R90 Z.E.40's battery is empty, you have to wait 1hr 40 mins to rapid charge it back up to 80%, and then longer still if you want to fill it.
Having said that, my trip around the M25 proved the Zoe is good for well over 100 miles at motorway speeds, even when the weather is cold, and in normal use I was getting about 160 miles out of it, between charges. That's absolutely loads for normal, day-to-day use. And no, I never ran out of juice.
The Zoe is also smaller than the other two cars tested, of course, so luggage capacity and interior space is more of an issue. However, I ran the Zoe with two child seats in the back pretty much all the time, and my kids could fit just fine, even when sitting behind my 6'5″ hulk (although I did need to slide my seat a couple of rungs forward).
And because I was running on battery power, family trips at weekend were cheaper in the Zoe, making it our car of choice. The Zoe was the obvious choice when heading into London, too, as there was no congestion charge to pay and zero emissions for the residents, cyclists and pedestrians to breathe in.
As explored above, the economics of buying a Renault Zoe new, at list price, might mean it doesn't make total financial sense, but as people in the comments have pointed out, there may be deals to be had, bringing costs down. It's a shame I can never get the Renault websites to work.
There's no denying the Zoe is a great-looking machine that's plenty fast enough, rides comfortably, handles well and has a surprisingly decent amount of interior space and, in the R90 Z.E.40 model, you have a really very usable amount of range in the battery. It's a car I'll be thinking very seriously about as a used buy in a couple of years.
Mileage on collection 6,548 miles
Total distance driven 4,555 miles
Distance since last update 687.1 miles
Average consumption since last update 3.9 m/kWh
Want to ask a question? Contact me via Twitter: