Extended test: 2017 Toyota Auris Hybrid Touring Sports
Living with a hybrid family car
The Driving team has been testing the three types of car with electric power: a Toyota Auris Touring (hybrid, below), a Volkswagen Golf GTE (plug-in hybrid) and a Renault Zoe (pure-electric). Which will prove the most practical solution during the winter months for three full-time workers with young families?
---
Specifications
Model 2017 Toyota Auris Hybrid Excel Touring Sports
Motor 1,798cc four-cylinder petrol
Power 91bhp @ 5,200rpm
Torque 105lb ft @ 4,000rpm
Electric motor power 80bhp (60kW)
Electric motor torque 153Ib ft
Maximum combined power 134bhp
Top speed (NEDC lab test) 112mph
0-62mph 0-62mph 13.5sec
Fuel consumption 70.6mpg
CO2 emissions 92g/km
Road tax£110 for first year; £130 a year for next five years
Benefit in kind tax 17%; £909 or £1,818 (2017/2018; 20% or 40% tax payer)
Price from £26,905
Price with options£28,950
Options fitted Leather seats (£950); Metallic paint – white pearl (£545); Panoramic roof (£550)
---
Test details
Test period November, 2017 to April, 2018
Starting mileage 1,374 miles
Updates
---
Browse NEW or USED cars for sale
---
November 29, 2017: Introducing the Auris Hybrid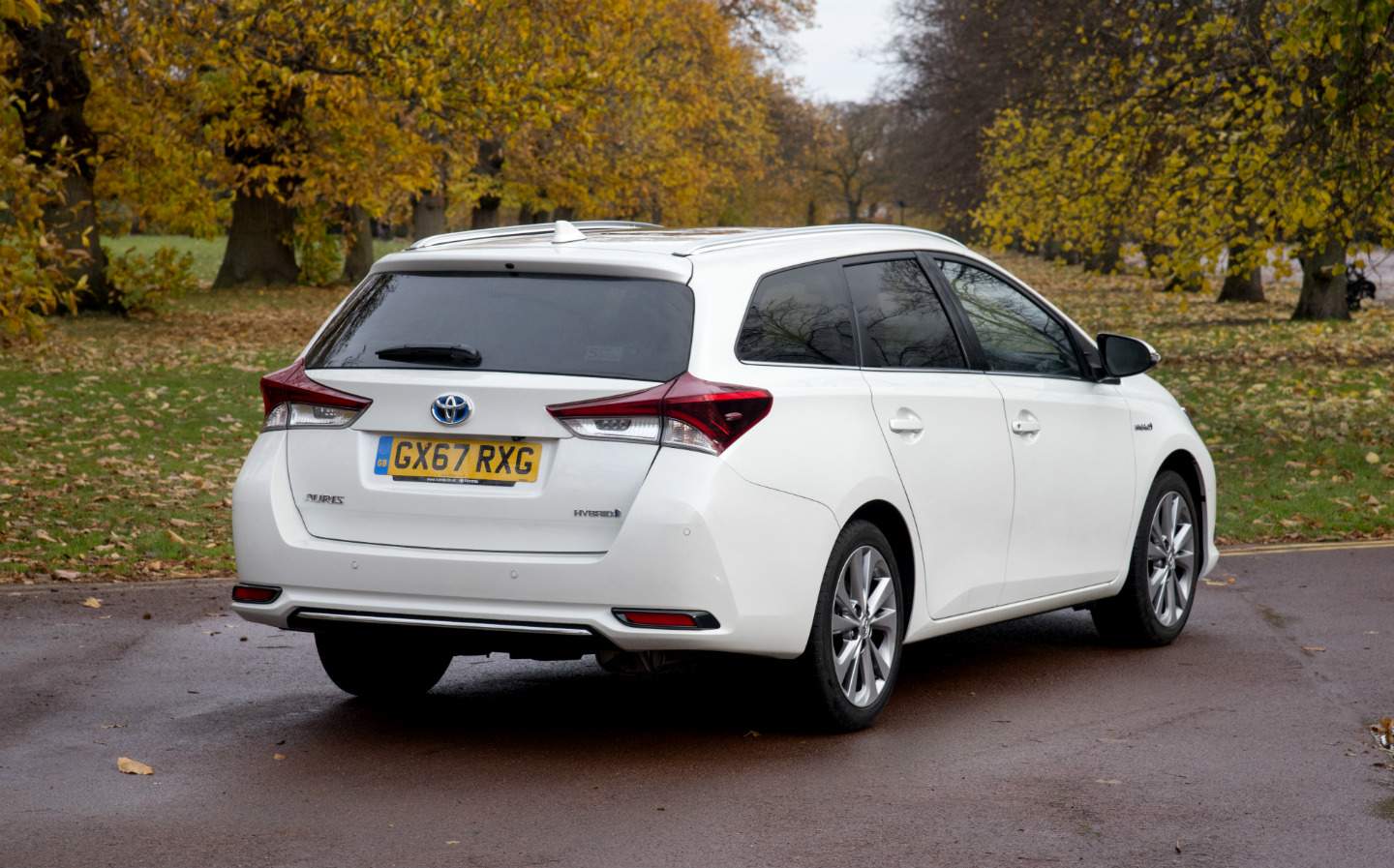 You know that feeling when a friend says, with a certain degree of smugness, "Hate to say I told you so"? Well, that friend is Toyota. And while it may seem hard to believe, it has been warning of the perils of diesel for two decades.
In 1997, Toyota launched the Prius. It was the first petrol-electric hybrid car to be built and sold in meaningful numbers. Then, 'meaningful' meant 1,000 a month.
Its mission was to persuade more motorists to adopt 'clean' hybrid technology. The company claimed that its emissions of hydrocarbons, carbon monoxide and nitrogen oxide were just 10% of the levels demanded by Japanese regulations. Its CO2 emissions were also said to be significantly reduced compared with conventional petrol cars.
The Japanese car maker waxed lyrical about its creation: "Engineers closed their eyes and imagined a car that would change everything. It would do less harm to the environment by significantly reducing noise and emissions, and would maximise fuel economy beyond that of most vehicles. Now Toyota has realised that vision and you can park the future in your driveway."
Today, my driveway has a Toyota Auris parked on it. It uses the same sort of hybrid powertrain that the Prius introduced, 20 years ago.
The original idea behind a 'green' hybrid system still stands today; namely, that it should be no different to driving a conventional car with an automatic gearbox.
That means it asks nothing different of the driver. So there's no need for anyone to get their hands dirty, and plug cables into power sockets at home or public charging points.
Instead, the car's petrol engine and electric motor work in harmony, and onboard technologies, such as regenerative braking, help keep the electric motor's battery charged at all times. All you have to do is fill it with petrol from time to time.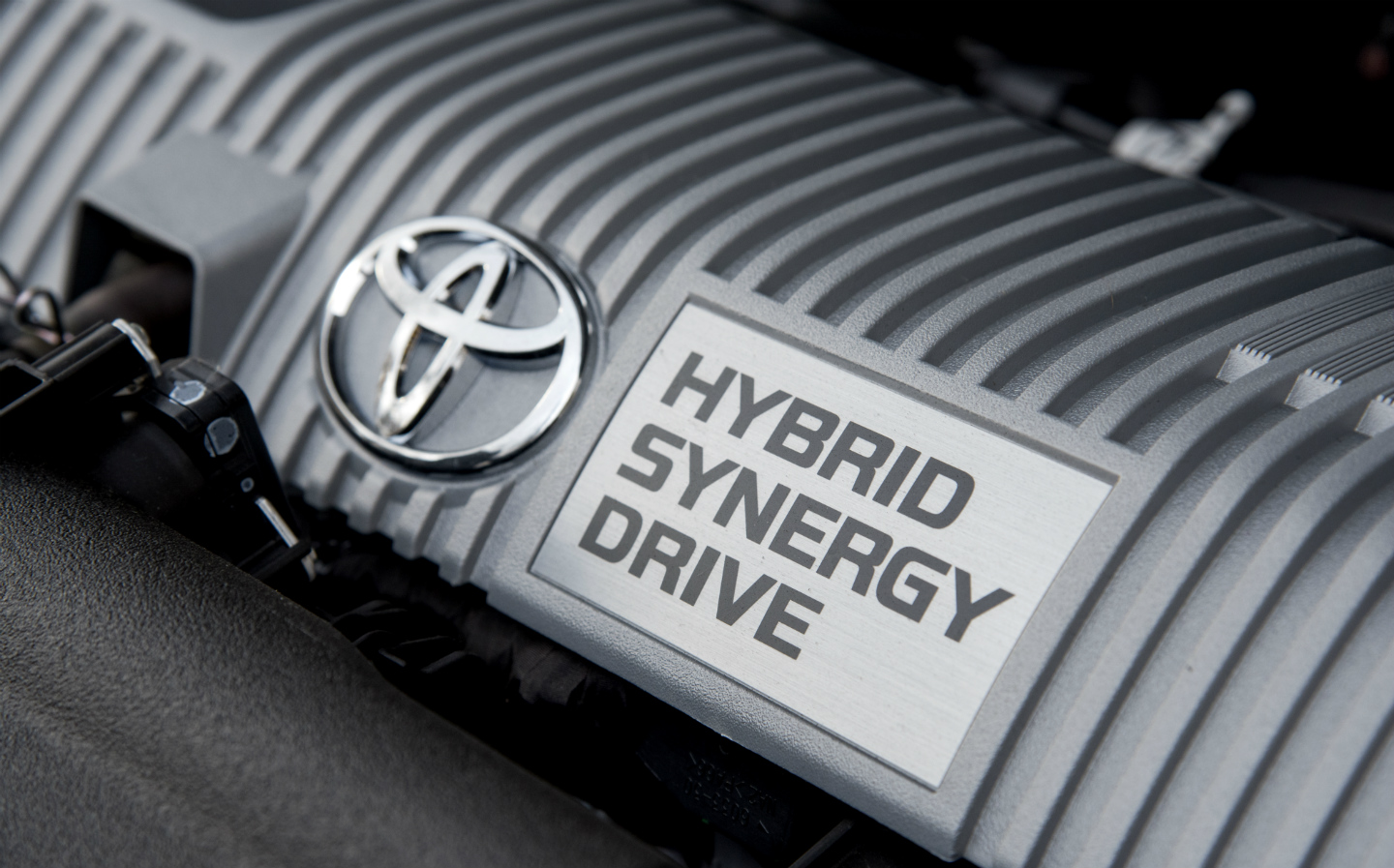 Because it isn't a diesel, it is increasingly seen as a socially acceptable everyday family car. And the road tax and company car tax are competitive. All of which partly explains why 10 million of drivers have bought a hybrid Toyota.
The leap from 12,000 sales in that first year, to more than 10 million today, suggests Toyota's engineers had the clearest glimpse of the future of any car company.
The Auris Hybrid Touring Sports is Toyota's equivalent to diesel-powered versions of the Ford Focus estate, Kia cee'd Sportswagon and Volkswagen Golf estate. It's built in Britain, at Toyota's plant in Burnaston, Derby, and costs from £22,085 with hybrid power.
This one on extended test comes in top-of-the-range Excel trim, which lifts the price to £26,905. With optional leather seats, metallic paint (white pearl) and a panoramic glass roof (which doesn't open) the cost ends up at £28,950. In its first year of road tax, this hybrid costs £110, then £130 a year for the following five.
The serious savings start if you're a company car driver. This Auris Hybrid attracts benefit in kind tax of 17%, versus 25% for the broadly equivalent VW Golf estate 2.0 TDI GT 150 DSG. It means a 40% tax payer would have to hand over £1,818 for the Toyota, during the 2017/2018 tax year, whereas the VW would be £2,714.
At such an early stage of proceedings, there's little point looking into the real-world fuel economy of the hybrid system. Toyota promises a combined economy figure of 70mpg, but it will take some practice to get it anywhere near that. We live in the Kentish countryside, and the twisting, rolling nature of local roads is going to test to the limit this car's ability to make fuel go as far as possible.
First impressions are of a very quiet car that has steering and suspension tuned for comfort. Performance is best described as lethargic. The petrol tank is on the small side (just 45 litres; a Golf diesel estate holds 50 litres), but perhaps this is in order to create the vast, 675-litre boot – which shames plenty of estate cars from the class above. Rest assured, it will be put to good use; with three children and two dogs, this estate car will be worked hard.
Aside from the real-world fuel economy and associated running costs, the burning question for many drivers is whether Toyota's hybrid system is as easy to live with and nice to drive as a diesel-powered family car.
I'll be answering that, and more besides, in further updates on this page.
Want to ask a question? Contact me via Twitter: 
Tweet to @squarejames Follow @squarejames
January 2, 2018: What's it like to drive a hybrid?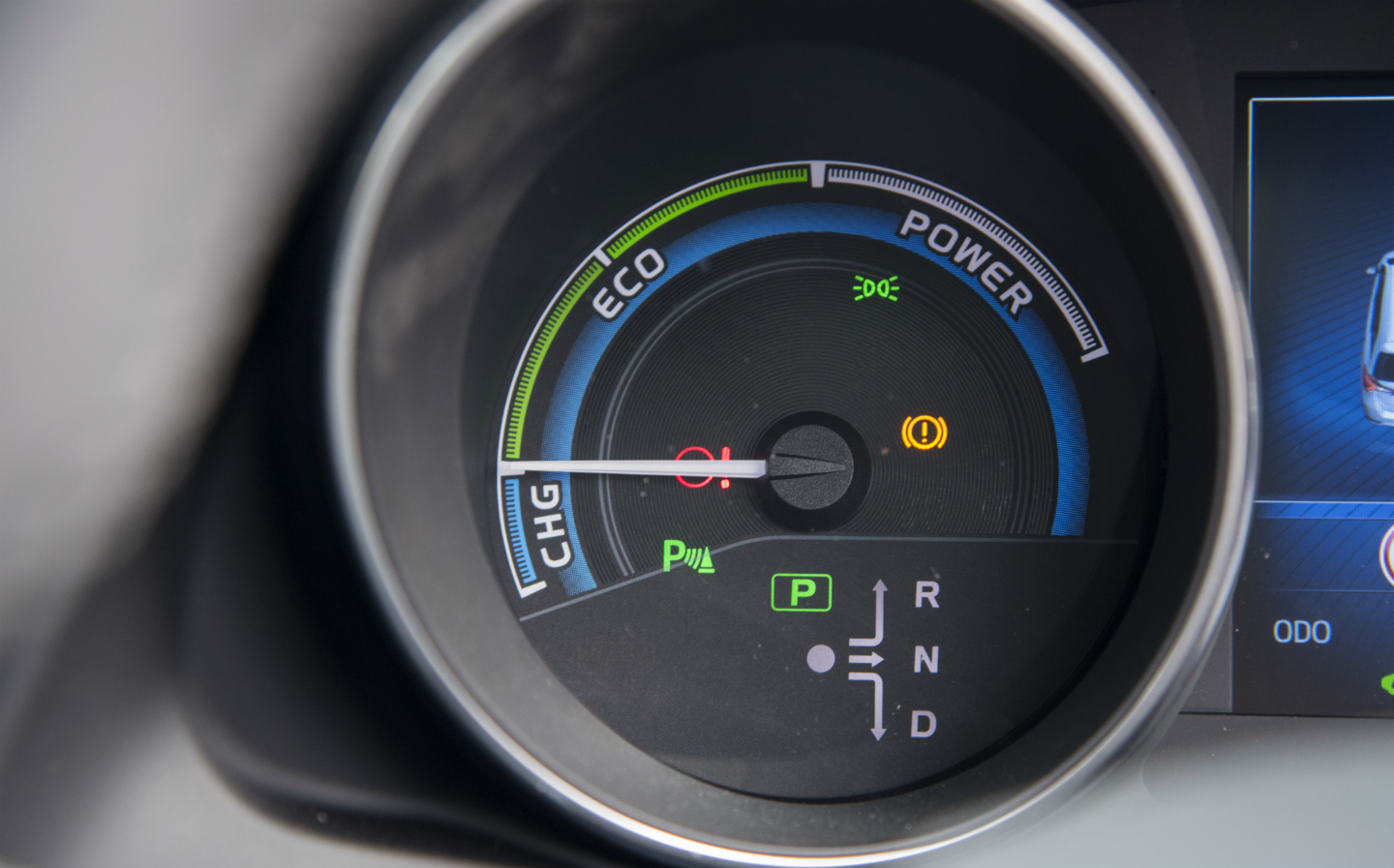 I have been getting to grips with the box of tricks hiding under the bonnet of the Auris Touring Sports, grandly named the Toyota Hybrid Synergy Drive system.
In some ways, driving a hybrid car is no different from driving a 'normal' petrol or diesel model, but in terms of the engineering it's a lot more complex.
Of course, it has two power sources: an engine and an electric motor. For the benefit of those unfamiliar with Toyota's hybrid system, it is what's known as a full hybrid. This means that both powers ources can work together or independently, such as running solely on electric power at low speeds.
In the Auris' case, it comprises a 1.8-litre, naturally aspirated petrol engine which has just 98bhp and a 650-volt, 80bhp (60kW) electric motor. These work in harmony with a power control unit, generator and special power split device that uses a planetary gear set in place of a conventional gearbox to smoothly distribute power between the engine, motor and generator.
The good thing about this system is that there is no need to get your hands dirty with power cables, as there is with the Renault Zoe and Volkswagen Golf GTE we are running. The charge for the electric motor's battery is maintained by the petrol engine or when the Auris is coasting or braking. So all the driver has to do is fill the rather small, 45-litre fuel tank with petrol and the car takes care of the rest.
The default driving mode is 'normal', but you can also select EV mode (electric only, up to a certain speed), Eco mode (dulled throttle, less effective air conditioning, etc.) or PWR mode (which makes the car more eager to respond).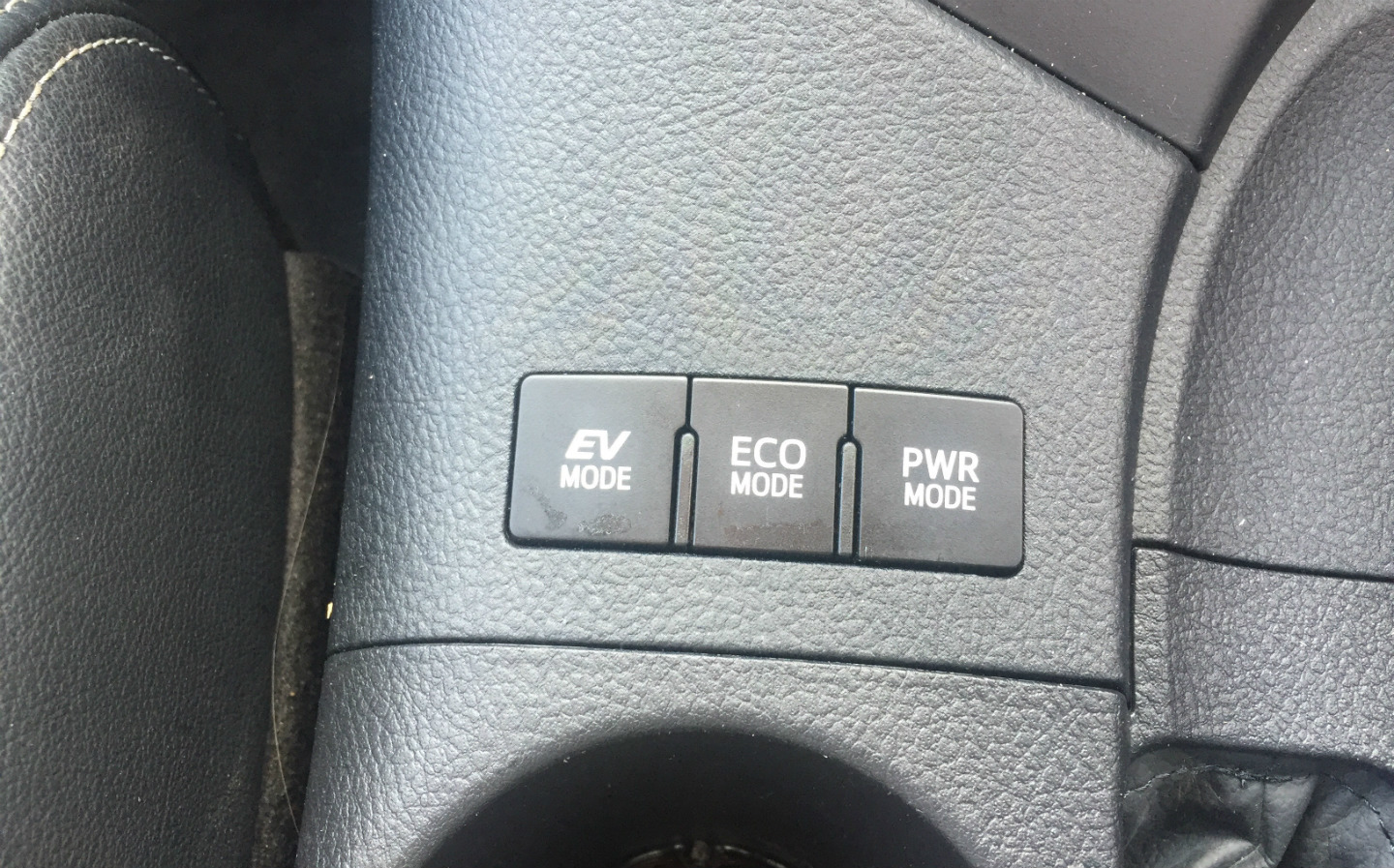 I mostly leave it in the default running mode, but often switch the gear lever to the 'B' setting, which introduces engine braking when you lift off the accelerator pedal – useful for preventing the car running away from you down a steep hill. And I do my level best to keep the needle for the power display (a hybrid's equivalent of a rev counter) hovering within the green Eco band, and have the electric-only running mode operating wherever possible.
The car will often start and move away using just the electric motor, which never fails to spook anyone that's not been in a hybrid or electric car before. Under light throttle loads, this 'EV' mode can be continued at town driving speeds, assuming the battery is sufficiently charged.
When the petrol engine lends a hand, it's as near as dammit a seamless process. And it needs to lend a hand a lot. We live in a hilly part of the Kent countryside, so the petrol engine and electric motor often have to combine forces to get things moving.
And therein lies the Auris Hybrid's Achilles' heel. It feels pretty sluggish when trying to build speed. Unlike a diesel car – even Toyota's own Auris 1.6 D-4D – the hybrid system is lacking in torque (the grunt that gets a car moving).
Switching to the more spirited 'PWR mode' improves responsiveness, but in general this doesn't feel like a car with much get-up-and-go.
Happily, the fuel economy has been hovering around the 50mpg mark. Initially, it was averaging 53mpg, before taking a noticeable dive during the sub-zero temperatures, to around 43mpg, before settling at 49mpg – where it remains, for now.
And let's not forget that unlike a diesel, there's no waiting for glow plugs (in older models), no unpleasant rattle from under the bonnet and the emissions – 92g/km of CO2 – are better than an equivalent diesel's.
On longer, main road trips, that lack of torque continues to annoy. But the complicated planetary gearbox does a good job of working away seamlessly in the background as it juggles the hybrid system's power sources and energy regeneration.
So far, the only problem encountered lies with the power steering. When parking, and switching between reverse and drive, the steering can weight up noticeably, and at one point it got so heavy for a second that I could barely turn it. It's as though the electric power system is sometimes caught napping.
It should also be noted that the Auris is pleasingly quiet, both in terms of noise from the engine, road and wind. And with supple suspension that has clearly been tuned for comfort, this is a remarkably relaxing car to drive over long distances.
However, it is not a car for a spirited drive when the rest of the family aren't aboard. But that probably suits the majority of hybrid buyers just fine.
Want to ask a question? Contact me via Twitter: 
Tweet to @squarejames Follow @squarejames

January 18, 2018: Comparing the company car tax costs of petrol, diesel and hybrid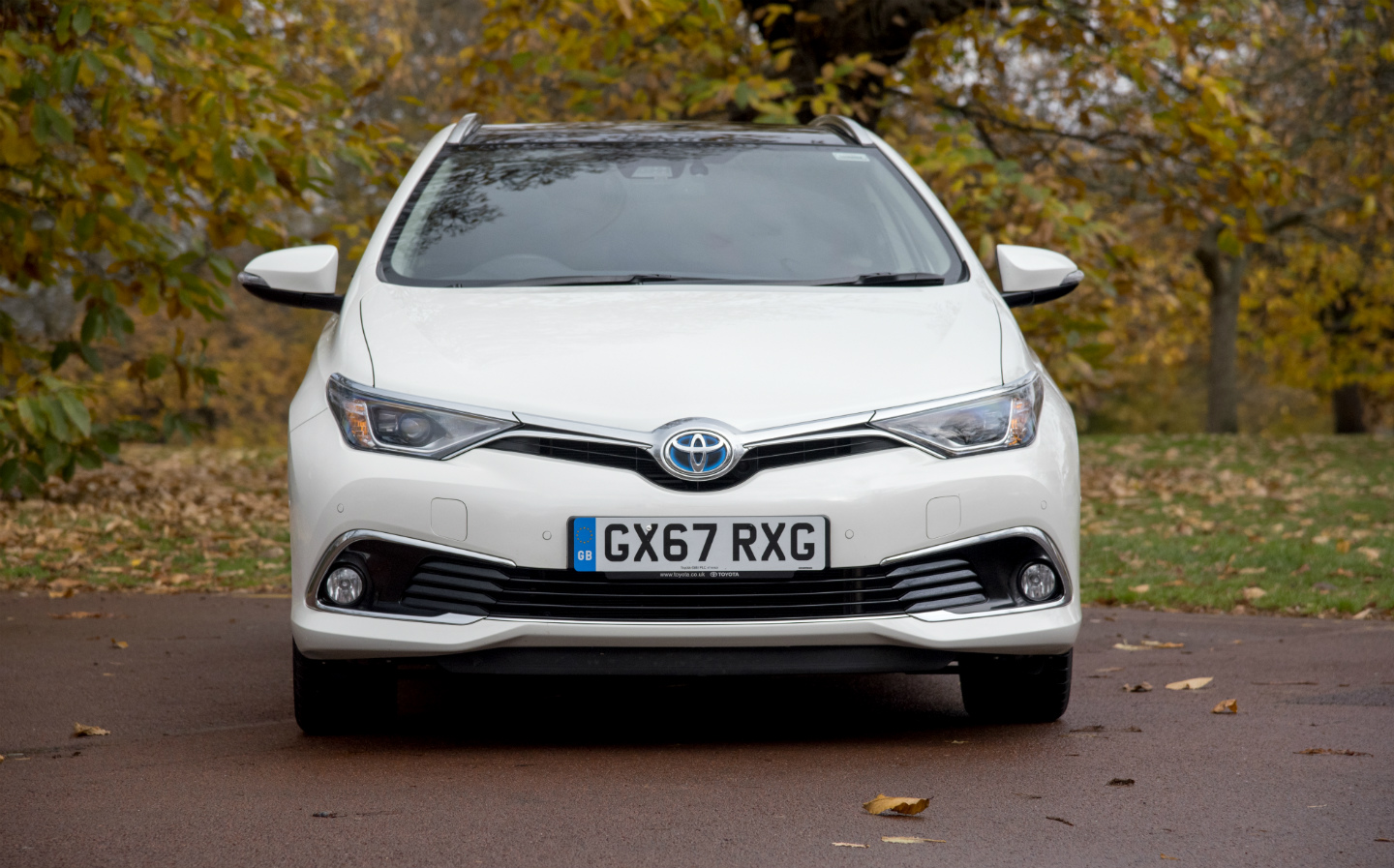 Many hybrid-powered cars are chosen by company car drivers. These are the motorists who are handed a car by their employer – either to go about their job or as a perk that's part of their benefits package.
The reason these drivers opt for a hybrid is that the tax – Benefit in Kind (BIK) – is calculated according to the car's value and its CO2 emissions. So generally, if you can have a car that's broadly the same price as a petrol or diesel model, but emits less CO2, it will be less draining on the monthly household budget.
It's partly why hybrid-powered Toyota and Lexus models have proved so popular. If there's one thing most drivers care more about than doing their bit for the environment, it's doing their bit to reduce their bills.
Switching from diesel to hybrid could save drivers £1,810 in company car tax
To put this into meaningful perspective, a company car driver who took on a new diesel-powered version of the Auris Touring Sports in Design trim level, starting last year and running it for three years, would pay a total of £3,676 in BIK tax. And that's as a 20% tax payer. A 40% tax payer would pay £7,352. Ouch.
Switch to a hybrid-powered model in Design trim and despite having a higher list price, there's a lot less tax to pay, because its CO2 emissions are 92g/km, compared with 110g/km for the diesel.
Over the same three-year period, the hybrid would cost £2,771 (20% tax payer) or £5,542 (40% tax payer), saving £905 or £1,810 respectively.
For what it's worth, a petrol-powered 1.2T Design with an automatic gearbox and CO2 emissions of 122g/km would result in BIK bills of £3,507 or £7,013.
It shouldn't come as a great surprise, then, to see that half of all Toyotas sold in Western Europe last year were hybrid. Some models in Toyota showrooms, such as the new C-HR crossover, aren't even offered with the choice of a diesel engine.
The Japanese car maker bet big on hybrid, reasoning it would be required to replace diesel if increasingly stringent emissions targets were to be met. It says that hybrid petrol cars emit up to 90% less nitrogen oxides (NOx) than diesels. Last year, sales of diesel cars in Britain fell by 17%; Toyota's bet appears to be paying off.
Want to ask a question? Contact me via Twitter: 
Tweet to @squarejames Follow @squarejames
February 8, 2018: Cold snap means winter woes for safety sensors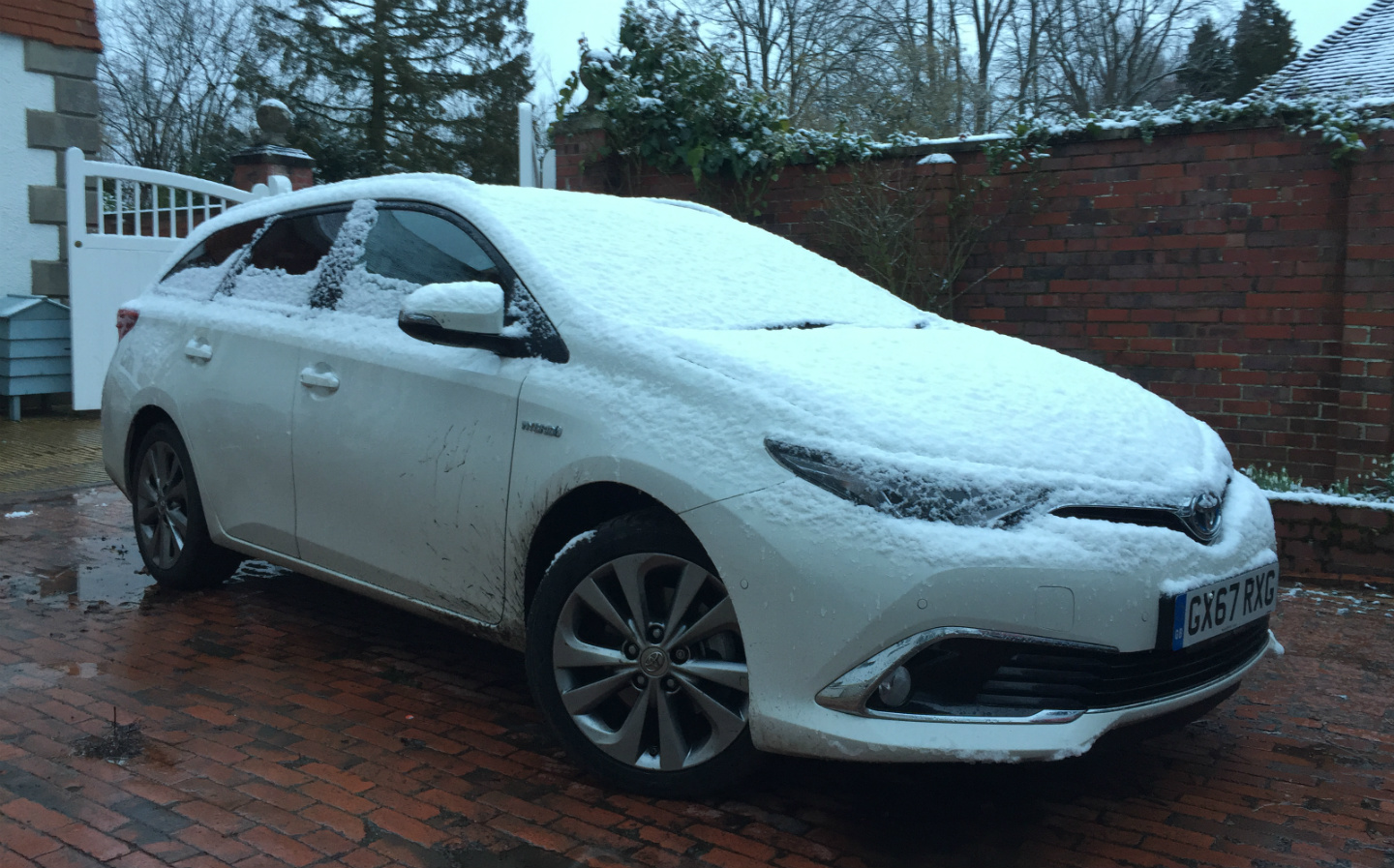 The winter weather has demonstrated how even the smartest technology can't outwit Mother Nature. When the temperature is close to or below freezing point, the camera and laser sensors employed by the car's safety systems stop working, as ice forms over the glass.
The Toyota Auris hybrid we're testing is in Excel trim, and comes with the Toyota Safety Sense package. The package includes a pre-crash safety system (PCS), lane departure alert (LDA), automatic high beam for the headlights and the ability to recognise road signs and inform the driver of the current speed limit.
PCS is Toyota's way of saying autonomous emergency braking, or AEB (the day car makers agree to blanket terms is the day drivers will find car buying and ownership less perplexing). On colder days, when driving (after clearing the windscreen of any snow or ice and maintaining a warm temperature in the cabin) the PCS warning light flashes up on the dashboard, accompanied by an audible chime. It means that the system isn't working, so won't alert the driver of an imminent collision or apply the brakes on the driver's behalf. Given that you're probably counting on it more in the winter, when driving conditions are more challenging – and a few fellow, oblivious road users are driving around with frosted windows – it's not ideal.
This hasn't happened to me with test cars from other car makers. However, Twitter users assure me that it has happened to their cars – made by other manufacturers.
Happily, the system soon returns to life and acts like the guardian angel it's intended to be. But when accidents often come out of nowhere and happen in a split second, even the slightest downtime for such systems is something for engineers to solve as soon as possible, given the rate at which technology is advancing us toward the driverless car.
Want to ask a question? Contact me via Twitter: 
Tweet to @squarejames Follow @squarejames
March 14, 2018: The secret of the Toyota hybrid B mode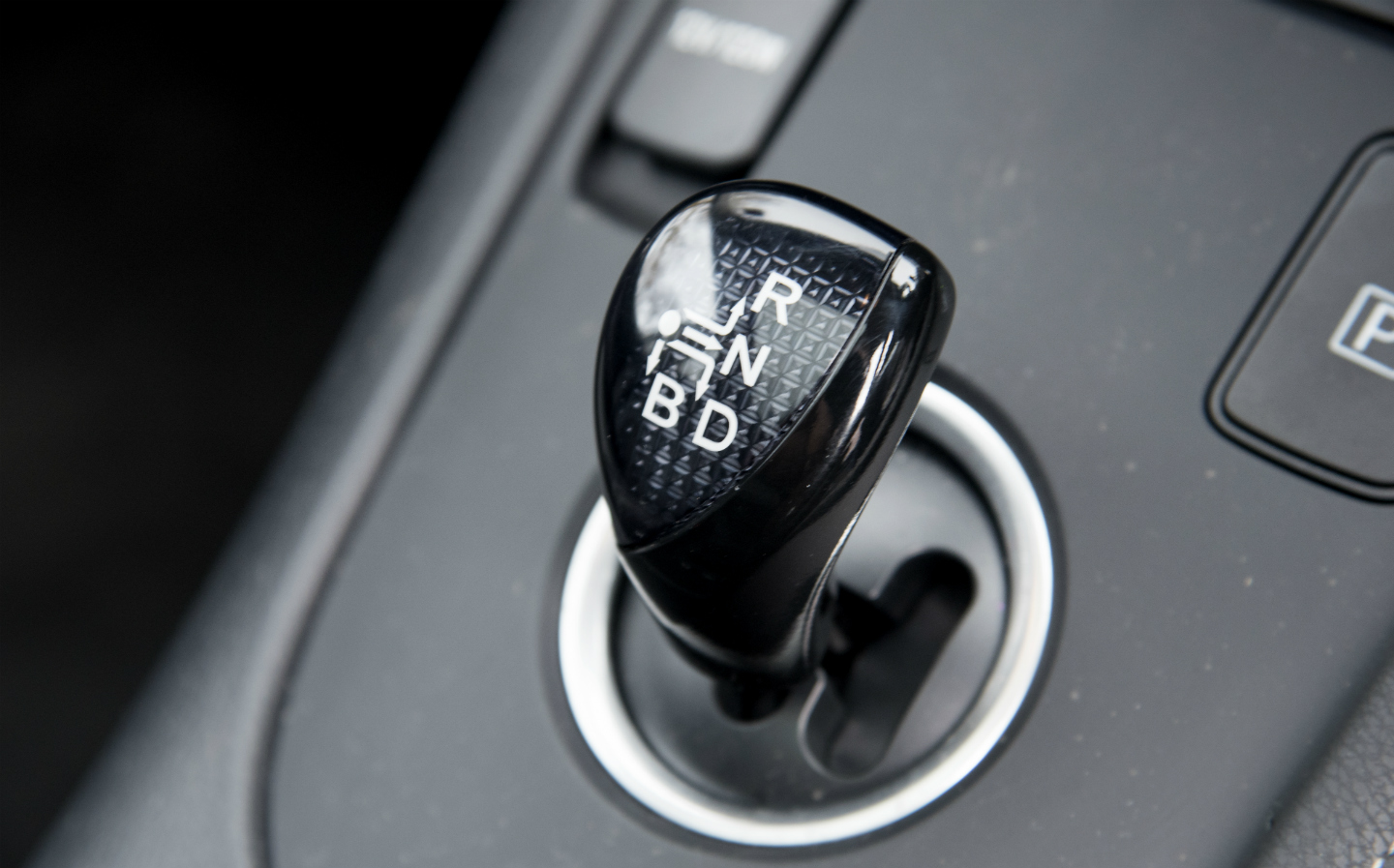 It's a common misconception – and an assumption I have been guilty of making – that the 'B' position on the Auris hybrid's transmission lever stands for Battery. That's partly because when you slide it across to the B position, the display showing energy regeneration for the battery appears to register a modest increase. And also because I hadn't read the handbook that, doubtless, was produced by a team of people at Toyota over a not insubstantial period of their lives. Sorry guys.
In fact, it means that the engine will be brought to life to provide modest engine braking. Charging at full speed toward a corner, then nudging the transmission lever from D (normal driving) to B (engine braking) results in a noticeable improvement in deceleration – but it's also wasting away lots of potential energy that could be recovered by braking lightly.
Using B mode, the Auris hybrid also senses when it's descending a steep hill and runs the engine to create a braking effect. In my part of the Kentish countryside, this can be useful when the vehicle is loaded to the gunnels, with family and, dogs and luggage, and you want to manage the car's speed without giving the brakes a hard time.
However, if fuel economy and efficient driving are the aim of the game (and, let's face it, when aren't they where a Toyota hybrid driver is concerned?) then it is better to leave the car in D. Then, when coasting or braking, the electric motor is turned into a generator and returns energy that would otherwise go wasted (in most conventional cars) to the battery of the hybrid system.
The geeky challenge comes in trying to only ever use the moderate braking effect of the reversed electric motor as you slow or stop the car. However, this inevitably results in a queue of cars behind you, who aren't quite as hell-bent on conserving energy and fuel…
Want to ask a question? Contact me via Twitter: 
Tweet to @squarejames Follow @squarejames
April 6, 2018: Wingless wonder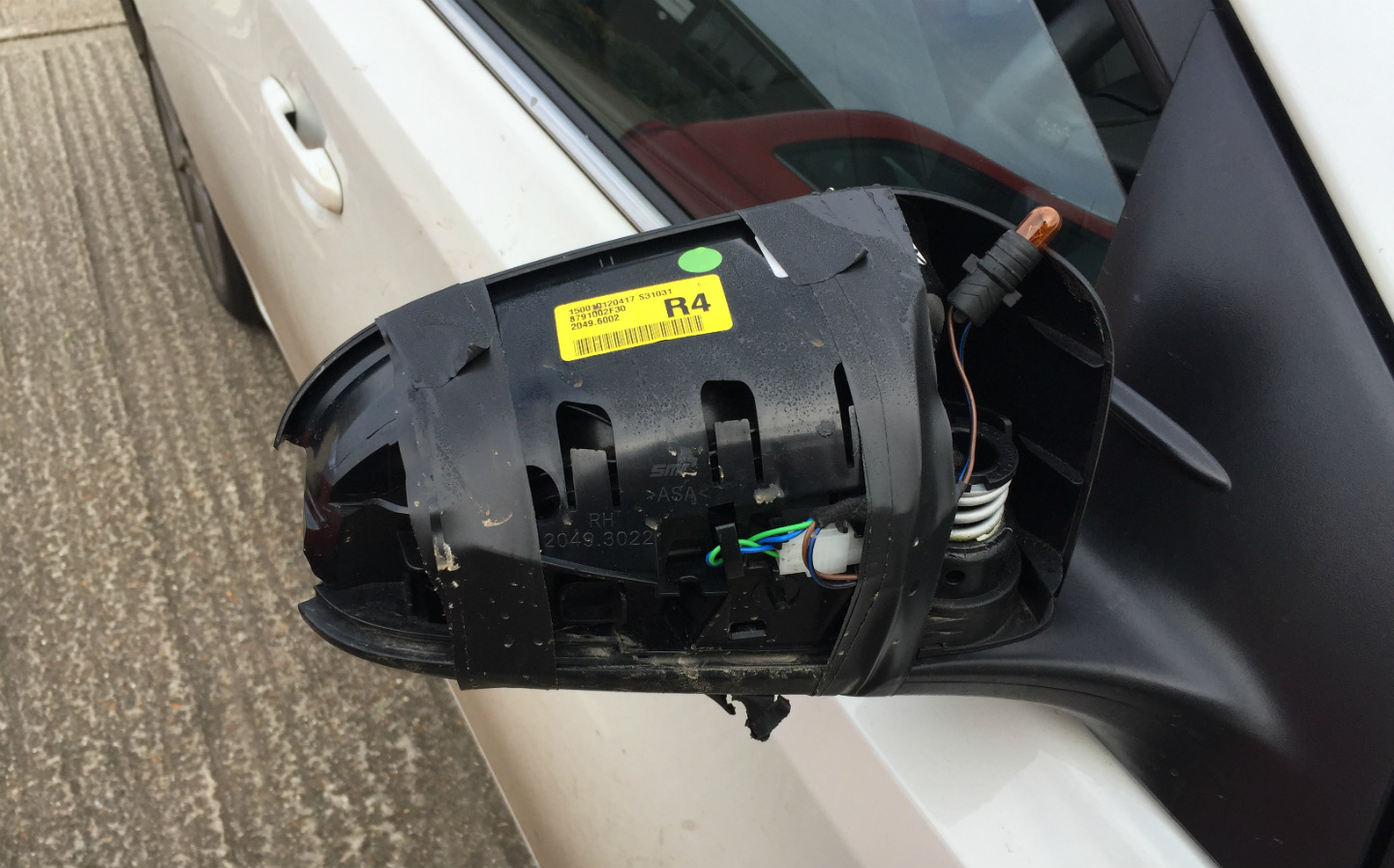 The Toyota has been in the wars. In a town setting, a speeding BMW driver on the wrong side of the road forced my wife off the road and the driver's wing mirror took a hit.
The outer casing was destroyed and the mirror left shattered, dangling and generally looking rather sorry for itself.
So I put in a call to our nearest franchise dealership, Motorline Toyota in Tunbridge Wells. After establishing the correct vehicle and required parts, I was told to drop in the next day, to collect the bits. "Should I call before coming down?" I asked. "No need, it will be here first thing in the morning," came the reply.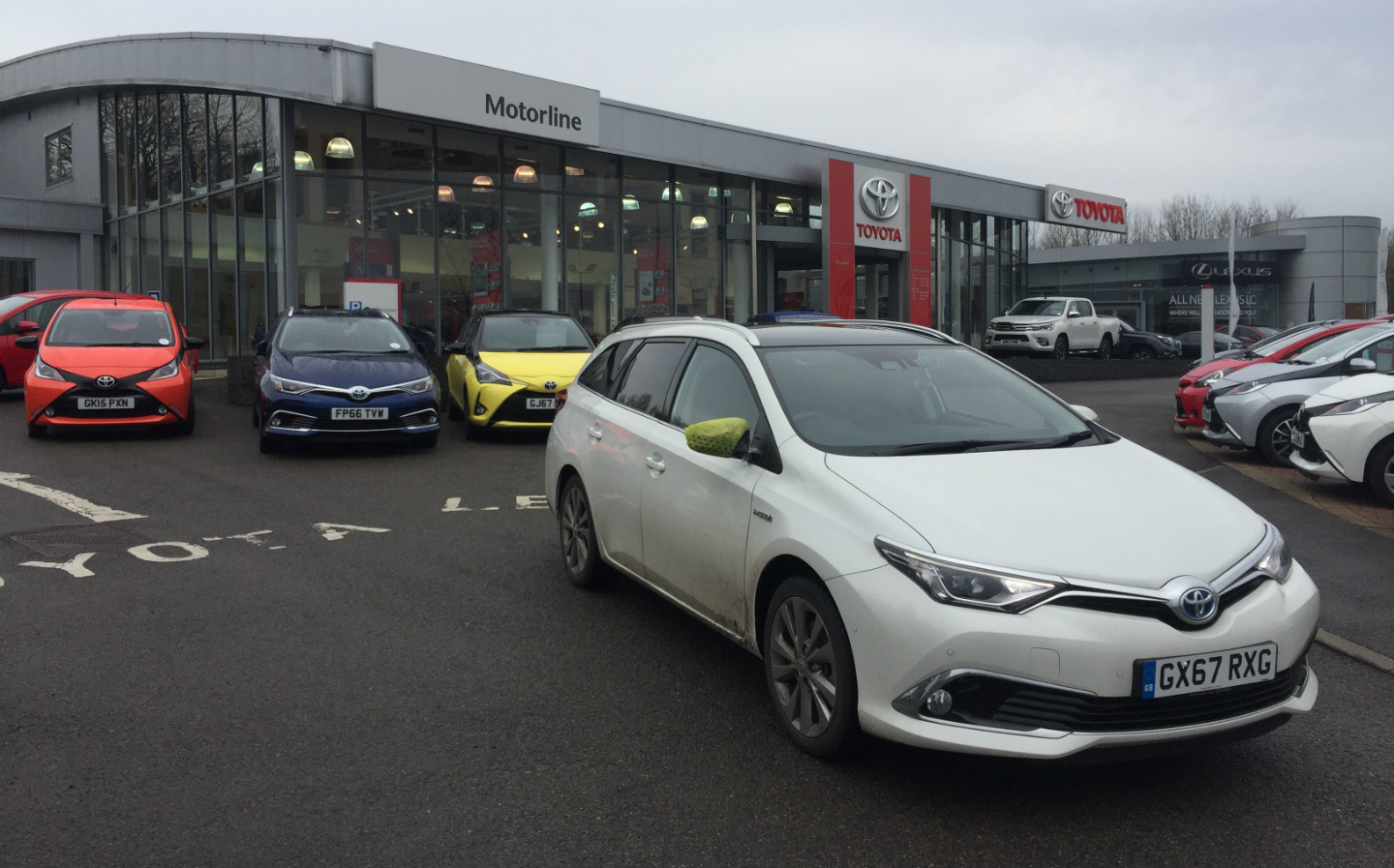 The next morning, I duly reported for duty, only for a rather embarrassed member of the parts department to emerge, apologising that the parts hadn't arrived and that such a thing had never happened in their past experience.
Driving home, I kicked myself for having made a wasted journey and not phoning before I set off – the old-fashioned way my grandfather would approve of. Toyota GB then stepped in and said it would fit the replacement parts.
However, guess who phoned the next day, to say the ordered parts had been found at the bottom of the shipping cage…
More annoying than any of this, however, was the fact that Mrs Mills seemed to delete the dashcam footage of the smash-bang-wallop, by pressing the wrong buttons on the Nextbase unit in the car. Doh.
Want to ask a question? Contact me via Twitter: 
Tweet to @squarejames Follow @squarejames
May 01, 2018: Final report on living with a Toyota Auris Hybrid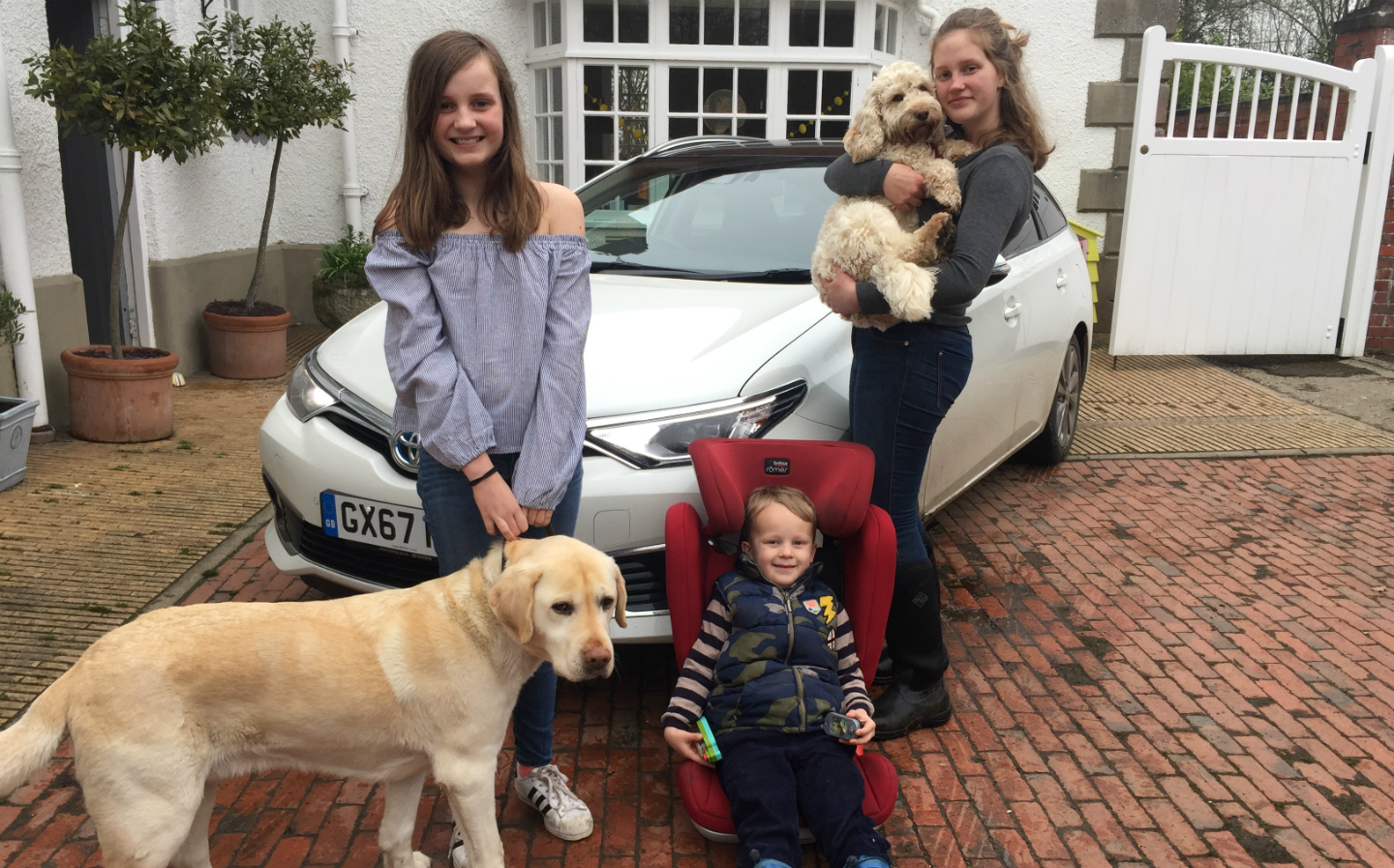 After six months of hard graft, the Toyota Auris Hybrid Touring Sports has been withdrawn from the front line of family warfare and retired from duties.
I say that, but for all I know its next owner could be just as demanding. The car was sent for auction, immediately after departing the Mills household. Would they notice, I wondered, the little area of carpet in the boot that protruded from the plastic floor liner — and proved too tempting for our Cockapoo puppy to resist chewing?
I'd like to think that the Auris Hybrid goes to a good home. After all, it's a Touring Sports — not a travelling fair of sporting goods, but a fancy way of saying it's an estate car — so should be well suited to family life. Or maybe even a spot of Uber driving with countless people climbing in and out of its backseats. (Private hire drivers seem to like the Auris in our part of the world.)
But did it hold up to the Mills family test? To find out the answer to that question, I had to distract my children (ages 14, 10 and 4) from their gadgets and gizmos, and have an actual conversation with them that was a little more meaningful than a series of grunts, groans and "I hate you!" foot-stamps.
They likened the back seat to one of Julia Donaldson's stories, A Squash and A Squeeze. With a large child seat (what child seat isn't as bulky as a burly builder?) in place, using one of the car's two sets of ISOFIX points, our youngest daughter in the middle seat and eldest on the outer seat, it was a pretty snug fit.
Other, more modern cars in the same class as the Auris have outgrown it, because this generation of Auris is approaching the end of its life. A new version will go on sale by the end of the year, and it has a 40mm longer wheelbase and 20mm wider cabin, which should bring a welcome improvement to seating space.
The car's boot may not be class leading, but with 507-litres of luggage space (a Golf estate holds 605 litres) it coped with everything we threw at it, including the two family dogs, and it could be expanded to a very generous 1,635 litres and would comfortably swallow the occasional piece of furniture or a couple of bikes. And unusually, in this age, it wasn't a powered tailgate, which is actually rather refreshing. It's quicker to operate and there's less to go wrong…
Speaking of the tailgate, I wonder how long it will be before someone invests a miniature wash-wipe system for reversing cameras? Living with the Auris, its rear-view camera seemed to collect dirt much faster than other cars, but I soon perfected the finger-wipe technique every time I walked past the back of the car.
One thing we all agreed on was that the audio system's digital radio signal was not as consistent as other cars to pass through our hands. One moment the kids would be winging along to a track from Hamilton, the musical, and the next there'd be radio silence. Perhaps it was a deliberate attempt to mimic the Pick Up Song round of BBC Radio 4's I'm Sorry I Haven't A Clue?
Nothing fell off or stopped working, as one would hope, but the infotainment system, comprising the audio, phone connectivity and navigation, was showing its age and the general vibe of the dashboard design was "that'll do" rather than "wow, our customers are going to love this".
And because the panoramic glass roof didn't open, the only thing we enjoyed about it was watching snowflakes land on its surface. When it is sunny, passengers generally want the blind closed. I wouldn't have ordered it as an option, personally.
As a driver, I found the car to be both relaxing and frustrating in equal measure. The cabin was generally very quiet, as the petrol and electric powertrain are easier on the ear than diesel. And the seats and driving position leave you comfortable, even after hours at the wheel. But the motors' lack of torque, which is what gives a car its get-up-and-go, was annoying.
As one Auris hybrid owner mentions, in the comments below, you learn to relax and let everyone rush on. But when you're in a rush too, the Auris feels lazy. Toyota gets this, though; a more powerful version of the hybrid system will be added to the new Auris range, giving drivers the option to have more performance from hybrid.
As for its other type of performance — namely, fuel economy — the car achieved an average of 50.7mpg, according to the trip computer, during our test. It's a way off the claimed 70.6mpg, but in my experience it is a match for a comparably sized diesel car, and would be emitting fewer nasty particulates in the process.
Its ride comfort was pleasingly smooth but the roadholding was distinctly dull. Again, though, Toyota gets this. The successor model sounds much more promising, in terms of bringing a feeling of fun to drivers.
If you were to ask me if I'd buy one with my own money, I'd say no, because its back seat was too small and the car generally lacked the feelgood vibe of rival models.
But there's a subtext to this story. The Auris Hybrid opened my eyes to the potential of hybrid.
The fact that it matched the fuel economy of a diesel is, well, fuel for thought for the hundreds of thousands of Britain's drivers who find themselves agonising over what type of car to buy next.
Diesel is a dirty word, thanks to Volkswagen. And the government wants new cars to be electrified in one shape or form, by 2040. But Toyota has been one step ahead of all of them, quietly getting on with making millions of hybrids and recently announcing it will end the sale of diesel-powered passenger cars in Britain by the end of the year.
If the next Auris proves to address the negative points found with this outgoing model, it could be a class-leading car, rather than just a hybrid-powered alternative.
Want to ask a question? Contact me via Twitter: 
Tweet to @squarejames Follow @squarejames