E-type reborn: Tiff Needell reviews the Eagle Spyder GT
Beauty given wings
THESE DAYS cars are managed by electronics, which fills me with sadness because the simple sound of a vehicle coming alive, tickled by my right foot, without any sudden burst of computer-generated revs, is a delight.
Arguably the greatest engine note was produced by the Jaguar E-types of the 1960s, sadly long gone. But wait; there is a firm that brings E-types back to life. It takes old cars and makes them as good as new. No, better than new.
Eagle E-Types was set up in 1984 by Henry Pearman to care for and restore E-types for classic-car buffs who wanted to keep their pride and joy running as smoothly as a Swiss watch. But every now and then some owners pondered what it would be like if you could take the E-type and give it modern road manners. Such as brakes that actually stopped the car and suspension that could cope with being driven like a bat out of hell.
---
Browse NEW or USED cars for sale
---
By the mid-1990s Pearman decided to find out. Eagle took an E-type, left the beautiful body untouched and rebuilt everything underneath. The result was an instant hit. Over time, word spread about the East Sussex-based car maker that was working wonders with one of the world's favourite classic cars. So much so that in 2011 when Jeremy Clarkson got his hands on the Eagle Speedster he declared it "the most beautiful car" he had seen.
"The Spyder GT costs £834,000. I'd need a deal with Amazon to hope to afford such a plaything"
Now Eagle has come up with a new creation. The Eagle Spyder GT is in effect a Speedster with a folding roof and a proper windscreen, which is important. Because the vehicle Clarkson tested didn't have those things, so when it rained the owner's eye-wateringly expensive car quickly became a paddling pool if there was no shelter nearby.
And when I say an Eagle is expensive, I mean it. The Spyder GT costs £834,000. I'd need a deal with Amazon to hope to afford such a plaything.
Like all Eagle products, the Spyder GT is handmade. It is based on a donor car — even if about the only original thing left is the chassis plate — and each takes 6,000 hours of work to create.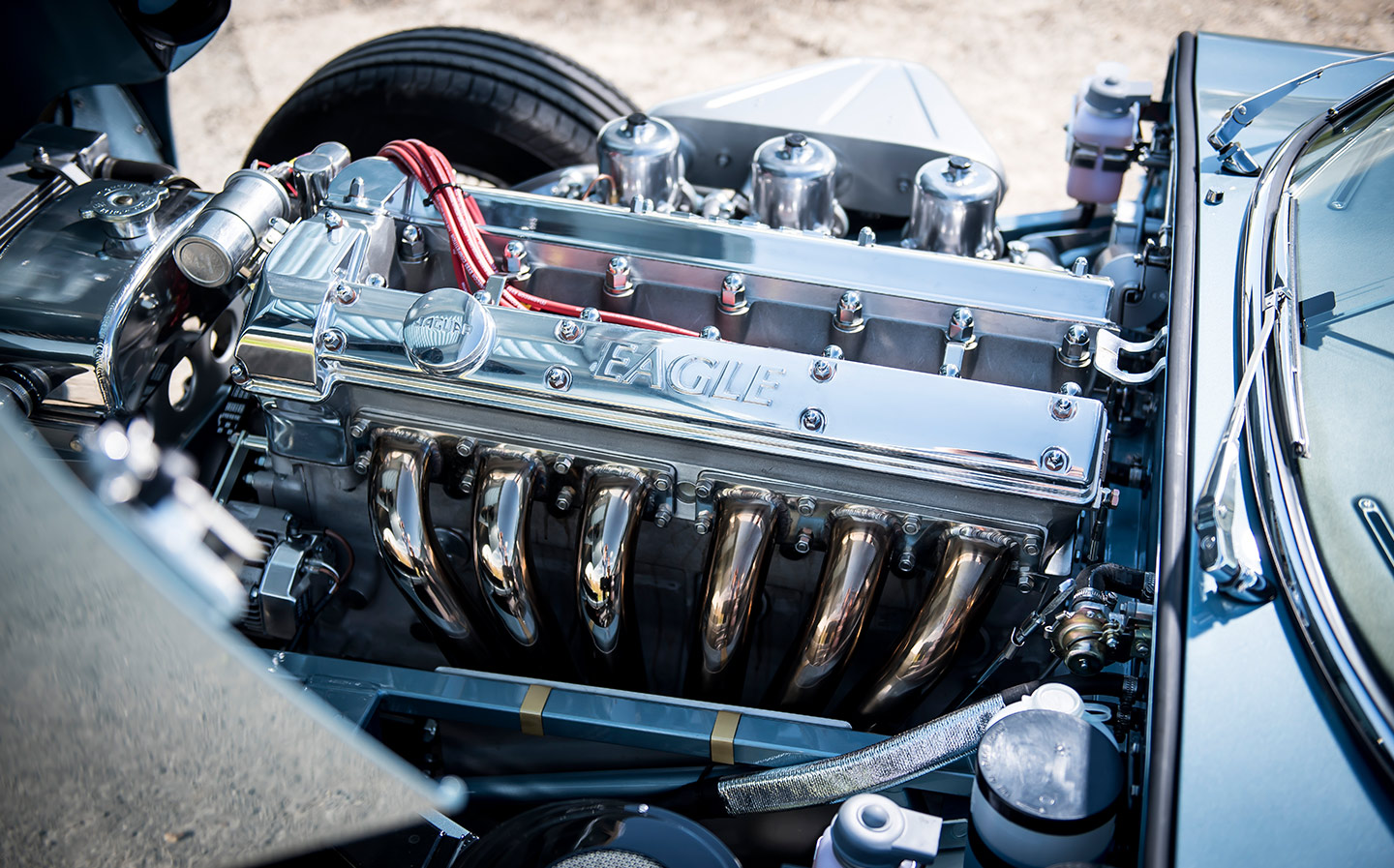 The attention to detail is astonishing, with each model built to the buyer's specification. You can have a 3.8, 4.2 or 4.7-litre version of the straight-six engine. The car I tested came with a 330bhp 4.7-litre powerplant with its big valve head, itself a work of art when the bonnet is hinged forwards to reveal the gleaming, polished aluminium cam covers. And what's this? Not a piece of plastic to be seen. How refreshing.
Drop into the leather-clad seat and there's a perfect driving position behind a classic wood-rimmed steering wheel with a simple round gearknob and, surprisingly, plenty of headroom.
A big rev counter and speedometer dominate the view ahead while a mass of dials and switches fill the centre console. The key goes in the middle of all this, and has a small starter button to its side. Turn the key, push the button. Depress the clutch, feel the gear being engaged via the lever in my hand, lift the revs, ease in the clutch and rumble forwards. It's often the simple things that bring the most joy.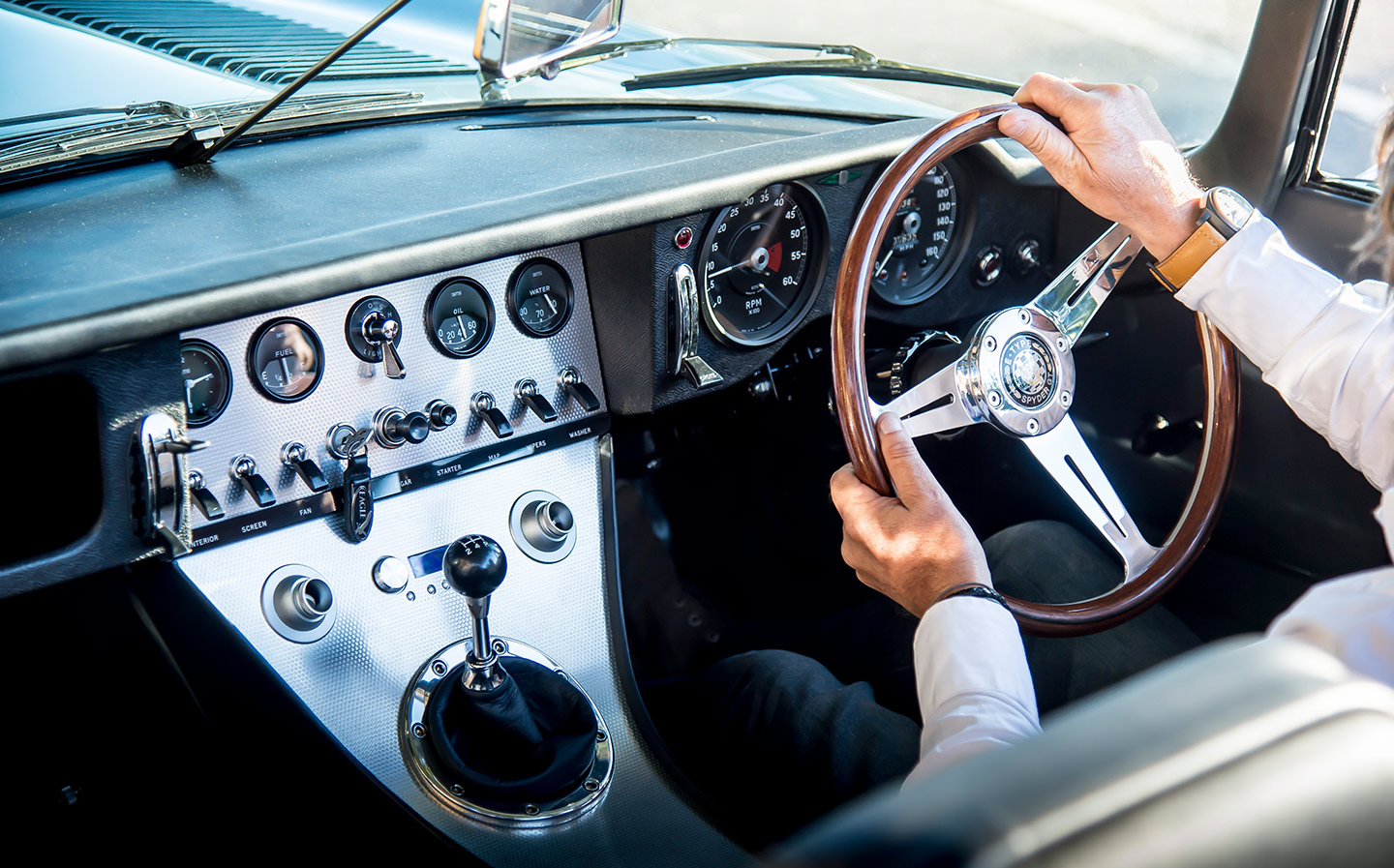 You quickly become aware of how far back you sit in an E-type — almost on top of the rear wheels — as you have to ease the long bonnet a fair way out into the road before you get a clear view of what's coming. It feels like you're playing a game of million-pound junction roulette where you hope to pull out without an HGV removing the front of the car.
There's no power assistance for the steering, so it's heavyish at low speeds, but on a winding road it provides all the right feedback. Bumps that would have an original E-type doing a hop, skip and jump are taken calmly in the car's stride and although there's no antilock braking, the brake pedal pressure and its response inspire confidence despite a wet road.
The engine feels like it wants to rev higher but with so much torque there is little need to max it out in every gear — third will do pretty much everywhere, but the bespoke five-speed transmission is such a joy to use I want to keep on changing gear for the sake of it.
Finally the rain lets up and there's a chance to put the hood down. Anyone expecting a mix of electronics and hydraulics to lower the roof will be in for a shock. It's much the same basic manual affair as the standard E-type roadster, with a few subtle improvements, of course.
---
Browse NEW or USED cars for sale
---
With it lowered, the cabin is filled with the roar of the exhausts. The car will hit comfortably 62mph in less than five seconds and it's just going into its stride. Its top speed is said to be 170mph-plus. But I bet it would do more.
When you back off the throttle from high revs, the engine plays the petrolhead's equivalent of an orchestra in full flow. It pops and spits its way down the rev range and the temptation to keep doing it over and over again is too much to resist.
It doesn't matter so much to me that this is one of the most beautiful cars in the world. Or it's that bit more practical than the Speedster that captured Clarkson's heart. It's the fact it is one of the most beautiful to drive that makes me want to have one.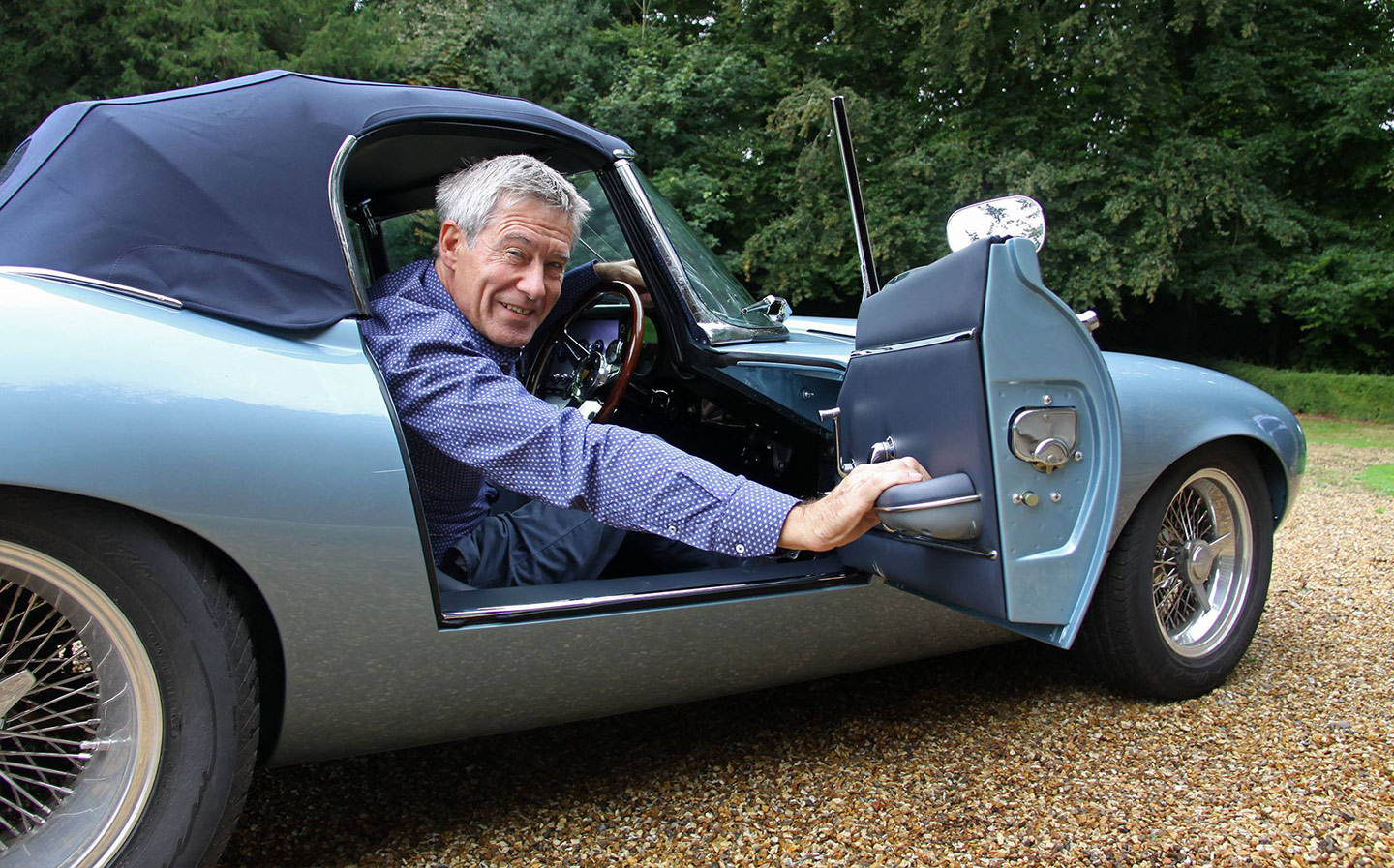 Tweet to @Tiff_TV Follow @Tiff_TV
Blasts from the past: Jenson Interceptor and Eagle Speedster