Blasts from the past: Jenson Interceptor and Eagle Speedster
JEREMY CLARKSON called the Eagle Speedster "the most beautiful car I have ever seen". As I saw it pull into the car park on the South Downs I could understand what he meant.
Anyone who can remember the original will be drawn inexorably towards it. Take an old Jaguar E-type convertible, lower the floor pan, add a lower-profile windscreen, remove some of the extraneous bits such as the overriders, give it a top-quality paint job, new wheels and a breathtaking red leather interior, then throw away the soft top and you are partway to making a car of quite outstanding beauty and drama.
It's more muscular than the original E-type but also sleeker, with echoes of great coupés and convertibles past and present — to my eye the rear wheelarches have a touch of the TVR Griffith 500 and the three-quarter view makes a fleeting reference to the Porsche Boxster. Above all, though, the Speedster is tactile. You just have to run your hands over the bodywork, the lights and the leather. I haven't seen anything like it. The E-type is not as beautiful as a Lamborghini Miura. The Eagle's redesign is.
The engineering on the Eagle is almost as impressive as the styling. There is a straight-six 4.7-litre Jaguar XK engine with an aluminium block, a five-speed manual box that Eagle makes itself, and upgraded suspension, brakes and steering. Taken together this gives you the looks of a classic but with the performance of a brand new sports car.
But this is a twin test and its rival is also something very special. Jensens had a cult following in their day and now you can buy one that drives as superbly as it looks. Although the Jensen Interceptor R convertible on test is not a redesign like the Speedster, it is nevertheless a classic car without the drawbacks of classic car ownership. No rust, no worn leather, no rubbishy old 1970s suspension. It even has brakes and air-conditioning that work, which is more than can be said for most cars from the period.
The original Interceptor combined rather elegant Italian styling with a huge American V8 engine under the bonnet — or should I say "hood"? — to give you a powerful but relaxed Grand Tourer. That's the combination that the "new" Jensens seek to recreate. Under the bonnet of this model is a General Motors V8 that pushes out 430bhp (more if you go for the supercharged version), and it is paired with a quick-witted six-speed GM automatic box. This sort of engine is likely to be trouble-free, easy to service, bombproof and less thirsty than the original, so a straightforward owner experience is part of the deal.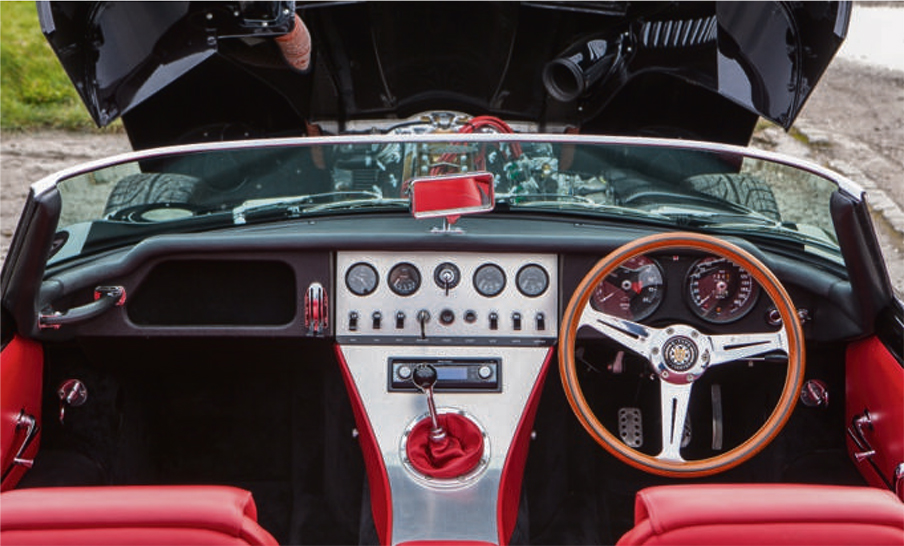 Both these cars are bespoke creations, not off the peg — you don't just turn up, point at the one you want and drive it away. Rather like buying a tailor-made suit, you talk through what you might like, look at the samples, give it some thought and then return over a period for additional fittings and to see how the workmanship is coming along. When you finally take delivery of a car such as this it is the beginning of a relationship with the manufacturer, not the end.
The respective companies, Eagle and Jensen International Automotive, each deliver a handful of "new" cars a year across their ranges, so part of the pleasure for the buyers is to share in the creation process. Of course, like buying a Savile Row suit, the prices aren't quite what you would pay on the high street either. This Jensen will set you back about £185,000 and the Speedster comes in at a vertigo-inducing £780,000. For that price I calculate you could buy about 130 Dacia Sanderos. And it has to be said that 130 Dacias arriving at a car park on the South Downs would also attract quite a lot of attention. The choice is yours.
When you put the two cars through their paces it becomes evident that they have very different characters. In its day the Jensen was huge. Average car sizes have caught up with it over the years and it doesn't feel too big today. The visibility is pretty good, the cabin spacious and the instruments easy to read. Wind-buffeting with the roof down is not too bad either and it's a car you could happily choose for a long journey.
Take it gently in traffic and it's docile, light to drive and co-operative. Press the accelerator and the V8 power surges through so you can exploit short stretches of road for overtaking. The sound of the engine is great; a deep rumble rather than a screech, matching the easy-going temperament of the car. The automatic kicks down well and readily chooses the correct gear.
The suspension setup on the car I drove was at the softer end, making for a comfortable ride even over battered surfaces. The downside was that positioning it on the road was a bit less precise than it could have been and there was some body roll. But the joy of a bespoke car is that if you want a tighter setup, that can be accommodated. It's a car you could drive every day and enjoy.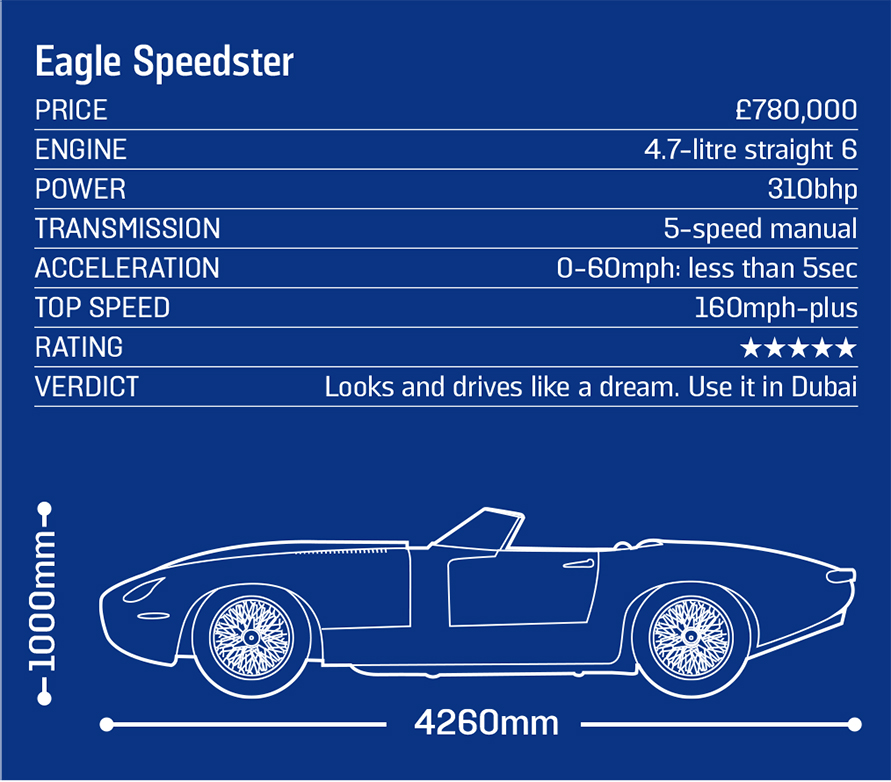 The Speedster is a very different beast. You sit extremely low so that you can admire the long sculpted bonnet. There is not a lot of windscreen (though there are three tiny wipers) so on the open road you get blown around. There is no power steering either, but this is not an intimidating car. The modern engineering shows itself in the marvellously precise gearbox, the tight handling and the strong brakes.
It feels much more of a sports car than a GT, with a firmer suspension setup that keeps it flat and taut when cornering but without giving it a bone-shaking ride. It's powerful too and sounds it: not the V8 burble of the Jensen but a screaming howl from the straight-six. Visibility is excellent — you can see all the corners, and no roof means no blindspots.
If you have a big budget and a taste for open-top motoring, which should you choose? On one level these cars go head to head. Park either on the seafront and you will soon attract a crowd of admiring onlookers asking questions and taking photographs. Take either onto the open road and you will cover the ground at speed and in style. But ultimately they are answering different questions.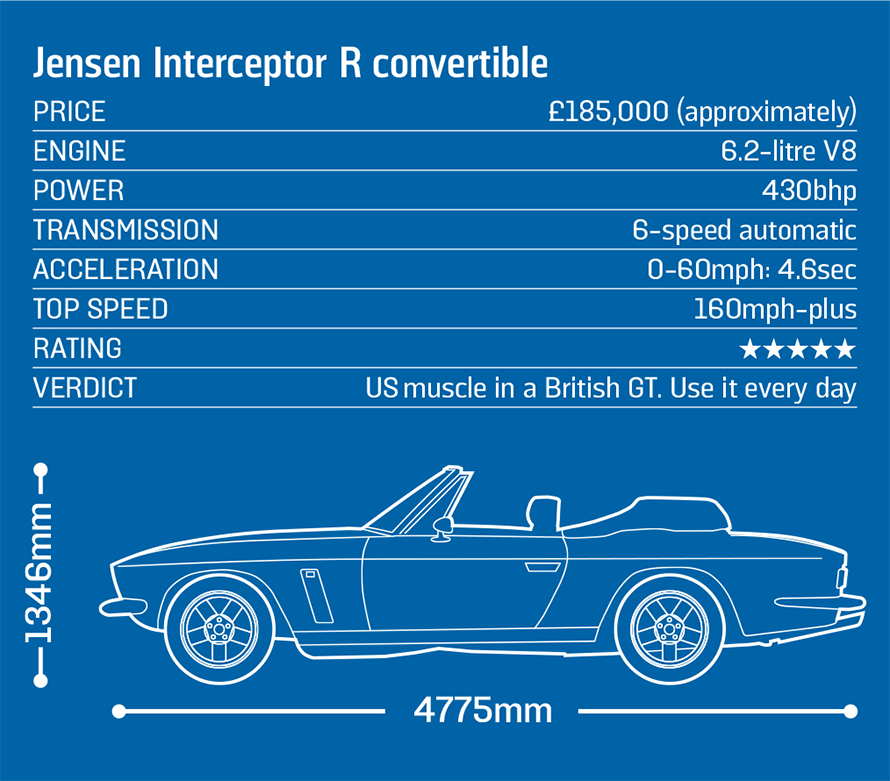 If you live in Britain and you want a car to use as transport, then the Jensen is the answer. It is distinctive and powerful and it has at least a modicum of practicality — even rear seats. It's also easy and enjoyable to drive and shouldn't need a lot of maintenance. Plus, if it rains, you can put the roof up, and if the downpour stops, then just press the button.
The Speedster is about as impractical a choice for UK roads as you are likely to find. It has no roof, is strictly a two-seater, has more performance than you can ever use and it costs a king's ransom. This is not a sensible choice unless you have several other vehicles in the garage; you will drive it maybe only twice a year. But there again, you can't use a bottle of Pétrus as an umbrella and you can't collect the kids from school in a Rembrandt. Practicality isn't everything. There are things such as beauty and virtue.
So what's the answer? It's easy — provided money is no object. Buy the Jensen, drive it every day. Buy the Speedster, keep it in a garage, admire it, stroke it and look forward to that sunny day when you can take it for a spin and be the talk of the town. And you will still have enough change from £1m to buy half a dozen Dacias.