Dom Joly's First Drive: 2015 Mercedes-Benz SL 400 Mille Miglia review
Holy Gatsos, Batman. Kiss your licence goodbye
---
Published 05 October 2015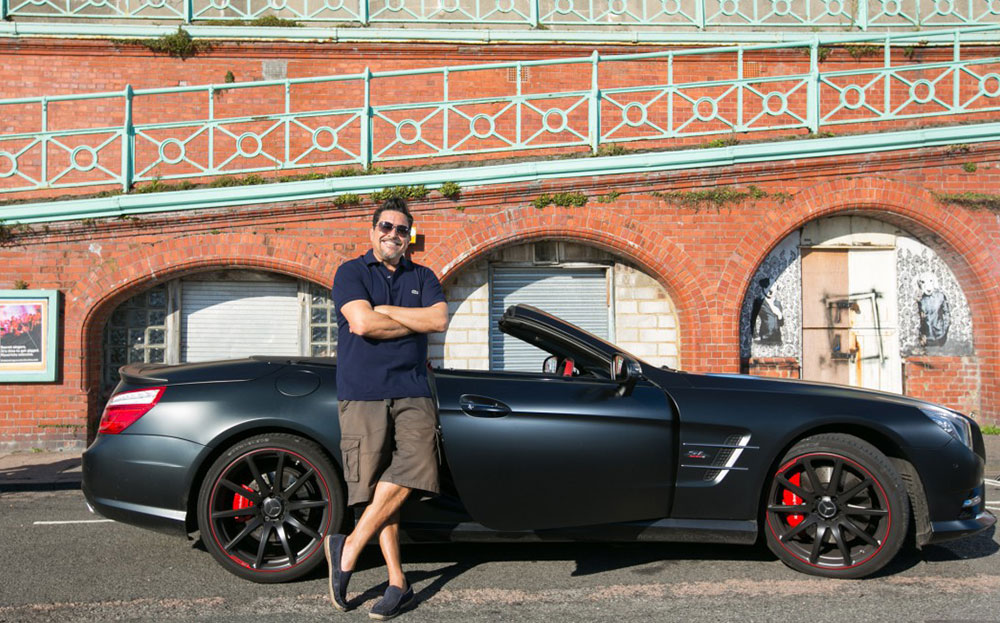 Mercedes-Benz SL 400 Mille Miglia 417 edition, £85,335
THE OLDER you get, the more uninterested you become in answering the phone. When I was young, every call held the possibility of excitement — someone inviting you to a party, someone organising a road trip. Life was heady and unpredictable. If only we'd been old enough to appreciate it at the time.
---
View the used Mercedes SLs for sale on driving.co.uk
---
Once middle age kicks in, there is no real reason to answer the phone. If it rings after seven in the evening then it's either news of a death, someone in the midst of a divorce who wants a place to stay, or a gentleman called Roger from a call centre in Madras wanting to know if I'd thought about a new kitchen recently.
Similarly, if the bell on my gate rings it's usually bad news. Anybody I like has the entry code. This leaves me the option of accepting an expensive-looking package for my wife or someone informing me that my pig Wilbur has gone berserk in the village and is refusing to let anybody exit the pub until he is given walnuts.
So when the gate bell rang I didn't even bother to answer it. My 11-year-old son did. He listened, politely said, "I'm sorry, I don't understand what you're saying . . ." and then let them in. I made a mental note to give him another home security talk and told him to go and sign for whatever internet "bargain" his mother had ordered. He ran back inside three minutes later in a state of great excitement.
"Dad, Dad, someone has given you a Batmobile!"
I walked out to meet Batman but it wasn't him. Instead a nice man handed me the keys to a Mercedes SL 400 Mille Miglia 417 Edition AMG Sport painted a sexy matt black. It was a midlife crisis on four wheels and I think I actually started drooling.
My boy Jackson loved it. This was unfortunate as he had shown zero interest in any of the other cars I've reviewed and driven him to school in while begging him for some input. This car, which he couldn't wait to get in to, was never going to do a school run. This car had two seats: one for me and one for . . . well, frankly, with a machine such as this, pretty much anyone I chose.
I genuinely don't like flashy cars. I presume a lot of people buy them because, like the dreaded personalised numberplate, they are an indication of status, wealth and one-upmanship. I am a terrible show-off but, curiously, I've never enjoyed doing it in cars.
My dream car would be the fastest, most comfortable and extraordinary thing on the road, but would have zero outward signs of its capability. It would be my little secret. In property terms it would be like one of those amazing loft apartments that you only ever see in Michael Douglas films. You know the ones — you enter them through the rear of a slaughterhouse by way of an industrial lift.
Maybe it's because I'm on the telly and people already assume that I'm a total arse. Me driving around in a convertible supercar would just confirm their theory. I can't win, however — if I'm seen pootling around town in a Dacia then people whisper sympathetically: "Things will pick up . . .".
It's a midlife crisis on four wheels and I think I actually started drooling
Whatever. This is not about me; this is about you, you gorgeous Teutonic black beauty. So let's get this out of the way first. This is, hands down, the best car I've yet driven. I absolutely love it. Now let me nitpick.
Were it mine, I'd de-badge it. I'd somehow remove a little bit of the excess chrome and lose the tiny flecks of red on the disc brakes and the go-faster stripe below the bumper. I suppose what I'm really after is a classic 1960s-era film-set Mercedes but with all the 2015 technology.
Still nitpicking — this is a striking car, but it's just a bit too pleased with itself. It's like some cocky lothario that nobody can resist but then they hate themselves for their weakness.
Then I got into the driving seat and I just didn't care any more. I grew up with Mercedes in my blood. In 1970s Beirut the brand straddled both ends of the market. Every communal taxi (way ahead of Uber) was an old yellow Mercedes that had done the equivalent of at least five times round the world on the mean streets of the Levant.
At home, my dad drove a monster of a Merc — a white 280 SE L. It was vast and powerful and yet somehow it had style and grace. We called it "Cedes" and we all loved it like a favourite family pet. We'd take it off on expeditions into Syria and regularly drive from Beirut to London and back in it en famille.
"To travel is better than to arrive" goes the hoary old cliché. Whoever came up with that must have been driving an SL 400 Mille Miglia 417 Edition
By the time I'd reached legal driving age, however, Mercedes had, in my mind, slightly lost its way. It had forsaken the gorgeous curves and gone a bit too Eighties brutalist for my liking. The brand had something of an image problem. This was confirmed one morning when I spotted Anne Robinson driving through my village in a vast open-top model. It wasn't cool; it was vulgar and a bit embarrassing. Mercedes had never been vulgar before. It was disappointing.
The Mille Miglia wasn't vulgar. It sat in my driveway like a big, brooding shark. It just screamed, "Let's go, Joly!" So I obeyed.
As luck would have it I had to get down to north Devon that very evening for a literary festival. What had felt like a chore turned into pure delight. The sun even came out and I put the roof down and headed off down the M5 with a stupid smile on my face. It got a little chilly on the motorway but Mercedes had thought of everything. One touch of a button and an "electric scarf" — or Airscarf — was initiated: a steady blast of hot air from the headrest warmed my delicate neck.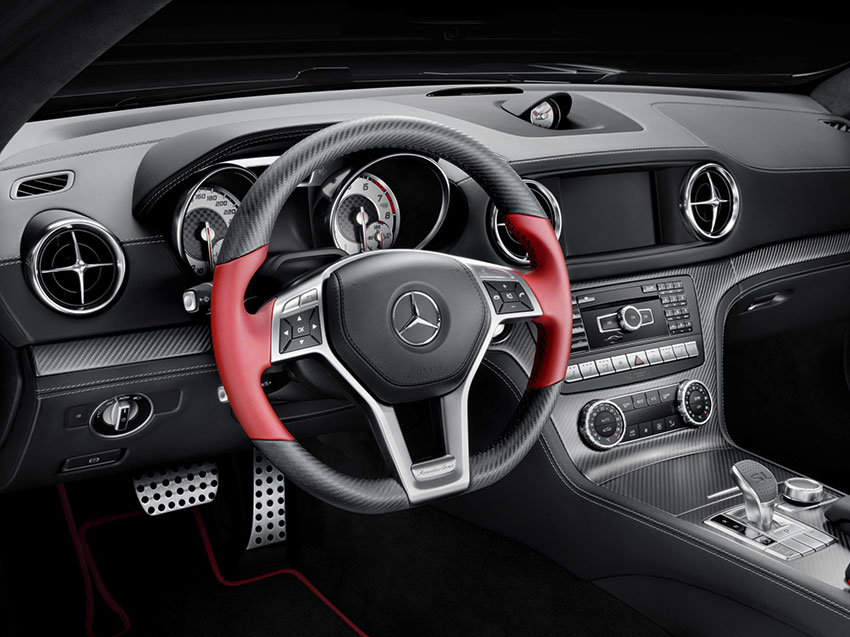 My only problem was not being able to work out how to turn off the sat nav's voice commands. This became seriously awkward when I passed through Gloucester. The rugby World Cup was on and the streets were full of burly men who stared at me as I drove past. Their feelings were crystal clear: no man in this sort of car would be welcome in their scrum. At that moment the sat nav started screaming "Go straight" over and over again, to which the burly men shook their heads in disgust and returned to their flagons of beer.
Undaunted, I sped down to Devon and back. I'm always conscious in these sorts of cars that one is in a ludicrous position. The machine is built for speed and nerve-tingling excitement (it's limited to 155mph, I'm told) and yet legally you can't even reach half that speed. It's like some huge tease. It's like the curious concept of going to a lap-dancing club: you enter, pay a lot of money for rubbish drinks and for having women gyrate over you, before wandering back onto the streets like some frustrated timebomb.
Fortunately Mercedes has, I presume unintentionally, helped the driver to slow down. Every 10 minutes or so on the road to Devon, the roadside lights reflected through the blue glass roof and created a very realistic impression of flashing police lights. It fooled me every time and was seriously annoying, but it probably saved me from the real thing.
I have to be careful. A roadside camera recently flashed me doing 37mph in a 30mph zone in Cardiff. They offered me the chance to do a speed awareness course in lieu of points. The date for it was last week and so I found myself awkwardly parking this bionic speed machine at a dodgy-looking hotel near Bicester. Unfortunately the gentleman running the course spotted me arriving and spent the next four hours treating me like a serial killer.
"A car is a deadly weapon in the wrong hands . . ." he said, looking directly at me. I kept schtum. All I could think about was getting back into this engineering miracle. "To travel is better than to arrive" goes the hoary old cliché. Whoever came up with that must have been driving an SL 400 Mille Miglia 417 Edition.
2015 Mercedes-Benz SL 400 Mille Miglia 417 Edition AMG Sport specifications
PRICE: £85,335
ENGINE: 2996cc, V6
POWER: 328bhp @ 5250rpm
TORQUE: 354 lb ft @ 1600rpm
TRANSMISSION: 7-speed automatic
PERFORMANCE: 0-62mph: 5.2sec
TOP SPEED: 155mph
FUEL: 36.7mpg (combined)
CO2: 179g/km
Road tax band: I (£350 for first year; £225 thereafter)
RELEASE DATE: On sale now
Mercedes-Benz SL 400 Mille Miglia 417 Edition AMG Sport rivals
MASERATI GRANCABRIO, £98,950 (view cars for sale)
For Rare; the V8 engine sounds good and the styling turns heads
Against Substantially more expensive than the SL
PORSCHE 911 CARRERA CABRIOLET, £85,253 (view cars for sale)
For More powerful and faster than the SL yet no more pricy
Against Missing the novelty value of the special-edition Mille Miglia
---
View the used Mercedes SLs for sale on driving.co.uk
---