The Clarkson review: 2017 Mercedes E-class coupe
Fat and silent, like a biscuit-loving ninja
AT AROUND this time of year my colleagues and I sit down in our television production company and try to work out which cars will be subjected to a sideways, smoking-tyres track test in the next series. Normally this begins with Richard Hammond saying: "Well, there's a new 911 …"
That is followed by my shoulders sagging to a point just below my navel, because what can you say about a Porsche 911 that hasn't been said a billion times already? "The engine's in the wrong place. It drives well. No one will let you out of side turnings. The end."
Oh, sure, Porsche will explain in great detail that the new model is 4.5% stiffer than the previous one and 5.8 grams lighter because it has titanium wheel nuts, but those are not the sorts of fact that work well when you are competing for viewers with House of Cards and Billions and a lot of grunting sex on Sky Atlantic.
---
Browse NEW or USED cars for sale
---
I'm afraid it's the same story with any AMG Mercedes. It may be a tiny bit quicker from zero to 62mph than the previous model, and the Comand system may allow you to check how economically you've driven over the past 30.8 miles. But all of this is overshadowed by the thunderous noise and the massive wiggly back end. Points you've made several thousand times. Honestly, reviewing a car such as this is like being in Groundhog Day.
And so it was with some despair that I looked on the wall chart the other day and noted that a new Mercedes would be arriving for me to write about. Oh no, I thought. It'll be an AMG and I'll have to think of another long-winded simile to describe the noise it makes. "God gargling with gravel." Done that. "Thor treading on a bit of Lego." Done that. "Tom Jones bending over to pick up the soap in a Strangeways shower." AA Gill did that. And it'll never be beaten. Apart from when he described the wet V8 burble of a TVR as sounding like two lesbians in a bucket.
As it turned out I needn't have worried, because the car that turned up was not a thundering AMG (don't be fooled by the "AMG Line" trim, which denotes sporty seats and floor mats with "AMG" on them, not a snorting engine souped up by Mercedes' skunkworks department). It was something called an E 400 4Matic coupé. Which in English means that it's a four-wheel-drive, two-door version of your luxury Uber driver's E-class saloon.
Mercedes has gone down this route because it fancied having a pop at BMW's fabulous 6-series coupé. It explains, with a serious face, that its car has 14mm more rear legroom than you get in the Beemer and that it's also available with a four-cylinder engine. And then it sits back like a smug lawyer who's delivered his killer point. But, I'm sorry, Mercedes is missing the point.
Nobody cares two hoots about rear legroom in a coupé. If they did, they'd buy the four-door saloon. The whole point of a coupé is its looks, and on that front BMW has the market covered because, ooh, that's a handsome car. And the E 400 isn't. It looks as if it used to be good-looking before it found the biscuit tin. It looks, and there's no kind way of saying this, a bit fat. And was it beyond the wit of man to do away with that funny-looking rear quarterlight?
Inside, things are much better. You get air vents that resemble the plasma drive systems from a spaceship and, in the version I tested, a giant council-house flatscreen TV that tells you where you are, where you're going and how quickly you'll get there. As well as how much fuel there is in the tank and everything else in between.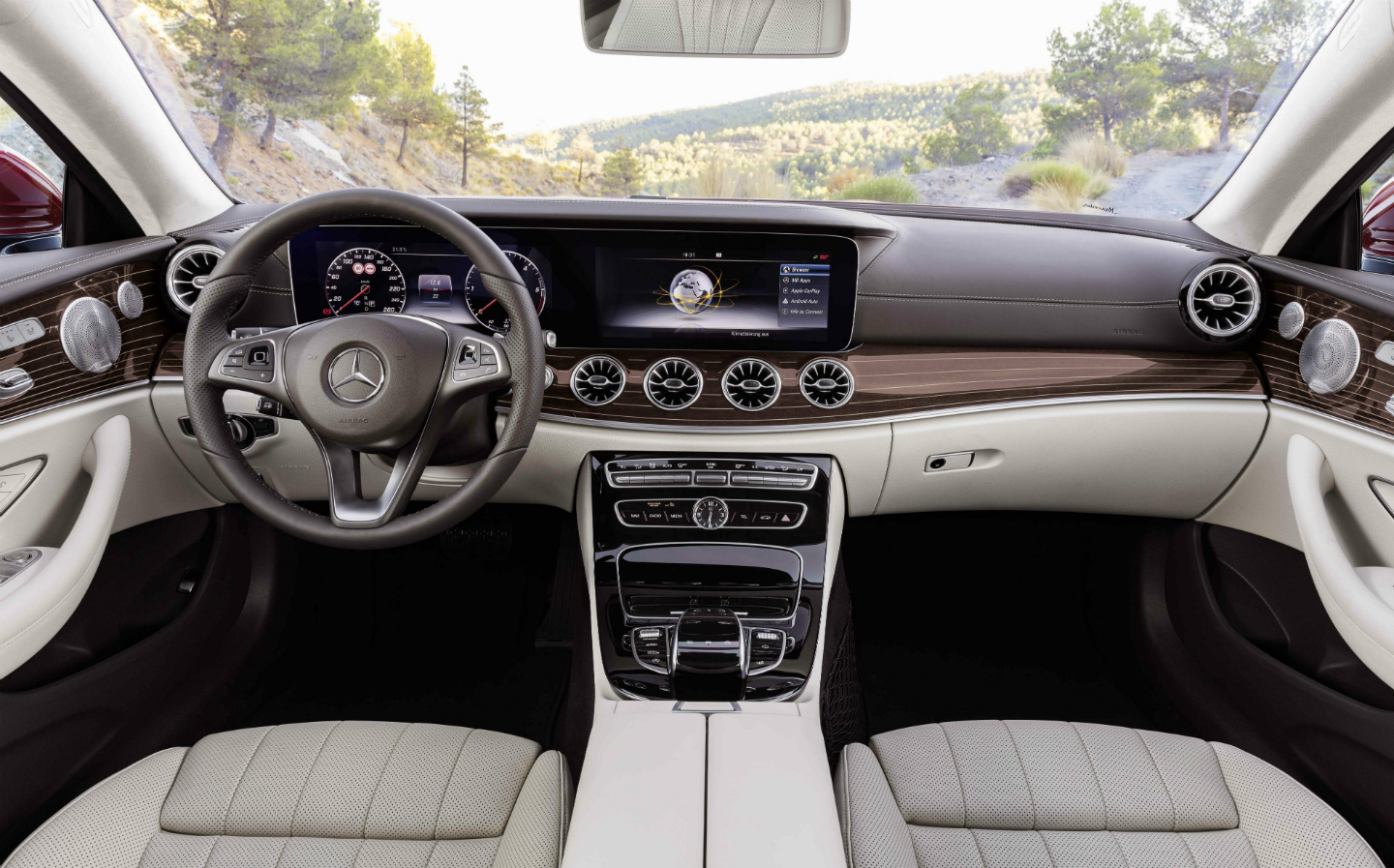 And, yes, it does allow you to choose the colour of the interior lighting. I went for purple. Even though it clashed badly with the exterior, which was the exact same colour as a placenta.
To drive? Well, the friend who was using it to pick me up from the airport had a few choice words to say about that. As I landed, I noticed on my Find My Friends app that she was still in Chelsea, so I called to ask why. There was a lot of swearing, but the gist of it went: "How do I make the engine begin?"
And then, after I'd explained there was a button hidden away behind the steering wheel, another call to say: "Where's the effing gearlever?" I had to explain that it sticks out of the steering column and looks like the stalk that would operate the wipers on a normal car.
It's a 3-litre V6 that produces hundreds of horsepower and a mountain of torque. And yet somehow it makes no noise at all.
So it doesn't begin or get going like a normal car, and this, it turns out, is the E-class coupé's party piece. Because it doesn't feel normal when you're driving along either. You have a nine-speed gearbox, but you'd never know that it's constantly swapping cogs and that the power from the engine is being sent to whichever of the four wheels is best able to handle it.
Ah, yes, the engine. It's a 3-litre V6 that produces hundreds of horsepower and a mountain of torque. And yet somehow it makes no noise at all. Unusually for a Mercedes, then, I'm having to think of a whole new simile. It's like a Trappist monk who's dead in a room made entirely from kapok. Only quieter.
The drawback is that when you look down at the council-house flatscreen, you'll note you are doing 130mph. Which is against the law.
You're not even being jiggled around that much. Well, not by the suspension, at least. You could drive this thing through the broken streets of Palmyra and it'd feel as if you were in Austria at the end of a national competition to find the country's best roadworker.
---
Browse NEW or USED cars for sale
---
However, there are many electrical systems on hand to stop you crashing, and they are a bit panicky. Time and time again, the car's on-board brain decided I was definitely on the verge of a huge accident and took control of the brakes and the steering.
This is a heart-stopping surprise, and I was tempted to turn the systems off. But if you do that and you get a text and crash, and you have to spend the rest of your life communicating with a head wand, you're going to feel a right Charlie.
Mercedes needs to turn the intervention down a bit. To make it gentler and less alarming. Because, as it stands, it's a good-enough reason not to buy this car. So is the styling.
I know BMW's 6-series is more expensive and has 14mm less legroom in the back and can't be ordered with four-wheel drive. But turning that down and buying the Mercedes instead is like turning down Uma Thurman for the woman at the post office. Because she's so good at ironing.
Head to head: Mercedes E400 v BMW 640i
| | | |
| --- | --- | --- |
| | Mercedes E400 4 Matic | BMW 640i M Sport |
| Price | £50,775 | 64,680 |
| Fuel | 33.6mpg | 36.7mpg |
| 0-62mph | 5.3sec | 5.3sec |
| Top speed | 155mph | 155mph |
Write to us at driving@sunday-times.co.uk, or Driving, The Sunday Times, 1 London Bridge Street, London SE1 9GF