The Clarkson Review: 2016 Aston Martin DB11
Pay attention, 007, this one does work
---
Published 19 December 2016
PEOPLE like Aston Martins. And what's more, people like people who drive them. They're seen as cool and intelligent and refined. They know not to drink red wine with fish and are familiar with the Latin name for every single fish in the sea.
Astons are driven by people who find Ferraris and Porsches a bit tall-poppy vulgar, a bit Manchester United. A bit disgusting. I get that, but there's always been a problem. Aston Martins have never been much good.
The DB5, trumpeted by many as the best, most iconic Aston Martin of them all, feels pretty much like a Seddon Atkinson dustbin lorry to drive. There's a scene in the Bond film GoldenEye where Pierce Brosnan races his silver bin lorry through the Alpes-Maritimes against a Ferrari 355. It was supposed to be very exciting but for me it was just annoying because I was being asked to believe that if someone entered a cow into the Grand National it would be in with a shout of winning.
---
View the Aston Martins for sale on driving.co.uk
---
Later Aston Martin made a car called the Vantage (read Clarkson's review here — his first for The Sunday Times). It had a supercharged V8 and excellent headrests. But to drive, it felt almost identical to Ford's Raptor pick-up. I loved the Vantage, make no mistake, but it handled and braked and gripped like it was quite drunk.
To make matters worse, Astons back then were made by hand, which is another way of saying that nothing fitted or worked properly. And they were never really tested before they went on sale. There was a sense at the Newport Pagnell factory that early customers could find out what was wrong. That would save a lot of time, bother and expense.
This sort of thing was still going on when the company came up with the DB7. I forget now exactly what was still wrong with it when it went on sale but I'm pretty sure a tendency to fall to pieces was at the top of a long list.
The DB9 was far more sorted when it came along. You sensed it had been properly developed and well thought out. But you also sensed that behind the achingly pretty face beat a fairly ordinary heart. It was as groundbreaking as a loaf of bread. And that's been the story ever since, really. Beautiful and fairly well-made cars that under the skin were just that: cars.
Ferrari and Porsche, with big money backing from wealthy parents, could afford to develop new technology and new ways of doing things. Aston Martin was stuck. It would change the styling and the names of the cars but underneath they were all broadly the same and they were using tech that was starting to look old-fashioned.
So I wasn't really expecting all that much from the new DB11. I figured that it would be beautiful, which it is — achingly so — but that it would be no match dynamically for what the rest of the world could offer. I was wrong.
The old V12, which sounded magnificent — but which we always knew at the back of our minds had been made by nailing two Ford Mondeo engines together — is now gone. And in its stead the DB11 is powered by an all-new 5.2-litre V12 that is fitted with two turbochargers.
When I heard that Aston Martin had developed this engine itself, I thought: "With what? Some loose change they found down the back of the sofa?" I figured it would be a bit old-school with lag and a lot of "That'll do, near enough" Brummie tech. It isn't. It comes with cylinder deactivation and one turbo and intercooler per bank and all the latest tech. Also, the engine's made in Germany.
"It's not just a pretty face. This is an extremely good car. Phenomenally good. But there is a price to pay . . ."
Better still, there's been a tie-up with Mercedes-Benz so the DB11 has a Mercedes sat nav (current Aston Martin owners will rejoice at that news). And Mercedes electronics. And the Mercedes Comand infotainment system.
As I said when I reviewed the car on the television recently, this is a very successful Anglo-German marriage. And soon it will produce a son; an Aston with Mercedes-AMG's turbocharged V8. I'm dribbling at the thought of that.
But not as much as I'm dribbling at the memory of driving the DB11 round the Mugello racetrack in Tuscany. I've driven Astons on a track before and it's always felt as if I'm trying to ballet dance in a pair of extremely good-looking Church's brogues. You always got the sense that the car was saying: "Really?"
The DB11 is a completely different animal. The chassis was designed by a former Lotus chap who has tuned it for comfort, yes, but not — as I quickly discovered — at the expense of everything else. Ooh, that car gripped.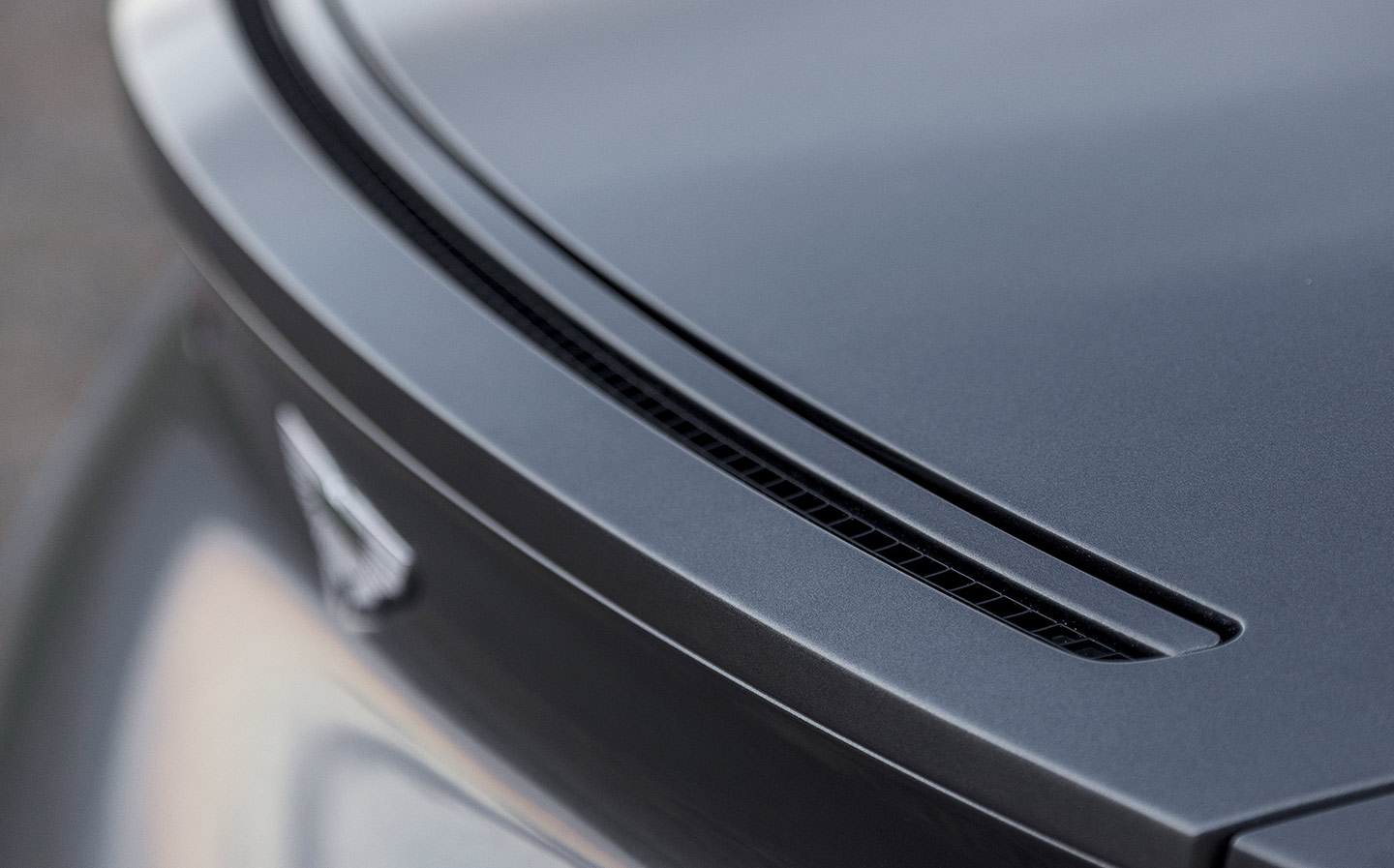 As you're going along, air is funnelled into ducts behind the rear-side windows and it's then shot out of a narrow vent on the boot lid. When I was told about this invisible air rear wing I thought, "Yeah, right" , and I still do to a certain extent. But something is keeping the rear end planted so maybe it does work. Maybe Aston really has thought of something new. That'd be a first.
The traction control system isn't new. But it's tuned beautifully so it's gentle in its restraint and progressive when it feels you're through the bend and the rear tyres are fully able to exploit the 600bhp and that mountain of torque. It's even better than the system in the McLaren 675LT, and that's saying something.
You imagine when you leave the track that something this grippy will not work on the road. But it really, really does. Put it in GT mode and it becomes quiet and smooth and very comfortable.
---
Browse NEW or USED cars for sale on driving.co.uk
---
If you're ever in Paris, at a party at 3am, and suddenly remember you are playing in a tennis tournament in Monte Carlo the next afternoon, this is the car for the job. You'd arrive feeling like you'd just got out of the bath.
The upshot of all this is that you feel, for the first time in an Aston Martin, that there's some real engineering between you and the road. That it's not just a pretty face. This is an extremely good car. Phenomenally good.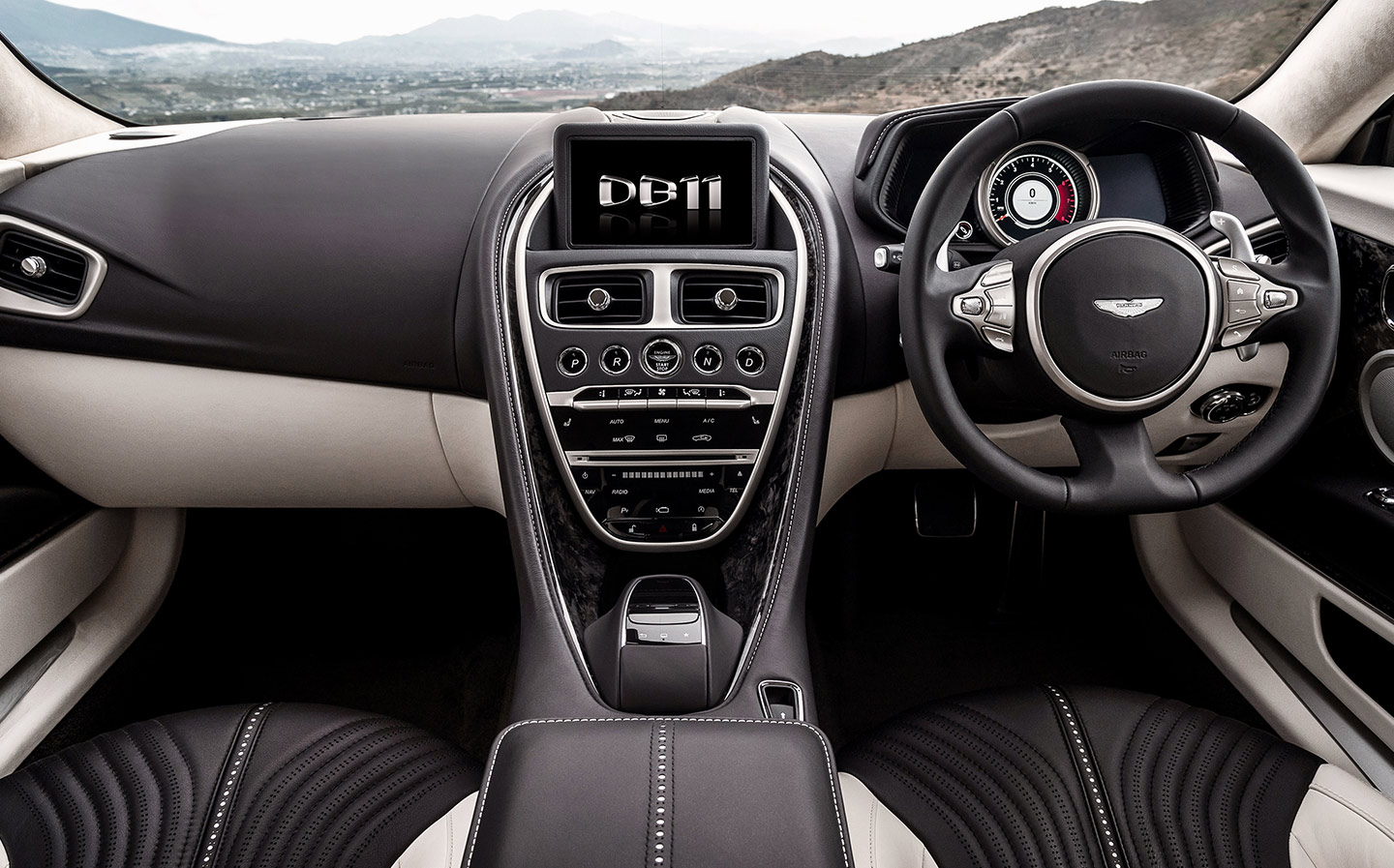 But there is a price to pay, I'm afraid. It has a horrible interior. The door linings in my test car looked like those polished marble kitchen tops that have got too many chintzy bits in them, and the steering wheel was square. Who thought that was a good idea? Or did the supplier misread the name of the customer and think it was for "Austin Martin"?
Whatever, the cockpit is not a place that you will enjoy or savour. And that's a shame because everything else about this car is absolutely delightful. It's the best Aston yet. And by a very long way.
Head to head
| | | |
| --- | --- | --- |
| | Aston Martin DB11 | Bentley Continental GT Speed |
| Price | £154,900 | £168,900 |
| Power | 600bhp | 633bhp |
| 0-62mph | 3.9sec | 4.1sec |
| Top Speed | 200mph | 206mph |
Write to us at driving@sunday-times.co.uk, or Driving, The Sunday Times, 1 London Bridge Street, London SE1 9GF