Citroën DS4 review (2010-on)
Citroën DS4 review (2010-on)
What is the Citroën DS4?
Decades ago, you could always count on Citroën to zig when everyone when else zagged. That changed in more recent times and the company began serving up dull, worthy fare that really only appealed on price.
---
Search for and buy a used Citroen DS4 on driving.co.uk
---
Well, that's changed and Citroën has rediscovered something of its mojo, as well as a tool to take it upmarket in the family hatchback class. The result is a Golf-sized hatchback that's been styled to pass for a coupé. To a degree, it works, as this is a distinctive car regardless of what genre it fits into. However, it forces compromises on the owners, as it means the rear door apertures are small and the back windows don't open. All this alternative style comes at a high price. The DS4 DStyle HDi 135 would be our pick of a range that gets a lot more expensive, and as it is, it costs £21,145. That pitches it up against the Audi A3 Sportback and BMW 1-series, cars that appeal to badge snobs, unlike the Citroën brand.
The drive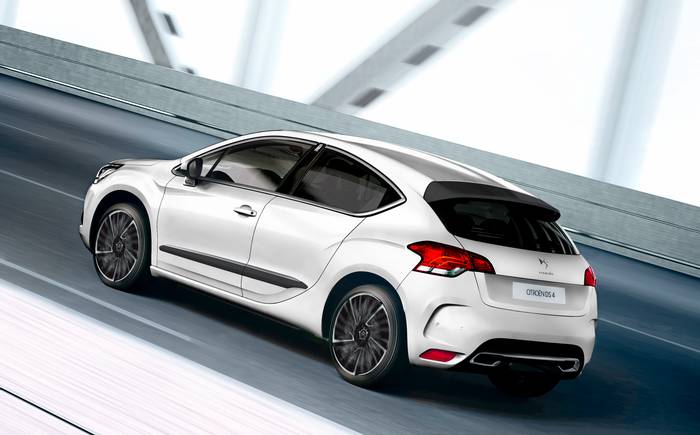 There's a fairly wide range of four-cylinder petrol and diesel engines available. The entry-level petrol, an 118bhp 1.6-litre, is best avoided as it struggles to haul the DS4. At the top of the range, there's a 200bhp DSport 200 THP, although again, it has limited appeal. So we'd go with the 2.0-litre HDi 135, which delivers an acceptable mix of performance and fuel economy via a six-speed gearbox driving the front wheels. It takes 9.4 seconds to do 0-60mph, and the combined fuel economy is 55.4mpg.
The DS4 is based around the C4 platform, but Citroën's engineers raised the ride height while making the suspension stiffer. This has a curious effect. The car feels quite agile and sporty, and lives up to the expectation that the racy styling suggests. But the ride comfort is noticeably harder than a C4, so if you're after a comfortable cruiser for all the family, rival models and even Citroën itself offer better options.
The interior

We've already mentioned the awkward rear doors, which are small to help create the bodywork's coupé look. This creates another problem: back-seat passengers can't lower their windows and headroom is restricted. Be warned: this is not a car for those that suffer from claustrophobia or car sickness.
The driving environment is better — hey, the windows open for starters — with a good range of adjustment for the seat and steering wheel. It's also a little higher than some hatchbacks, which gives a good view of the road ahead. The dashboard is attractively designed and has a hint of premium German car about it, but the steering wheel is jam-packed with switches, which take some time to feel comfortable with. Is it enough to woo drivers from an Audi A3 or BMW 1-series? Not quite, as the build quality lets it down in places, but it's a good attempt at offering a car that's got a character of its own.
Buying a used Citroën DS4
With youth on its side, plus a relatively small number of cars sold in the UK, there haven't been many problems yet. However, some cars have suffered from faulty engine coolant sensors; glitches with the dashboard warning lights are usually down to a software update being needed.
One recall has been issued for the DS4 so far, but only one day's worth of production was affected. Some cars built on this date (October 27, 2011) didn't have their brakes bled properly before delivery.
The One to Buy
Citroën DS4 DStyle HDi 135
Factfile
Price:

£21,145 (correct at first publication)

Engine:

1997cc, four-cylinder diesel

Power:

135bhp @ 4000rpm

Torque:

236 lb ft @ 2000rpm

Transmission:

Six-speed manual

Acceleration:

0-62mph in 9.4sec

Top Speed:

127mph

Fuel

55.4mpg

CO2:

134g/km

Road Tax Band:

E 

Dimensions:

L 4275mm W 1810mm H 1523mm
Citroën DS4 alternatives for similar money