BMW 330e iPerformance review (2017 on)
Is this the best plug-in hybrid electric car?
HAVE YOU ever had a eureka moment, while pouring milk over your morning Cornflakes, and decided that nothing could possibly be better than a car with two engines?
No? Not many people have. So why are the world's car makers forcing their engineers to work long into the night to create cars that have both petrol and electric motors?
The answer, we're told, is to reduce exhaust emissions. Yet while the carbon dioxide-based car tax system has encouraged millions of drivers to adopt diesel cars, which emit less CO2 than petrol-powered models, there has been no rush to snap up highly tax efficient plug-in cars. Sales since the introduction of the plug-in car grant, in 2011, sales have amounted to a miniscule 94,541 cars, so slow that the icebergs will have melted before any meaningful CO2 reduction could hope to be achieved.
---
Browse NEW or USED cars for sale
---
There's a simple reason for this that governments and car makers often forget. People are not stupid. Despite all the economic support lavished upon the manufacturers of these models, most drivers view electric and plug-in hybrid cars as being about as useful as a hosepipe in the Sahara.
The reasons are many. For one thing, charging high voltage batteries takes much longer than a fill up at Esso, even when "rapid charging". Also, wires have to be trailed all over the place. Then there's the fact that claimed battery range is the stuff of fairy tales, and varies greatly depending on temperature and driving style – yet public charging points rarely work. And they're heavier than petrol and diesel equivalents, and so generally feel more cumbersome to drive.
If ever there were going to be solutions to such problems, surely it would come from BMW, self-proclaimed creators of the "ultimate driving machine"?
Since 2014, it has offered the i3 and i8 electric and plug-in hybrid electric cars. As cars go, these are radical things and of interest to a select audience. So BMW is attempting to widen its appeal with a range of plug-in hybrid electric cars that look perfectly at home on the driveway of an accountant's home in Surrey.
Buyers can choose from an SUV (the X5), a people carrier (the 225xe) and three saloons (the 3, 5 and 7-series). All sit within what the company calls the iPerformance range.
Its 330e iPerformance, reviewed here, features in the top 10 best-selling plug-in cars. The only posh saloon to outsell it is the Mercedes 350e.
The best battery range achieved when driven gingerly was 11 miles
The 330e comprises a 2-litre petrol engine producing 182bhp and an 87bhp electric motor. These send power through an eight-speed gearbox to the rear wheels.
Like most plug-in hybrids cars, the efficiency claims are impressive. BMW says it will return up to 148.7mpg, and can be driven on battery power alone for "around 25 miles". With the two power sources combined for maximum performance, the 330e can accelerate from 0-62mph in 6.1 seconds and hit a top speed of 140mph. Yet it qualifies for the government's plug-in car grant, of £2,500.
Let's examine the electric-only range first. Faced with the school run, and temperate weather conditions, the best it achieved when driven gingerly was 11 miles, when set to Max eDrive mode.
That's a bit different to "around 25 miles". And it's notably worse than the Audi A3 e-tron that Driving ran on extended test.
Equally annoying is the car's habit of draining the battery power when left to its own devices in the day-to-day Auto eDrive operating mode, which is supposed to juggle the petrol engine and electric motor to best meet the demands of the driver. It seemed overly keen to exclusively use the electric motor.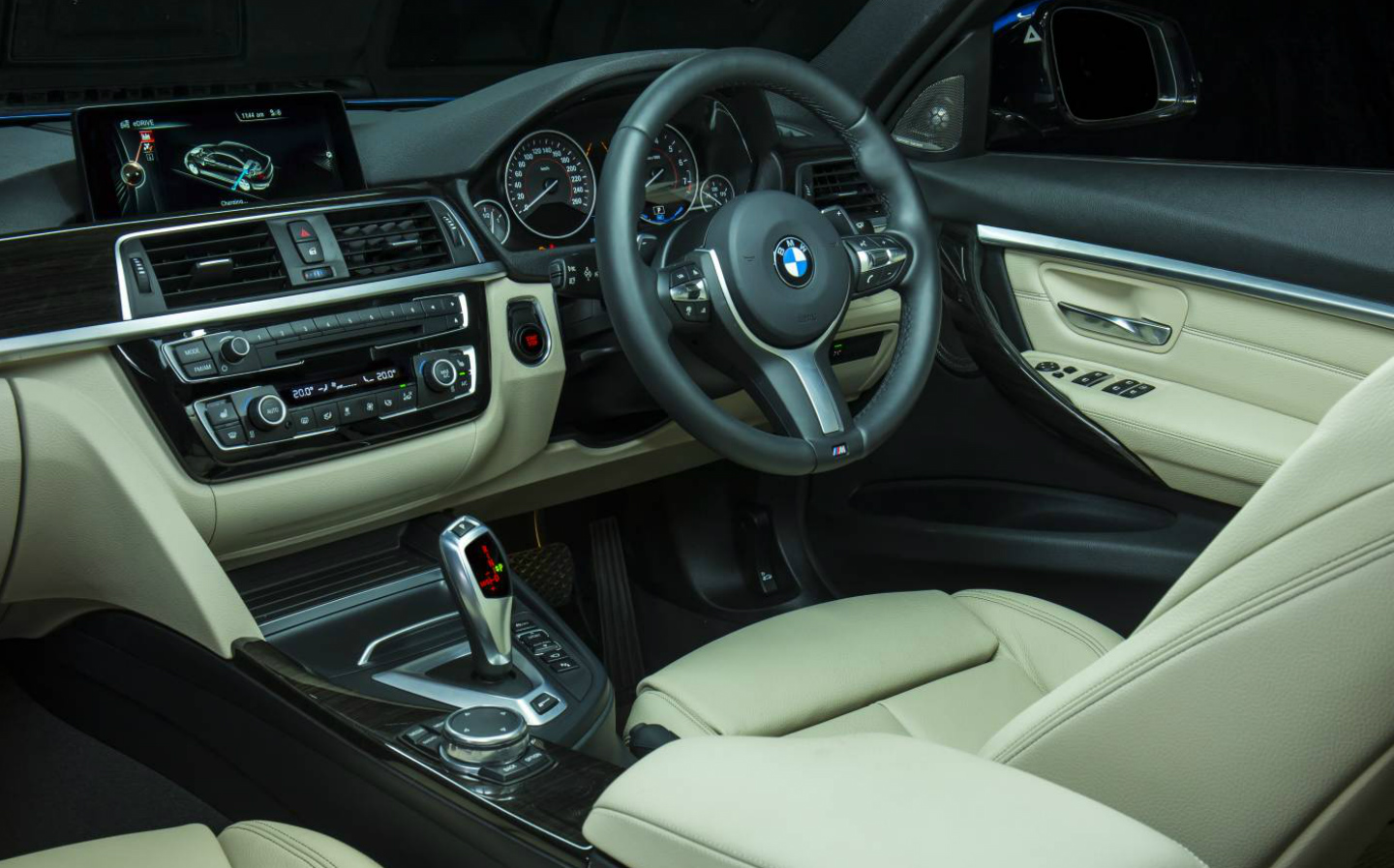 The final setting is Save Battery, and it's telling that this is possibly the most enjoyable of the three, as the 2-litre petrol engine is a smooth unit with good response low in the rev range and a nice growl at the top of the rev range. And in general, the engine feels well integrated with the electric motor and works smoothly through the eight-speed automatic gearbox.
Without any support from the electric motor, though, the fuel economy hovers just over 40mpg.
Unfortunately, the extra weight (230kg more than a 320i M Sport) that the car has to lug around is noticeable on the road. The fantastic body control and composure of a normal, petrol 3-series is missing, and the firm ride comfort will remind everyone on board that Britain's roads are falling to bits.
And it's not often that the brakes of modern cars don't feel up to the task, but this BMW's often felt like they were struggling, even in day-to-day driving conditions.
The battery, which takes just over three hours to charge on a household socket, is under the boot floor, robbing it of over 100 litres of luggage capacity compared with a regular 3-series saloon. But the cabin space remains unimpeded.
It appears, then, that BMW hasn't managed to fix all the problems that introducing two motors to a car entails.
So the only reason for buying a 330e is to reduce your company car tax bill. A top rate tax payer would pay £1,340, £1,935 and £2,382 in 2017, 2018 and 2019 respectively for the privilege of owning a £37,275 330e M Sport.
Whereas a 320 ED Sport automatic, which costs £33,420, would land company car drivers with tax bills of £2,924, £3,190 and £3,588 over the same periods. A petrol-powered 320i M Sport auto costs more still.
So the 330e is a car that puts a smile on an accountant's face. But for the majority of drivers, it's another example of how plug-in cars aren't up to the task.