Audi RS Q3 review (2013-on)
Come for a ride in the rocket-propelled SUV

---
What is the Audi RS Q3?
Given its 5.5-second 0-62 acceleration, you wonder if this is a rorty SUV or a scalding-hot hatchback. It is in fact a soft-roader, albeit one that looks as if it has fallen into the hands of the producers of Pimp My Ride. Its styling, especially the front of the car, has all the subtlety of a punch on the nose. Deep air intakes, mesh grilles, dazzling daytime running lights and an over-inflated "quattro" badge are all designed to signal to slower traffic that whether other motorists like it or not, the driver of this car will be overtaking them ‒ like a playground bully demanding sweets at breaktime. The Audi RS Q3 is unusual, a car whose only competitor (in the vaguest sense) is the BMW X3 35d M Sport, a diesel-powered SUV that musters similar levels of performance. It is based on Audi's smallest soft-roader, the Q3, which means it's a more manageable size than, say, the gargantuan Q7, but it features a hot five-cylinder turbocharged direct-injection petrol engine ‒ a direct nod to the original Audi quattro ‒ and suspension, brakes, wheels and tyres that have been tuned by quattro GmbH, Audi's sports car division.
The drive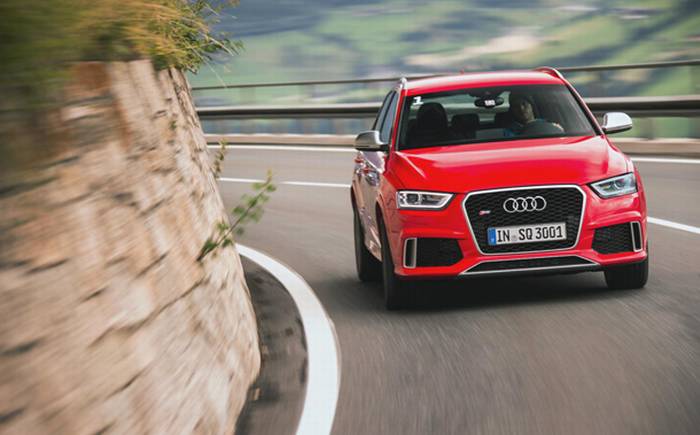 The highlight of the RS Q3 is its engine. A 2.5-litre, five-cylinder turbo unit, it has proved itself in the TT RS and RS3 models, but here it is slightly detuned to 306bhp and 309Ib ft of torque. Its distinct war cry, an off-beat warble that delights in the TT RS, seems to have been deliberately muzzled in the quest for a grown-up driving experience. It isn't especially vocal in the cabin and once past 5,000rpm it sounds a little harsh and strained. However, it successfully endows the Q3RS with a genuine trousers-on-fire turn of speed from low in the rev range. The engine works in partnership with a seven-speed dual-clutch transmission and permanent all-wheel drive. The former gives quick shifts but can be jerky in slow-moving, stop-start traffic. And when powering away in first gear towards the engine's rev limit, the shift from first to second sometimes failed to engage in our test car, leaving the driver frantically pulling at the paddle-shift and wincing as the rev limiter cut in. There's another quirk that is bound to turn to an irritation during a daily commute. The powerful eight-piston calliper brakes are tricky to modulate as the car comes to a stop, grabbing at the last moment and rocking passengers' heads.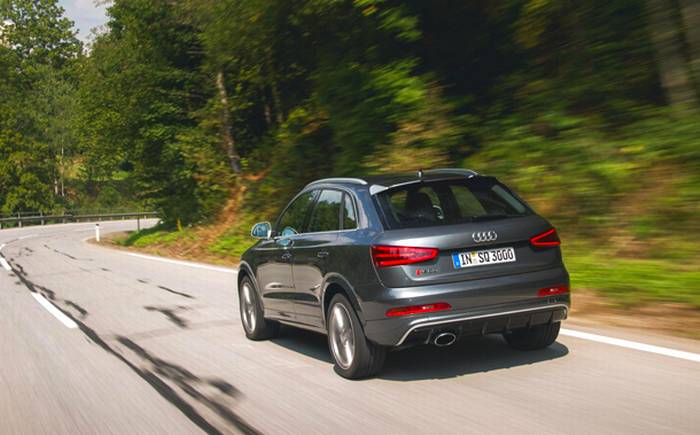 Speed is nothing without control, and when main roads turn to winding lanes, the rest of the RS treatment fails to impress. Despite lowered, sports suspension and a choice of Auto, Comfort or Dynamic driving modes, there's an absence of precision, feedback to the driver and, most significantly, fun. Audi's RS division ‒ you know, the one that's meant to build all the fun stuff ‒ has missed the mark by quite some margin here. The car's singular party trick is hauling itself out of tight second or third-gear corners, especially impressive when the roads are wet. It won't fail to set passengers squealing ‒ what a shame, then, that the driver won't be smiling.  
The interior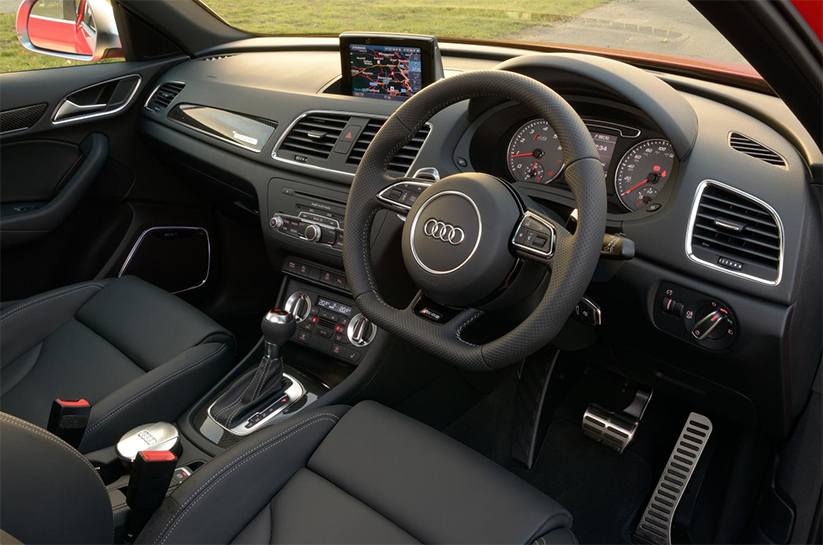 This is pretty much standard-issue Audi Q3, albeit with some RS detailing added for effect, such as the sports seats, flat-bottomed steering wheel, pedals and carbon-effect trim inlays. The seating position feels too high, even when it is dropped to its lowest setting, and the steering wheel won't drop low enough. But the driver's environment is attractive, feels well made and the simplified version of Audi's MMI (Multi Media Interface) system found in this model is intuitive to use. And if the engine doesn't always create music for the ears, the optional, 14-speaker BOSE sounds system definitely does. As the smallest of Audi's SUVs, the Q3 is – unsurprisingly – not especially spacious. It will seat four adults in relative comfort, but the boot is small (just 356 litres compared with 550 litres in a BMW X3, for example) and lifting heavy items over the high loading lip is a chore. If you intend to buy a car like this to be more than a plaything, and depend on it to work as family transport at the weekend, be sure you try it for size with an extensive test drive. In fact, while at the local Audi dealer, ask to try an RS4 Avant for size. The estate is bigger and markedly better to drive than the RS Q3, and many one-year old examples from Audi's used car programme sell for less than £50,000.

The one to buy
Audi RS Q3
Specifications
Price: £43,000
Engine: 2480cc five-cylinder turbocharged petrol
Power: 306bhp @ 5200-6700rpm
Torque: 309 Ib ft @ 1500-5200rpm
Transmission: Seven-speed S tronic dual clutch semi-auto
Acceleration: 0-62mph in 5.5sec
Top speed: 155mph (limited)
Fuel: 32.1mpg
CO2 emissions: 206g/km
Road tax band: K
Dimensions: L 4410mm; W 2019mm; H1580mm
Audi RS Q3 rivals