Audi A3 cabriolet review (2014-on)
Sun cream and shades at the ready - this cabriolet should be at the top of buyers' shortlists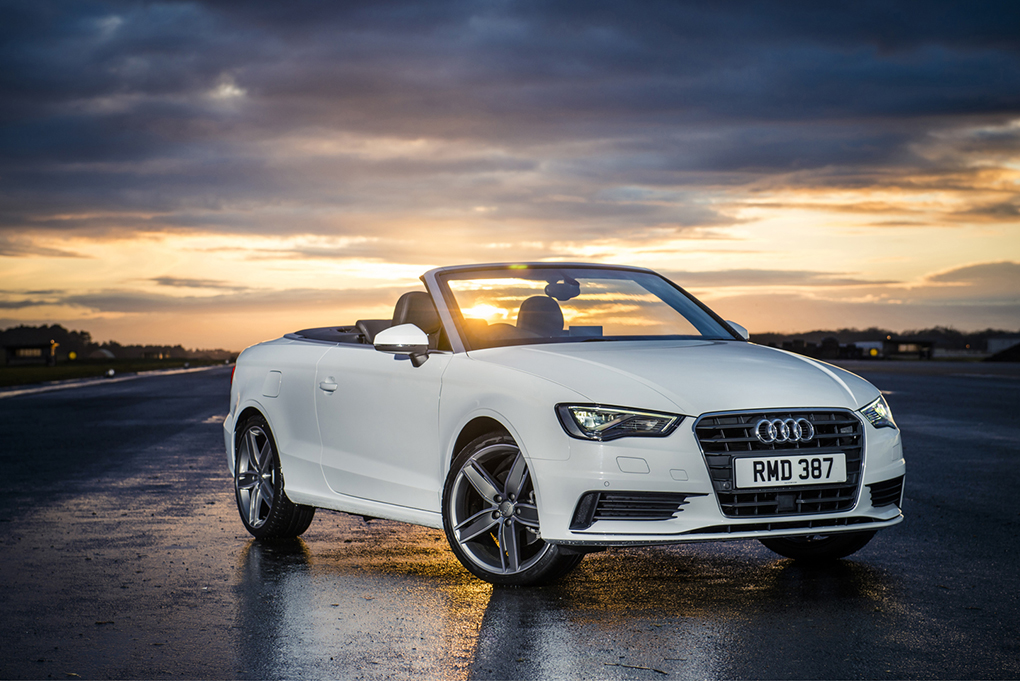 What is the Audi A3 cabriolet?
Want to buy a good-looking cabriolet that can seat four in comfort, hold a modest amount of luggage and won't wobble like a jelly on a plate as you drive on Britain's crumbling roads? Look no further than Audi's A3 cabriolet.
It is the least expensive soft-top in the German manufacturer's range, although that doesn't make it cheap. The cost of owning the new sun-seeker begins at £25,790. An equivalent Volkswagen Golf cabriolet costs £23,380, though a VW Eos, with its folding hard-top roof, is £27,120.
Given that a cabriolet is a car that's bought with the heart as much as the head, other stylish models could figure on drivers' shortlists. Consider a larger car, and you'll be paying a minimum of £33,995 for the popular BMW 3-series convertible. Much cheaper are smaller models such as the pipsqueak Mini cabriolet , yours for £16,420.
---
Search for and buy a used Audi A3 cabriolet on driving.co.uk
---
The Audi A3 cabriolet is available in three trim levels: SE, Sport and S line. All feature a fabric folding hood that is electrically powered. It's worth noting, however, that the hood on Sport and S line trim levels is of triple-layer, as opposed to two-layer, construction, a type  Audi claims reduces noise inside the cabin when raised. It is fully automated, too. On the SE model, the driver must manually unlock or lock the roof, so the £220 cost of upgrading could be a worthwhile option.
The engine range starts with a 1.4-litre, 138bhp turbocharged petrol engine, which would be our recommendation for the majority of drivers. It is smooth, willing and achieves 56.5mpg. Those drivers who intend to cover a high annual mileage should consider the 2-litre TDI (priced from £27,240) which has 148bhp and returns up to 67.3mpg on the combined fuel cycle.
For greater levels of performance, there is a 1.8-litre TFSI with 178bhp. However, fuel economy falls to 47.1mpg and the price rises to £28,790. It's not available on the SE, either.
The drive
They say it's wise never to judge a book by its cover. If you like your cars but are eyeing the A3 cabriolet with a touch of disdain, stop now: this is an impressive car to drive.
Let's start with the enemy of every car that has had its roof removed: a wobbly bottom. All too often the body structure of cabriolet cars can shake, shimmy and shudder, making the driver and passengers feel like they're being subjected to a workout on a vibration plate machine.
That doesn't happen in the A3 cabriolet. Regardless of whether the roof is closed or open, the car's structure feels rigid and robust no matter what the driving conditions. Our testers were especially impressed given that our car was a 1.8 TFSI in Sport trim, which comes with lowered, firmer suspension as standard (buyers can choose to specify their car with the standard suspension of the SE for no cost). What's more, the ride comfort is smooth over potholes, or ruts and ridges; not something you could say about many Audis which, typically, ride with all the comfort of a skateboard.
---
Find an alternative to the Audi A3 Cabriolet in our new and used car buying guide – click here
---
With the roof down, there is so little buffeting from the wind that there's no need to raise the car's wind deflector behind the front seats, even when travelling on main roads at 70mph. The climate control and heated front seats keep the chill at bay  on a fresh spring morning, too. Closed,  the three-layer roof of our Sport model virtually eliminated all trace of wind noise, so that the only sound permeating the cabin was the roar of the tyres.

The roof can be operated at speeds of up to 31mph. Audi says it takes 17 seconds to open and 18 seconds to close, but we timed it at 21.5sec and 23.5sec respectively, allowing for the windows to raise.
Sport trim brings Audi's drive select system. In the world of glossy brochures this is said to change the car's handling and ride, but the fact of the matter is it doesn't. Instead, it simply alters the weighting of the power steering and responsiveness of the throttle pedal, as well as adjusting the gearshift pattern.
Fortunately, nothing about the ride and handling needs changing. The A3 cabriolet handles very competently, clinging to the tarmac keenly if you fling it around a bend and soaking up mid-corner bumps which would have rival cars lurching uncomfortably. It's even more impressive when you settle to a cruise, with a relaxed gait that's precisely what most drivers would want from this type of car.
The 1.8-litre TFSI engine is smooth and flexible, as its peak pulling power is low in the rev range, at 1250rpm. The seven-speed dual-clutch transmission – Audi calls it S-tronic – responds quickly and adapts well according to the driver's demands. However, it can be jerky when slowing in traffic and with only seven gears it spins at 2,400rpm at 70mph, which is on the sporty side.
The interior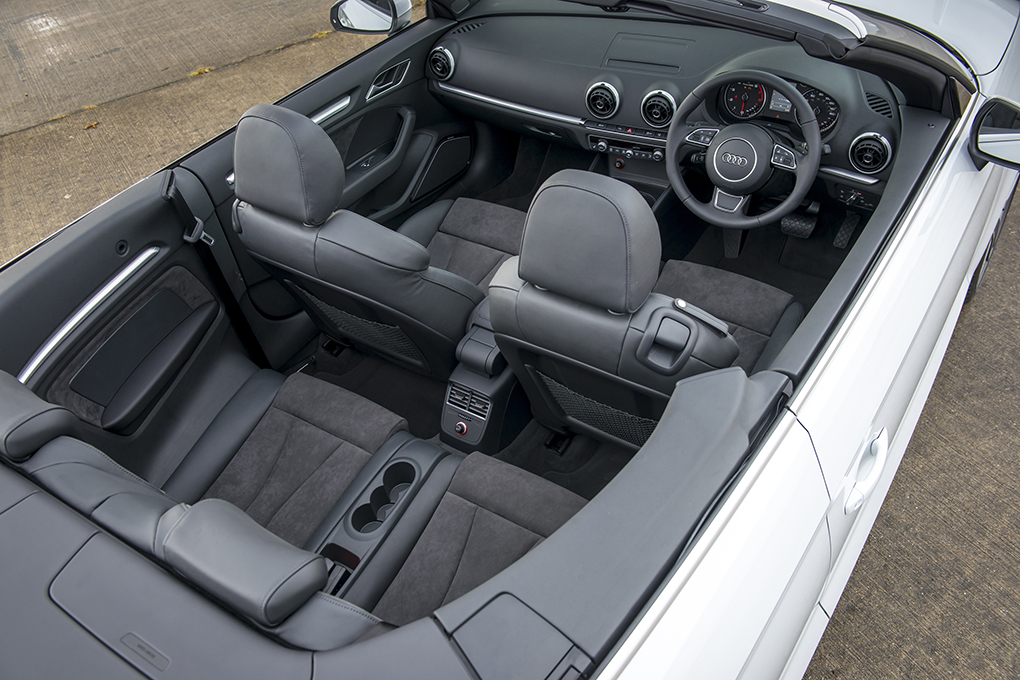 The A3 cabriolet has a classy cabin that is right up there with the best cars in this price range. What you can see or touch appears to be of the very best quality, while the layout of the dashboard is deceptively simple. It's free of the sea of switchgear that plagues some cars, with a host of day-to-day functions being operated by Audi's Multi Media Interface (MMI) system. Its rotary dial works intuitively and comes with shortcut buttons to the main menu, navigation, telephone, radio and other media sources.
The Sport model we tested comes with sports seats as standard. These proved exceptionally comfortable, thanks to a wide range of adjustment. At the same time, the driving position and outward visibility (often a problem in cabriolet cars with fabric hoods) are excellent.
The cabin's only shortcoming is a lack of space in the rear seats. This is not a place adults will relish spending much time – even on a sunny day with the roof down. With the roof up, headroom and kneeroom are pretty limited, as is boot space, which Audi claims is 320 litres, but the cavity is so shallow it's of limited use.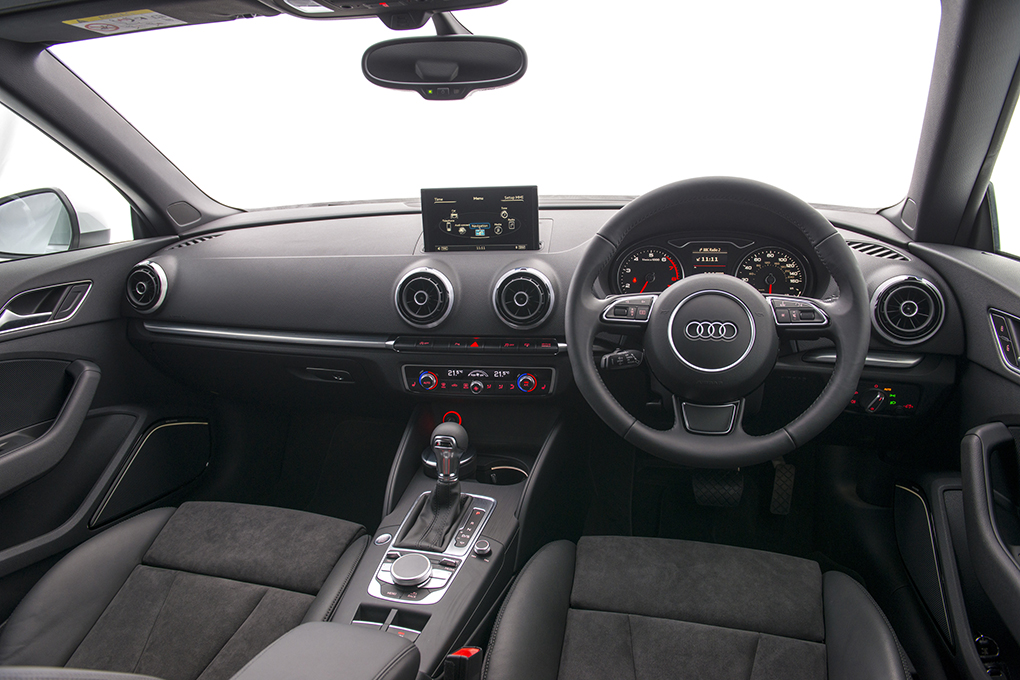 The one to buy
Audi A3 cabriolet Sport 1.4 TFSI
Specifications
Price:
From £27,015 (correct at first publication)
Engine:
1395cc, four-cylinder turbo petrol
Power:
138bhp @ 5000rpm
Torque:
184 lb ft @ 1500rpm
Transmission:
6-speed manual
Acceleration:
0-62mph in 9.1sec
Top speed:
135mph
Fuel:
56.5mpg (combined)
CO2:
114g/km
Road tax band:
C
Dimensions:
L 4421mm, W 1960mm, H 1409mm
Audi A3 cabriolet rivals