2018 Toyota Land Cruiser review
Last action hero
THE TRADITIONAL 4×4 has been rather rudely elbowed aside by the modern SUV. Look around and the roads are a sea of high-riding, smooth-looking SUVs with odd-sounding names and drivers that worry about mounting a raised kerb outside the school gates, let alone a wet Welsh hillside in the depths of winter.
One in five new cars sold last year was an SUV. British drivers can't get enough of them. And since the Land Rover Defender ended production, in early 2016, the choice of hardy, hard-working 4x4s has been limited to pick-up trucks. And the Land Cruiser.
Like the Defender, the Land Cruiser's roots lie in the wartime. The original model was called BJ, begging the question, were troops ever ordered to perform a full-frontal assault by BJ?
---
Browse NEW or USED cars for sale
---
To impress prospective customers, Toyota had a BJ tackle Mount Fuji. It climbed higher than any vehicle before it and the legend was born.
Today, most drivers choose it because they need a car with serious off-road capability and good towing abilities. The fact it's a practical, seven-seat family car (with all seats now forward-facing) is a bonus.
Those drivers will probably keep it forever. Toyota offers a five year warranty – two more than Land Rover – and owners often celebrate Land Cruiser ownership in decades rather than years.
For 2018, the car has had a minor facelift. But the changes are largely to move things like the headlight bulbs out of harms way, so they don't get clobbered by trees and branches, and to raise the lower parts of the bumpers so that the Land Cruiser driver can tackle scarily-steel inclines without having to stop and pick up a bumper that's been ripped from its mounts.
Inside, some improvements have been made to the dashboard and controls, but climb from the Scandi-chic surroundings of a Volvo XC90 into the plastic-fantastic vibe of the Toyota and you'll be shocked. It's all a bit Aiwa tower stereo system, circa 1990.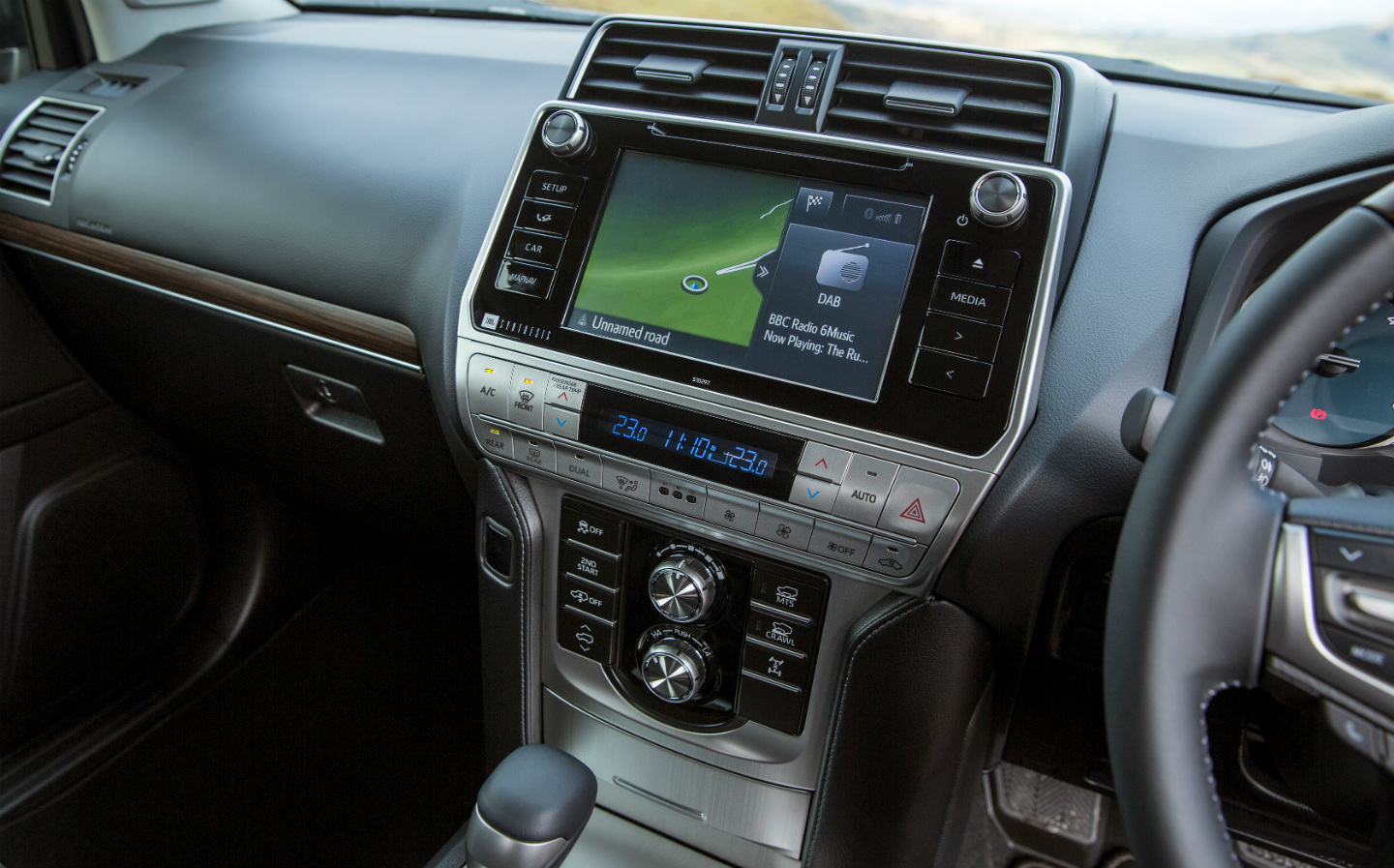 That said, it has a hose-it-clean feel that probably suits the sort of people who buy one just fine. And there's full smartphone integration via the Toyota Touch 2 system, which at least gives good functionality even if it looks old-tech on screen.
The five door Land Cruiser will seat seven people in reasonable comfort, if you slide the middle row of seats forward, but with seven seats raised the boot is pathetically small, holding just 120 litres of luggage.
The real shock comes when you drive it. It may well be an improvement over the previous model, but the fact remains that everything about the way this car drives on roads is antiquated. If a modern SUV feels like it's been to finishing school, the Land Cruiser is a school drop-out.
There's also a new Kinetic Dynamic Suspension System (KDSS), fitted to Invincible models, which we tried. It is said to manage the front and rear anti-roll bars for better on and off-road performance, suppressing body roll, improving steering response and smoothing out the ride comfort over rough roads. This works in tandem with adaptive dampers, which can be cycled between Normal, Comfort and Sport.
Even so, it still rolls, pitches and dives continually on anything other than a clear main road. Because of this, you tend to drive slowly everywhere.
That's a good thing. Because the 2.8-litre four-cylinder, turbo diesel engine is hardly the last word in refinement. Toyota says it has improved the car's levels of cabin noise but truth be told you'll be reaching for a pair of ear plugs each time you accelerate.
Off-road, it seems to shrug and ask, 'Is that all you've got?'
It's also leisurely. Rival cars costing more than £50,000 tend to serve up brisk acceleration from smooth six or eight-cylinder diesel motors, but the Toyota takes 12.7 seconds to pass 60mph, and the six-speed automatic gearbox is pretty workmanlike in the way it goes about its business.
Take it off-road, though, and the tough Toyota comes into its own. The Land Cruiser is impressively capable, tackling off-road courses that resemble a bombed-out battlefield with ease.
Climbs, descents, banks and water up to 70cm are all taken comfortably in its stride. It seems to shrug and ask, 'Is that all you've got?'.
There are settings for Snow, Rocks, Mud and Sand and even Moguls – and you can watch the obstacles from the screen in the dashboard, thanks to cameras that offer a 360 view.
Invincible models also have differential locks in both the centre and rear, and with high and low ratio settings for the transmission – operated at the twist of a dial – it's easy to make progress.
For those who tow, features such as active cruise control, blind-spot monitoring, lane departure warning and a system designed to prevent a trailer swaying from side to side all help keep the car on the straight and narrow.
Sure, there's a lot that's dated about the Land Cruiser, especially from the perspective of driving it normally, on the road. But it's hard not to fall for the car's charms.
This is the car that farmers buy when they secretly hope that fellow farmers will get stuck in their Land Rover Discovery, and phone them for help. The last action hero, if you like. And long may it continue, warts and all.
Tweet to @squarejames Follow @squarejames
Group Test: Land Rover Defender vs Toyota Land Cruiser and Mitsubishi Shogun