2018 Ford Fiesta Vignale review
Little Ford gets big-car luxuries… and price tag to match
---
Published 09 November 2018
HANG on… a Ford Fiesta that costs over 20 grand? I know what you're thinking.
When Ford decided to give its supermini the Vignale treatment – that is to say, try to turn its best-selling town rounabout into a luxury car – I was baffled, too. Aston Martin tried a similar thing with Toyota's tiny iQ and the resulting Cygnet wasn't exactly the company's finest hour. But a luxury small car with a Ford badge? That's a recipe for failure, surely?
Fords have gone upmarket in recent years but they're still meant to be affordable, everyman cars. With prices for the Fiesta Vignale starting at £21,695, Tony Blair's archetypal "Mondeo man" would have a heart attack. For that kind of money you could buy yourself a sporty five-door Mini Cooper in Exclusive trim and have change left over for options. You could even get a new Mercedes A-class, which has more room inside. And a Mercedes badge.
But here's the bombshell: having driven the Fiesta Vignale, I get it. I know who it is for, and why they'd want to buy it. Stay with me.
Let's skim over the exterior changes, other than to point out the striking wave-like Vignale grille, which adds genuine presence to the car, and the optional 18" polished alloy wheels fitted to our test car (shown in the images below), which make it look pretty good in the photos but really fabulous in the metal.
Genuinely shocked getting into a supermini and finding it has a heated steering wheel. You could say I'm 'warming' to the idea of the Fiesta Vignale. ? #coldweather pic.twitter.com/GKKcKiLV36

— Will Dron (@wdron) October 30, 2018
But climb inside and you get a much better sense of where your hard-earned cash is going.
The car was delivered on a cold day and I was chilled to my bones. I climbed into what looked like a little town runabout and immediately found my backside and hands being warmed, as the delivery driver had left the heated seats and steering wheel buttons switched on. As my fingers and core thawed, suddenly everything seemed right with the world.
Then I looked around the rest of the cabin and took in the quilted leather seats, leather steering wheel and dashboard, a crystal-clear Bang & Olufsen 10-speaker sound system (honestly one of the best car sound systems I've encountered), bespoke door kickplates and floor mats, elegantly-lit cup-holders, two USB sockets and an opening panoramic sunroof.
In fact the "standard" Vignale is packed with all kinds of big-car tech: headlights that auto-dip when an on-coming car is detected; warnings for when you veer from your lane or drive in a manner that suggests you're falling asleep; cameras that recognise traffic signs; rain-sensing wipers; an auto-dimming rear-view mirror; power-folding side mirrors; keyless entry.
The 8in colour touchscreen is standard on all Fiestas but the Vignale comes with a rear view camera and SYNC 3 connectivity as standard, which includes voice control and Apple CarPlay /Android Auto integration.
Adaptive cruise control, though, is an optional extra, as part of the the Driver Assistance Pack. Thankfully, the options won't break the bank — that one is £200 — but you might expect it to be included when you're paying so much in the first place.
Also for an extra £200, our test car had BLIS blind-spot vehicle detection and cross-traffic alert, which warns you if something is approaching while you reverse out of a parking space.
This Fiesta will even park itself, in parallel or perpendicular spaces, thanks to the optional Advanced Auto Park Assistance Pack. It's actually very good value for money when you consider how much you'd pay for the same system on bigger cars — on the Fiesta it's a mere snip at (you guessed it) £200.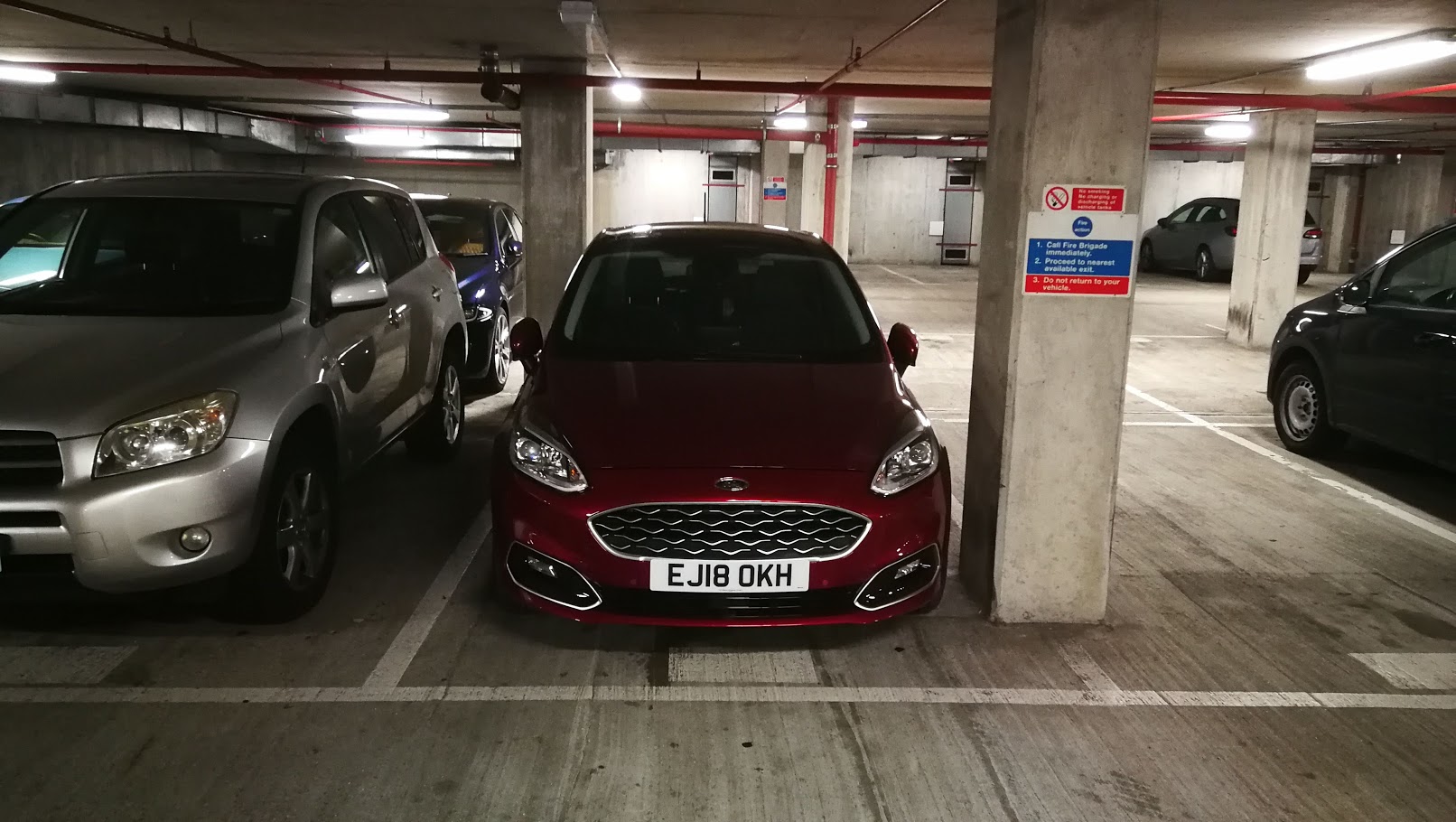 The system isn't perfect; it doesn't seem to have the confidence to get into all possible spaces, I found, and it got uncomfortably close to the pillar shown in this picture on the first part of the manoeuvre, before asking me to shift into 1st and edge forward. But with a slowly-does-it approach on my part, controlling the pedals and gears, it managed to slot itself in with robotic accuracy.
Out on the road, the latest generation Fiesta is an absolute gem to drive. The steering is light but with plenty of feel; the ride is supple and absorbs Britain's broken roads better than most cars in its class (and many in other classes, actually), but it still manages to feel fun and sporty; the manual gearbox is silky-smooth with a well-weighted clutch pedal that enables an easily-controlled, linear power delivery; and the 140PS (138bhp) 1-litre turbocharged Ecoboost petrol engine has oodles of poke from very low revs. (The Vignale can also be fitted with 123bhp or 98bhp versions of the petrol engine, or a 118bhp diesel.)
The Fiesta Vignale is easy to drive and supremely comfortable, it looks posh and offers an array of luxuries. But importantly, it all comes in a tiny package
Bad things? Well, there's no powered tailgate, and the rear doors don't have keyless entry. And of course, the Fiesta's strong suit isn't load-lugging; adults won't want to spend a lot of time in the back, and the boot will only hold 311 litres of luggage with the rear seats up – enough for a large suitcase or a weekly shop.
But, I realised, this is what makes it a perfect car for a very specific sort of person: someone advanced in years and used to the finer things in life, but not concerned with being flash and perhaps not too confident behind the wheel of big cars. The Fiesta Vignale is easy to drive and supremely comfortable, it looks posh and offers an array of luxuries. But importantly, it all comes in a tiny package.
This car is for someone who likes to occasionally climb into the car for a shopping trip into town without the fear that they may not be able to finding a parking space big enough. Someone for whom no amount of Radio 3 could keep them calm while navigating a large SUV around a busy ring-road.
Now, of course, this person isn't stupid; even if the luxuries and tech and so on persuade them to swallow the hefty upfront cost, they'd think twice if the car sheds value faster than a Lamborghini that's been driven into a wall.
But they needn't worry: we checked with valuation experts cap hpi, who calculate that after three years and 60,000 miles, a 2018 Ford Fiesta Vignale 1.0 EcoBoost [125] would be worth £8,025, or 38% of its cost new.
That sounds like a big loss until you consider that a Fiesta Vignale loses value at exactly the same rate as Fiesta Titanium fitted with the same engine (also 38%).
If you're wondering what happens to a Mini Cooper and Mercedes A-class, cap hpi says the Merc would do slightly better  – 41% for an A Class SE 5dr Hatchback A180 [136] – but the Mini is actually a worse investment: a Mini Cooper II Exclusive [Nav Pack] 5dr Hatchback 1.5 [136] will only be worth 36% of its retail value after the same period.
So there you go, the Ford Fiesta Vignale is a bargain. You heard it here first (and possibly nowhere else).