Super-fast estates do battle: Audi RS 6, Skoda Octavia vRS and Mercedes-AMG E 63 S
Less is more in the load-lugger Olympics
---
Published 04 December 2015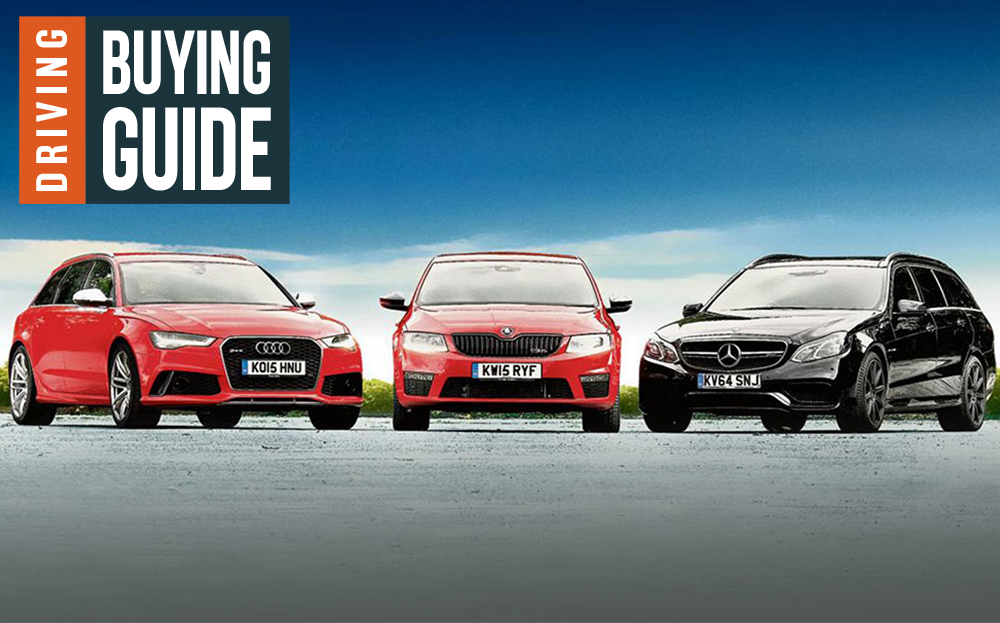 WHO SAID estates had to be dull? The latest breed of super-fast load-luggers combine performance with practicality (think 0-62mph quicker than many sports cars, with a boot full of Ikea flat-pack) and are carving a niche for themselves among buyers bored with giant SUVs that are no fun to drive. But which one is best? We tested three — a Mercedes, an Audi and a budget Skoda — on acceleration, style and loading capacity to find out.
Audi RS 6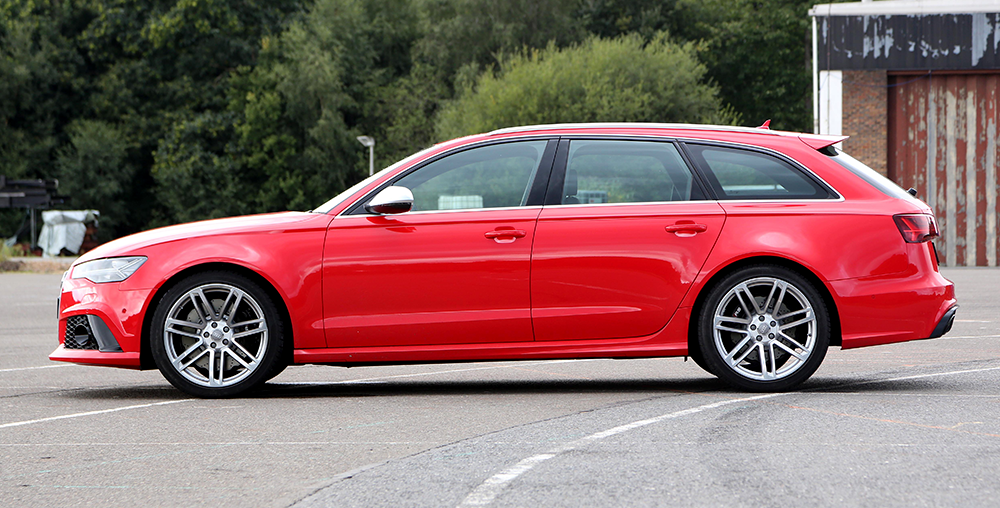 PERFORMANCE ★★★★★
PRACTICALITY ★★★☆ ☆
VALUE FOR MONEY ★★★☆ ☆
OVERALL ★★★★☆
It's more powerful than Audi's R8 supercar but will carry more luggage than the Volvo V70 estate. Fitted with a towing hook, it can pull along a six-berth caravan, but floor the throttle and you'll accelerate from 0 to 62mph in 3.9 seconds (without the caravan, of course).
---
View the used Audi RS 6 cars for sale on driving.co.uk
---
When it comes to pace combined with practicality the Audi RS 6 is unbeatable — on paper, at least. But when faced with a flailing journalist attempting to thread an uncooperative mountain bike through the tailgate, the Audi went from pre-test favourite to bottom of the pack. In a race that involved loading the cars up, accelerating to 62mph and then coming to a halt, the RS 6 took a full 30 seconds longer than the Mercedes-AMG E 63 S estate.
This was down to the fiddliness of having to unclip two horizontal bars from the boot before being able to fold down the rear seats, the slow electric tailgate motor and the sculpted lines that sacrifice some practicality for style. In fact, despite being of similar size on the outside, the Audi has a full 270 litres less boot space than the Mercedes.
On the plus side, the leather and carbon-fibre interior is the most luxurious on test, and while the Mercedes squirms under hard acceleration as the two rear wheels fail to cope with all of the power surging through them, the four-wheel-drive Audi handles the power with ease. The brakes are just as impressive and the RS 6 went from 0-62mph to zero again in at least four car lengths less than the Mercedes.
The superior stability of the Audi will appeal to those planning to carry children in the back; its all-wheel-drive system makes it easily the most sure-footed vehicle on test. There's more traction when accelerating, and independent braking on each of the wheels, which sharpens the car's line through corners.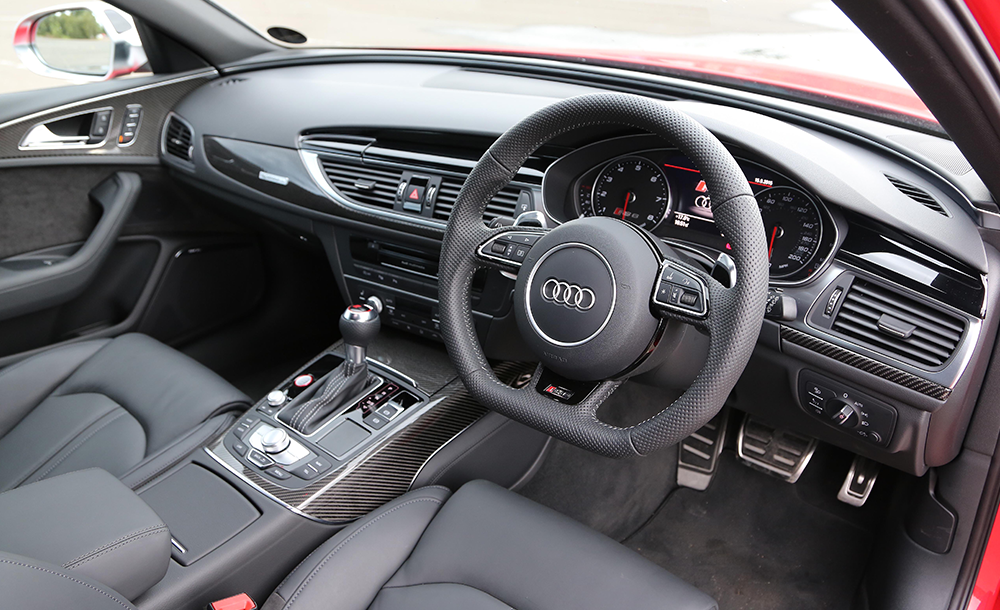 The only downside to all this power and effortless performance is that, cocooned in the plush cabin, it is easy to find yourself travelling far faster than you intended, or the speed limits allow. Mind-bogglingly, Audi has just announced a new, even faster RS 6 Performance edition with a further 44bhp and a 0-62mph time of 3.7 seconds.
But if a duel with the Mercedes leaves the Audi on top, jousting with the Skoda Octavia reveals its weak point: at sensible speeds the Skoda is more fun and involving to drive, if not as quick.
This is before considering the Audi's £50,000-plus price premium, which helps pay for flashy features such as electric boot release, ambient lighting and indicators that appear to sweep from the inside of the light cluster to the outside.
But if you are looking for a performance estate with badge kudos and luxury as standard, it's hard to see past the Audi.
2015 Audi RS 6 specifications
Price: £79,085
Engine: 3993cc, V8, twin turbo
Power: 552bhp @ 5700rpm
Torque: 516 lb ft @ 1750rpm
Transmission: 8-speed Tiptronic
Acceleration: 0-62mph in 3.9sec
Top speed: 155mph (limited)
Fuel: 29.4mpg (combined)
CO2: 223g/km
Luggage space: 565 litres (seats up)
Skoda Octavia vRS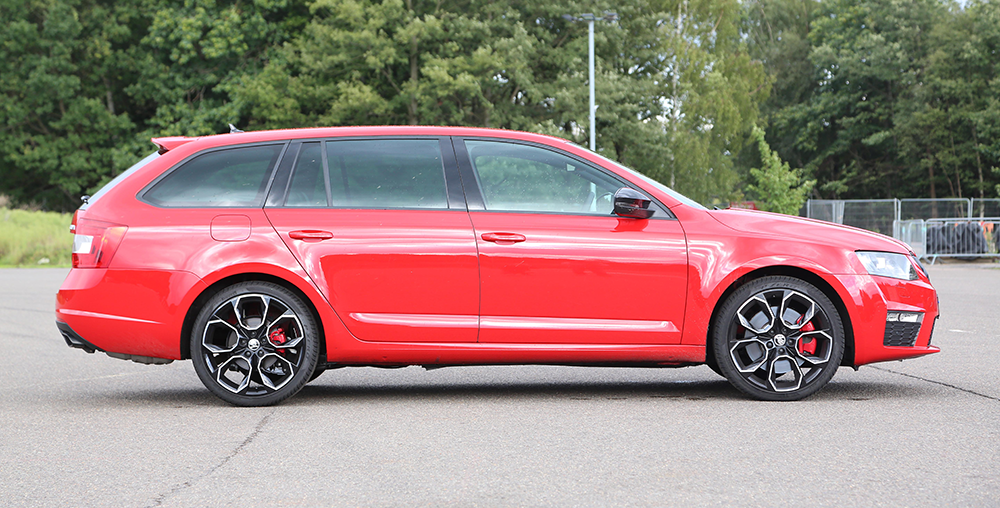 PERFORMANCE ★★★☆☆
PRACTICALITY ★★★★☆
VALUE FOR MONEY ★★★★★
OVERALL ★★★★☆
What, you might be thinking, is a lowly Skoda doing going up against two of Germany's most desirable estates?
---
View the used Skoda Octavias for sale on driving.co.uk
---
The Audi has night vision (an optional extra), armchair-like leather seats and headlights linked to GPS that know when to use a high or dipped beam. The Mercedes is fitted with a 14-speaker Harman Kardon sound system. Buyers can also pick optional Power and Passion performance driving lessons.
And the Skoda Octavia vRS? Well, there's an ice scraper in its fuel-filler cap.
The Czech car is comprehensively outgunned by the two German estates, with an engine that has half the number of cylinders, a workmanlike interior and, of course, that Skoda badge on the grille.
But then remind yourself that you can buy a basic vRS model for £25,430 — with a manual gearbox — that can accelerate from 0-62mph in 6.9 seconds, which isn't too shabby for a family estate, and you start to ask yourself whether the German cars are really worth the equivalent of three Octavias.
The front-wheel-drive setup cannot be as dynamic as its two rivals, but it doesn't need to be, considering that you're more likely to be ferrying the kids to netball than heading over to the Nürburgring.
The 2-litre petrol engine revs smoothly up to 4500rpm where it delivers maximum power; 217bhp in the standard petrol vRS, though our test car was the more powerful vRS 230 with 227bhp.
The steering is fast and precise, while an electronic differential on our test car keeps cornering sharp, and the exhaust even does a passable sporty impression, growling and barking under hard acceleration.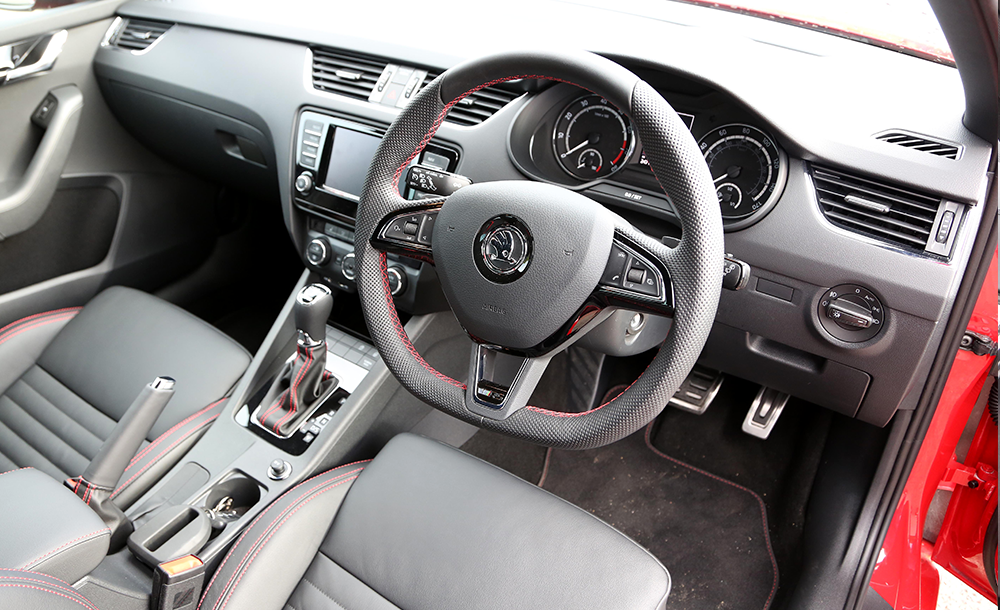 It made buzzing through the countryside great fun in our automatic car, whether we let the dual-clutch gearbox shift cogs, or we used the steering wheel paddles ourselves.
And then we come to the surprising result in our pace and practicality test. Given that its 227bhp engine is an enormous 350bhp down on that of the Mercedes — and 325bhp off the Audi's — no one was expecting the Octavia to win, but it did.
The 1,580-litre boot is the smallest, but it swallowed a mountain bike and a buggy and proved to be the vehicle's big advantage, thanks to its manual mechanism. We could simply pop it open and slam it shut instead of waiting for a ponderous electric motor to open and close the tailgate.
When it came to starting the car, it took just a simple twist of a key, without the delay of the push-button start in the German estates. This more than outweighed the performance deficit in the test from standstill to 62mph to zero again.
The Octavia vRS won't make you feel as special as its two rivals here. Neither will it make your eyes boggle when you hit the accelerator. But it will make you smile in everyday driving.
2015 Skoda Octavia vRS 230 specifications
Price: £28,940
Engine: 1984cc, 4 cylinders, turbocharged
Power: 227bhp @ 4700rpm
Torque: 258 lb ft @ 1500rpm
Transmission: 6-speed dual-clutch auto
Acceleration: 0-62mph in 7.1sec
Top speed: 150mph
Fuel: 43.5mpg (combined)
CO2: 147g/km
Luggage space: 590 litres (seats up)
Mercedes-AMG E 63 S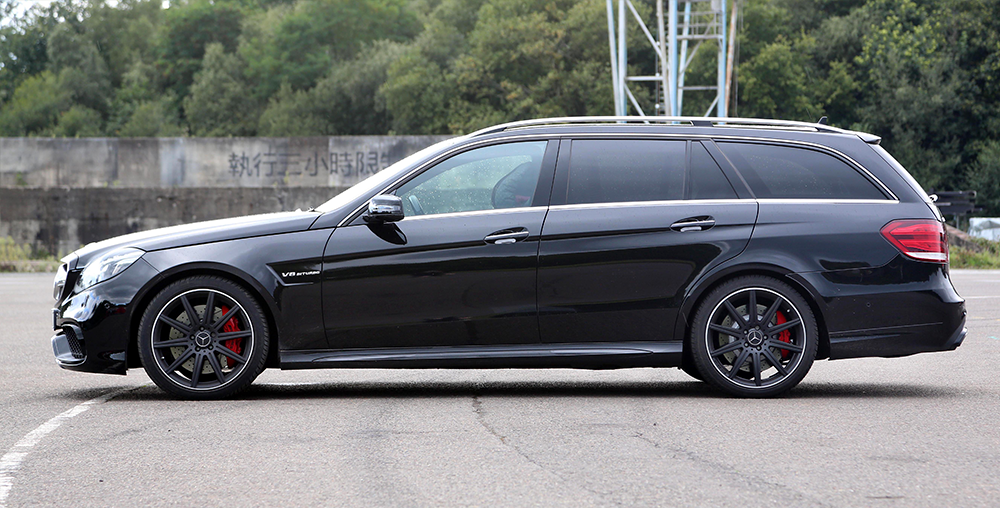 PERFORMANCE ★★★★☆
PRACTICALITY ★★★★☆
VALUE FOR MONEY ★★☆☆☆
OVERALL ★★★☆☆
The Mercedes E-class is by far the biggest of the our three booted barges; any larger and it would need planning permission. It holds an impressive 695 litres of luggage with the back seats in use and 1,950 litres when they're folded via handy remote release levers next to the tailgate or another pair just inside the back doors (practical touches such as this are all over the E-class).
---
View the used Mercedes E-class cars for sale on driving.co.uk
---
Not so many years ago in the late 1980s drivers who wanted a large estate had to settle for slab-sided machines such as the Volvo 700 series. The AMG E 63 S by contrast offers speed, excitement and space in one (pricy) package. Its bodywork has a muscular menace and the growl from its biturbo V8 and exhaust is as intimidating as Gunnery Sergeant Hartman from Full Metal Jacket.
It may sound like a race car but inside there are plenty of thoughtful touches that families will appreciate. There are adjustable restraining bars that can be used to divide up the boot area, tie-down hooks for luggage nets, 12-volt power points and a luggage cover that's an ingenious piece of engineering, as it features both a cover to keep bags hidden from view and a tough mesh restraint that seals off the cabin from the boot.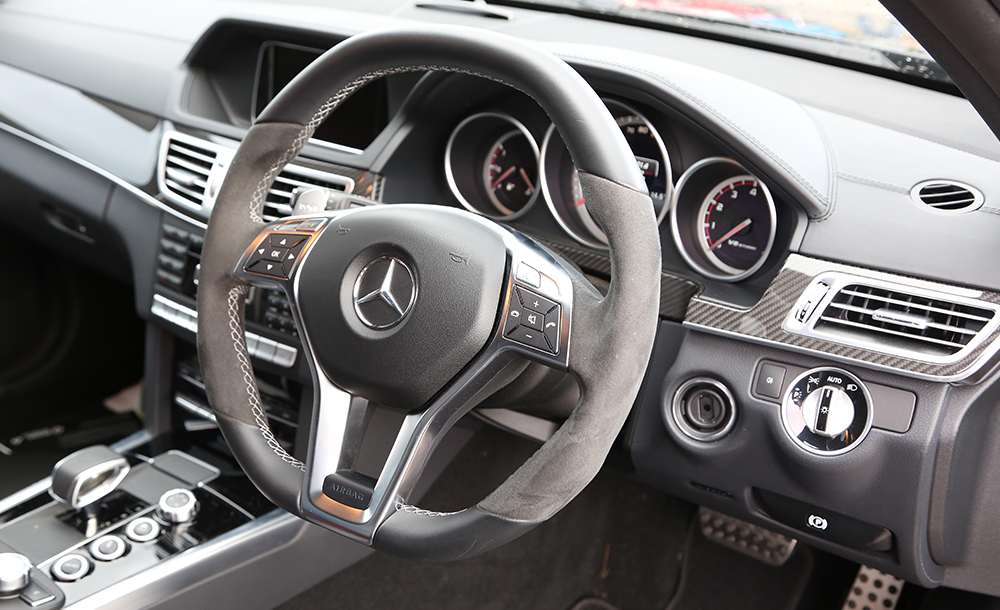 This is a stupendously fast car. OK, it lags behind the Audi in a straight 0-62mph sprint, but once the big Benz is rolling, there's precious little to separate the two. Beneath the bulging bonnet sits a 5.5-litre unit that summons up 577bhp and challenges the Pirelli P Zero tyres at the rear to maintain their roadholding.
Switch off the driver aids on a racetrack and it is devilishly good fun, allowing motorists to live out their inner fantasy of driving like Roger Clark in a Mk 1 Ford Escort.
Once you appreciate just how fun the AMG E 63 S can be, you wonder why on earth anyone would spend a similar amount of money — £86,510 — on a high-powered SUV that is no fun whatsoever.
2015 Mercedes-AMG E 63 S specifications
Price: £86,510
Engine: 5461cc, V8, twin turbo
Power: 577bhp @ 5500rpm
Torque: 590 lb ft @ 2000rpm
Transmission: 7-speed dual-clutch auto
Acceleration: 0-62mph in 4.2sec
Top speed: 155mph
Fuel: 28.3mpg (combined)
CO2: 234g/km
Luggage space: 695 litres (seats up)
---
Browse NEW or USED cars for sale on driving.co.uk
---